On the Road is a weekday feature spotlighting reader photo submissions.
From the exotic to the familiar, whether you're traveling or in your own backyard, we would love to see the world through your eyes.
Submissions have started rolling in, keep 'em coming!

Elma just sent in an awesome Mr. Frog post!  No, not that Mr. Frog, a different one. :-)  I wouldn't mind a Mr. Frog week if anyone else has a pond.  If not, this one is still great!  In case you missed yesterday's ideas, check out the two below.

BretH just sent in a set of photos from when he was in the Peace Corps years ago.  Maybe we should have a Peace Corps week?  I have seen BJ peeps mention here or there that they were in the Peach Corps.  Is there any interest in a Peace Corps week?  I think that would be really interesting!

It seems like it's been over a year since we had a First Timer's week – so if you've never submitted to On the Road before, please think about sending some pics in!  I think I might have one set already.  Are you guys up for a First Timer's week?  Say the first week in February?
JanieM
The former owner of this land had a huge black Percheron named Bud, who stayed here for a year until a new home was found for him. Bud provided local color for the patrons of the restaurant across the road, who often strolled over to gaze at him after their meals. His constant grazing kept the field clear; his favorite snack was purple thistle flowers, which he would delicately separate from the rest of the plant with his lips. He was glad to come and say hi in return for a carrot.
His feed was always available in the barn, to which he had access through a half-ruined wall. But except at feeding time, he preferred to be outdoors. He liked to stand still facing the wind, especially in a snowstorm, a habit that once led someone driving by to call the SPCA. They in turn called me, to make sure we weren't mistreating the horse.
Nope. Bud just liked extreme weather.
After he left and the ungrazed field became unwalkable, I consulted the Soil Conservation Service in Augusta about what we might "do" with our precious ten acres. The man I talked to suggested a couple of possibilities, including clearing it and seeding it for hay, though its scrubby swampiness made that a dubious proposition. At the end of our meeting he shrugged and said, "You know, you could just let it sit there and hold the world together."
Which it still does, as several pictures in this set testify.
(Pictures made in partnership with Steve from Mendocino, as always.)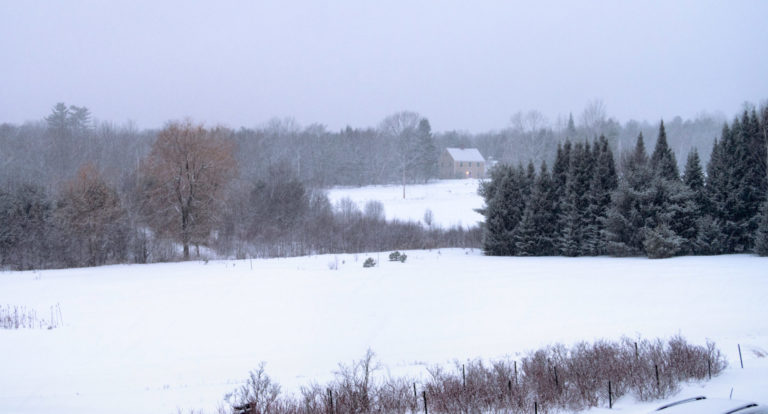 1 The field in February
A Soil Conservation Service forester named Mitch eventually came out and walked the land with me. Mitch had grown up in far northern Maine, where the winters are even longer and colder than here. He said he liked working in Augusta because Kennebec County has three distinct microclimates, which made his job much more interesting.
My house was in the coldest of the three. Just my luck!
Mitch and I ended up getting together several times, mostly just to shoot the breeze. Somewhere along the way I wrote an op-ed about adjusting to life in a rural place, mentioning Mitch and describing the work he did and the knowledge he had tried to pass on to me. Then he moved to Alaska, and we never saw each other again.
Years later, a high school friend of mine who lives in Anchorage went to Juneau for a meeting. A woman whose office she visited had my column tacked to the wall: it turned out she was Mitch the forester's wife.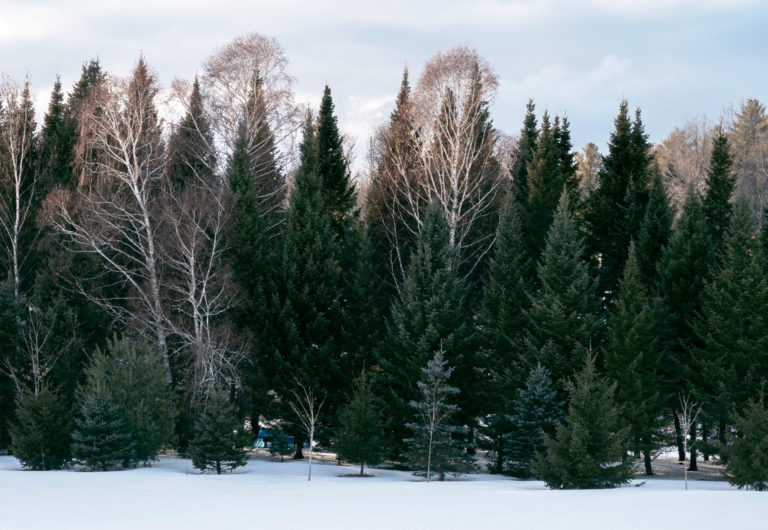 2 The pine grove
For several years we bought bare-root baby trees at the Soil Conservation Service spring sale ($1 a tree, we'd buy about 100). This stand of pine trees, with a few birches thrown in, is the result thirty years later.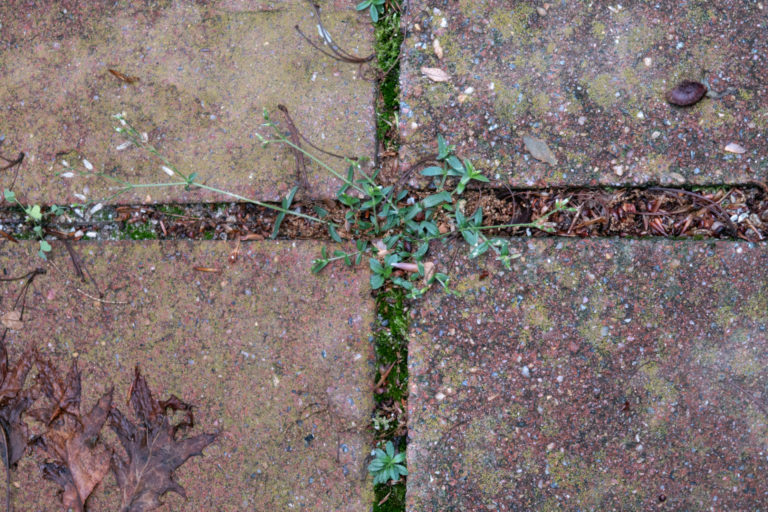 3 A bit of someone's patio
Growing things will find a way.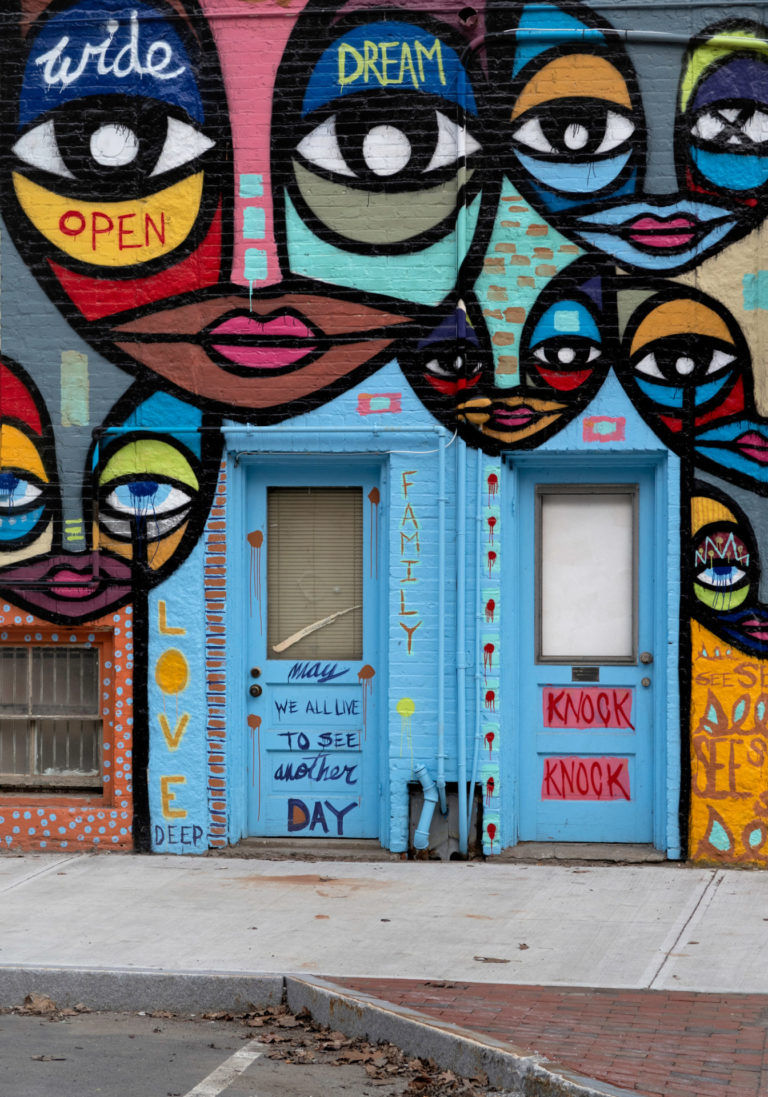 4 Commercial Street, Augusta -- waking up from the pandemic (if only)
This picture was taken in April, probably the first time I ventured out to do my own shopping after I was vaccinated. It was a hopeful time – it was spring, my favorite time of year, and I foolishly thought it was the beginning of the end of the pandemic. Commercial Street runs along the back sides of the buildings that front on Water Street, Augusta's "Main Street." Commercial Street got spiffed up with bright colors sometime between March 2020 and April 2021. I like them!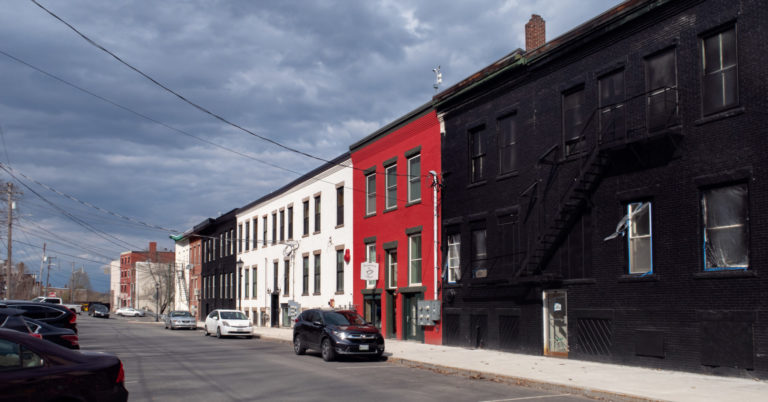 5 Commercial Street, Augusta
In the before times, I often had Sunday breakfast at the Downtown Diner, the back entrance of which is in the red building.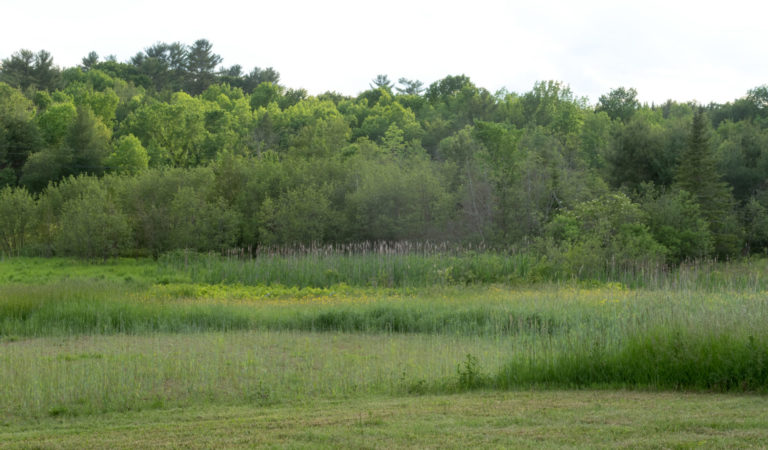 6 The field, early summer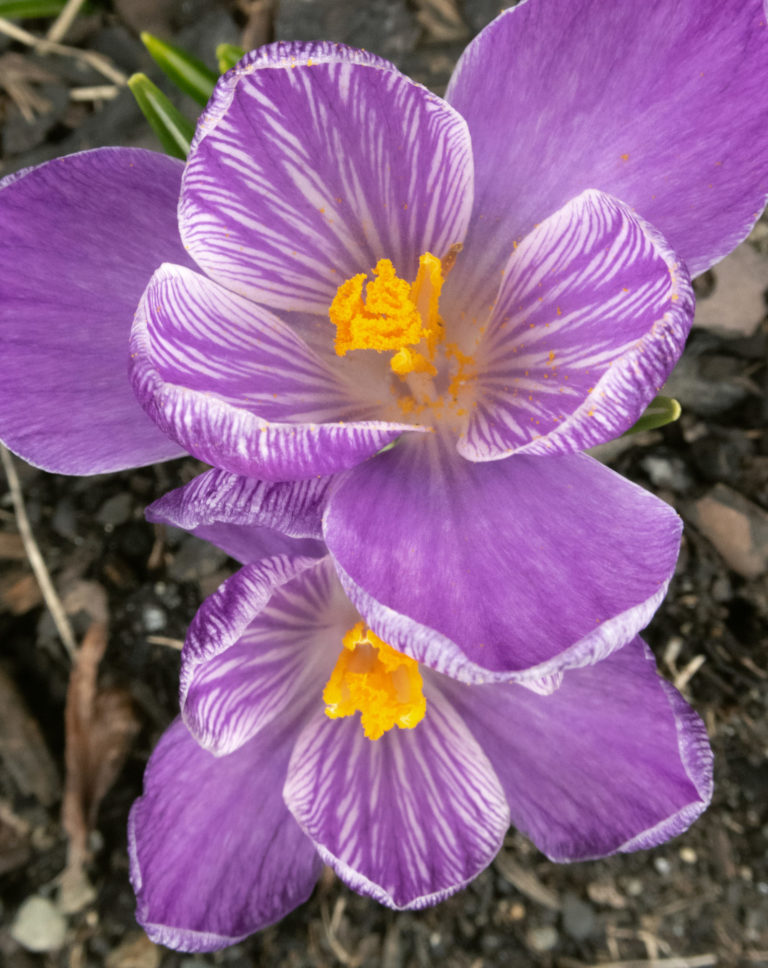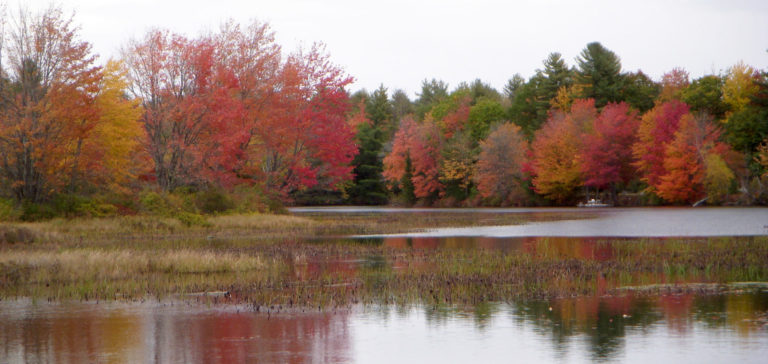 8 Rounding out the seasons