In case you're new to Medium Cool, BGinCHI is here once a week to offer a thread on culture, mainly film & books, with some TV thrown in.  We're here at 7 pm on Sunday nights.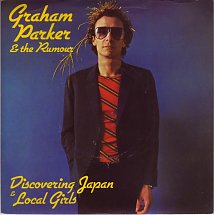 While I would love to do an entire Medium Cool on the music of Graham Parker (my childhood & adolescent musical crush), I'm just using this to frame our discussion this week on Japanese art and culture. I've been watching a lot of Japanese film lately (Ryusuke Hamaguchi, Kiyoshi Kurosawa, especially) and my son is getting old enough to be into anime and manga.
I'm curious what kinds of Japanese culture you're interested in. I have a decent familiarity with literature and film, but wondering also about other areas.
I'm not sure I've seen a Japanese TV series besides "Giri/Haji" (and it has English actors in it). How about other art forms?