On the Road is a weekday feature spotlighting reader photo submissions.
From the exotic to the familiar, whether you're traveling or in your own backyard, we would love to see the world through your eyes.
BigJimSlade will be here all week as we hike in the Italian Dolomites!  Get ready for some great photos, and there are even some flowers in the mountains to brighten up our January days.
BigJimSlade
Hello everybody!
I posted pictures from our 2018 trip to the Dolomites a year and a half ago. We were lucky to make it back there last summer, just before the Delta variant got all popular. I thought I would spend my birthday going over pictures from the trip – it won't be my birthday when this gets posted, but that's fine – I'm going to try and thrive at 55 :-)
OK, I've split this up into 5 days worth of posts, so let's get started!
We flew into Milan (it was the cheapest option) and rented a car from an eco-rental place. That meant we could only buy metano gas – we had to download an app and find gas stations that carried this stuff (I think it's just methane, or natural gas). Good thing we had giffgaff cards in our phones so we had some cheap data to use! Driving in zombie mode after an overnight flight and dealing with finding metano was an extra challenge.
We stayed in Ortisei, the first main town in Val Gardena, the other two being Santa Cristina and Selva. Val Gardena is a popular area with ski lifts/gondolas everywhere. If you are looking up valley from Ortisei, starting on the left and going clockwise, you have Resciesa ridge, Seceda, Puez-Odle Nature Park, the Sella group, Sassolungo and Sassopiatto, and then the Alpe di Siusi (where Rick Steves recorded a segment for his show). So, there's a lot to see and do!
Day 1. Resciesa Ridge – we took a funicular from Ortisei most of the way up the ridge, then walked to the west end and up to the top, then all the way along the ridge to the east to our lunch spot at Refugio Bregles, then we walked back down the mountain into town (no funicular).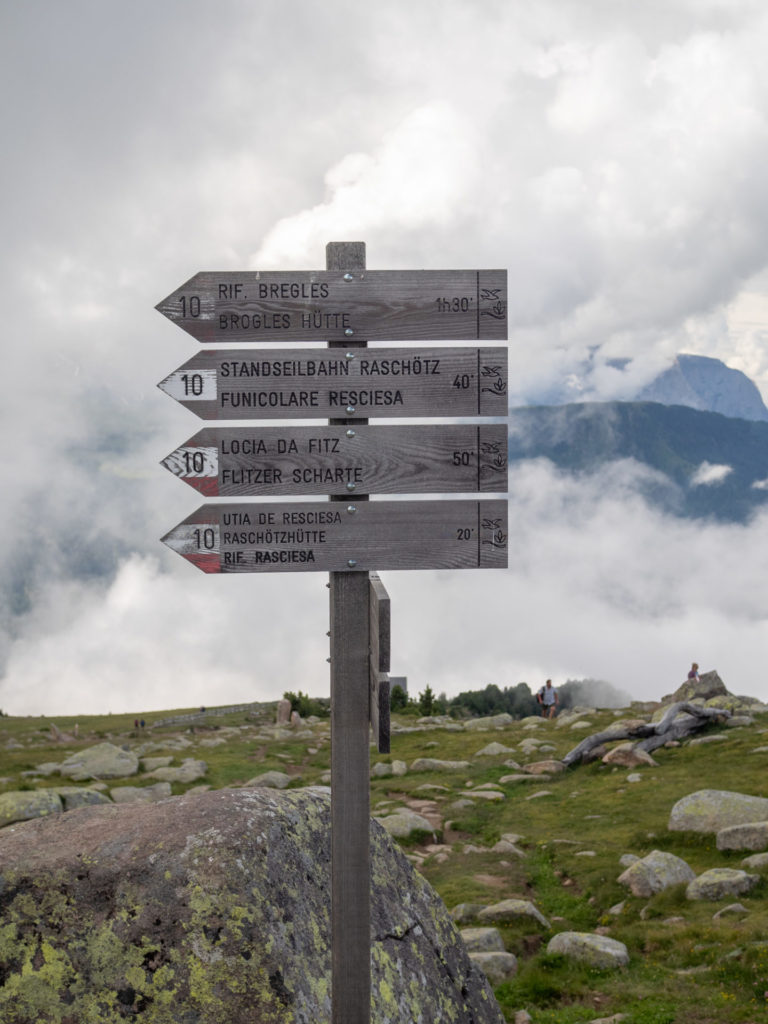 Resciesa Ridge
July 4, 2021
The top arrow points to our lunch spot. As you can see from the clouds, the weather was quite changeable. It would rain on us for about the last 45 minutes of the day – not too bad.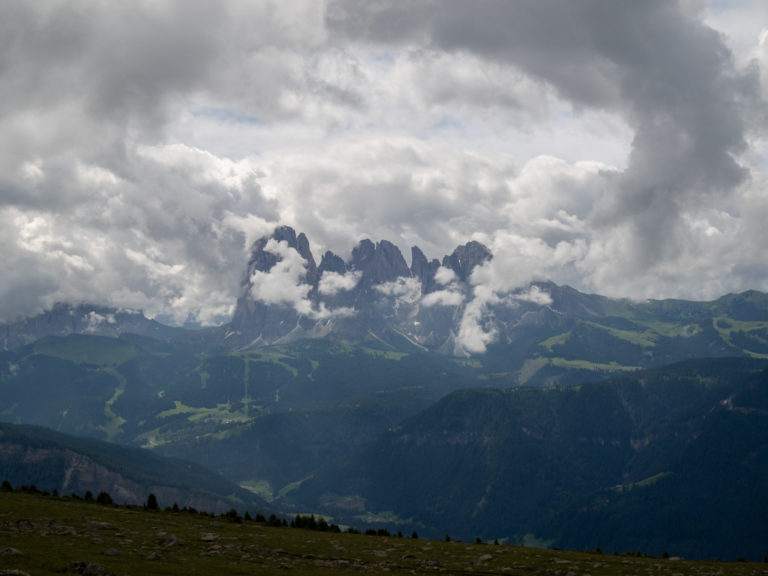 This is looking across the valley to Sassolungo and Sassopiatto (Sassolungo is the bulkier part on the left). I have several pictures like this with completely different cloud cover – it was changing all the time.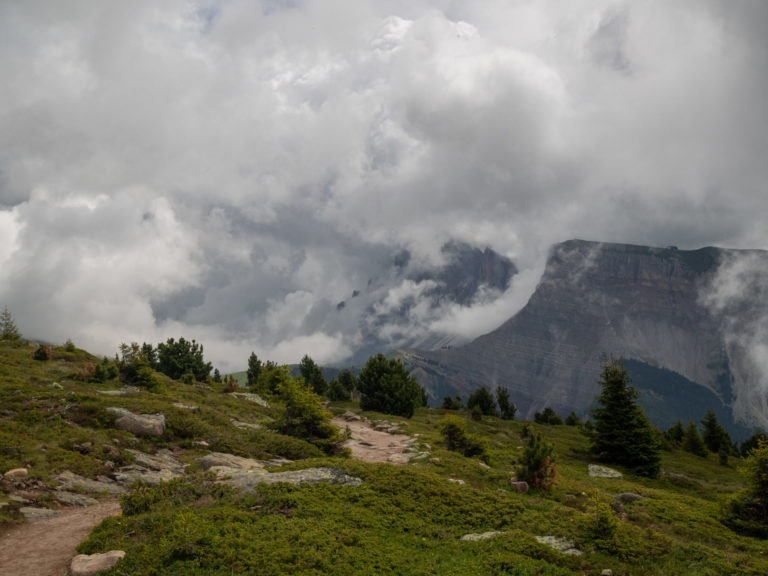 Halfway across the ridge we could look up to where we would be in 2 days, Seceda, lost in the clouds (it would be clear when we were there).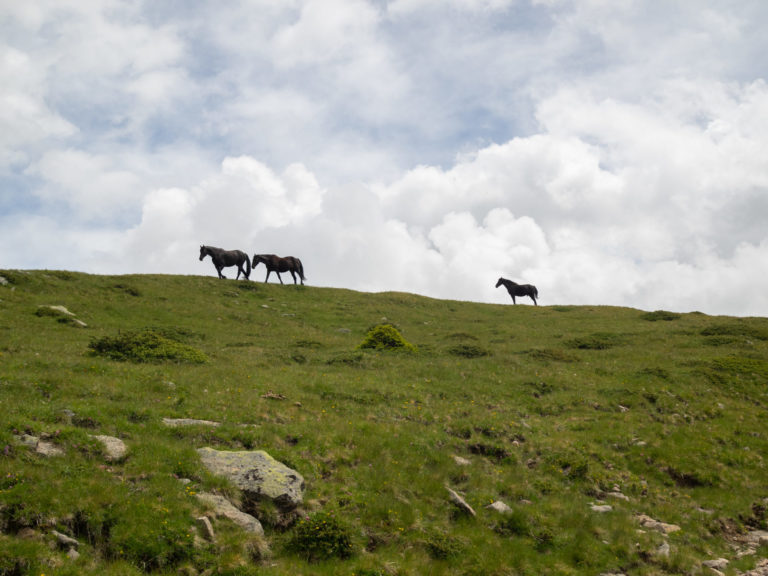 It's always a delight to see cows in the alps, and to hear their bells, but to see horses was unexpected! These were kind enough to pose by the top of the ridge.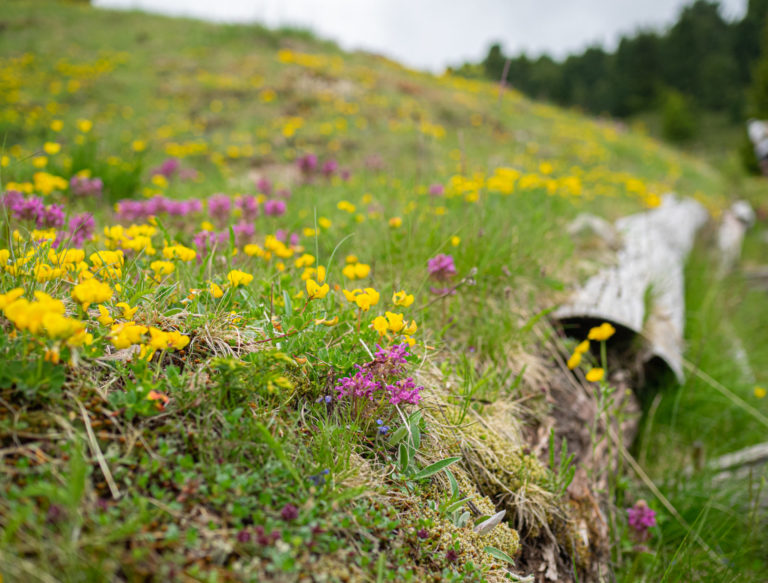 Walking down to the refugio for lunch, the hillside was covered with grass and flowers. After feeling a bit weak early on (jet lag, altitude), these really perked me up and I got busy with my camera :-)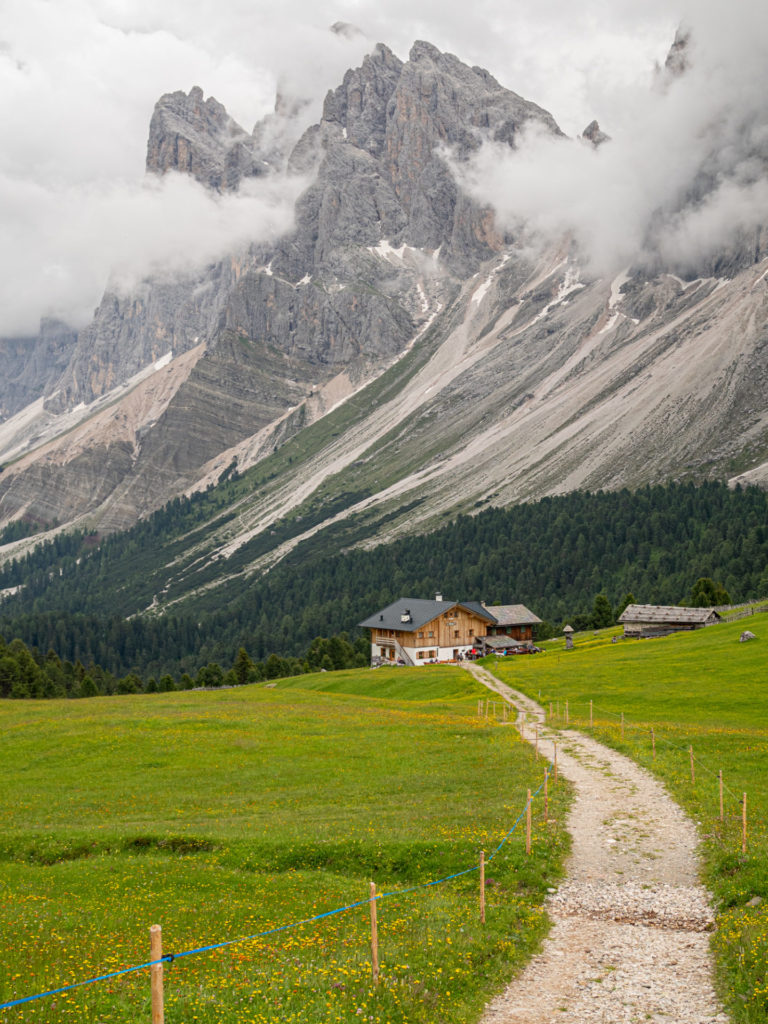 Lunch spot! (Refugio Bregles) I had eggs on speck, and I think some potatoes.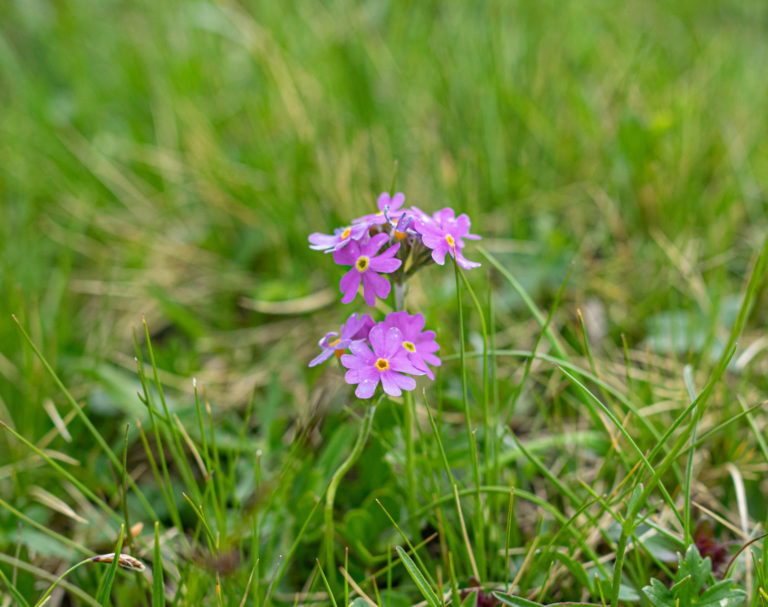 Tiny little pretty things.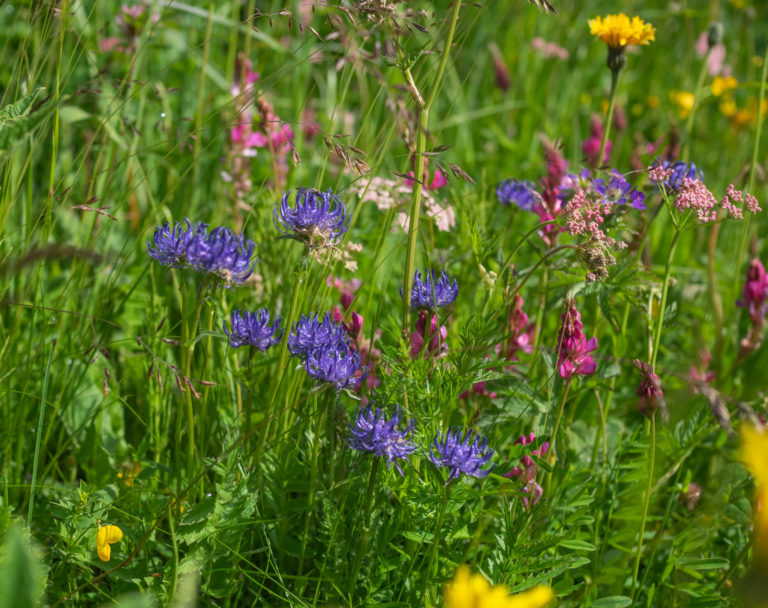 Hm, I think this may be from the next day – the sun is out! I had it in this day's folder, so that's that.