We have a few announcements related to the book club, but first i want to share our thank you note to Adam Schiff, which I shared with his chief of staff via text last night.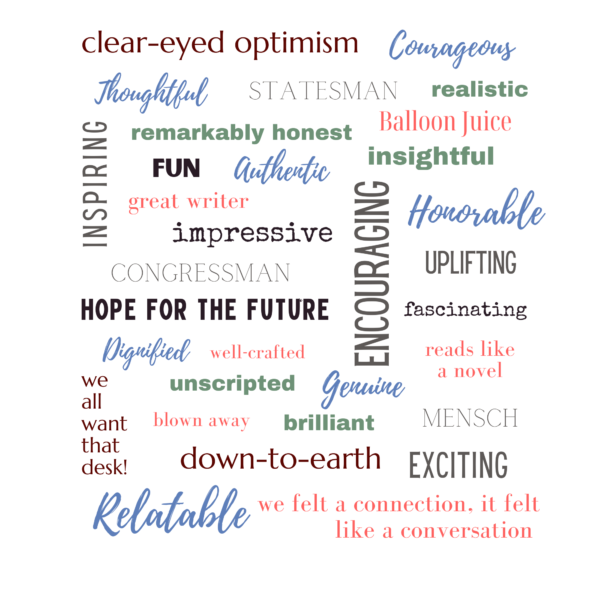 Hopefully our word play will help convey to both Adam Schiff and Patrick what a wonderful experience this was for us!
Okay, back to business.
Adam Schiff will be joining our book club one more time – next week on Feb 2 at 8pm.
I should note that there will be no inadvertent ambushing of John Cole as we welcome Adam Schiff next week!
Audio and video of the time with Congressman Schiff will be posted on Balloon Juice.
A few of our awesome folks who live-blogged the Adam Schiff portion last week have volunteered to do it again next week.  If you were one of the live bloggers, please chime in below and confirm that you are up for a repeat performance next Wednesday.
Except for the live-blogging of Adam Schiff, which we clearly plan to do again, trying to have the book club thread going at the same time as the book club zoom wasn't a rousing success. I suggest that we plan on having a couple of Balloon Juice thread-based book club meetings after the zoom book club ends on Feb 9.  Thoughts on that?
The theme of last night's zoom was:  What Didn't You Know Before You Read the Book? What Surprised You?
We all shared our thoughts on that, of course, but the conversation shifted in some ways to a more general political discussion – which I think speaks to the desire to be able to have a conversation about these things with other people who share our understanding of the gravity of the situation – because some of our family and friends do not seem to understand how precarious things are right now.
If there is interest in that, we can definitely hold some "political" zooms where we can let the political conversation go wherever it takes us.  Chime in below if you would be interested in something like that, or send me an email message if you prefer.
In the meantime, though, the book club discussion last night – while interesting – was more wide-ranging than I was comfortable with, so we plan to hold more closely to the themes in the final two book club zooms.  Of course we'll want to gab for a bit after Adam Schiff leaves the meeting next week, but I am asking Curt (facilitating on 2/2) and Subaru Diane (facilitating on 2/9) to hold us more closely to the topic of each meeting.
The above paragraphs are peppered with requests for feedback, so I hope you will share your thoughts in the comments.
Update: I will put up a thread this weekend talk about the book in general and the theme from last night: What Didn't You Know Before You Read the Book? What Surprised You?  If there is a preference for day and time, chime in below.