One of my mentors asked me to see if I could make sense of everything that I have done, am doing and thinking about doing including plausible dissertation ideas.
The objective is to see if I can tell a coherent story of my research interests that is somewhat more sophisticated than but just as true as: "I like my co-authors, I enjoy writing with them and we have cool questions that we run into on a frequent basis." I think that explanation can hold a lot of water but tying together what the cool questions are in my mind is a good thing. I'm including the version of my story board that only contains publicly available works so that are things which have been published, accepted or there are working papers released. The version that my mentor is getting includes a lot of works in progress, future ideas, grant applications and plausible dissertation subjects.
This took a few hours to figure out. But I think that I have a story to tell with the core of my research agenda being something like this.
I am fascinated by the individual health insurance markets and how individuals interact with complex choice environments as well as how risk bearing entities, including insurance markets and accountable care organizations respond to incentives and structures to attract or repel individuals with significant care needs, specifically those with serious illness.
I think this mostly hangs together.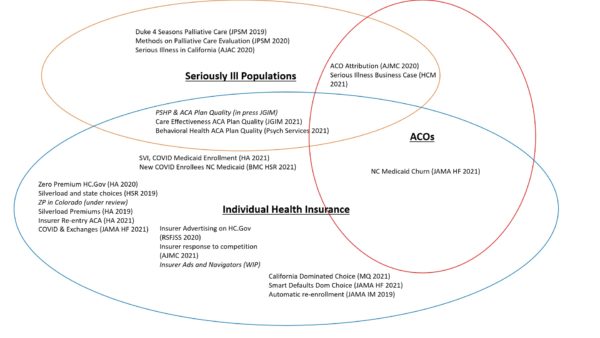 Serious illness is what I was brought down to Duke to work on originally. We evaluated a demonstration program for pre-hospice palliative care and produced two papers on the finding that the design decisions precluded us from saying much. We also looked at insurance coverage of seriously ill individuals in California and found, as expected, significant selection to the least restrictive plans. Serious illness is a critical component of attribution for population health models such as Accountable Care Organizations (ACOs) as seriously ill individuals may face higher mortality risk so the decision on attribution models will substantially shift incentives. These incentives may encourage ACOs to either ignore the seriously ill or take steps to attempt to attract and care for the seriously ill if they are likely to be profitable net of risk adjustment. Within population health programs, figuring out churn is crucial (and a few more papers to be submitted before March Madness).
The US is moving towards individualized choice insurance markets from Medicare Advantage, Medicaid managed care, ACA and the likely increase in ICHRA penetration in the group markets. Understanding how non-elderly individuals interact with choice is critical. I have several strands of research in this domain including a premium and enrollment domain. The ACA has had significant price and policy shocks that have led to many different people seeing many different prices for various products. Transaction costs are significant. Information is critical for people to make choices. Individuals with high care needs may care about quality ratings in their decision process, so we have looked at factors associated with different quality scores. Medicaid managed care entities tend to have below average measured quality. Public information builds awareness. We have looked at how people respond to changes in elite messaging from supportive to oppositional, changes in television advertising and enrollment levels, as well as insurer responses to changes in competition and navigator funding with their advertising. Finally, once people are present to make decisions, substantial behavioral and cognitive hurdles remain. Automatic re-enrollment lowers complexity costs but can lead to objectively inferior choice while improved policies can continue to facilitate automatic re-enrollment while improving choice quality.
My future research will examine shenanigans, selection and screening for and against marginalized populations as well as seriously ill individuals and groups that may or may not risk adjust well.