Condemning Nazis should be easy. But just as Trump found it impossible to unequivocally denounce the Nazis and fellow travelers who terrorized Charlottesville, Florida Governor Ron DeSantis whiffed when he had an opportunity to condemn the Nazis who paraded around Orlando last weekend.
First he remained silent even as other Florida politicians, Democrats and Republicans, executed the super-easy layup of denouncing Nazis. Maybe the Florida Nazis' signage explains DeSantis's reticence:

As I've mentioned here before, DeSantis has leaned hard into the "Let's Go Brandon" meme, arranging travel to a suburban Tampa town called Brandon to sign unrelated legislation, solely to bask in the "Let's Go Brandon" chants his traveling circus of rabid supporters provide and give his spokeswoman/hagiographer* new meme material for Twitter.
DeSantis is also trying very hard to be the most anti-vax governor in the country, a position that also just so happens to dovetail with the Florida Nazis' outlook: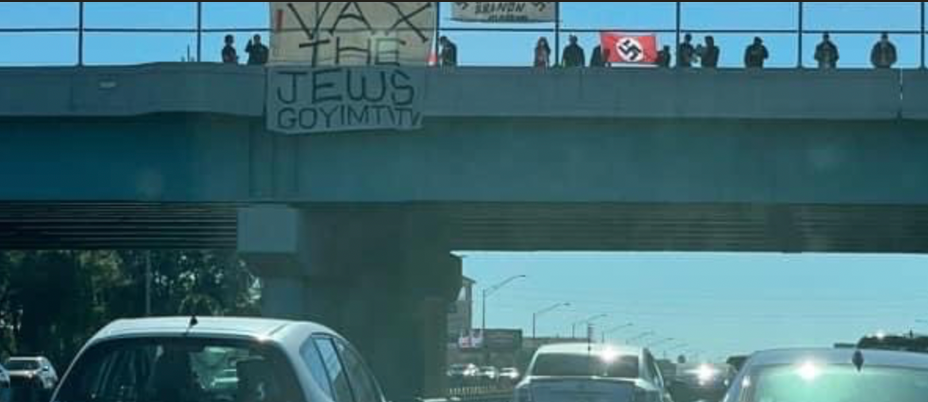 Awkward. But when DeSantis eventually did address the Nazi parade, in response to a reporter's question, we got a glimpse of the peevishness that underlies his initial non-response and the culture war issues he focuses on instead of the state's real and pressing problems. From The Orlando Sentinel:
Neo-Nazi demonstrations in Orlando over the weekend drew bipartisan condemnations from state and local officials, but Gov. Ron DeSantis remained silent until Monday afternoon when he responded to a question about the rallies with a tirade against his political enemies.

"So what I'm going to say is these people, these Democrats who are trying to use this as some type of political issue to try to smear me as if I had something to with do that, we're not playing their game," the governor said during a press conference in Palm Beach.
Emphasis mine because there it is, friends. It's all about him — he's the victim. Not the citizens of this state, especially those who are Jewish and therefore understandably alarmed by the resurgence of hate groups, including Nazis who openly express an affinity for politicians who are in power right now.
It's that same centering of himself — and of whiteness more generally — that leads DeSantis and Republicans in the Florida statehouse to gin up outrage about CRT and champion bills that coddle the most dainty and fragile snowflakes of all:
CNN: A bill backed by Republican Gov. Ron DeSantis that would prohibit Florida's public schools and private businesses from making people feel "discomfort" or "guilt" based on their race, sex or national origin received first approval Tuesday by the state's Senate Education Committee.

The Republican-controlled committee approved the bill with six Republican senators in favor of the bill and three Democratic senators opposed to it.
"As if I had something to with do that" is the unexpressed complaint about teaching actual American history, warts and all. You'll hear that same sentiment expressed in different ways when certain white people confront issues around race in all sorts of situations.
Affirmative action is a handy example: "Well, sure, slavery and the decades of legal oppression that followed were wrong, but my ancestors never owned slaves and I never personally oppressed anyone, so why should I be punished as if I had something to do with that?" Blah blah blah.
Look, I'm not exempting myself from the whiny white people brigade. My parents lived in a run-down trailer park when I was born, and I've bristled at the suggestion that my modest achievements as an adult were based on anything other than my hard work and determination. I'm not proud of that defensive reaction, but I think it's kind of understandable.
But adults who aspire to be informed citizens in a complex society have to be willing to take a step back and look at the larger picture, to assess the social framework in which we all operate. In other words, they have to do a CRT (which, ironically, is what white people who claim "reverse racism" is a huge problem are also doing). Reasonable people can disagree about the remedies, but the systemic defects are undeniable.
And yet, they are denied. Politicians like Trump and DeSantis and the statehouse Republicans deny them with a childlike insistence that any suggestion that America isn't perfect and good is un-American, and they harness the "as if I had something to do with that" sentiment because it resonates.
Do they push this garbage cynically — stoking racial fears and ginning up concern that individuals will be treated unfairly — to get and maintain power, or are they themselves whiny snowflakes? The answer is yes.
Open thread.
*Christina Pushaw, the governor's press secretary/internet troll, also made a complete fool of herself this week, suggesting in now-deleted tweets that the Nazis in Orlando might be Democrats disguised as Nazis to make DeSantis look bad. No really. Dollar General-brand Kellyanne is truly the worst.