Choosing insurance is challenging. Some people are exposed to two hundred or more choices. There are some obvious differences in these choices. Blue Cross probably offers a fundamentally different product than Centene/Ambetter which offers a different bundle of services than Oscar or Bright. Within an insurance company vertical, there are some clear differentiators as well; Bronze plans are fundamentally different than Gold plans on both premiums and out of pocket expenses for a wide range of plausible spending, and some insurers will offer a big network and a small network. However, there are a lot of plans offered by the same insurer in the same metal level. Last year, we looked at the number of silver plans offered by the insurer that has the cheapest silver plan.
About 3.5 silver plans is the baseline number of silver plans before any other controls are added.
Less competition leads to fewer plans being offered by the cheapest insurer …
Co-ops offered fewer plans when they had the pole position early on
Blues offered almost 2 more plans if they were the cheapest silver.
Medicaid managed care plans as a class were a nothingburger both pragmatically and statistically conditional on having a Centene specific control
Centene controlled insurers have almost 5 more Silver plans being offered if they are the least expensive Silver plan in a county.
The Centers for Medicare and Medicaid Services (CMS) is increasingly interested in thinking about meaningful difference regulation. The Trump administration removed meaningful difference requirements. The Obama Administration had a set of regulations where insurers had to offer plans that varied on at least one of seven characteristics. CMS is thinking of going back to Obama-era regulations as well as adding standardized plan designs again. I don't think this will be all that helpful.
We know that the incremental consumer/buyer/enrollee is choosing almost exclusively on price.  So that is what I think that we should leverage for our meaningful difference.  I have proposed a rule that insurers should be able to offer whatever the hell they want (within the limits of consumer protection/fraud laws of course) as long as the premium is at least 3% different than the plan immediately cheaper than it.  I'm more than willing to quibble on the percentage, but if there is value in allowing insurers to offer broad networks or narrow networks than go for it; if there is value for insurers to offer deductible heavy plans or coinsurance heavy plans, go for it… I don't know what optimal plan design should look like (really the question is what plan design is optimal for whom?) but I know that premium matters a lot.  So let's look at a number that is supposed to embed a lot of valuable information and regulate the gapping for that.
I looked at Healthcare.gov 2022 public use files to identify how many silver plans might be eliminated by this rule.  My unit of analysis is insurer-county-year.  Blue Cross can offer plans in Orange County, NC at a variety of price points.  Bright will offer a set of silver plans in this county as well, along with Aetna, Ambetter and a few others.  I'm only looking at which plans offered by the same insurer might be effected by a rule where a 3% premium difference is required.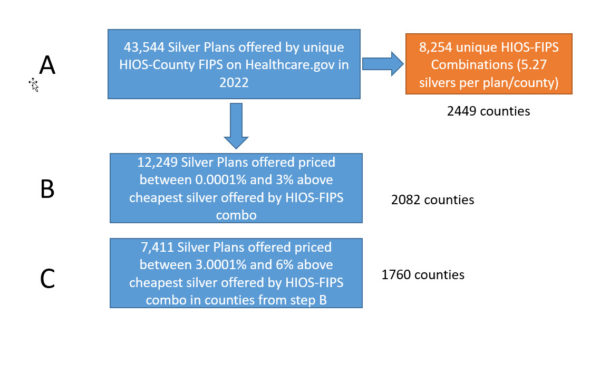 In 2022, on Healthcare.gov, there are 43,544 silver plans/county combinations.  The typical insurer offers just a smidge over 5 silver plans per county that they are operating in.  85% of the counties have at least one insurer offering a silver plan within 3% of the premium of their cheapest silver plan.  If we strictly enforced this rule at stage B, this would eliminate 10,167 options and require 2082 additional silver plans to be tweaked to get to 3% or greater premium spread.  Just going to Level B would eliminate about 23% of the choices on the marketplace.  However if we take this one step down to C where we're looking for plans that have at least one choice that is within 3% of their cheapest option and also at least one choice between 3% and 6%, this leads to another 1760 counties with potential silver spamming occurring.  Running this simple spread algorithm at level C would lead to another 5,651 plans being eliminated from the choice menus.  This proposed rule would reduce the number of choices by over 35%.  I think the ultimate reduction would be greater as the cascade of rounds D-E-F would knock out some near duplicates as well.
Picking plans is tough.  Feature based meaningful difference regulation requires consumers to be both extremely attentive and extremely insurance literate.  I don't think that is a large set of overlaps.  Premium based meaningful difference does not preclude useful benefit design variation from insurers while creating significant and substantial differences on the one thing that we're pretty damn sure that consumers truly understand — what do I pay each month…. And doing so would lead to a much cleaner choice environment.