Our featured writer today is Dorothy A Winsor.  Let's give her a warm welcome!
(click on the image below to go to Dorothy's Amazon page, where you can find all of her books.)
If you would like your talent featured in the Artists in Our Midst series or Authors in Our Midst series, send me an email message.  Don't be shy!  I have no more Authors posts in the queue; please get in touch if you would like to be featured in either series.
Fly, little books! Fly!
by Dorothy A. Winsor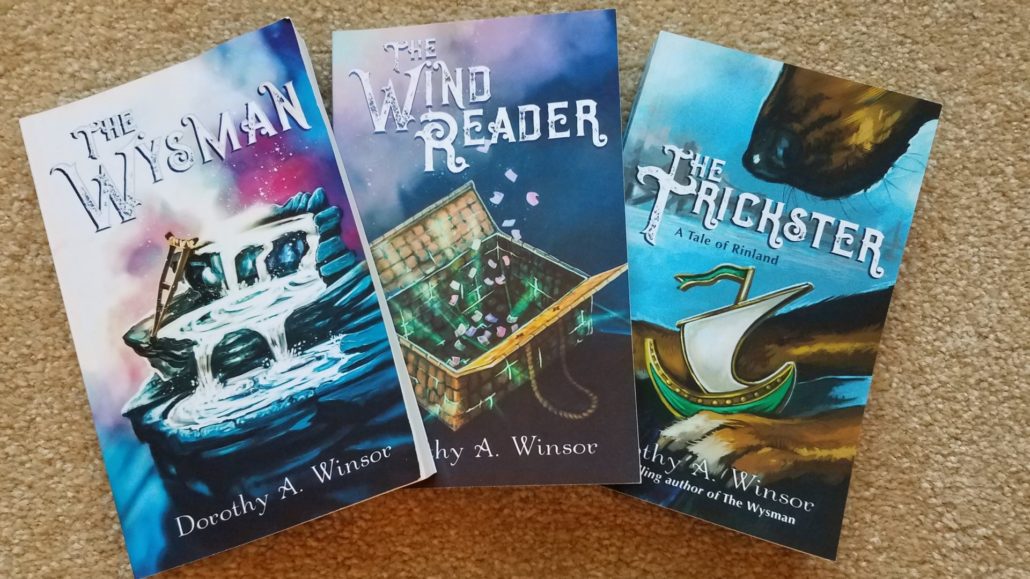 In March, I saw the publication of the third and last book in my series, Tales of Rinland. They include The Wind Reader (2018), The Wysman (2020), and The Trickster (2021). The last two of these books came out during the pandemic, which was a bad time for a book to start its life out in the cold, cruel world. It was hard on my small press publisher (Inspired Quill), which relies on in-person events to sell many of its books. I can weather a year or two of reduced royalties, but a small press, like small businesses in general, is always on the edge.
I feel especially bad for IQ because they're what the UK calls a social enterprise. That means they donate a portion of their income to socially good goals, in their case increasing diversity in publishing. But they also try to serve other goals. Some jackals may remember that they made Down Days, a book about depression, free during the early part of the pandemic.
Anyway the books are off my desk, and I kind of miss them. I feel a little like I did when I sent my kid off to college. So when WaterGirl suggested BJ writers talk about their work, I started thinking about them and the best memories I have of each.
The Wind Reader
My favorite chapters in this were the first two, which, oddly enough, were the last I wrote. They show the death of the central character's father, and his grief over it, and then they immediately strand the kid in a city far from home and leave him to figure out what to do now. I like them because they were hard to write. In earlier drafts, I dodged writing them and had him thinking about these events in retrospect.
So I'm proud of myself for finally working through the painful emotions in them. Writing them made me a better writer. It also made me cry.
The Wysman
I should explain that these books are a series, not sequels. The central character in the first book has two friends, who become the central characters in books of their own. The plot of each book is separate but the world is the same, and I got to explore characters who had faded into the background before.
My favorite aspect of this book is that its central character is handicapped. He was born with a club foot and uses a crutch. Yet, he's the hero of the book, the one who solves the puzzle and saves the woman and child who are in danger. I didn't realize how rare a handicapped central character was until I finished writing and looked around for comparable books to use in pitching it to my publisher.
Diversity of representation is big concern in YA literature at the moment. As it should be. And it's the particular goal of Inspired Quill. At the moment, they're donating to LGBTQ charities.
The Trickster
My favorite part of this book is Tuc, the dog. I suppose that's not a surprise to the dog lovers on Balloon Juice.
The book's main character had Tuc all the way back in The Wind Reader too, but in that book, she was a minor character, so I didn't have to do much with Tuc. In this book though, she's on stage a lot, and I had to keep reminding myself that Tuc was around. I took to writing DOG at the top of the page and found myself writing stuff like "Tuc scratched his ear." It bored me, which meant it would probably bore the reader too.
Finally, I had to either kill Tuc or do something interesting with him. Since I am not a monster, killing him was out of the question. I don't want to say what I did with him because for most of the book, the reader doesn't know what's going on with Tuc. But it makes me happy.
So they're out of the nest now. Fly, little books! Fly! Have good book lives.
I'll be around to respond to comments or questions.
Have a good day, everyone.