On the Road is a weekday feature spotlighting reader photo submissions.
From the exotic to the familiar, whether you're traveling or in your own backyard, we would love to see the world through your eyes.
Thanks to all who are sending pics in!  This week brings us birds and junkyards and glaciers, and then we finish off the week with 2 days in New Zealand!   Brought to us by Albatrossity, Steve from Mendocino, BillinGlendaleCA, and Paul in St. Augustine.
Albatrossity
Although I spend most of my photography time in the winter documenting the local Red-tailed Hawks (nearly 450 individuals photographed at the time this was written), occasionally other birds wander in front of my camera to pose for a portrait. Winter is not the peak of avian diversity in Flyover Country, but there are lots of species to see, and so I can put together a collection that I have dubbed Wintry Mix in Flyover Country. Here's the first batch; more to come in the next couple of installments!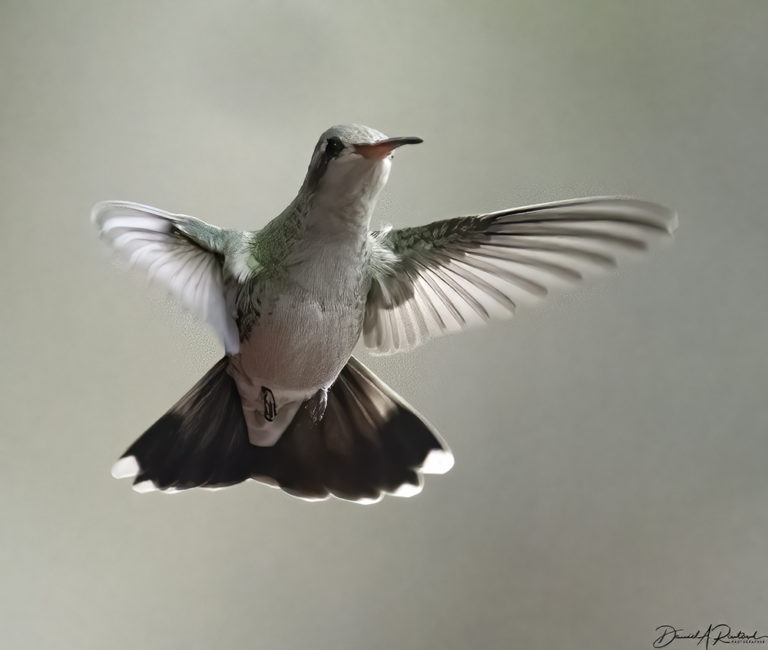 Near Manhattan KS
November 24, 2021
Hummingbirds are not the typical winter visitor here, but this female Broad-billed Hummingbird (Cynanthis latirostris) spent part of the last 2 weeks in November at a feeder near Manhattan KS. She should have been in Mexico, and hopefully she went that way after she disappeared from here. As you might imagine, she attracted quite a bit of attention from the state's birdwatching community during her brief stay here.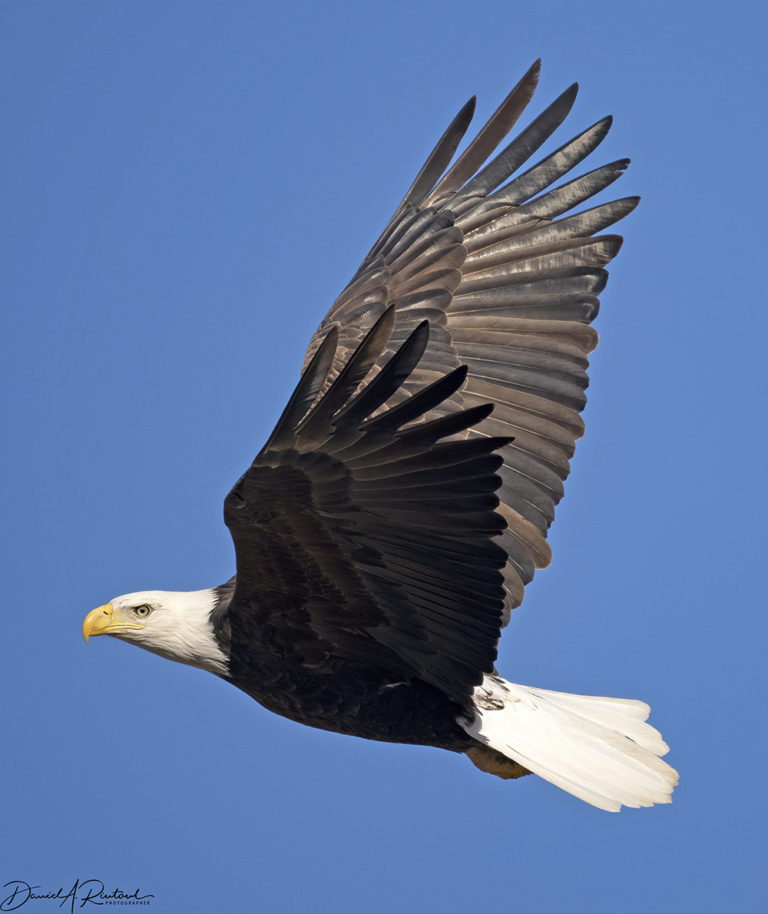 Near Manhattan KS
January 13, 2022
A more typical, and substantially larger, winter bird here, the Bald Eagle (Haliæetus leucocephalus) is an expected species near open water. Our local reservoir outflow tubes attract several, especially during the coldest months.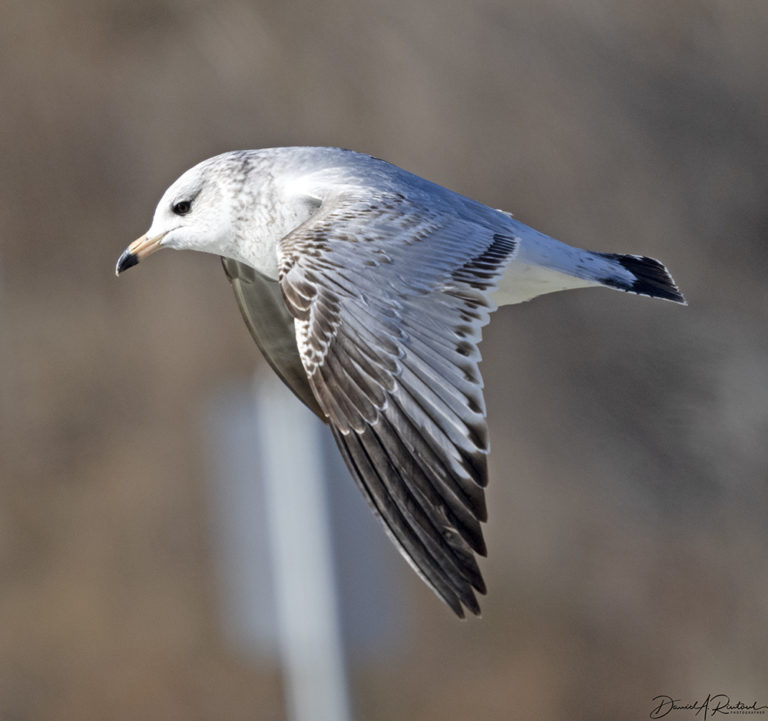 Near Manhattan KS
December 19, 2021
The outflow tubes also are a good place to see gulls, and to practice taking pictures of birds in flight. This first-year Ring-billed Gull (Larus delawarensis) basically ignored me, focusing instead on the prospect of a fish breakfast just below.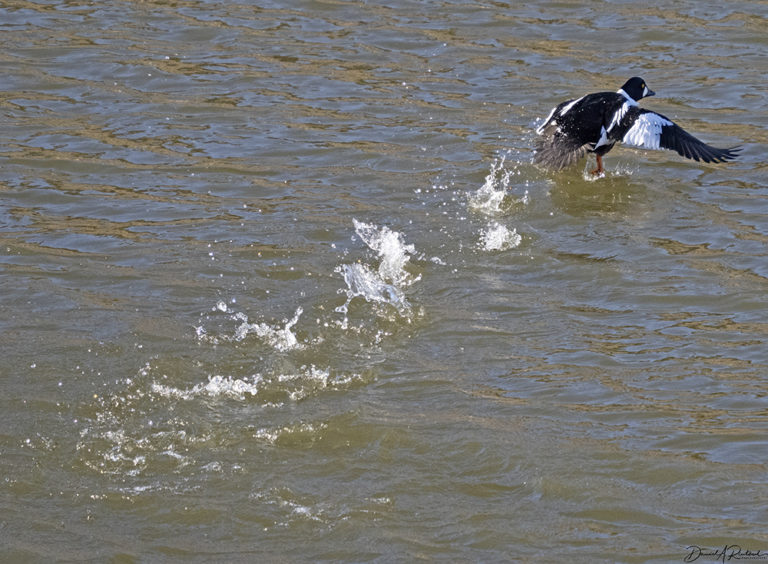 Near Manhattan KS
January 13, 2022
Another fish-seeking bird, Common Goldeneyes (Bucephala clangula) can also be found, sometimes in very large flocks, on open water at this time of year. This drake did not want to be photographed, but his going-away splashy-steps made for an interesting image. Interestingly, the generic name is derived from the Greek words meaning "bull-headed", presumably a nod to the large head of many of the birds in this genus. As you might recall, Bucephalus was also the name of the supposedly untameable horse that carried Alexander the Great to many victories in battle.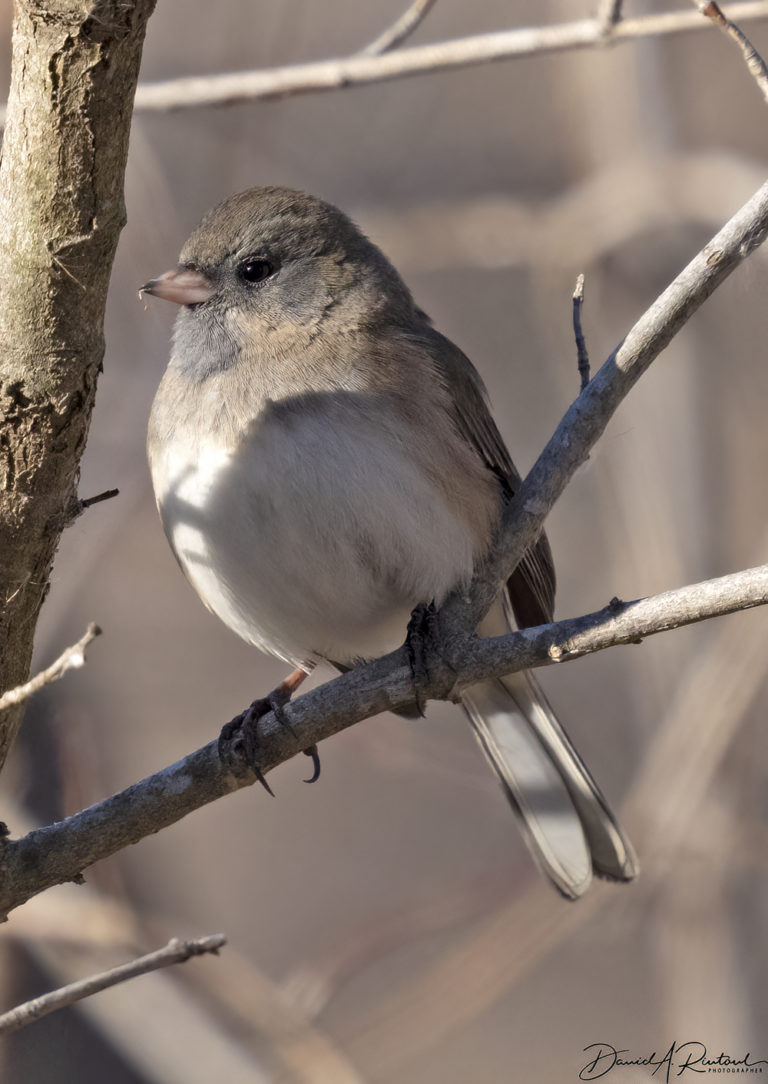 Near Manhattan KS
December 19, 2021
Backyard bird feeders, of course, also offer an interesting mix of characters and photo opportunities. This demurely dressed Dark-eyed Junco (Junco hyemalis) was awaiting her turn at the feeder when I captured her portrait.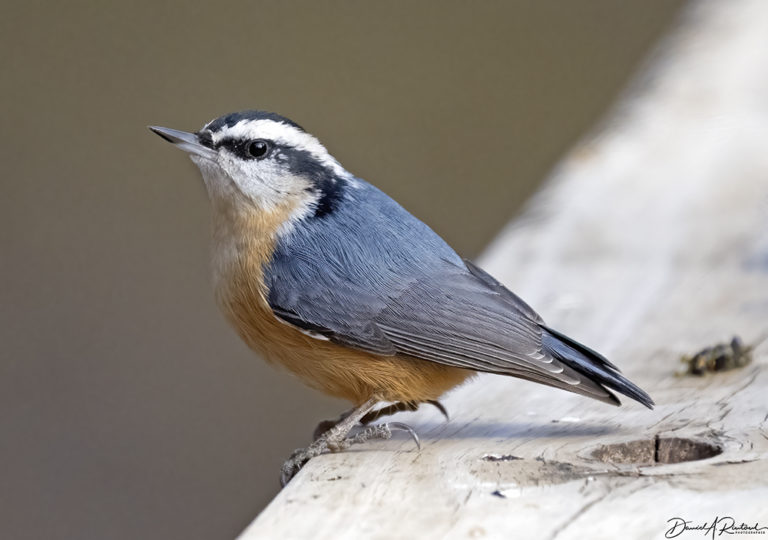 Near Manhattan KS
January 4, 2022
Red-breasted Nuthatches (Sitta canadensis) visit us in winter, although there are some winters where they are very scarce. This is not one of those years; we currently have at least three of these little tooters frequenting the backyard feeders, but sometimes they too must wait their turn at a food portal.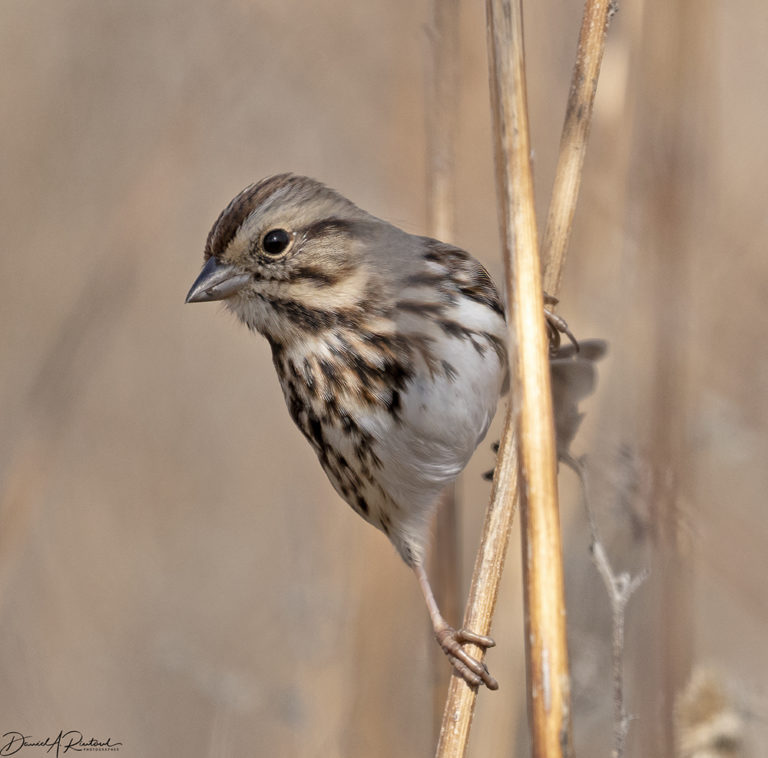 Near Manhattan KS
November 12, 2021
Song Sparrows (Melospiza melodia) are found year-round in much of the country, but we are just barely out of their breeding range, so we only get to watch them in the winter. They can be seen at bird feeders in more rural areas, but I've never had one at my feeder yet. This one was lurking in the grasses at a nearby park.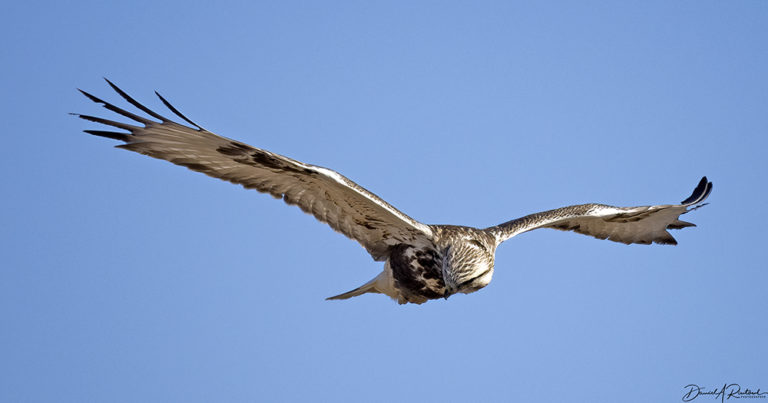 Near Manhattan KS
December 12, 2021
And of course, we must include a few hawk images! This young Rough-legged Hawk (Buteo lagopus) was hovering in place in a stiff south wind, watching the waving grasses for signs of a mouse or vole, paying no attention to the photographer. Like Red-breasted Nuthatches, this species can be abundant some winters and virtually absent in others. This seems to be an abundance year, at least in my patch of Flyover Country.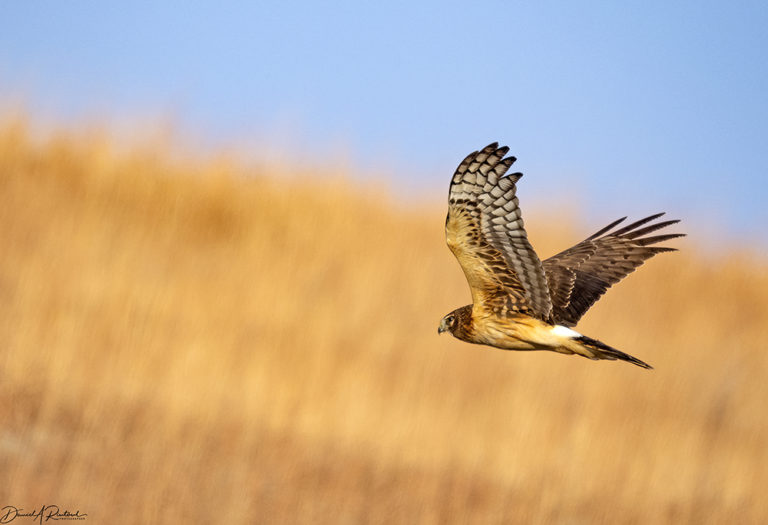 Near Manhattan KS
December 21, 2021
The hardest-working hawk on the planet, in my opinion, would be the Northern Harrier (Circus hudsonius). You rarely see them perched; they are always on the move, dipping and gliding over the prairies and ag fields. In fact, if you do happen to spot one momentarily perched on a fence post, it will immediately fly off, seemingly embarrassed to have been caught resting just a little bit.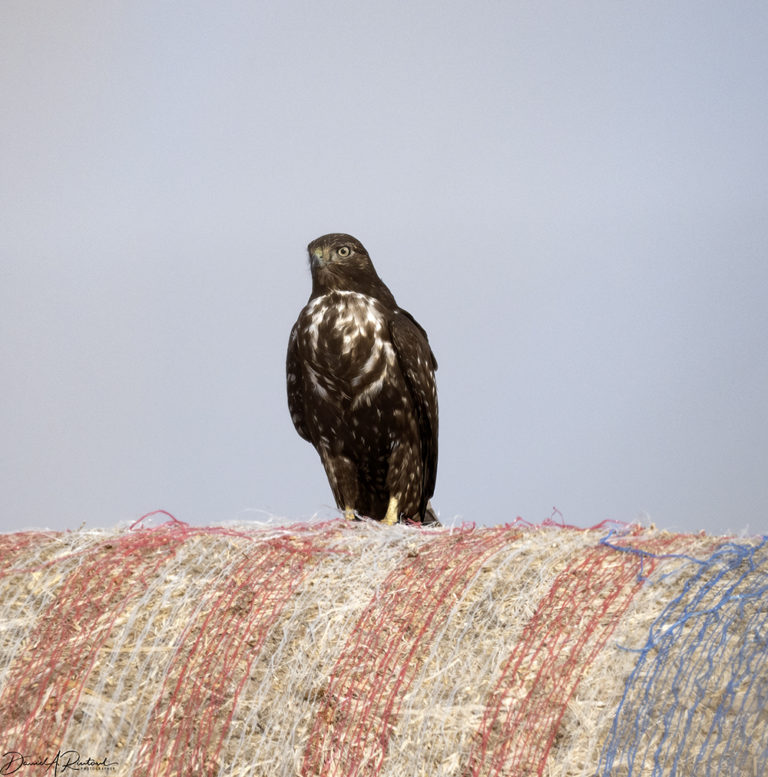 Near Manhattan KS
December 14, 2021
I could not resist taking a picture of this Red-tailed Hawk, Harlan's subspecies (Buteo jamaicensis harlani) on a haybale that represents patriotism to some, and fetishism to others. You make the call.