As this tweet got big, I should allay one likely concern. It is not 12th night + 1 'autistic' role. The teachers send us the script but my understanding is this followed a process where the children created and adapted their own characters, based on their strengths.

— Naomi Rovnick 歐蜜 (@naomi_rovnick) February 1, 2022
The drama group have now done this v good blog about how they work. They don't audition the kids but adapt the environment for them and build their confidence. (Performance at work is often linked to self esteem and feeling accepted too): https://t.co/0OzQ7bevHV

— Naomi Rovnick 歐蜜 (@naomi_rovnick) February 2, 2022
When I moved to Colorado, I ended up teaching acting classes to all age groups, but one of my favorites was my evening adults class. I had folks across ages and careers – you probably wouldn't be surprised how many electrical and mechanical engineers have a deep artistic side.
One semester I received a phone call asking me if I would be okay if John joined our class – John has Down Syndrome – and really wanted to take the class. I thought about it for a day. I wasn't worried about John, I was more concerned I would fail him. But I was up for it if he was.
It was the best class I ever taught. My students lined up to be his scene partners, and we all thought outside the box in order to make it successful. He brought joy and laughter and talent to each night. And on the last night of class, he told me it was one of the best experiences of his life. It was one of mine, too. I cried all the way home.
In wildlife news (good news site provided by Madeleine) LA is getting a wildlife crossover:
In the U.S., over a thousand wildlife crossings help animals navigate the human-built world, allowing them to bypass hazardous infrastructure like highways, train tracks and aqueducts. But less than two dozen of these are overpasses, and most are in fairly rural areas. L.A.'s will be a groundbreaking test case: a wildlife crossing designed to help big cats thrive in an urban environment.

Scheduled to begin construction this spring, the Wallis Annenberg Wildlife Crossing will traverse the 101 Freeway at Liberty Canyon just west of Los Angeles. At a whopping $88 million, it's a costly bridge. But advocates say it's absolutely necessary to maintain the unusual habitat that is Los Angeles, a city where large wild animals and people coexist in close proximity.
Colorado has several successful wildlife crossings – not to mention the Elk who routinely use the crosswalks in Estes Park.
Dan B sends me fun stuff to share….which reminds me, Momsense, I am planning on photographing Nick and Nora in the scarves I have, it's been a bit crazy lately, but maybe for Mardi Gras. Here's a duck in a bowtie.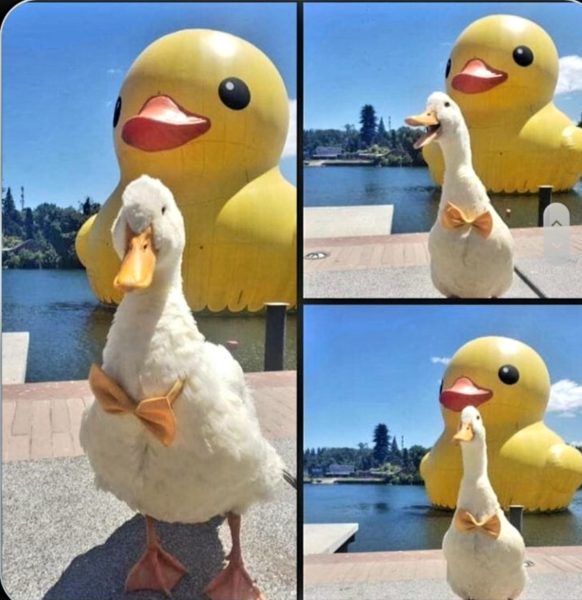 And last but not least – Trixie Belle had a vet appointment and weighed in at 54 lbs – 5 lbs more than Bixby at the same age. We may need to start a pool on how tall she's going to get and what her final weight will be.  She reached a major milestone this weekend. I have to elevate the dog water bowls to keep the ducks out of them. This weekend, Trixie could finally reach the raised bowls, so I removed her bowl from the patio steps.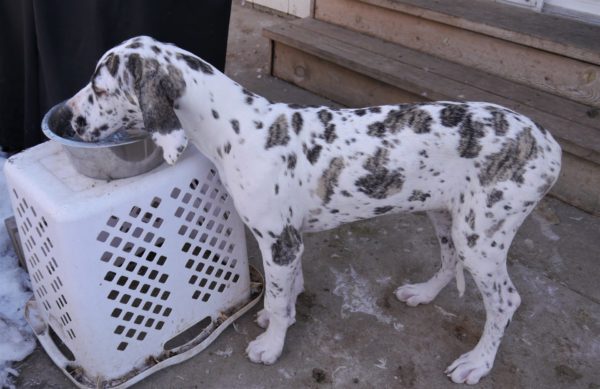 Trixie Belle at 17 weeks
As always, I welcome your Acts Of Kindness emails…