one might call it…disarray?https://t.co/pLgHSOs4Td

— Ofirah Yheskel (@ofirahy) February 8, 2022
Plenty of media attention for Saint Ashli, but what about the other woman who died during the insurrection? Well, she wasn't a 'good', photogenic victim. From Vanity Fair, "Rosanne Boyland Was Outside the U.S. Capitol Last January 6. How—And Why—Did She Die?"
… Rosanne Boyland came from my hometown of Kennesaw, Georgia. Unmarried, she was regarded by family members as a great and devoted aunt, often pitching in to babysit her friends' kids, or pick up her nieces from school. Intimates describe her as compassionate, empathetic, and close to her parents and siblings. She also had a history of battles with opiates and heroin addiction, frequently attending meetings to help her with substance abuse issues. She had worked occasional odd jobs over the years (such as wrapping gifts at a local kiosk during the Christmas season), but found it hard to secure steady work because she had had an arrest record, including a felony conviction for a drug-related offense. For the most part, she was unemployed and living with her parents.

Rosanne was not normally a political diehard or right-wing fanatic. In fact, as Justin Cave told me in his initial message, everything she would come to believe and espouse in her social media posts—her ardent support for Donald Trump and her convictions about secretive child-trafficking conspiracies—she would absorb and adopt over the course of a scant six months or so…

As one reads her texts and online messages, one senses that QAnon helped provide some elemental meaning, a sense of community—and a kind of clarity amid the darkness. In fact, in one of Rosanne's final posts on Parler, a social-networking platform popular among those who went to the Capitol on January 6, she wrote about feeling like she finally belonged: "I want to say thank you to everyone involved in this movement. My family thinks I'm crazy, but I'm heading up from ATL to be shoulder to shoulder with my true brothers and sisters." She signed off the message with the #WWG1WGAWW, shorthand for "Where we go one, we go all," a telling sign that Rosanne was deeply into Q…

How will she be remembered? To some, she's become a martyr, especially among those who believe, without definitive evidence, that she was killed by the police. To her family, she is a loving, caring person who, only near the end of her life, got sucked into a conspiracist abyss. And yet, it still seems as if most people don't really know who she was: a young woman from Kennesaw, Georgia, who had suffered tremendous hardships in her life, including abuse and addiction; a victim of disinformation being peddled by extremists and exploited by a demagogue who utilized countless people with vulnerable mindsets or warped agendas or unlawful impulses to heed his calls of keeping him in power. It's hard to know where or when—if at all—her tragic outcome could have been averted. It is something that haunts her family.

But there is another reason to remember Rosanne Boyland. In the end, as her own actions and words reveal, she believed in what she was doing by driving up to Washington, D.C. And those who descended on the Capitol on January 6 did so with a single purpose: to derail the constitutional process. Failing to understand this fundamental reality means that American democracy remains just as vulnerable today as it was a year ago on that cold winter day.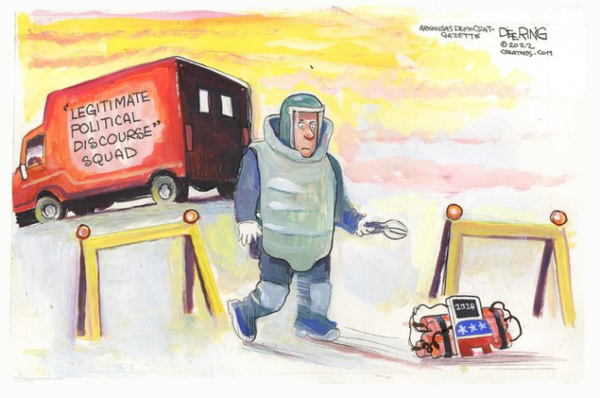 And remember, as you watch this, that some vile voices on the right call Fanone a "crisis actor." https://t.co/h4cJB0R1BM

— David French (@DavidAFrench) February 7, 2022
Safe to say that what happened on January 6 was anything but "legitimate discourse." This attempt to gaslight the nation by the GOP is shameful, as is their continued insistence on bowing to Donald Trump's whims. https://t.co/PZVf6GhZCR

— Citizens for Ethics (@CREWcrew) February 11, 2022
The GOP Death Cult stalwarts, of course, have a different viewpoint:
Louie Gohmert suggests that federal agents should be charged with insurrection for "stirring things up" on January 6th pic.twitter.com/MJKIVRHbhh

— Acyn (@Acyn) December 7, 2021
Very fine people, no doubt. Back the Blue! — unless those hirelings interfere with our agenda.
140 officers were injured on the day, 5 died afterward, 200 have left since Jan. 6: https://t.co/AT3a8cXHJ1 by @ganjansen #January6th #CapitolRiot #January6thInsurrection

— Anne Godlasky (@annieisi) December 7, 2021
Update: The Capitol Police Inspector General testified that about 200 left since Jan. 6. The Capitol Police department reports that 130 have left since the first pay period.

— Anne Godlasky (@annieisi) December 7, 2021