On the Road is a weekday feature spotlighting reader photo submissions.
From the exotic to the familiar, whether you're traveling or in your own backyard, we would love to see the world through your eyes.
Happy Valentine's Day!

It's still winter in the land of Albatrossity.  On Tuesday, Dan B takes us to Kubota Garden, and then we spend 3 days in Oregon with StringOnAStick.
Albatrossity
The second installment of the Wintry Mix in Flyover Country series includes seed-eaters, bug-eaters, fruit-eaters, and carnivores, covering just about every niche in avian food preferences.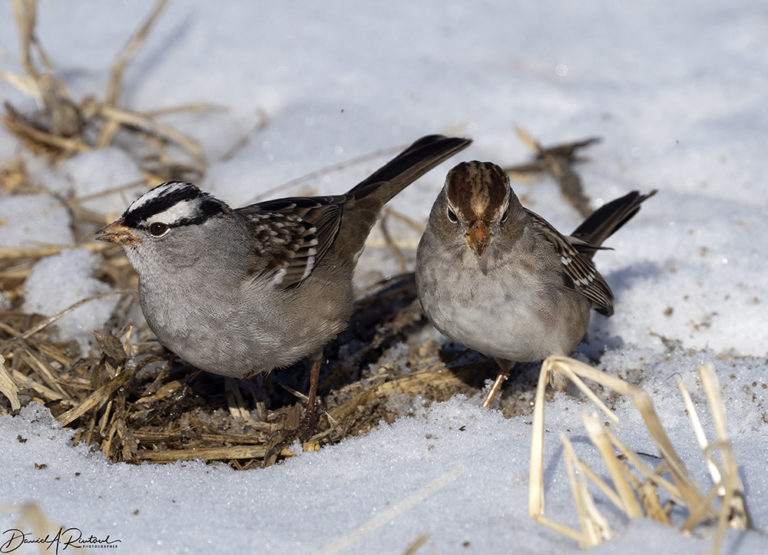 Near Manhattan KS
January 3, 2022
First up are these White-crowned Sparrows (Zonotrichia leucophrys), an adult on the left and a first-year bird on the right. Flocks of these handsome critters roam the plains in the winter, finding abundant seeds in harvested grain fields and sunflower patches. These two were using the time-honored scratch-and-sniff technique to unearth some seeds in a snowy corn field.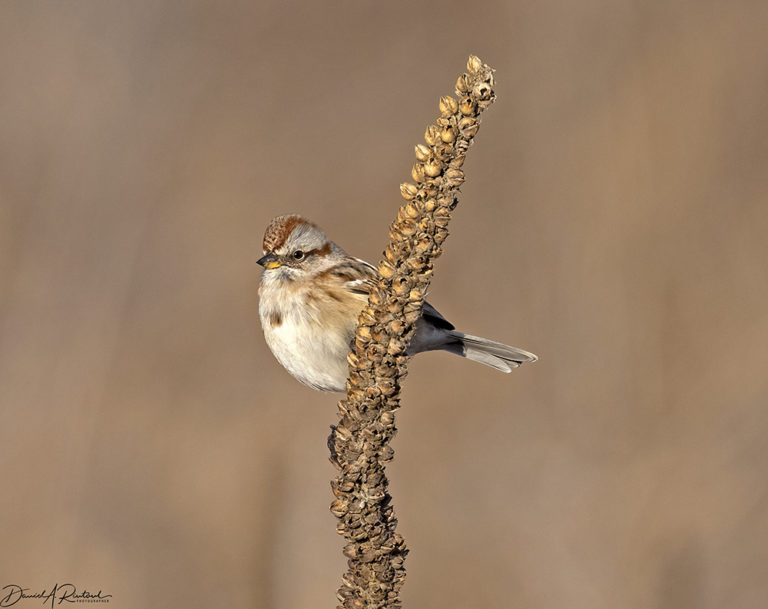 Near Manhattan KS
December 21, 2021
Our most abundant wintertime sparrow, the American Tree Sparrow (Spizelloides arborea), summers on the tundra and winters on the plains. Despite its name, it eschews perching in trees, which are non-existent on the tundra and formerly scarce in this corner of Flyover County. Grassy weedy edges are the best place to see these flocks.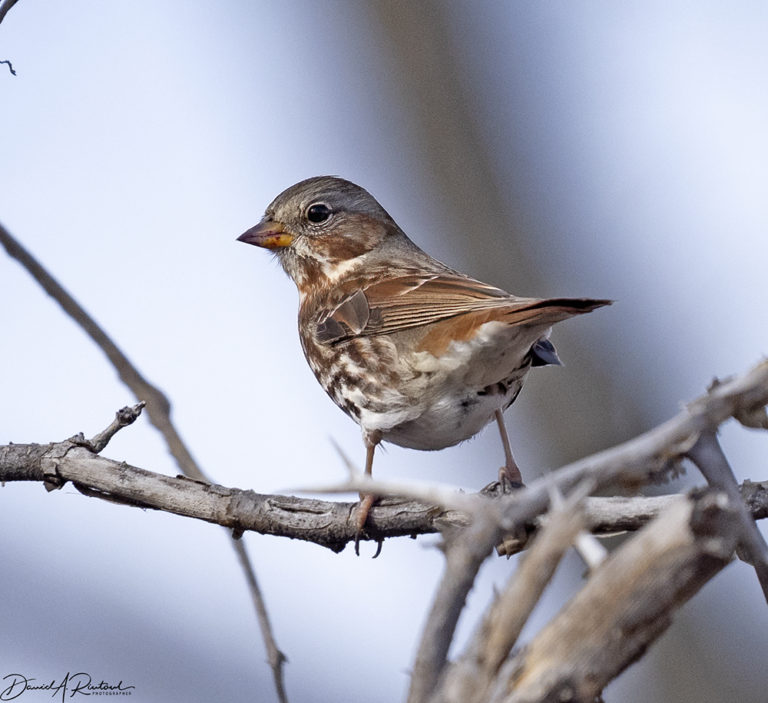 Near Manhattan KS
November 29, 2021
A much less abundant sparrow, the Fox Sparrow (Passerella iliaca) comes in many different colors in different parts of the continent. Although many range maps don't show it, we have small numbers of wintering Fox Sparrows here; almost all of them are of the red (taiga) subspecies. This is a hard bird to convince to perch in the open, so I was happy to see even a rear view of this handsome sparrow.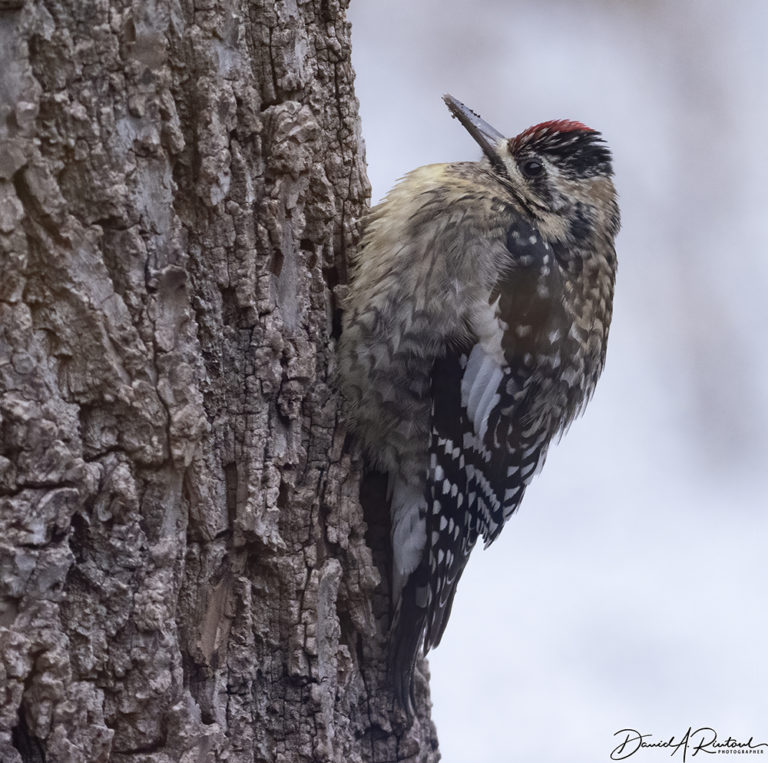 Near Manhattan KS
February 8, 2021
Moving on from the seed-eaters to the bug-eaters, this female Yellow-bellied Sapsucker (Sphyrapicus varius) is an uncommon species in our yard, despite the large number of trees. Unlike the other woodpeckers here, it doesn't bother with the seed or suet feeders, but will occasionally come in to the bird bath for a drink on a chilly winter day.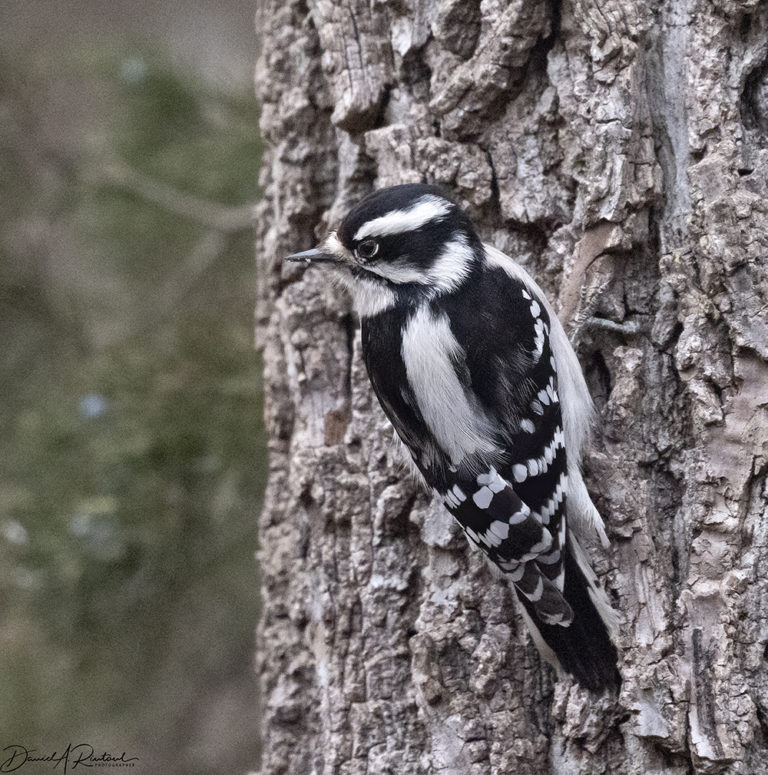 Near Manhattan KS
January 5, 2022
Downy Woodpeckers (Dryobates pubescens), on the other hand, are frequent diners at both the suet and seed feeders in our yard. This female was waiting for a spot at the seed feeder, since the nearby suet feeder was occupied by another Downy Woodpecker.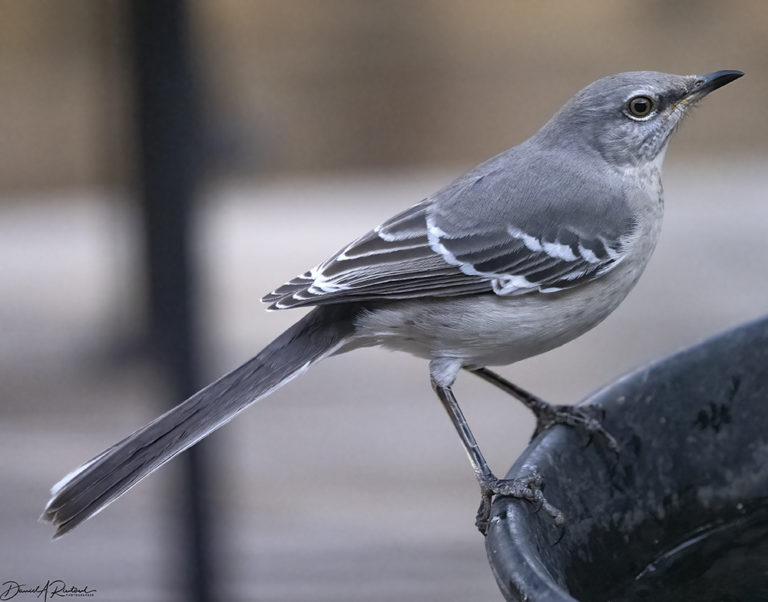 Near Manhattan KS
December 23, 2021
Northern Mockingbird (Mimus polyglottos) is a frugivore (fruit-eater) in the winter, and a familiar species to most North American birders. But this species is actually quite uncommon in the Flint Hills of Kansas, where I live; after living in this house for nearly 10 years, we have never seen one in the yard. So it was quite a surprise to see this one at the bird bath one morning. Species #111 for the yard list here.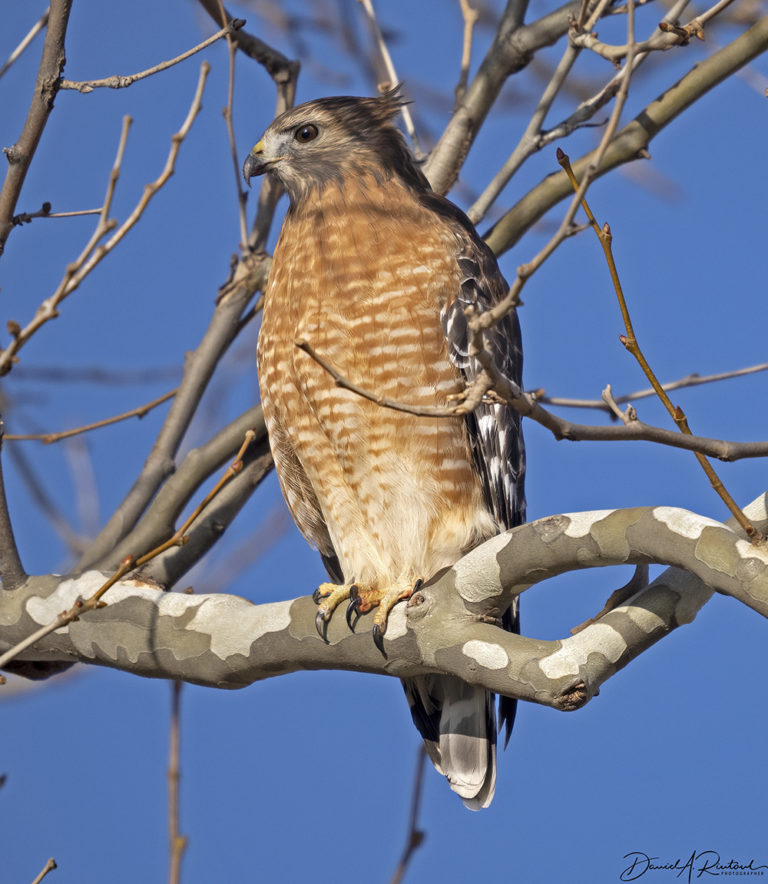 Near Manhattan KS
November 25, 2021
On to the carnivores! Red-shouldered Hawks (Buteo lineatus) nest in the woods somewhere near our yard, and come to visit the bird bath occasionally. Since they usually feed on rodents and reptiles, the feeder birds (chickadees, nuthatches, finches, sparrows and woodpeckers) generally ignore them. Sometime soon they will start to set up housekeeping in the woods behind the house, and their piercing calls will echo through the woodlot, once again announcing a springtime and a hope for new hawklets to grace our neighborhood. My friend John Lane has written a wonderful little book about his experiences tracking these birds in his neighborhood in South Carolina.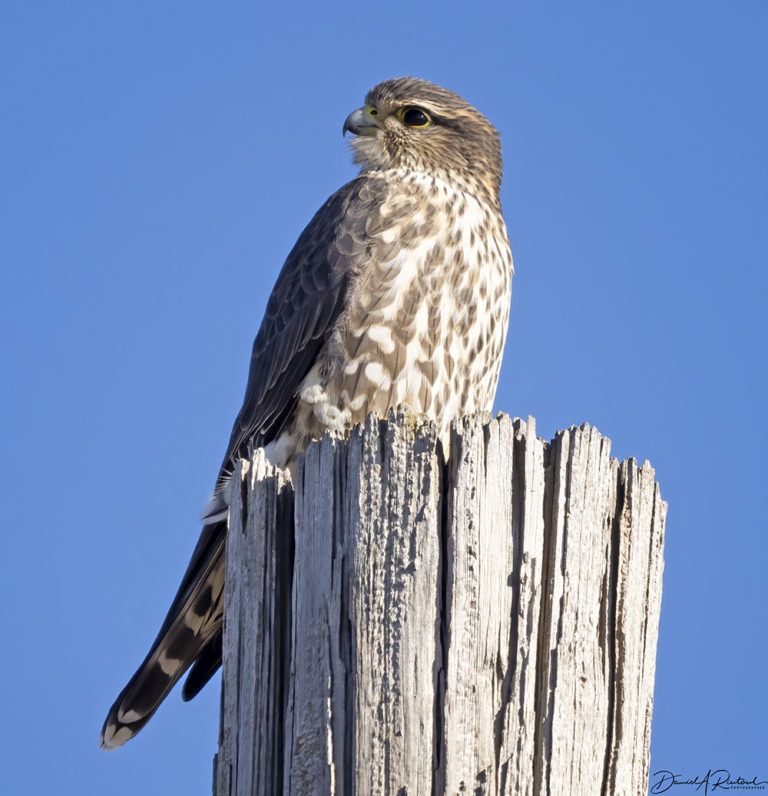 Near Manhattan KS
December 16, 2021
If this bird showed up at the feeders, however, it would cause a panic. Merlins (Falco columbarius) are efficient avian predators, and most other birds scatter when one enters the scene. They are birds of open areas, however, and thus don't bother urban and suburban bird feeding flocks very often. This is a young bird, and it was eying some flocks of Horned Larks in an ag field near here.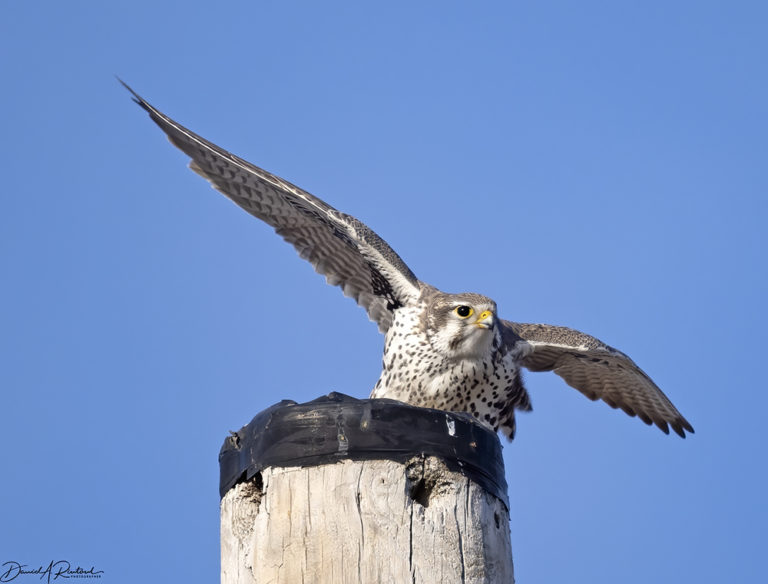 Near Manhattan KS
December 13, 2021
Another open-country avian predator, Prairie Falcons (Falco mexicanus) are the same size as a Peregrine Falcon, but the latter are only seen in this part of the world during spring and fall migrations. So a big falcon here at this time of year is almost certainly a Prairie Falcon, and it is always a treat to find one. Not a treat for the sparrows, larks, and blackbirds that it likes to hunt, however.
Near Manhattan KS
December 16, 2021
Finally, as you might have suspected, I'll include a picture of a Red-tailed Hawk (Buteo jamaicensis). This is the least common of the Red-tailed subspecies, the Krider's Hawk (B. j. kriderii). Only one in about 200-300 redtails in the winter here are members of this subspecies. A pale and regal presence here in the winter, this bird will be heading back to the Dakotas or perhaps Alberta for the summer season soon.