I keep running across more and more kindness stories. I think it's because I'm suddenly focused on them and when I'm scrolling or the news is running in the background, my brain hones in on the good news. It does a soul good.
If you listen to Wait Wait Don't Tell Me, this was featured a week or so ago and you may know the story. Steve Hartman, a man after my own heart, searching out stories of the best of us, followed up with a video: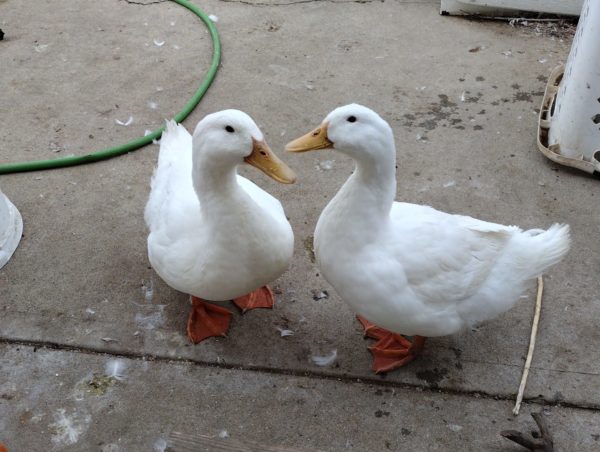 See these two? Look innocent, don't they? But Nick has been up to trouble all weekend and I'm trying to catch it on video. And later this week, another two days of sub-zero temps will bring them back into the bathroom. Which I was dreading, until I realized that Willow is so fascinated by them, this might actually be fun. Messy, but fun. If this weather keeps up, I may have to have a fundraiser to buy them a heated coop!
And here they are wearing MomSense's beautiful handiwork. Makes me a little wistful, missing Maddie, Mabel and Penelope, so stylish in them previously.
There are a few more photos here. I just want everyone to know, I almost lost a limb with these two – they are large and not playing – so don't expect it again. LOL
Open thread