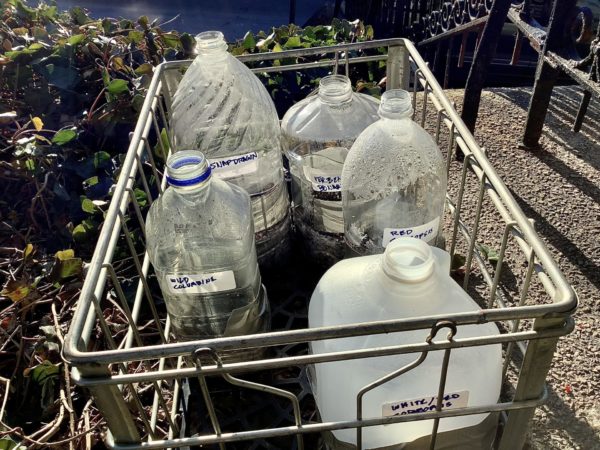 From commentor JeffG166:
1.26.2022
Winter sowing seeds in mini greenhouses outside in Philadelphia, PA. All the seeds either need a cold period or don't mind being started outside. No idea when or if they will come up. If they do there is no hardening them off to transplant them.

The seeds are snapdragons, verbena bonariensis, red coreopsis, white and red coreopsis and wild columbines.
***********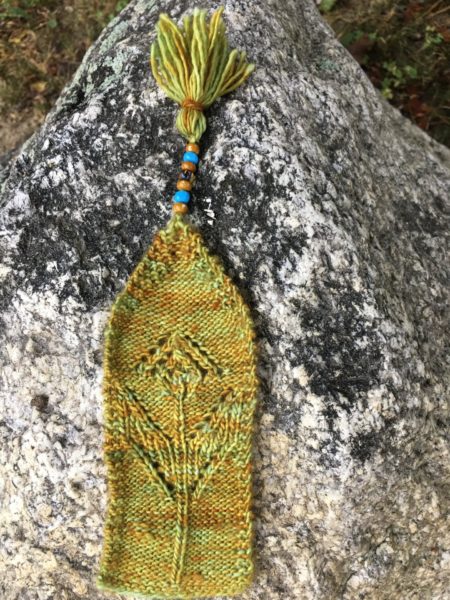 Commentor MomSense:
Here are a couple of photos of knitting projects taken in the garden.

Above: Flower Bookmark made with scrap yarn. The yarn is plant dyed in small batches.

Infinity scarf with a leaf pattern taken on the back deck next to a small container flower arrangement. Wish I had taken a photo of the container after it filled in later in the summer.

This is some Norwegian wool I bought in Oslo years ago. There is now a Montauk daisy where the petunias are in this photo.
***********
1.29.2022

Mini greenhouses this morning.
***********
The earliest daffodil clumps — sunny southern exposure, next to the basement window — are greening up nicely.
(So, unfortunately, is the garlic mustard in the back yard… )
What's going on in your garden (planning / memories / indoor), this week?