Sih-Ting Cai, Coleman Drake, Jean Abraham and I published a new paper in the Journal of General Internal Medicine where we look at 2019 and 2020 Plan Quality Rating System (QRS) scores for insurers on the ACA individual health insurance markets. Our primary question is whether or not Provider Sponsored Health Plans (PSHPs) have different quality scores than other forms of organization.
Going into this paper, our hypothesis is that organizations like Kaiser or UPMC (my former employer) or Geissenger have different financial incentives than entities that only sell insurance and not clinical care as well. We thought that PSHPs can internalize any gains from quality easier, thus making high scoring quality easier/cheaper to achieve and justify, so we thought that the would see PSHPs have higher global quality scores.
And that is basically what we found: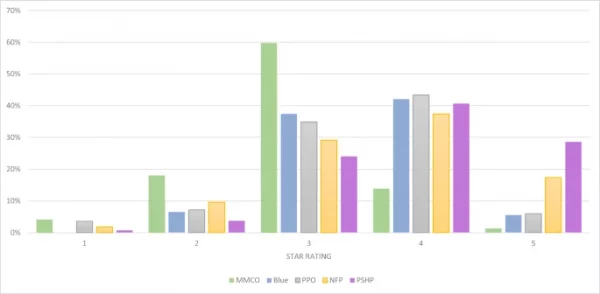 PSHPs had higher mean scores than non-PSHPs. We then intergogated the data a bit more as the figure above is non-exclusive, so we assessed the incremenetal contribution of different characteristics associated with global quality ratings:
For clinical quality management, PSHPs and non-profit organizations were associated with higher star ratings by 0.36 (95% CI = 0.11 to 0.62; P = 0.005) and 0.30 (95% CI = 0.10 to 0.51; P = 0.004), respectively. Also, PSHPs (95% CI = 0.03 to 0.50; P = 0.03) and PPOs (95% CI = 0.05 to 0.47; P = 0.02) exhibited positive associations with enrollee experience, whereas Medicaid-focused organizations were negatively associated with this outcome. Finally, non-profit insurer products were associated with a 0.24 (95% CI = 0.05 to 0.42; P = 0.01) higher rating with respect to plan administration.
We dive deeper into the subdomains. Typically PSHPs will have higher average scores than non-PSHPs on Behavioral Health, Diabetes and CVD care.
Organizational structures matter. This writing team has looked at quality ratings for behavioral health, and quality of care ratings. In those papers, we found that non-profits tended to have higher quality scores than other insurers and insurers that were primarily Medicaid Managed Care entities had lower quality scores. This new work adds to this literature as Medicaid Managed Care entities have lower quality scores for the newly examined domains over two years of data.
From a policy perspective, the ACA market does not pay for quality. Insurers have no incentive to invest in quality improvement or patient experience unless there is an immediate and large cost-saving return on investment. People churn in and out. The marginal buyer in the ACA is only buying on premium and has almost no utilization. People who are likely to care about quality are likely to have high utilization. Unless there is damn good risk adjustment, caring about quality can be a money sink and a negative attribute to insurers when they design plans. This is very different than Medicare Advantage where plans have direct financial incentives to score highly on quality ratings. If we think that the quality ratings are relevant information and a desired attribute of insurance plans in the ACA marketplace, the current price linked subsidy system does not encourage quality and should be changed.