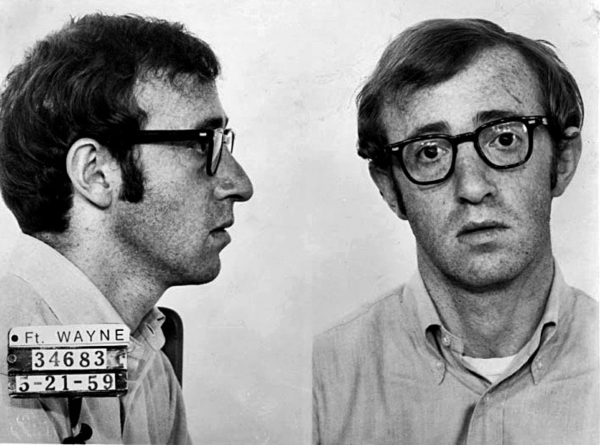 Oops. Woody Allen's latest movie is the Hiroshima of box office bombs:
Woody Allen has posted the lowest box office opening weekend of his career with his 49th film, "Rifkin's Festival," grossing just $24,000 on Friday and Saturday from 26 theaters, according to box office sources.

Most of the theaters screening the film are owned by Landmark Theaters, whose flagship Los Angeles location posted the highest single theater total for the film with $2,300. Other theaters outside of Landmark's circuit screening the film include the Quad Theatre in New York City, where the film grossed $1,600 over two days.

By comparison, Allen's previous film "Wonder Wheel" earned approximately $125,000 from five screens on its 3-day opening weekend in 2017, when the rise of the #MeToo movement brought long-standing allegations by actress Dylan Farrow against Allen — her adoptive father — returned to the public eye. Farrow, whose brother Ronan helped expose Harvey Weinstein's decades of sexual assaults in The New Yorker, has accused Allen of molesting her as a child in several interviews as well as in the HBO docuseries "Allen v. Farrow." He has never been charged or prosecuted and has denied the claims.
There are specific tropes in movies that don't age particularly well and I don't think that's a bad thing.
Movies are mirrors fixed in a specific time and place and seeing what's reflected in them with new eyes in a different era can inform us whether we've evolved or regressed as a society. As an example, think about the vast ideological chasm seperating Birth of a Nation from Twelve Years a Slave. Although D.W. Griffith's racist glorification of the KKK would never be tolerated today, back in the day it was a vision of America that Griffith and the majority of white people in movie theaters across the country were emotionally invested in. It was where white Americans wanted to live.
Sometimes, in spite of what the plot of the movie is supposed to be about, a movie can also be a peepshow inside the filmmaker's head that accidentally reveals way more than what they originally intended and what's brought out into the open can get pretty ugly. There are Monsters of the Id that should never be seen but they're here and they are hiding in plain sight.
Another example of a tiresome, offensive and misogynistic conceit in Hollywood that just won't go away are the infinite number of "romantic" movies glorifying May-December relationships. Maybe it's me, but I don't think it's heartwarming seeing a senior citizen dating a young woman who probably wasn't even born yet when he bought his first VCR. Ick.
But remember, these movies are the reflections of what some men in this culture fantasize about every day. The movie is a mirror, and the mirror is only the messenger. The mirror is just reflecting what's already there.
What makes Malcolm & Marie, Lost in Translation, Silver Linings Playbook, Autumn In New York and other movies of this genre problematic is how they gloss over the inherent power imbalance in these type of relationships. No matter how intelligent and perceptive some young women might be, there are hard lessons that can only be learned by experience. A young woman usually won't see the big red flags that an older woman would recognize right away.
What comes to mind is a scene from Ron Howard's Parenthood where Julie (Martha Plimpton) is telling her mother (Dianne Wiest) about being betrayed by her dirtbag boyfriend and Julie doesn't understand why he lied to her.
Julie: He said that he loved me.
Helen: Men say that. They all say that. Then they cum.
There are predatory men with power who will definitely try to take advantage of a naive and vulnerable young woman because that's what they do. That's what Woody Allen tried to do to Mariel Hemingway.
In Woody Allen's 1979 comedy Manhattan, the filmmaker, then 44, dated a 17-year-old character played by Mariel Hemingway. The part earned Hemingway an Oscar nomination, and, according to the actress in a forthcoming memoir, also the unwanted romantic attention of Allen.

In Out Came the Sun, which will be released on April 7, Hemingway claims that Allen attempted to lure her to Paris once she turned 18—two years after she had filmed Manhattan. "Our relationship was platonic, but I started to see that he had a kind of crush on me, though I dismissed it as the kind of thing that seemed to happen any time middle-aged men got around young women," writes Hemingway. The actress suggests that Allen attempted to act upon the crush by flying to her parents' home in Idaho and inviting the teen to Europe.

According to an excerpt obtained by Fox News, the actress cautioned her parents "that I didn't know what the [sleeping] arrangement was going to be [in Paris], that I wasn't sure if I was even going to have my own room. Woody hadn't said that. He hadn't even hinted it. But I wanted them to put their foot down. They didn't. They kept lightly encouraging me."

Hemingway says that she woke up at night with the realization that "[n]o one was going to get their own room. His plan, such as it was, involved being with me." She says that she went into his guest room and woke him up asking, "I'm not going to get my own room, am I? I can't go to Paris with you."

The actress says that Allen left Idaho the next morning.
The moment Woody stepped inside the house, Hemingway's home suddenly became a place where she wasn't safe anymore. Hemingway was caught inside Woody's fantasy where he was the landlord and she was expected to pay the rent. Worse, Hemingway's parents ignored what was going on. They should have had their daughter's back but instead her mother and father decided to turn their backs. People are often mesmerized by celebrities and Woody knew that.
But incredibly, in spite of being outnumbered and surrounded, an 18-year-old Mariel Hemingway still found the strength to say "No". But although Hemingway was able to protect herself back then, it's still absolutely disgraceful she was painted into a corner at home in the first place.
Even though Woody didn't get Hemingway into his bed, he probably said to himself, Better luck next time, because I'm damned sure this wasn't the first time he tried a stunt like this because that's what men like him did.
But all bad things must come to an end. Years later, Mariel Hemingway finally got the last word:
Now, on the podcast Better Together with Anne & Heather, Hemingway spoke at length with hosts Anne Heche and Heather Duffy about Allen's Manhattan and the current controversy surrounding Allen v. Farrow. Hemingway says the film "100% couldn't come out" today due to the now-infamous underage relationship at the heart of the film, according to Variety. "I'm not condoning any behavior, but that movie probably couldn't come out today," she added.
The world has moved on but Woody didn't, so he got left behind. Nowadays the public thinks of Woody Allen as that creepy old guy who married his ex-wife's adopted stepdaughter.
Annie Hall, the crown jewel of Woody's filmography, happened a lifetime ago. Instead, moviegoers have Rifkin's Festival, an odd, stupefying cinematic misfire where the only people laughing in the multiplex are Mike Nelson, Crow and Tom Servo.
Sadly, what's reflected in Woody Allen's tedious, pretentious and unfunny movies of late is the frozen mindset of a man who reads the same books, listens to the same music and sees the same movies over and over again. "Cancel Culture" didn't kill Woody's movies; it was a self-inflicted wound.
Woody Allen's movies are mirrors, and the mirrors are only the messenger. The mirror is just reflecting what's already there.
Or not.