In the months since the 2020 election and the attempt at overturning its result on January 6, it has become evident that our enemies on the right are on the march.  While they are fewer in number than we are, they have a unified command, a common message, a massive media/propaganda apparatus, and a base that has been ginned up to a fever pitch.
They also have a coherent and realistic plan to overturn the 2024 election if they can't win it outright in the Electoral College.  Their plan is two-fold: to suppress the vote and abuse the election administration process to overturn election results.
If they succeed in this plan, the government will soon become, in every sense, a political tool of the far right.  Democracy is the first thing they seek to destroy, as a precondition for destroying everything else.
Although many commentators in the center and on the left have expressed alarm at this situation, the most common responses have covered the spectrum from complacency to defeatism.  We believe there is another way forward, which is to try to assemble a resistance against this attack that focuses on the states where the battle is being most intensely waged.  That's where our allies are; that's where we can make the most difference and maximize our impact.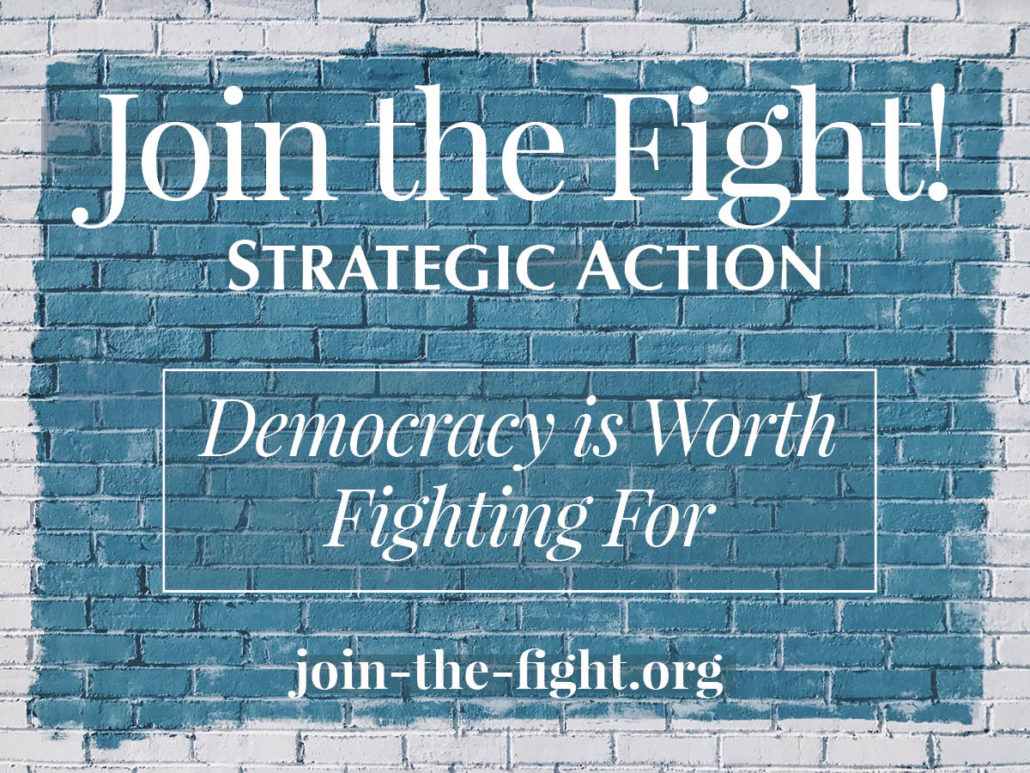 We know that many of you share the belief that this fight – though daunting – is winnable, and we are asking you to join us.  The steps we are proposing to take in assembling the resistance are three-fold.
FIRST.  To map out, as best we can, the different and diverse battles to fight in key states.
SECOND.  To make contact with activist organizations in key states, to the extent possible, to identify opportunities for BJ peeps to participate in actions planned by other organizations, to raise funds in support of those actions, and to make activist organizations aware that we are potentially available in support of their activities.
THIRD.  To make a difference in the fight against disinformation, with a specific, directed effort.
What we can potentially do is harness the power of this community to do something strategic.
In a series of posts over the next couple of weeks, we'll be sharing the planning we've done so far.   But before we get into the specifics, we first wanted you to know where we are coming from and what our goals are, which is the purpose of this post.
Some of you will recall that last June, a number of us began a pilot project to put together a system that would be a tool for both ourselves and perhaps others who want to understand how these state-level battles are developing across the country, to be better able to join them more effectively.
Thanks to the many volunteers who worked on the pilot project, those early efforts taught us so much about the process, about what worked and what didn't, all of which was incorporated as we moved to the next phase.
We made it through the 7-state pilot test phase, and through the second phase of taking what we learned from the pilot project, refining our plans, expanding our thinking, and creating an interactive database, which when fully implemented will function as both a source of information and as a resource that identifies opportunities for action.
We are at the point now of sharing our thinking more widely, creating a read-only version of the database so you can all see what we're working toward, and inviting the wider Balloon Juice community to get involved.  What you will see in the database is a framework, not a completed set of information. There's a lot of work to be done to flesh it all out.
After the second meeting with Adam Schiff, there was a lot of talk about what we can do to stop the damage, turn things around, and win in November.  Here on Balloon Juice – because of our numbers and our passion – we are uniquely positioned to be able to make a difference; what remains to be seen is how much interest there is in getting involved in this particular effort.
Bottom line, eyes on the prize: the overarching goals for this project are to fight voter suppression and election subversion efforts, to fight disinformation, and to win.  Collecting information isn't the point, it's just the means to an end, which is making sure that our political action is as strategic as our fundraising.
We believe that for political activists, it's all hands on deck time.  If you believe that, too, we hope you will let us know your thoughts about what you have read so far, and we are here to answer any questions you might have at this point.
Thanks for listening; we're looking forward to hearing what you think!