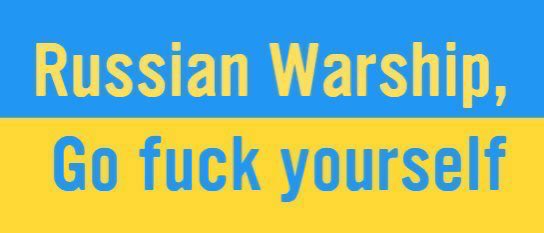 Just a brief house keeping note at top. If I keep doing these updates, I'm going to title them War for Ukraine from here on out with the update # after the colon. I am not going to retitle the first one I did two nights ago.
About an hour ago Kyiv's mayor, Vitali Klitschko, warned that Russian forces are closing on the city:
Kyiv Mayor Vitali Klitschko has warned Russian troops are "very close to the capital" and predicted "a difficult night" for the city.
 
"The situation now is threatening for Kyiv, no exaggeration," he said on his Telegram channel. "The night and the morning will be difficult."

— Natasha Bertrand (@NatashaBertrand) February 25, 2022
? Air raid warning in Kyiv. And missiles being fired on the capital. I've counted three large strikes in past five minutes. Watching from my window and seeing the sky light up; roar of explosions reverberating across the city.

— Christopher Miller (@ChristopherJM) February 25, 2022
President Zelenskyy has both tweeted out video of him in Kyiv to knock back Russian disinformation that he'd abandoned the city and its defense and tweeted that he'd had a discussion with President Biden about next steps:
President, his Chief of Staff, the Prime Minister, head of the Servant of the People are all in Kyiv.

We will win! ?????? pic.twitter.com/1ae8hZnthC

— Oleksiy Sorokin (@mrsorokaa) February 25, 2022
Resupply of weaponry is continuing to flow into Ukraine:
⚡️BREAKING: Kyiv home guard, the 112th Territorial Defense Brigade, now operate British-provided NLAWs.
Welcome to hell, motherfuckers. pic.twitter.com/9OVuQhQkTC

— Illia Ponomarenko (@IAPonomarenko) February 25, 2022
About four hours ago, AMB (ret) McFaul, tweeted that NATO has (finally!) activated the NATO Very High Readiness Joint Task Force (VHRJTF)
Hearing now that NATO's Very High Readiness Joint Task Force (VJTF) has been activated. Excellent news.

— Michael McFaul (@McFaul) February 25, 2022
The NATO Very High Readiness Joint Task Force is:
The NATO Response Force (NRF) is a highly ready and technologically advanced multinational force made up of land, air, maritime and Special Operations Forces (SOF) components that the Alliance can deploy quickly, wherever needed. In addition to its operational role, the NRF can be used for greater cooperation in education and training, increased exercises, support for disaster relief and better use of technology.

A powerful package

NATO Allies decided at the 2014 Wales Summit to enhance the NRF by creating a "spearhead force" within it, known as the Very High Readiness Joint Task Force or VJTF. This enhanced NRF is one of the measures of the Readiness Action Plan (RAP) agreed by Allies to respond to the changes in the security environment.

The enhanced NATO Response Force includes:

a command and control element: Operational command of the NRF alternates between Allied Joint Force Commands in Brunssum and Naples;
the Very High Readiness Joint Task Force (VJTF): This NRF element – about 20,000 strong – includes a multinational land brigade of around 5,000 troops and air, maritime and SOF components. Leading elements are ready to move within two to three days. Allies assume the lead role for the VJTF on a rotational basis;
Rather than just give a run down of events, I wanted to provide a bit of analysis now that Ukraine has withstood the first two days of the invasion. That'll be after the jump.
The positive signs I'm seeing are:
The Ukrainians appear to be very motivated, for obvious reasons.
Zelenskyy has risen to the occasion. As have the Klitschko brothers and other Ukrainian leaders, elites, and notables.
The Ukrainian military is performing well so far.
The Snake Island defenders and the retaking of the airport outside of Kyiv are going to be huge for military and civilian morale.
As is the MiG 29 pilot or pilots flying sorties over Kyiv and now known as The Ghost of Kyiv.
As of now, based on numbers from the Ukrainian Ministry of Defense, the Ukrainians are inflicting almost 8 killed in action (KIA) on the Russians for every Ukrainian KIA. This too will be a big morale booster for the Ukrainians.
Russian troops, including at least one whole unit, are surrendering. Again a major morale booster.
My concerns:
Putin has committed only half of his forces so far. He still has plenty of reserves to throw at Ukraine.
He has also been much more restrained than expected in use of AirPower, his missiles, and cyber warfare.
I would very much like to know why he has held back.
I want to build out the killed in action line of analysis a bit. After the first day of fighting, the reporting was that the Ukrainians had killed 800 Russian Soldiers while suffering only 137 KIAs. By last night eastern time, the reporting was that the Ukrainians had killed an additional 2,000 Russian Soldiers bringing the total to 2,800. I have not seen an update to the Ukrainian KIA totals after the second day. I've also seen the numbers as 400 Russian KIA after the first day of fighting. Even if the lower number is the accurate one, and I don't think it is, this would be 4 Russian Soldiers killed for just over every one Ukrainian Soldier killed. And while the Russians definitely have more Soldiers massed on Ukraine's borders to throw at the Ukrainians, this is still a huge imbalance in favor of the Ukrainians. The reason I think the higher number may be more accurate is that the Russian Health Ministry has issued a nation wide mobilization of Russian doctors, nurses, and other medical person for a "mass medical emergency" event in Russia, but the orders make it clear this will be official travel. I think that this reporting is a good indicator that the Russian casualty numbers that Ukraine's MOD is putting out are pretty close to accurate. And that Putin never expected this type of resistance from the Ukrainians or for it to be this effective. Comparative context here is important. The US lost 4,431 personnel in Iraq as of 19 JUL 2021. It is being reported that the Russians have lost almost 2/3rds of that in two days! Even if the number is half what is being reported, that is still an amazing number of KIAs in just two days.
Given the time difference, another long sleepless night has fallen on Ukraine. While we wait for more news of Ukraine's defense, here's some of what is giving inspiration to the Ukrainians defending their homes right now.
The Snake Island Defenders:
The Ukrainian defenders of Snake Island died as heroes ? #StandWithUkraine pic.twitter.com/b114AiUwoh https://t.co/TnigwvlNrv

— Wu-Tang Is For The Children (@WUTangKids) February 25, 2022
The Ghost of Kyiv:
#Kyiv #Ukraine pic.twitter.com/wSMpbhS7cY

— Aldin ?? (@aldin_ww) February 24, 2022
#Kyiv pic.twitter.com/gcqAqq1t4T

— Aldin ?? (@aldin_ww) February 24, 2022
One Grandma that has no fucks left to give!
Російські окупаційні війська зайшли в місто Геніческ.⁰Відео спілкування з російським загарбником розмістила на своїй сторінці в соцмережі ФБ місцева мешканка.⁰На відео російський військовий не відповідає на питання,яка мета його перебування в місті. ⁰Відео з'явилось о 13:28. pic.twitter.com/Lp95AJu1Tk

— НепоганаТетяна (@ian_tanya) February 24, 2022
Transcript of the Ukrainian grandmother telling a Russian soldier to put sunflower seeds in his pocket, so when he dies on their land sunflowers will grow where he fell. She's wonderful. pic.twitter.com/LC25fOfZ6h

— Jacquie Stephens ? (@Jazmo0712) February 25, 2022
Finally, this was tweeted out yesterday by a Canadian diplomat:
The biggest test in @NATO's history is at hand.

Putin is the aggressor our alliance was created to defend against.

He is engaged in a pivotal war of conquest.

The fight to defend Euro-Atlantic values is happening right now, in Ukraine.#ArmUkraine #shelteroursky #NFZ

— Chris Alexander (@calxandr) February 25, 2022
If you believe this is a fight to defend Euro-Atlantic values, then fight. I get that President Biden has to run the traps here at home given the domestic political situation, as well as the ones with our EU allies and partners because some of them seem to have gotten some selective amnesia over the past 70 years. So this isn't a complaint about what the administration is or is not doing because I understand the process, but Putin has made it clear that this is step 1. If he succeeds, he'll consolidate, take time to rebuild, then its the Baltics. Then try to repeat the cycle in Poland. Then try to repeat the cycle again in the Caucasus.
Right now we have someone who is willing to be the tip of the spear partner in this fight. The Ukrainians are dug in, holding beyond anything I think anyone could've imagined on Monday. Their president is begging us, daring us, shaming us to commit. The big ask is denial of flight over Ukraine to Russian military air assets. That's it. Fine, we can't use NATO assets because of Putin's ambiguity and threats. We can't use the Finns or the Swedes for the same reason. I get it. What the fuck are the Israelis and the Jordanians doing this week? You can't tell me King Abdullah wouldn't put on his flight suit for this. If we can't get a single non-NATO, non-EU partner to actually run interference for us on this, providing the necessary fig leaf, we need a complete rethink of our entire defense alliance concept.
For those worried about Putin's ambiguous threats, the DOD has determined it's a bluff.
A shred of good news. Asked about Putin seemingly alluding to the threat of nuclear force, a senior U.S. defense official says this:

"I want to caveat this by saying we can't know perfect detail about their strategic posture. But we don't see an increased threat in that regard."

— Dan Lamothe (@DanLamothe) February 24, 2022
If we have reasonably concluded it is a bluff then we need to rise to the occasion the way the Ukrainians are. We find some way to deny flight. We find a way to hit the damn hypersonics we believe Putin put in Kaliningrad as a threat to our EU allies' capitols to freeze our decision making to remove that threat. But we don't sit around, claim that NATO is the strongest military alliance in history, while all NATO can do is hold meetings while its member states impose sanctions that may or may not be effective. If Putin's invasion of Ukraine is the threat that everyone is saying it is, then we must rise to meet it. Right now the most unlikely of national leaders, President Zelenskyy is doing so. Right now the Ukrainian military and Ukrainian citizens are doing so. Maybe, just maybe we and our NATO and EU allies should do so ourselves.
Open thread!