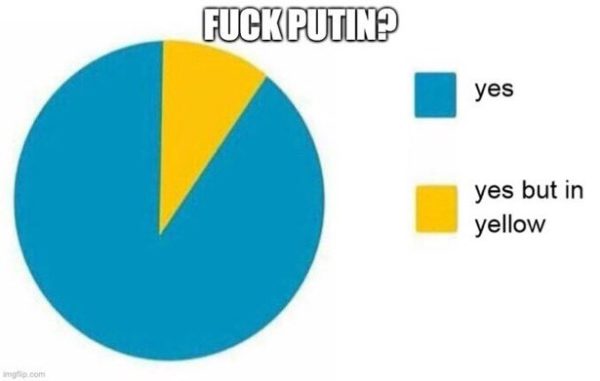 (I do not remember where I found this)
As I write this the first light of dawn is beginning to break over Ukraine and the fourth day of the war caused by Russia's reinvasion of Ukraine begins. By the time I hit post day four of the war for Ukraine will be fully underway.
As dawn comes to Kyiv and the other Ukrainian cities, the defense and the defenders are holding!
⚡️After 3 days of Russia's war, the fighting is where it began, the Russian army has not been able to advance, but is attacking Kyiv.

"We totally control everything that happens in the regions of Ukraine," Advisor the the Chief of Staff of the President Mykhailo Podoliak said.

— The Kyiv Independent (@KyivIndependent) February 27, 2022
It has not been without costs. The Russians significantly ramped up air attacks overnight, including blowing up a fuel depot, a gas line, and, apparently, attempting to blow up a nuclear waste containment facility.
The fire can be seen from 20 miles north in Kyiv. https://t.co/QoirSKTyaP

— Christopher Miller (@ChristopherJM) February 27, 2022
The footage shows a gas pipeline on fire in Kharkiv after a Russian attack.

Video: State Special Communications Service of Ukraine pic.twitter.com/owuSoKqoFA

— The Kyiv Independent (@KyivIndependent) February 27, 2022
⚡️Ukraine's State Emergency Service has clarified that the shelling on a radioactive waste disposal site in Kyiv did not lead to depressurization of the storage of radioactive substances.

The hit was on the fence and the building itself and the tanks remain intact.

— The Kyiv Independent (@KyivIndependent) February 27, 2022
And the United Nations is reporting 240 Ukrainian civilian casualties, which is most certainly an undercount.
United Nations: At least 240 civilian casualties in Ukraine since Russia's invasion began on Thursday.

The U.N. believes "real figures are considerably higher" because many reports of casualties remain to be confirmed.

— The Kyiv Independent (@KyivIndependent) February 27, 2022
And while the defenses and defenders have held, the attacks are not over.
⚡️Six people, including a seven-year-old girl, killed in Russian shelling of Okhtyrka, in Sumy Oblast the Governor Dmitry Zhivitsky said.

— The Kyiv Independent (@KyivIndependent) February 27, 2022
⚡️Air raid alert in Rivne region & Lutsk.

People should go to the nearest shelter.

— The Kyiv Independent (@KyivIndependent) February 27, 2022
The good news is that the US and our EU partners have decided to severely ratchet up the pressure. From the European Commission:
Joint Statement on further restrictive economic measures

We, the leaders of the European Commission, France, Germany, Italy, the United Kingdom, Canada, and the United States condemn Putin's war of choice and attacks on the sovereign nation and people of Ukraine. We stand with the Ukrainian government and the Ukrainian people in their heroic efforts to resist Russia's invasion. Russia's war represents an assault on fundamental international rules and norms that have prevailed since the Second World War, which we are committed to defending. We will hold Russia to account and collectively ensure that this war is a strategic failure for Putin.

This past week, alongside our diplomatic efforts and collective work to defend our own borders and to assist the Ukrainian government and people in their fight, we, as well as our other allies and partners around the world, imposed severe measures on key Russian institutions and banks, and on the architects of this war, including Russian President Vladimir Putin.

As Russian forces unleash their assault on Kyiv and other Ukrainian cities, we are resolved to continue imposing costs on Russia that will further isolate Russia from the international financial system and our economies. We will implement these measures within the coming days.

Specifically, we commit to undertake the following measures:

First, we commit to ensuring that selected Russian banks are removed from the SWIFT messaging system. This will ensure that these banks are disconnected from the international financial system and harm their ability to operate globally.

Second, we commit to imposing restrictive measures that will prevent the Russian Central Bank from deploying its international reserves in ways that undermine the impact of our sanctions.

Third, we commit to acting against the people and entities who facilitate the war in Ukraine and the harmful activities of the Russian government. Specifically, we commit to taking measures to limit the sale of citizenship—so called golden passports—that let wealthy Russians connected to the Russian government become citizens of our countries and gain access to our financial systems.

Fourth, we commit to launching this coming week a transatlantic task force that will ensure the effective implementation of our financial sanctions by identifying and freezing the assets of sanctioned individuals and companies that exist within our jurisdictions. As a part of this effort we are committed to employing sanctions and other financial and enforcement measures on additional Russian officials and elites close to the Russian government, as well as their families, and their enablers to identify and freeze the assets they hold in our jurisdictions. We will also engage other governments and work to detect and disrupt the movement of ill-gotten gains, and to deny these individuals the ability to hide their assets in jurisdictions across the world.

Finally, we will step up our coordination against disinformation and other forms of hybrid warfare.

We stand with the Ukrainian people in this dark hour. Even beyond the measures we are announcing today, we are prepared to take further measures to hold Russia to account for its attack on Ukraine.
The White House posted and then tweeted the exact same announcement after allowing the EU to post it first.
More after the jump including analysis.
In extremely good news:
Magomed Tushayev, one of Ramzan Kadyrov's top warlords, has been killed in action in Hostomel.
??Ukraine's elite Alpha Group is reportedly fighting Chechens in the airfield. pic.twitter.com/bPHgBPK8sL

— Illia Ponomarenko (@IAPonomarenko) February 26, 2022
There are reports that the Ukrainians took out the entire convoy of Chechen fighters known as Kadyrovites named for the brutal warlord who runs Chechnya on behalf of Putin.
Also, Germany finally removed the sticks from their tuchases and reinserted their spines authorizing the transfer of German manufactured weaponry to Ukraine.
Germany has authorized the Netherlands to send Ukraine 400 rocket-propelled grenade launchers to aid in the fight against Russian invaders, according to two EU officials — marking an abrupt shift in Berlin's military policy amid pressure from EU and NATO allies.

The reversal could mean a rapid increase in European military assistance for Ukraine, as large portions of the Continent's weapons and ammunition are at least in part German-manufactured, giving Berlin legal control over their transfer. Yet Berlin's changing stance does not necessarily mean all requests for arms shipments will be approved, as each case is decided individually.

Poland started sending ammunition by land, while Estonia and Latvia on Friday said they were beginning to truck fuel, Javelin anti-armor weapons and medical supplies to the Ukraine border for hand-off to Ukrainian forces. Elsewhere, the Czech Republic said it would send guns and ammunition, and Slovakia said it would send ammunition, diesel and kerosene.

On Saturday, more countries started chipping in.

The Netherlands said it will send 200 Stinger anti-aircraft defense systems to Ukraine — often the top-requested type of military aid among Ukrainian soldiers and officials (apart from Western powers sending their own planes and forces to fight with Ukraine). And Belgium announced it would supply Ukraine with 2,000 machine guns and 3,800 tonnes of fuel.

Across the Atlantic, the United States on Saturday also upped its ongoing military assistance to Ukraine, authorizing up to $350 million to help bolster Ukraine's defenses, funding that will include "further lethal defensive assistance."
Here's where things are going to get dicey. As the economic responses move from sanctioning specific business and individuals to removing most of Russia's banking system from SWIFT and going after the wealth – in dollars, pounds, euros, etc; real estate and land; yachts; jets; professional sports franchises; etc –  of Putin, his key aides and agents, and the rest of the oligarchs enabling him, as well as going after the mistresses, girlfriends, and children of Putin and his cronies, pressure is going to build. Specifically the pressure by the oligarchs and other sycophants and cronies to protect themselves. Additionally, the increase in the flow of weapons to rearm Ukraine to allow it to withstand the Russian reinvasion is also going to increase pressure on and around Putin.
The war is not going well for the Russians. This was not the speed run to Kyiv to capture and kill as much of the Ukrainian national government and as much of the government of the oblasts as possible and replace them with easily controlled trusted agents. Every day that Ukraine holds out increases the pressure. And that pressure is going to get relieved in two ways. The first is that Putin will up his operational tempo. What he threw at the Ukrainians overnight was much more than he'd ordered be done over the previous two nights. And as day 4 turns into night 5 of the war what he orders will be more than what he threw at the Ukrainians today. CNN reported earlier that its reporting team had eyes on a thermobaric missile launcher just south of Belgorod, Russia near Ukraine. If things continue to go badly, I expect we'll unfortunately see this type of weapon system deployed. The second way the pressure is going to get relieved is that Putin will begin to go after the US and our EU and NATO allies in ways that he has not yet done so. He will lash out, most likely through increased cyber attacks first, in an attempt to inflict pain to stop, or at least slow down, the resupply of the Ukrainian military.
Putin has seriously miscalculated with this reinvasion. He misunderstood the resistance his forces would face. For whatever reason he seriously misunderstood the competency of the military he's spent over a decade rebuilding and modernizing. And he misunderstood how the US and its EU and NATO allies, as well as the vast majority of the world, would respond. The other night, while texting with TaMara, she asked what I thought was up with Putin. I replied that:
I think Putin has nursed this grievance, that the fall of the Soviet Union and everything bad that has happened to Russia since the fall of the Soviet Union, is the US's fault. That the US, working through its lackeys in the EU and NATO, has gone out of its way to damage and harm and keep Russia down. And that he's nursed this grievance day in and day out every day since the ate 1980s and it has consumed him. COVID has made this worse as he's isolated himself in fear of catching the virus. As a result in his loneliness and isolation, his grievance has eaten away at him like, to use Tolkien as a metaphor, the one ring ate away Smeagol and left nothing but Gollum. That now all he has left is that grievance and the belief that he could set it all right, just as at the end all Gollum had was the desire for the ring and the belief that he could once again possess his precious.
This morning I read an excellent and thought provoking essay by Max Seddon in The Financial Times that makes a similar point:
Please use the sharing tools found via the share button at the top or side of articles. Copying articles to share with others is a breach of FT.com T&Cs and Copyright Policy. Email [email protected] to buy additional rights. Subscribers may share up to 10 or 20 articles per month using the gift article service. More information can be found here.
https://www.ft.com/content/c039db89-7201-4875-b31f-b41a511496f1

Already a distant figure before the pandemic, the lengths the former KGB officer takes to avoid coronavirus have limited his human contact. Western visitors are forced to sit around a comically huge table. Allies toast champagne from opposite ends of a massive carpet. Even Putin's closest advisers are rarely allowed to come within 10 feet without weeks of quarantine and testing. People who have known him for decades say this has deepened a pent-up resentment of the west and a fixation on Russia's shared history with Ukraine — making him more aggressive and unpredictable than ever. "He's even more isolated than Stalin," says Gleb Pavlovsky, a former adviser. "In the last years of his life, Stalin didn't come to the Kremlin and lived in his dacha, but the politburo came to see him and they talked and drank. Putin doesn't have that. He's as isolated as he can be. And in that situation rational issues become irrational."
Things are going to get worse now before they get better. I don't think it will belong before President Biden and his allies are faced with a decision that I don't think they want to make: at what point do they enter the war on behalf of Ukraine. You all know my views on this so I won't repeat them again, but that decision point is approaching. Whether it is in days or weeks I don't know. At some point, however, the calculus has to change to one that recognizes our ability to end the suffering being visiting upon the Ukrainian people because we have the capabilities to end this war in under a day.
I'll leave you all with two items, one serious and one more whimsical, about Ukrainian President Zelenskyy:
Once upon a time, four sons were born to Jewish Ukrainian parents. Three sons were murdered by the Nazis. One son survived.
The survivor's grandson is now an international hero fearlessly confronting his country's invaders. He is Volodymyr #Zelensky, President of #Ukraine. pic.twitter.com/Evb3ePMso3

— Steven Goldstein (@StvenGoldstein) February 26, 2022
so apparently Zelenskyy won the Ukrainian version of Dancing with the Stars in 2006 and the tape is even better than whatever you're imagining pic.twitter.com/L1gnKD2ISr

— Kat Abu (@abughazalehkat) February 27, 2022
here's the full three minute video. (I used a vpn to find it — not sure if it's accessible without one)https://t.co/vkXwJ63HSA

— Kat Abu (@abughazalehkat) February 27, 2022
Open thread!