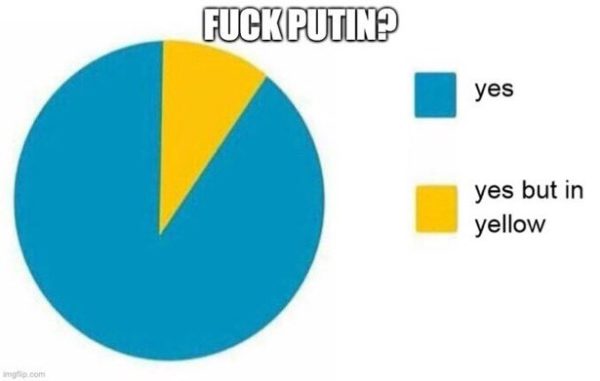 In last night's update I wrote:
Here's where things are going to get dicey. As the economic responses move from sanctioning specific business and individuals to removing most of Russia's banking system from SWIFT and going after the wealth – in dollars, pounds, euros, etc; real estate and land; yachts; jets; professional sports franchises; etc –  of Putin, his key aides and agents, and the rest of the oligarchs enabling him, as well as going after the mistresses, girlfriends, and children of Putin and his cronies, pressure is going to build. Specifically the pressure by the oligarchs and other sycophants and cronies to protect themselves. Additionally, the increase in the flow of weapons to rearm Ukraine to allow it to withstand the Russian reinvasion is also going to increase pressure on and around Putin.

The war is not going well for the Russians. This was not the speed run to Kyiv to capture and kill as much of the Ukrainian national government and as much of the government of the oblasts as possible and replace them with easily controlled trusted agents. Every day that Ukraine holds out increases the pressure. And that pressure is going to get relieved in two ways. The first is that Putin will up his operational tempo. What he threw at the Ukrainians overnight was much more than he'd ordered be done over the previous two nights. And as day 4 turns into night 5 of the war what he orders will be more than what he threw at the Ukrainians today. CNN reported earlier that its reporting team had eyes on a thermobaric missile launcher just south of Belgorod, Russia near Ukraine. If things continue to go badly, I expect we'll unfortunately see this type of weapon system deployed. The second way the pressure is going to get relieved is that Putin will begin to go after the US and our EU and NATO allies in ways that he has not yet done so. He will lash out, most likely through increased cyber attacks first, in an attempt to inflict pain to stop, or at least slow down, the resupply of the Ukrainian military.

Putin has seriously miscalculated with this reinvasion. He misunderstood the resistance his forces would face. For whatever reason he seriously misunderstood the competency of the military he's spent over a decade rebuilding and modernizing. And he misunderstood how the US and its EU and NATO allies, as well as the vast majority of the world, would respond.
Well that didn't take long!
Putin: "Western countries aren't only taking unfriendly economic actions against our country, but leaders of major Nato countries are making aggressive statements about our country. So I order to move Russia's deterrence forces to a special regime of duty." pic.twitter.com/AC1yHncqZc

— max seddon (@maxseddon) February 27, 2022
From one of the top experts on Russia's nuclear deterrent https://t.co/bOQ8p8wPgy

— max seddon (@maxseddon) February 27, 2022
First off, that DOD statement I referenced two days ago about DOD's assessment that there had been no change to Russia's nuclear posture – that statement is no longer operative.
Here's a nice long detailed thread from James Acton of the Carnegie Endowment's Nuclear Policy Program.
<THREAD>What does raising the alert level of Russian nuclear forces entail?

Russian nuclear forces can be divided into strategic (which can reach the US) and nonstrategic (which can't.) I'm looking to see whether strategic forces, nonstrategic forces, or both are alerted. (1/n) https://t.co/Mx54KMoSv1

— (((James Acton))) (@james_acton32) February 27, 2022
The technical parts are good. The national strategic policy portions – coming up with a way for Putin to deescalate by giving him things he wants or providing him inducements – are not. Putin has played this card for two reasons.
The first is domestic. Go back to Max Seddon's translation of Putin's announcement (emphasis mine):
Western countries aren't only taking unfriendly economic actions against our country, but leaders of major Nato countries are making aggressive statements about our country. So I order to move Russia's deterrence forces to a special regime of duty.
Putin is attempting to flip the script here as the war continues to go badly for him in its initial phases and the economic measures being implemented begin to bite everyday Russians in a way he can't shield them from. Russia isn't waging war in Ukraine, for Ukraine, by reinvading Ukraine. No, no, no my friends! Russia is being attacked by NATO.
This is what Putin is trying to head off:
Central Moscow flooded with riot police. Cutting protests off before they can begin. pic.twitter.com/sHXFmk8V5Y

— James Longman (@JamesAALongman) February 27, 2022
Russia's Prosecutor General threatens citizens: "Assistance to a foreign state during the period of a special operation will be regarded as treason to the Motherland."

State TV host Olga Skabeeva spreads this threat.

Putin's well-oiled war machine includes propagandists. pic.twitter.com/MVououqzYR

— Julia Davis (@JuliaDavisNews) February 27, 2022
Protesters in Minsk have encircled the building of the General Staff of the Defence Ministry of Belarus and are chanting "Glory to Ukraine!" pic.twitter.com/caj03prp7N

— Tadeusz Giczan ?? (@TadeuszGiczan) February 27, 2022
Because if Putin can't get those Russians who are displeased and protesting back in line and keep the rest of the Russian people in line and he can't get the US and our EU and non-EU allies to back off the economic measures targeting him, the oligarchs, and the Russian people, as well as doing military resupply to Ukraine, more of this is going to happen:
⚡️Russian oligarch Deripaska: 'We need peace."

In his Telegram channel, industrial tycoon Oleg Deripaska wrote that peace talks between Russia and Ukraine must begin "as soon as possible!"

— The Kyiv Independent (@KyivIndependent) February 27, 2022
The truth is that Russian forces are targeting NATO civilian targets:
Source:https://t.co/zKiMqrmf8y

— Alex Kokcharov (@AlexKokcharov) February 25, 2022
One of the other civilian ships that Russia has attacked in the Black Sea was flying a Turkish flag. So that's attacks on two NATO members shipping in the past two days.
Putin is also doing this because he needs to try to unsettle Ukrainians and their leadership as well as the Americans, Europeans, and everyone else. Putin made this announcement shortly after the announcement that Russia had called for unconditional peace talks, which Ukraine agreed to provided they would be held on the Ukrainian-Belarusian border. The Ukrainians took the escalatory remarks in stride.
⚡️️Zelensky doesn't believe in the positive outcome of the negotiations with Russia.

"But let them try, so that no citizen of Ukraine doubts that I, as president, tried to stop the war when there was still a chance, however small," he said in a video address.

— The Kyiv Independent (@KyivIndependent) February 27, 2022
But others have decided that the time for business as usual is over. The Japanese joined the new, harsher economic measures shortly before Putin's speech:
⚡️Japan joins Western allies to eject selected Russian banks from SWIFT.

Japan's Prime Minister Fumio Kishida said on Feb. 27 that Japan will put sanctions on Russia's dictator Vladimir Putin and extend $100 million in emergency humanitarian aid to Ukraine.

— The Kyiv Independent (@KyivIndependent) February 27, 2022
This is the statement of German Chancellor Scholtz less than 1/2 an hour after Putin's announcement of escalation:
We must put a stop to warmongers like Putin. That requires strength of our own. We want a strong, modern Bundeswehr and we will spend over 2% of our economic output on ensuring it is suitably equipped.
Yes, we fully intend to secure our freedom and our prosperity!

— Bundeskanzler Olaf Scholz (@Bundeskanzler) February 27, 2022
Here's a full thread tweeting out Chancellor Scholz's remarks in English.
And the EU has now closed its airspace to Russian air traffic including the private jets belonging to the oligarchs.
⚡️EU shuts its airspace to all Russian-owned, Russian-registered, or Russian-controlled aircraft, President of the EU Commission Ursula von der Leyen said on Twitter.

"Including the private jets of oligarchs," she wrote.

— The Kyiv Independent (@KyivIndependent) February 27, 2022
I'm in complete agreement with Rick Wilson's take. I've been working Russia's hybrid warfare or active measures or political warfare or whatever your preferred term is since JAN 2014. I've got publications in two different professional (NOT academic) journals on the topic working it from my specialty areas of low intensity warfare and this point from Wilson in tweet #8 is absolutely correct:
8/ He was winning the game when he used the first-world capacity of the Russian state — intelligence, propaganda, financial subversion, political manipulation (eg US 2016 and Brexit, to name just two) — because Russia is the top of those games.

The rest? Nah.

— Rick Wilson (@TheRickWilson) February 27, 2022
This reinvasion of Ukraine was the worst mistake Putin could make. As long as he was seeing massive returns of his political warfare campaigns agains the US, the EU, NATO, and other states, which were costing him pennies on the dollar, combined with low intensity warfare carried out by Spetznaz and Wagner mercenary forces, he looked strategically strong and tactically effective. And no one, apparently including him, had any idea just how bad and ineffective the rebuilt Russian military really is. Until now…
And Tom Nichols, who is an actual Russian subject matter expert is also correct:
I will let you know. For now, this is meant for a domestic audience in Russia as much as for anyone else. https://t.co/gwaIo9u3gR

— Tom Nichols (@RadioFreeTom) February 27, 2022
If things like this in Ukraine weren't happening to Russian forces, then Putin would not be escalating/threatening escalation:
AaAAAaAAaAAaaaaaaaaAAAAAAA!!!!
These two Russian idiots in Shevchenkove, Kharkiv oblast, had their vehicle sputtered out.
Guess what they did?
They came to a local Ukrainian police station.
And asked if they could have some fuel. pic.twitter.com/HmaUNORQL3

— Illia Ponomarenko (@IAPonomarenko) February 27, 2022
Kharkiv authorities: "Dozens" of demoralized Russian soldiers surrender in the city pic.twitter.com/m9KJGOkuyF

— Illia Ponomarenko (@IAPonomarenko) February 27, 2022
Right now the US, the EU, our NATO partners, and our non-EU and non-NATO partners need to continue doing what they're doing. Increasing the economic pain. Resupplying the Ukrainians. Updating the plans, sequels, and contingency plans for when and under what conditions NATO may have to actually enter the war*. What does not and should not be done is providing Putin with any enticements or rewards for his actions today. Doing that will only reinforce his belief, and teach everyone else, that as long as one has a nuclear arsenal of sufficient size at one's disposal that one can hold the world hostage to get what one wants. That cannot be allowed to happen.
Open thread.
* I expect that if the attacks on shipping keep up, the initial entry will be to protect the shipping.