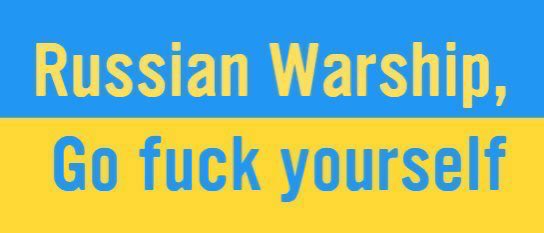 I'm going to be offline most of tomorrow – I'm going to be doing heavy lifting for the Afghan refugee resettlement folks. Literally: they've got a bunch of heavy boxes filled with donated goods that have to be moved so volunteers can sort the items for distribution. Since picking up and putting down heavy objects is my sweet spot, so I'll be helping them out for a good chunk of the day.
By the time I hit publish on this, dawn will have broken over Ukraine about thirty minutes ago. The news sources I've been following in Ukraine are largely quiet, though the air rid sirens have gone off in Kyiv and several other cities.
⚡️Air raid alerts in Kyiv.

Residents must get to the nearest shelter.

— The Kyiv Independent (@KyivIndependent) February 28, 2022
⚡️Blasts heard in Kyiv and Kharkiv early on Monday morning, Ukraine's State Service of Special Communications and Information Protection reported.

— The Kyiv Independent (@KyivIndependent) February 28, 2022
⚡️A missile struck a residential building in Chernihiv, a city 150 km north from Kyiv, according to the State Communications Service.

Two lower floors were set on fire. There is currently no information about casualties.

— The Kyiv Independent (@KyivIndependent) February 28, 2022
I do want to highlight a couple of things. The first is that earlier today on the 27th here in the US, it was reported that a large convoy of Russian forces was moving towards Kyiv.
New ? @Maxar satellite images show a 3.25-mile convoy of Russian ground forces with 100s of military vehicles NE of Ivankiv, Ukraine and moving toward Kyiv (40 miles away). Contains fuel, logistics, armored vehicles (tanks, infantry fighting vehicles, self-propelled artillery). pic.twitter.com/Z75iNhy7Jw

— Christopher Miller (@ChristopherJM) February 27, 2022
I've not seen any updates on this. So something to keep an eye on as day 5 of Russia's reinvasion of Ukraine  ticks along.
Something else to track is that Ukrainian officials have stated that Belarusian paratroopers are being deployed to Ukraine. Based on the reporting, about two hours ago.
Multiple sources say the decision has been made — and as soon as on Feb. 28 at 5 a.m. local time, the first Ilyushin Il-76 transport aircraft is very likely to take off carrying Belarusian paratroopers to be deployed against Ukraine. https://t.co/o8WcszVJNR

— The Kyiv Independent (@KyivIndependent) February 28, 2022
There's some question as to whether this was 5 AM local time in Minsk or in Kyiv as the former is an hour ahead of the latter. Here too I've seen no follow on reporting as to whether the Belarusians deployed, didn't deploy, were shot down once they crossed the Ukrainian border, made it to their objective, etc. So another thing to keep an eye on.
About 5 hours or so ago, the EU announced that member states would be sending fighter jets to Ukraine within the hour.
BREAKING: The EU says fighter jets will be arriving in Ukraine within the hour

— Samuel Ramani (@SamRamani2) February 27, 2022
These are most likely Polish MiG 29s that were will be replaced with new EU or US built fighters. While there have been no specifics about which states they are coming from, as both Slovakia and Bulgaria also still have some MiG 29s, I think it is most likely that Ukraine sent some of its pilots to Poland to pick up the planes and fly the back. Whether the Poles had time to repaint and reflag the jets prior to them being flown to Ukraine I don't know.
As expected, the Russian ruble has bottomed out and a lot of Russian banks and companies are likely to be bankrupt by the end of the day.
And the EU has made it clear that from their perspective, Ukraine's path forward is with Europe:
⚡️EC President Ursula von der Leyen in an interview with Euronews on Ukraine's entry into the EU:

"There are many topics where we work very closely together and indeed over time, they belong to us, they are one of us and we want them in."

— The Kyiv Independent (@KyivIndependent) February 27, 2022
I'll leave everyone with this. I only wish the Benny Hill them was dubbed over the action:
This farmer stealing a tank. pic.twitter.com/y6YCiZvQIr

— Helen Kennedy ? (@HelenKennedy) February 27, 2022
I'm going to rack out as I've got a long day of pick up and put down ahead of me tomorrow.
Open thread!