In the morning thread, we briefly discussed some walk-backs from public figures like Matt Taibbi and Edward Snowden, who both pooh-poohed the possibility that Putin would order a full-scale invasion of Ukraine. Snowden went silent after events proved him catastrophically wrong and bobbed to the surface briefly to say he was avoiding pontification on the topic now since he was wrong then.
Taibbi owned up to "reverse chauvinism," saying he was "so fixated on Western misbehavior that I didn't bother to take this possibility seriously enough." Huh. We'll see if that insight bears fruit going forward. (Spoiler alert: it won't.)
TPM's resident lefty populist, John Judis, is also doing a backwards shuffle. He notes that he got it wrong in part because he reflexively distrusts U.S. intel after the Iraq War debacle. His publisher disagrees.
Anyhoo, "populist" (i.e., anti-immigration) politicians in Europe are also getting in on the Putin walk-back act, according to The Wall Street Journal:
What Europe's populists saw in Mr. Putin was a kindred spirit, a leader willing to disregard the rules of international cooperation that emerged in the wake of World War II, underpinned by the military might of the North Atlantic Treaty Organization. They admired Mr. Putin's unapologetic nationalism and his deep-seated distrust of the U.S.

That admiration is now running up against the reality of Mr. Putin's forces pouring into Ukraine. Some populists are rushing to distance themselves, branding Mr. Putin's aggression a setback of historic proportions.

Others are trying to strike a balance, rejecting Mr. Putin's actions while acknowledging he has a place in their political heart.

"I think that everybody has a form of admiration for Mr. Putin, but frankly, I consider that what he's done is highly reprehensible," Ms. Le Pen said Friday.

"No to war, always. Yes to life, always," Mr. Salvini, leader of Italy's League party, wrote in a Twitter post Thursday. Mr. Salvini wrote that he "firmly condemns the military aggression" but stopped short of mentioning Mr. Putin by name.
Not to be outdone by anti-immigration foreigners who've also been rejected at the polls, the current leader of the GOP is combining Salvini's mealy-mouthed avoidance of the "P" word with a risible statement on NATO, which he now claims to have saved when he publicly shook member nations down like an oddly a-muscular mob debt collector:
I hope everyone is able to remember that it was me, as President of the United States, that got delinquent NATO members to start paying their dues, which amounted to hundreds of billions of dollars. There would be no NATO if I didn't act strongly and swiftly.
JFC.
By the way, speaking of Putin, Le Pen and Trump, does anyone else remember this grotesque thing a Putin-worshiping zealot displayed at a January 2017 Trump inauguration party in Russia?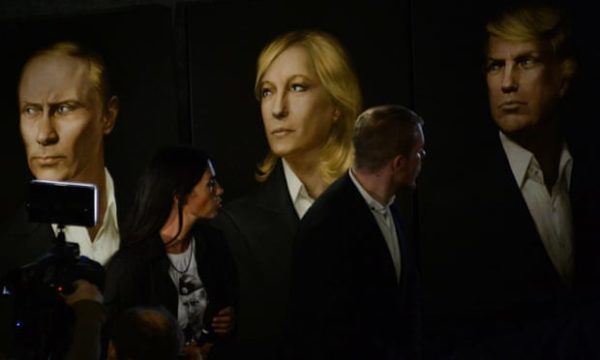 I remember being disturbed by the image as I was lounging in my cut-rate DC hotel room waiting for the Women's March to start. It stuck in my mind due to the creepy-combo aesthetic of "Triumph of the Will" meets "The Omen." I'd bet a small sum a copy is displayed in a private room at Trump's Disgraceland estate in Florida right now.
Open thread.