I almost bailed on this tonight, it's been a bear of a workweek (oh, geez, is it only Wednesday?), and tomorrow, on top of everything else, I'm getting quotes on new floors, which means the general mayhem that is my house needs to be wrangled into submission tonight. But I figured we really needed this and I would squeeze it in before the bad news continues.
So here is your mid-week deep breath.
This just made me smile:
From Salt Water, a sweet story of a young girl's mission to bring a little joy to kids in the hospital:
Her website is here.
When you just want to help out a stranger:
And finally, from Steeplejack:
This summer I had a tweet go viral that was funny and all, but resulted in a lot of harassment. The kind where people threatened my kid, tried to get me fired, made me get a police lookout at my house, and involved the global security team at my company.

It sucked.

— Amber Naslund (@AmberCadabra) February 11, 2022
Mostly these moments bring out the underbelly of the internet.

Occasionally they bring out the best of it. Or the best people, anyway.

Yesterday was one of those days.

I don't remember what day I turned on the dumb business profile thing on Twitter but it was ages ago and, frankly, I'd forgotten it was even a thing.

Who "tips" people for random blathering on the internet? I certainly didn't remember that I'd enabled it. Until yesterday.

I woke up and had coffee and as I usually do, flip through my Gmail which is not an account I often check. It's mostly marketing emails and some other stuff.

Then I saw a notification from Venmo. For a thousand dollars.

Yep.

I had the same reaction.

Surely this is a scam or a fraud or whatever and I rushed to figure out how to change my password.

But nope. There was a name and a face I recognized alongside a heartfelt and astonishing note imploring me not to think too much about it but to accept the gesture.

…what?

After a few notes back and forth, I realize this is another kindred spirit in the world, trying to do something a little remarkable, in a small quiet moment, with zero expectation in return.

He asked only that I pay it forward when it could.

Which happens to be…immediately.

I don't need his gift financially. I want for nothing and that's why at the start, the whole thing felt so awkward.

But then I realized something amazing. This isn't for me.

It's for…Them.

Them, today, is the people I chose to help. For me in the moment it was a few families I know personally who have struggled during the pandemic. No grandiose charity. Just some money for school things for their kids.

They may not be able to pay that forward. Yet.

But next time, when they have it, they will give $5 or $29 or $288 to someone who needs it without a grand plea. And that few dollars will help someone find a few dollars more that they give to someone else, still.

That thousand dollars has an entire life of its own now.

One person's grand gesture becomes a few small ones that grow and seed and restore faith in the tiniest of increments that are not wild and bombastic but quiet and honorable.

Gentle. Practical. Real. Restorative.

I did not need that thousand dollars today. But someone else did. A few someones, as it turns out.

And someone gave it to me so that I could give it to them.

And this is how we heal.

There are a thousand ways we can tear one another apart. I feel it. Hell, on occasion, I participate in it. I have anger too. And sadness. And fear.

But I also have hope.

Hope we can find small ways to show each other that we haven't given up. That other people matter to us, that we care about what happens to them.

That we haven't abandoned everything that makes us soulful. That we still believe in community and collective humanity.

I'm not changing the world here. I'm not a savior. Neither is he.

But maybe we can be small patrons of something good. And I don't know much about much, but it seems that all the best good starts with the smallest of it.

The only reason I'm even telling you about all of this is to say that I was humbled today by the sheer unadulterated generosity of someone I don't even really know who wanted only to do something good and kind in the hopes I was the kind of person who would do the same.

So I gave away that thousand dollars as fast as I could.

Almost instantly. With glorious abandon. With the joy that only comes from giving with zero expectation and boatloads of hope.

I hope he sees this and knows he did something beautiful.

And I hope maybe seeing this will inspire you to do the same today. Small or big. Doesn't matter.

No one is coming to save us. But maybe, if we try, we can save each other.
That's it for this installment. Here's your weekly critter update. Can you believe she's 5 months old?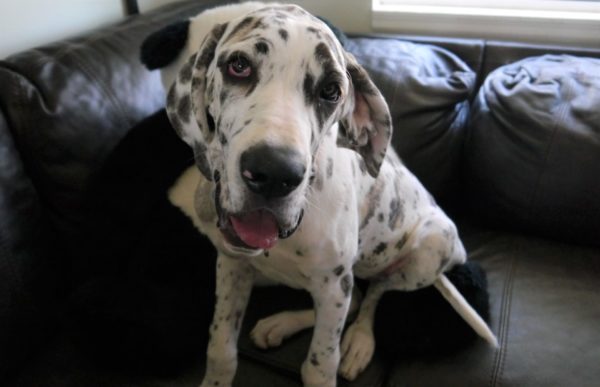 More photos of her and Scout here and a little Willow here.
Funny story, and I am trying to get video for you, I swear. Nick (male duck) has been harassing Trixie. A lot. Today I was working at my computer and out of the corner of my eye, I saw white blurs. I looked outside to see Nick chasing Trixie all around the yard. Wings out, webbed feet flying, and Trixie looking behind her like she knows the beast is fast on her heels.
I have no idea how to solve this problem. But later when he was biting at her as she drank water, I went outside and snagged him and gave him scritches. Not his favorite thing, so I'm hoping it works as a deterrent if I can catch him at it and give scritches. Rinse, repeat until he equates the two. Otherwise, as funny as it is, I'm afraid she will think his chasing her is play and she'll turn around and chase him, forgetting her size.
Drakes, they are APITA.