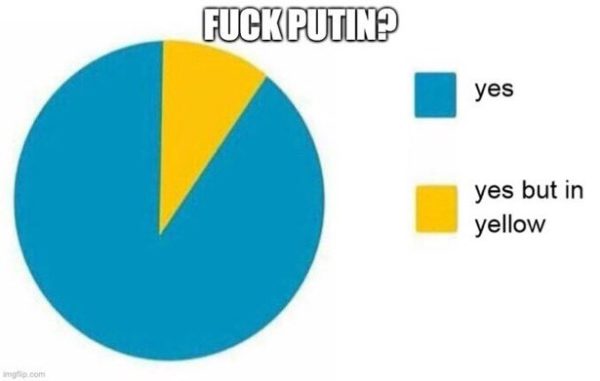 As I begin writing this post, Ukraine is being heavily shelled. Kyiv is receiving significant incoming fires. Mariupol is encircled, besieged, and cut off from support. Its defenders are putting up a hell of a fight, but because the defenders are the Azov Regiment, Putin wants them wiped out. He also wants that land bridge to Crimea. Konotop has been issued a "no quarter" ultimatum by the Russian commander attacking it; its mayor told them he's for fighting.
Rousing speech on the public square by Konotop Mayor Artem Semenikhin, who says Russian forces surrounded the city and delivered an ultimatum: surrender and leave or be destroyed. "I'm for fighting them!" he shouts to a roar of applause and raised fists. pic.twitter.com/fI5KLKwd8z

— Christopher Miller (@ChristopherJM) March 2, 2022
There is some good news. Ukraine's 93rd Mechanized Brigade, the Holodnyi Yar, have advanced through Luhansk to the Russian border. The citizenry of Energodar turned out en masse to prevent Russian ground forces from advancing through their town to the largest nuclear energy plant in Europe. The Russians, of course, opened fire on the unarmed people of Energodar.
This is how armless civilians are defending the biggest nuclear power plant in Europe. NATO do you feel safe? #closethesky #ArmUkraine https://t.co/pSvQ1SugJs

— Olena Tregub (@OTregub) March 2, 2022
And in amazing show of empathy, charity, and literal grace under fire, Ukrainians brought tea and food to a captured Russian Soldier and then made a video call to his mother back in Russia so he could tell her he was now safe.
Remarkable video circulating on Telegram. Ukrainians gave a captured Russian soldier food and tea and called his mother to tell her he's ok. He breaks down in tears. Compare the compassion shown here to Putin's brutality. pic.twitter.com/KtbHad8XLm

— Christopher Miller (@ChristopherJM) March 2, 2022
Unfortunately, as we've seen now for over 48 hours, for all that Russia has stalled out in most places in terms of the assault by their land forces, they have significantly increased their operational tempo in terms of using artillery and air strikes to target Ukraine. And they're being fairly indiscriminate about it. Some of that, as I mentioned last night, is because their artillerists have poor targeting skills. Some of that is because the war seems to have moved into a new phase: pound Ukraine mercilessly to terrorize and traumatize the Ukrainians to give in. My professional estimation is that it is becoming increasingly clear that Putin has decided that if he can't have Ukraine, then no one can and he'll just raze it to the ground. This would, of course, also serve his purposes by creating a humanitarian and refugee crisis unseen in Europe since the end of World War II.
More on how long Ukraine may withstand Russian assault
A U.S. official tells CBS News that a tactical seizure of Ukraine is possible within the next 4-6 weeks, based on the assessments of what is currently taking place on the ground with the Russian military.

As David Martin has reported, it is expected to take one week before Kyiv is surrounded, and another 30 days could elapse before Ukraine's capital is seized. This U.S. official says it is not clear whether Russia would gradually strangle the city or engage in street-to-street fighting. These scenarios were laid out for members of Congress Monday as the initial battle to destroy the Ukrainian military and government. It is also not clear whether Russia would then decide to go west toward Lviv or as far west as the Polish border.

The situation is dynamic, so this remains an estimate on what is militarily possible. This U.S. official also could not say when the sanctions that have been rolled out so far will have a practical impact on the Russian military. The low morale and shortages of food and fuel are not a result of the sanctions now in place. At some point, however, the Russian military will be impacted by the sanctions.

Given the durability of the Ukrainian resistance and its long history of pushing Russia back, the U.S. and Western powers do not believe that this will be a short war. The U.K. foreign secretary estimated it would be a 10-year war. Lawmakers at the Capitol were told Monday it is likely to last 10, 15 or 20 years — and that ultimately, Russia will lose.

BY MARGARET BRENNAN
While this shows just how badly the US Intelligence Community thinks the Russians are performing, it also provides significantly disturbing news. This war, a war that began in the Spring of 2014 with Putin seizing Crimea, is now predicted to go on for at least a decade more. And possibly two decades. A potential second thirty years war!
Ukrainian officials are calling for the International Committee of the Red Cross to establish humanitarian corridors to relieve some of the most heavily hit cities. To evacuate the non-combatants, to remove the sick, the injured, the wounded, and the dead, to bring in needed food and medication. And while there seems to be enough food to go around for the time being, at least in Kyiv, as the war continues, it is going to be necessary to send Ukraine not just weapons and ammunition and military supplies, but humanitarian supplies as well: food, potable water, medicine, toiletries, fuel, etc. A 21st century Berlin airlift is going to be necessary.
This, however, raises a significant strategic dilemma. Right now Ukraine does not control its airspace. Fortunately, the Russians do not control it either. Regardless of the whys and wherefores, the skies over Ukraine are contested by its defenders and its invaders. That reality makes it somewhere between very difficult and almost impossible for the International Committee of the Red Cross to establish humanitarian corridors to relive some of the most heavily hit areas in Ukraine, as well as for the US and our NATO, EU, and non-EU allies to undertake a series of humanitarian airlifts to keep the Ukrainians going. The reality of the changing conditions in Ukraine – from Russia's planned, but failed attempt to take Ukraine in just 15 days to Russia's escalation to simply pound as much as possible with air strikes and artillery without a care for who or what is being targeted – are going to create significant pressure on the US and our NATO, EU, and non-EU allies. As I write this the Russians are hammering kindergartens, children's cancer hospitals, hospitals, apartment blocks, residential areas. There are Ukrainian Holocaust survivors huddling in bomb shelters.
The pressure that is going to build on the leadership in the US and on that of our NATO, EU, and non-EU allies is how long will what is going on be allowed to go on before more than economic actions and military and humanitarian aide and resupply is provided? An even better question is how long the Biden administration can maintain the economic blockade that has almost completely cut off and crashed Russia's economy? Think about the estimate that CBS reported. Is it going to be possible to maintain a united front to keep those economic weapons in place for five, ten, fifteen, or twenty more years? I don't know. I don't think anyone does.
The Russians have staged a significant number of  armored police transport vehicles to remove Ukrainians back to Russia or Russian controlled Ukraine for detention. This is just one such fleet of them.
Russians have brought to Ukraine police trucks for mass transport of detained persons. Russia prepared terror and genocide in Ukraine, clearly killings of activists, politicians, artists, priests, but probably also deportations of broader population. No wonder Ukrainians resist. https://t.co/fs4SJdz7hT

— Sergej Sumlenny (@sumlenny) March 2, 2022
We have seen this type of thing before. It did not end well.
Yesterday Daria Keleniuk, the Director of the Anti-Corruption Action Center in Kyiv, confronted Prime Minister Johnson. To his credit he stood their and took it:
Incredibly powerful moment at Boris Johnson's press conference in Poland pic.twitter.com/QHgWfjjrHv

— Sebastian Payne (@SebastianEPayne) March 1, 2022
The strategic dilemma that is fast building is the US's and NATO's stated policy that we will not engage the Russians militarily in Ukraine. That we will not do so, whether through imposing a no fly zone or by putting ground forces in to aide the Ukrainian military or through a combination of efforts because it risks starting World War III. And because Putin has made ambiguous threats that wink, wink ,nudge, nudge he might use nuclear weapons if we do, the risk is too high. One of the key questions for the strategist, the policy maker, and the decision maker is always how much risk am I willing to assume if I choose a policy and a strategy to achieve that policy. Right now the stated response of the US and our NATO allies is we will not assume risk by taking actions in response to Russia's reinvasion of Ukraine that could escalate into a world war between NATO and Russia. The problem is that World War III has already begun.
I've only been saying it here for years that we are at war with Russia and that Putin believes we're the aggressor whether we want to admit it to ourselves or not. Russian Foreign Minister Lavrov just reiterated this preposterous talking point this morning (translated from the French, which was translated from the Russian):
Lavrov: "I don't exclude the possibility that someone wanted Russia to get bogged down in Ukraine by an artificial conflict created by the West." Source: RIA
And if you don't want to take my word for it, or Lavrov's, then take Fiona Hill's (emphasis mine):
Reynolds: The more we talk, the more we're using World War II analogies. There are people who are saying we're on the brink of a World War III.

Hill: We're already in it. We have been for some time. We keep thinking of World War I, World War II as these huge great big set pieces, but World War II was a consequence of World War I. And we had an interwar period between them. And in a way, we had that again after the Cold War. Many of the things that we're talking about here have their roots in the carving up of the Austro-Hungarian Empire and the Russian Empire at the end of World War I. At the end of World War II, we had another reconfiguration and some of the issues that we have been dealing with recently go back to that immediate post-war period. We've had war in Syria, which is in part the consequence of the collapse of the Ottoman Empire, same with Iraq and Kuwait.

All of the conflicts that we're seeing have roots in those earlier conflicts. We are already in a hot war over Ukraine, which started in 2014. People shouldn't delude themselves into thinking that we're just on the brink of something. We've been well and truly in it for quite a long period of time.

But this is also a full-spectrum information war, and what happens in a Russian "all-of-society" war, you soften up the enemy. You get the Tucker Carlsons and Donald Trumps doing your job for you. The fact that Putin managed to persuade Trump that Ukraine belongs to Russia, and that Trump would be willing to give up Ukraine without any kind of fight, that's a major success for Putin's information war. I mean he has got swathes of the Republican Party — and not just them, some on the left, as well as on the right — masses of the U.S. public saying, "Good on you, Vladimir Putin," or blaming NATO, or blaming the U.S. for this outcome. This is exactly what a Russian information war and psychological operation is geared towards. He's been carefully seeding this terrain as well. We've been at war, for a very long time. I've been saying this for years.
As for whether he'll use nuclear weapons, here too Hill is spot on:
Reynolds: Do you really think he'll use a nuclear weapon?

Hill: The thing about Putin is, if he has an instrument, he wants to use it. Why have it if you can't? He's already used a nuclear weapon in some respects. Russian operatives poisoned Alexander Litvinenko with radioactive polonium and turned him into a human dirty bomb and polonium was spread all around London at every spot that poor man visited. He died a horrible death as a result.

The Russians have already used a weapons-grade nerve agent, Novichok. They've used it possibly several times, but for certain twice. Once in Salisbury, England, where it was rubbed all over the doorknob of Sergei Skripal and his daughter Yulia, who actually didn't die; but the nerve agent contaminated the city of Salisbury, and anybody else who came into contact with it got sickened. Novichok killed a British citizen, Dawn Sturgess, because the assassins stored it in a perfume bottle which was discarded into a charity donation box where it was found by Sturgess and her partner. There was enough nerve agent in that bottle to kill several thousand people. The second time was in Alexander Navalny's underpants.

So if anybody thinks that Putin wouldn't use something that he's got that is unusual and cruel, think again. Every time you think, "No, he wouldn't, would he?" Well, yes, he would. And he wants us to know that, of course.

It's not that we should be intimidated and scared. That's exactly what he wants us to be. We have to prepare for those contingencies and figure out what is it that we're going to do to head them off.
The war is not just already upon us, it has been upon us for a long time. You can date it to 2014 when Putin first invaded Crimea, you can date it to 2011 when he decided the US State Department and Secretary Clinton interfered in his reelection, or you can date it to 2007 when Putin gave his speech at the Munich Security Conference that put the world on notice that Russia was not going to take it any more. Regardless of which date you choose, the reality is it is here. And the reality is that Putin is quickly escalating up the ladder of force to indiscriminate attacks on non-military targets using cluster munitions, thermobaric munitions, and vacuum bombs. His commanders are issuing threats that they will raze cities and destroy anything and everything in them, effectively signalling no quarter, which is a violation of the laws of armed conflict. He has unleashed the feral Chechens in Ukraine, who don't recognize any rules of engagement or laws of armed conflict anyway. This isn't going to be like World War II where the majority of people could legitimately claim they had no idea what the NAZIs were doing beyond invading their neighbors or how bad it was because the only ones who saw the imagery and the intel and the info were the intel bubbas and the senior leaders and their aides. This time it is going to be on Tik-Tok, Facebook, Twitter, Instagram, and YouTube for the world to see. We have to ask ourselves are we willing to watch it while we put Ukrainian flags on our social media avatars or are we actually going to do something to stop it before it gets worse.
This parody is only funny because it is true:
At least you now know the answer to "how did they let the atrocities of WW2 happen?"

— Darth Putin (@DarthPutinKGB) March 2, 2022
This is no longer some academic or philosophical exercise between realists and idealists, reality has overtaken the debate over whether we risk starting World War III if we do more to aid the Ukrainians in their fight. I'm not a big fan of Kissinger, but he once made the ultimate realist argument in regard to what the US should do regarding Soviet Jews in a discussion with Nixon:
"The emigration of Jews from the Soviet Union is not an objective of American foreign policy," Mr. Kissinger said. "And if they put Jews into gas chambers in the Soviet Union, it is not an American concern. Maybe a humanitarian concern."

"I know," Nixon responded. "We can't blow up the world because of it."
This discussion about whether further US and NATO intervention could start World War III, could cause Putin to use nuclear weapons is akin to this discussion between Kissinger and Nixon. I've been watching various smart people, including many I respect professionally both in and out of national security make this realist argument over the past several days. And they do so with the best of intentions and they're serious, sober minded people. They want everyone arguing for a more interventionist response to understand that a no fly zone means declaring war because Ukraine's air space is contested. Which means that to establish a no fly zone, the US and NATO would have to run the Russian Air Force out of Ukraine's air space and target the ground based Russian anti-aircraft installations set up to target the Ukrainian Air Force. Trust me, I'm aware. I know what a no fly zone is and what it means to establish one. But what these smart, sober minded thinkers are missing is that over the past ten days, in ever more shrill and inflammatory terms, Putin has declared war not just on Ukraine, but on NATO and the US and the entire international order.
We are approaching a crisis point for the strategists, the policy makers, and the decision makers. And that crisis point is how effective are the economic measures actually being in effecting Putin's behavior and how long can the united front of allies imposing them be maintained. The Financial Times has reported that the economic measures, no matter how devastating to Russia in general or the oligarchs and siloviki in specific, will not be enough to change Putin's behavior because despite their wealth, the oligarchs and siloviki have no real power.
The 500 Russians with a net worth of more than $100mn control 40 per cent of the country's household wealth, according to a study by the Boston Consulting Group last year. That means Russia's super-rich are three times wealthier than their average counterparts globally.

But those vast riches do not bring political power.

And even if Russia's oligarchs were to demand changes from Putin, they would still be unable to change his mind, one of the people briefed on the meeting said.

"Imagine they go to complain to Putin," said a diplomat from a European country where several Russian oligarchs own large assets. "They say, 'Can you please revise your policy? I lost $4bn of my $5bn'. Putin says, 'Do you want to keep the $1bn?'"
Ukrainian intelligence is reporting Putin is considering declaring martial law in Russia by the end of the week. We are no longer dealing with a rational actor, even one with bounded rationality that only makes sense within his context. I'm honestly not sure as someone who has served as a strategic advisor to senior leaders that there is really anyway to manage or mitigate risk if this is the case because it seems there is no longer any way to know what may or may not set Putin off at any given moment.
None of this changes the fact that the Ukrainians are going to need humanitarian relief that can only be provided by the International Committee of the Red Cross, by the US and our NATO, EU, and non-EU allies. However, it will be somewhere between exceedingly difficult to impossible to deliver that assistance because it will require uncontested air space to get the International Red Cross and/or repeated humanitarian airlifts into Ukraine. The reality on the ground is going to run right into the realists' hard nosed, serious, sober arguments about the risks of intervention. When that happens, something is going to have to give. Either our realism or Ukrainian lives. We can adhere to one and convince ourselves we've mitigated the risk or we can assume a greater amount of risk and try to save the other. We can't have both.
Open thread.