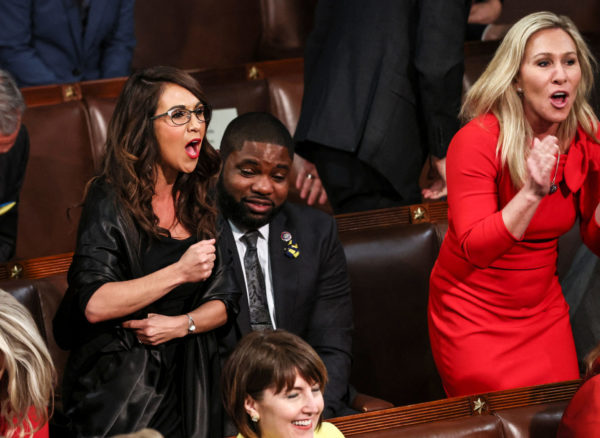 I'm generally very much against enforced decorum, but last night, it would have been nice to see a squadron of burly bouncers dispatched to the floor to forcibly eject Reps. Boebert and Greene from the SOTU speech. I watched on MSNBC, and the camera pool did a pretty good job of minimizing the puerile pair's idiotic antics, though you could occasionally hear their nonsensical shrieking in the background.
The thing is, camera crews shouldn't have to prevent a constitutionally mandated presidential address from devolving into a Jerry Springer episode. Boebert and Greene's repulsive stunts were as tacky, brainless and grotesque as you'd expect the distilled essence of Trumpism to be. And while the stupidity of millions of our fellow citizens compels us to endure some levels of that toxic bullshit in public life, we can and should draw lines, in my opinion.
I submit that presidential addresses to congress are an appropriate place for such a line. The deplorable duo and their many fellow travelers in the Republican caucus aren't obligated to respect the president or any other politician as an individual. Their right to be trashy and unpleasant on public property should be upheld outside of formal government occasions — for as long as the majorities in their districts are dumb enough to send such contemptible clowns to congress.
But last night, Boebert and Greene disrespected the occasion, embarrassed the democratically elected government of the United States and brought shame on the people of this country. I'm not sure what it would take to create and enforce rules imposing the minimal behavioral standards expected of tweens in middle school assemblies on elected representatives, but we need that in congress. Now.
Remember when thumpingly dumb Republican Rep. Joe Wilson yelled, "You lie!" at President Obama during a joint session speech? It was a big fucking deal, and at least one or two of his fellow Republicans called on Wilson to apologize, which he did. There's no big outcry for an apology now, as if everyone assumes it would be like asking for a mea culpa from a pair of feces-flinging baboons in a zoo.
Boebert and Greene's foolishness is receiving a fraction of the coverage Wilson's stupid outburst got. That's understandable in one sense because attention is what they crave, and it would allow them to derail focus on the speech, which is their intent, as far as the emptyheaded twatwaffles are capable of forming intent. But the danger there is that their brand of toxic, performative bullshit becomes normalized. Enough. It's time for the grownups in congress to put a stop to it.
Open thread.
PS: Does anyone recognize the unfortunate chap seated between the pair of bellowing garbage gorgons? He must have been cursing the seating arrangements!