Distracted by my horror at what is happening thousands of miles away as Russia attacks Ukraine and what's unfolding close to home because DeSantis is a massive authoritarian dickhead,* I missed some significant January 6 news, and maybe you did too for reasons of your own. From The Guardian:
The House select committee investigating the January 6 Capitol attack said in a major filing on Wednesday that it believed that Donald Trump violated multiple federal laws to overturn the 2020 election, including obstructing Congress and defrauding the United States.

The revelations came as part of a filing that intended to force John Eastman, Trump's former lawyer, to turn over thousands of emails and records since his participation in potential crimes destroyed his arguments for attorney-client privilege protections.
Of course Trump broke laws, and he'll almost certainly get away with it. But the filing revealed some interesting stuff in its own right, including conversations you'd think coup plotters with extensive legal credentials would know better than to have in written form.
For example, Eastman nagged Pence's chief counsel, Gregory Jacob, via email all day on January 6 — before, during and after the mob stormed the Capitol — trying to convince him to get Pence to delay vote certification so the state legislatures could change the outcome. Here's a post-mob attack plea sent while workers were still hosing blood and traitor shit off the walls:

Nothing to see here, folks: just a Fed Soc bigwig asking the sitting VP's counsel to persuade the VP to engage in a bit of light treason. This reply from Jacobs to an earlier importuning Eastman email though: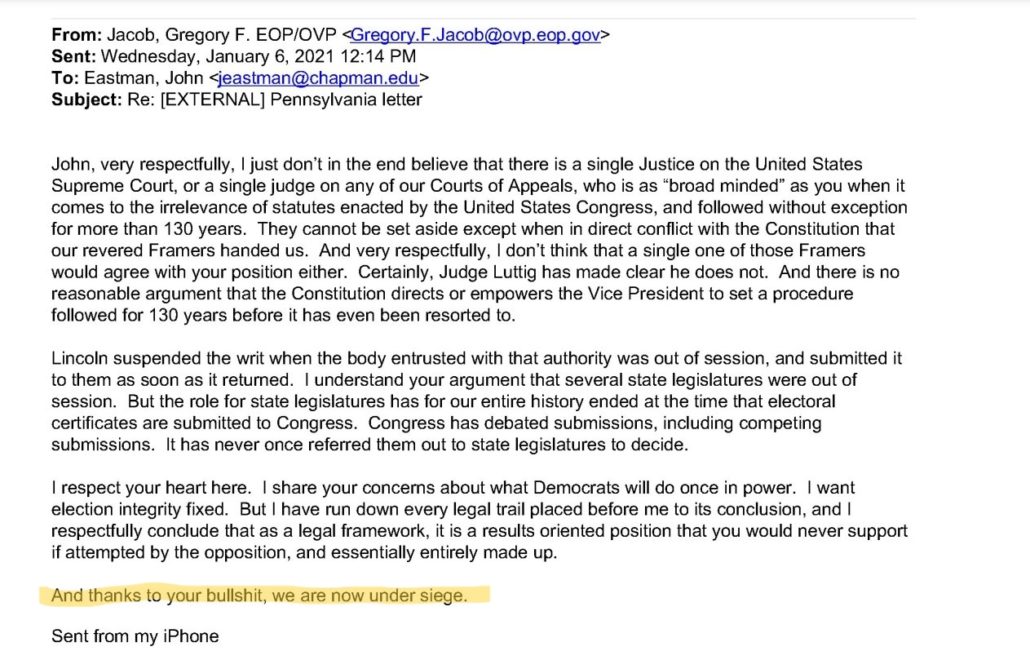 I love the abrupt tonal shift in Jacob's reply: respectfully-argle-legal-bargle-blah-blah-blah, then — BOOM — "And thanks to your bullshit, we are now under siege."
Just when I think my gob is unsmackable, welp. Ironies abound beyond a white shoe con lawyer inciting a coup via email. For instance, did you know that in addition to being a Fed Soc bigwig, Eastman founded the Center for Constitutional Jurisprudence and clerked for Justice Thomas AND Judge Luttig?
I am not a lawyer, but it seems to me that much of our elite DC legal establishment is pretty fucked up, y'all. With rare exceptions, so-called conservatives aren't committed to democracy and the rule of law unless it drives outcomes favorable to them, which is not how it works! And some of the non-cons seem more interested in preserving the prestige of institutions than the principles the institutions exist to uphold, such as justice and equality under the law.
Open thread.
*How massive a dickhead is DeSantis? This massive:
And when he was done with the presser after yelling at the students, he walks right out and ignores them. Doesn't even look at them. I will just tell you what many REPUBLICANS in the FL state govt have told me -to know him is to detest him. Just a jerk. pic.twitter.com/c6txCK9MOT

— Ron Filipkowski (@RonFilipkowski) March 2, 2022
Christ, what an asshole!