On the Road is a weekday feature spotlighting reader photo submissions.
From the exotic to the familiar, whether you're traveling or in your own backyard, we would love to see the world through your eyes.
BretH
In the early 90s my wife and I were in West Africa, first with the Peace Corps in Niger, then later in Senegal where she was working for an NGO (Non-Governmental Organization) called the Population Council assisting African researchers in presenting results of their studies on family planning and contraception. I have one On The Road about our experiences in Niger – (although I am looking to add another).
After the Peace Corps we weren't done with West Africa. I used my Niger knowledge and mechanical experience from my years in bicycle shops to obtain a short-term contract with a Florida company who had won a contract to supply the Niger government with powered water pumps. Unfortunately this was one of those botched development projects I mentioned in my earlier post: the pumps ran on gasoline which was expensive and not easy to get in remote areas and not diesel which would have made far more sense. Furthermore the pumps were tremendously powerful and really only suited for use next to the Niger river. And of course they were U.S. made and not French (this is standard US Policy that requires U.S. goods to be used whenever possible for publicly-funded development). I trained local mechanics on their upkeep so at least there was some local benefit. For me it was an opportunity to spend an enjoyable time in Niamey and the photos I took then formed a good part of my previous On The Road submission.
In the meantime my wife wanted to continue her work in Africa and her next job was with the Population Council. I went as "the spouse" and was We were set up in an apartment in a northern area of Dakar called Point E, nearby the office. In our minds we lived very well although it was really quite modest comparatively. It wasn't until later that we saw how wealthy Senegalese lived – Mercedes, chauffeurs, etc etc. Nonetheless we started to get an idea of how easy it is for ex-pats to get seduced by "development work": good salary, housing paid for, cooks, maids (obligitory in Senegal if you had even a small amount of spare money and an essential part of the local economy).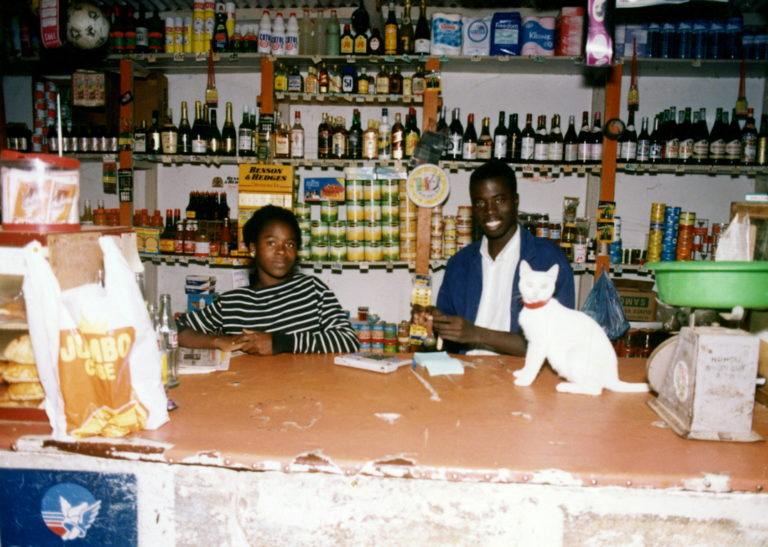 Point E, Dakar, Sénégal
We quickly got used to the slower rythmn of life where we lived. Around the block from us was our local "7-11", one of many thousands of small shops that sell anything from needles to spices to condensed milk to "Flag", the local beer (pretty good). In the mornings I would wander over to buy a couple loaves of fresh french bread, which we would eat with butter or yogurt. We were friendly with the kids that ran the shop and especially with their white cat "blanchette". Their pet ownership was rare as cats in Dakar tended to be left completely on their own and were mostly semi-feral.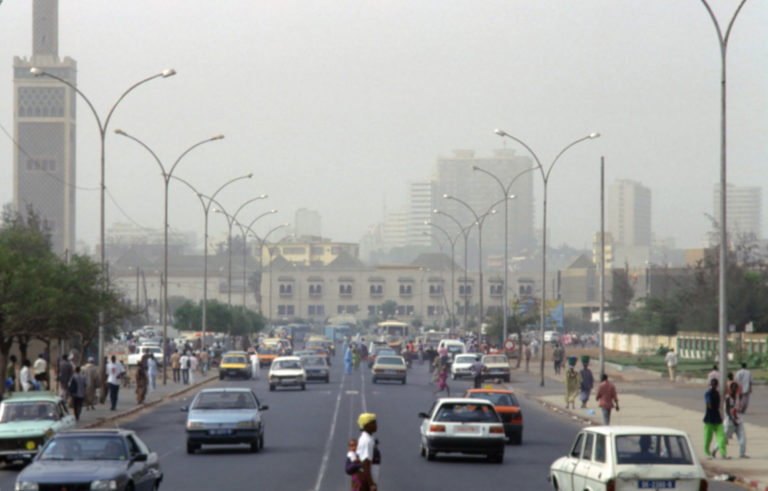 Alles Cheikh Sidaty Aidara, Dakar, Sénégal
While my wife worked in an office on weekdays I found various work to keep myself busy and bring in a little money. I taught the Peace Corps director how to use his Macintosh computer and that led to me training local mechanics how to assemble and repair mountain bikes used by the volunteers. I even self-published a Peace Corps bicycle repair manual using the precious Mac Plus we had brought with us. As I had done in Niamey I quickly purchased a three-speed bicycle and used it to travel all throughout Dakar. In hindsight this was somewhat risky but my years as a bicycle messenger in D.C. prepared me for the crazy traffic and I survived without so much as a single accident. Here is one of the routes I would take from our house to the Peace Corps office nearer to the downtown center.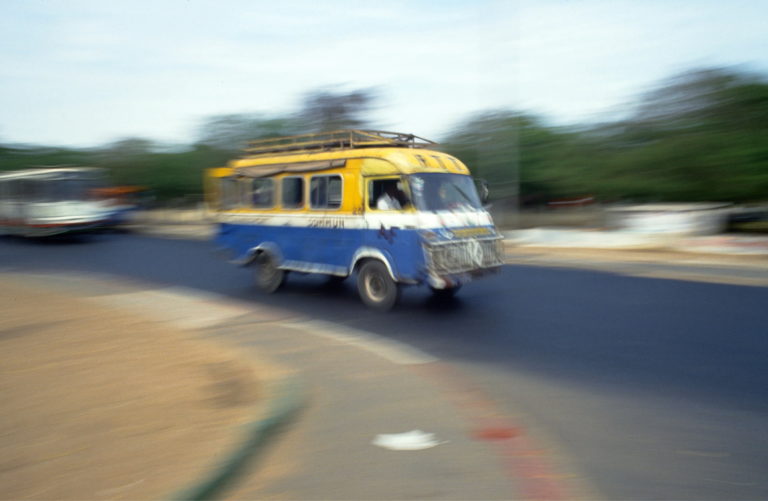 Dakar, Sénégal
On the occasions where I didn't want to, or couldn't bicycle somewhere I found the big difference between the big-time foreign worker with a car and chauffeur and the independents like me was transportation. In-town I learned the routes and ways of the "Car Raipdes" – blue and yellow colored busses which moved the majority of citizens around town for pocket change. Each had a man or boy at the back rapidly announcing the destination – they were also who you negotiated the fare with. We also used taxis quite a lot, which ranged from decently kept-up Peugeots to clattery, rattly Renaults where sitting in the back was as much a matter of hoping to survive an accident as a measure of social standing.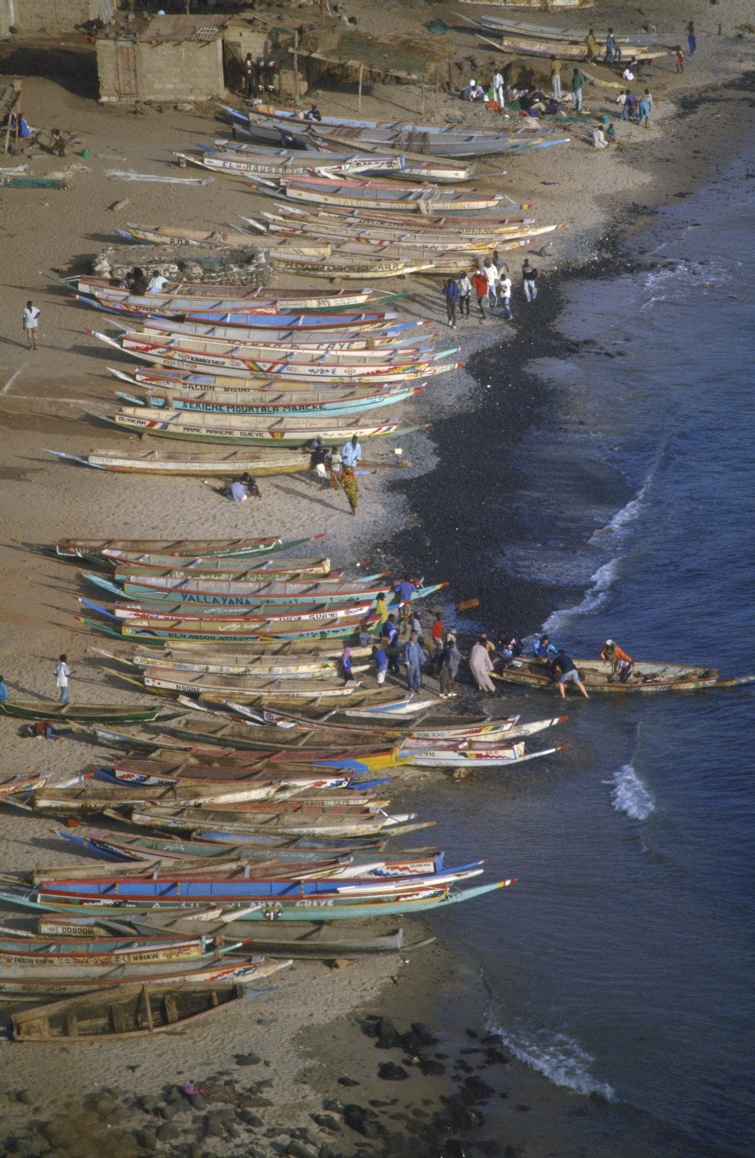 Marché Soumbédioune, Dakar, Sénégal
Dakar is a seaside port, and fishing is a huge part of its local economy. We soon learned to love the delicate flavor and easy preparation of the Thiof – kind of a giant grouper, especially in the national dish of thieboudienne (fish and rice, although that simple name does no justice whatsoever to the sublime flavor it has). On the ocean side of Dakar were the fish markets with scores of brightly colored Pirogues that arrived in the early evening with the day's catch.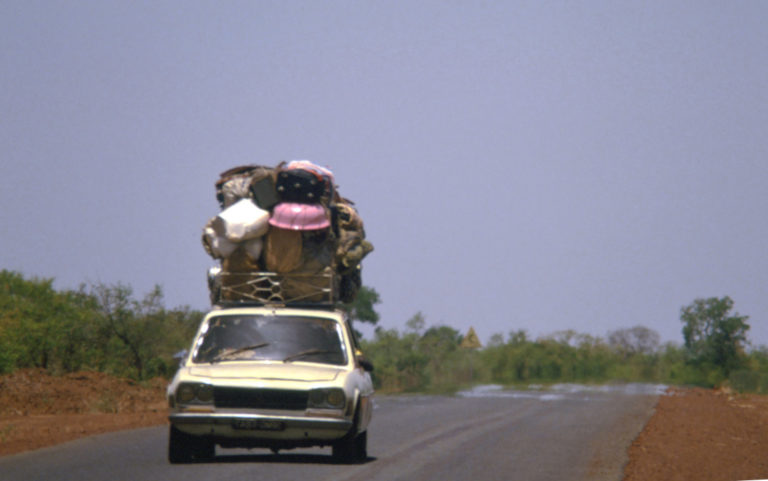 Road to Thies, Sénégal
As mentioned one of my gigs was training Peace Corps volunteers in how to maintain their mountain bikes. This heralded a sea-change of sorts in providing volunteers with transportation which previously had been almost exclusively off-road motorcycles. These were proving to be more dangerous than the administration was happy with so there was a large effort to replace them with mountain bikes whenever practical. For me this involved getting myself to the training site in Thiès, some 40 miles or so from Dakar. Starting from one of the many bus-lots in Dakar I would take an "onze place" taxi – a station wagon that when fully packed (which they almost always were) would hold 11 people. As there was no room for anything but the smallest bag everything else was bungeed or lashed to the top.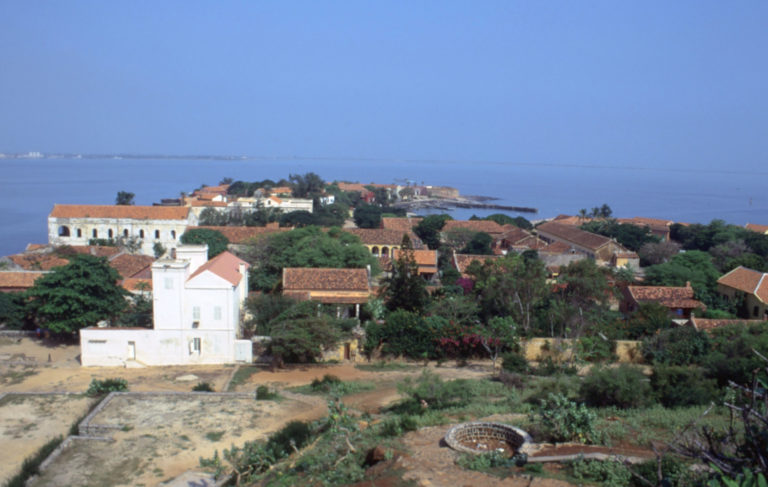 Goreé Island, Sénégal
Just a short ferry ride from Dakar is Goreé island, a rejuvenating get-away from the dust and bustle of Dakar proper. Every now and again we would visit the island to swim on it's lovely beach and have a nice meal at the "Chevalier des Bouffles", which is still there to this day. I especially enjoyed wandering the island and meeting the people who lived there who were not part of the tourism business. This photo was taken from the highest part of Goreé, looking towards the beach and colonial French fort on the North side. This highland held partial ruins and foundations of another older fort, and at that time was also a home to numerous artisans and hippies who lived in makeshift houses in the old nooks and crannies.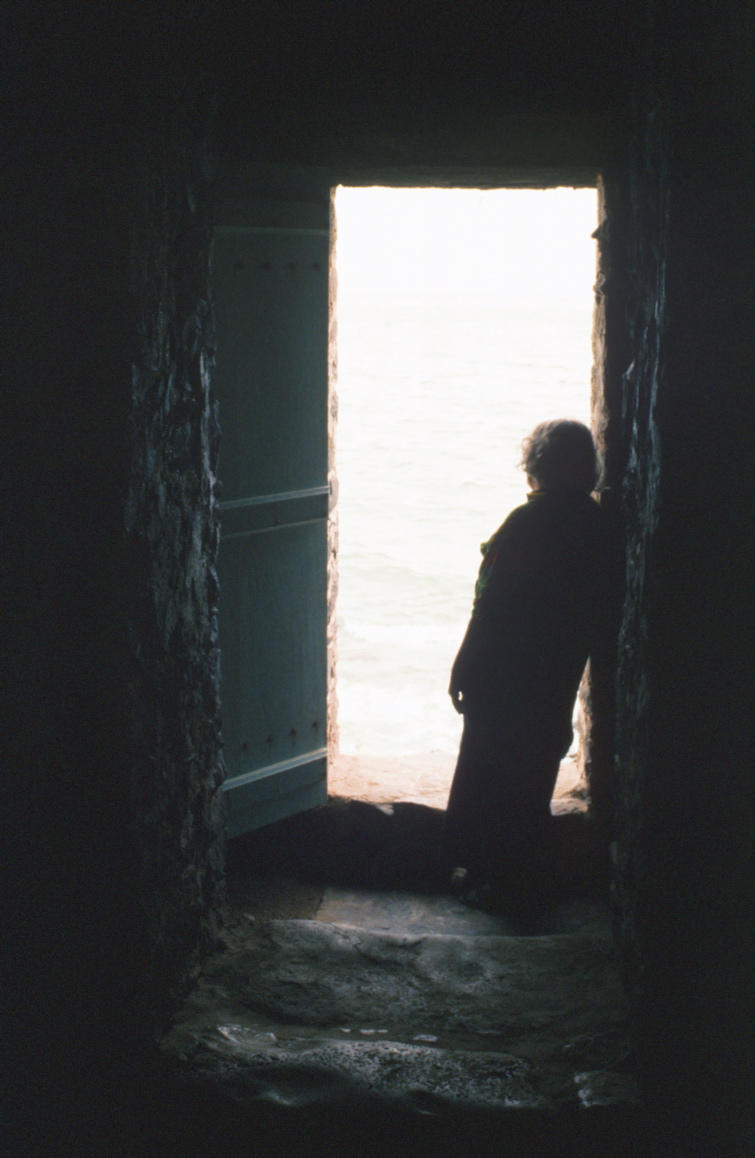 Goreé Island, Sénégal
Goreé island is also the home of the "Maison des esclaves", visited by popes and presidents alike. Although one of the smaller sites where slaves were held awaiting export, it has become an important memorial to the horrors of the Atlantic slave trade. This is the "Door of no Return", said to be where slaves left the continent for the last time. In the doorway is my mother-in-law; we had my mother and my wife's mother over to visit us for two amazing weeks where they were given the full attention and appreciation given to Elders in Senegalese society.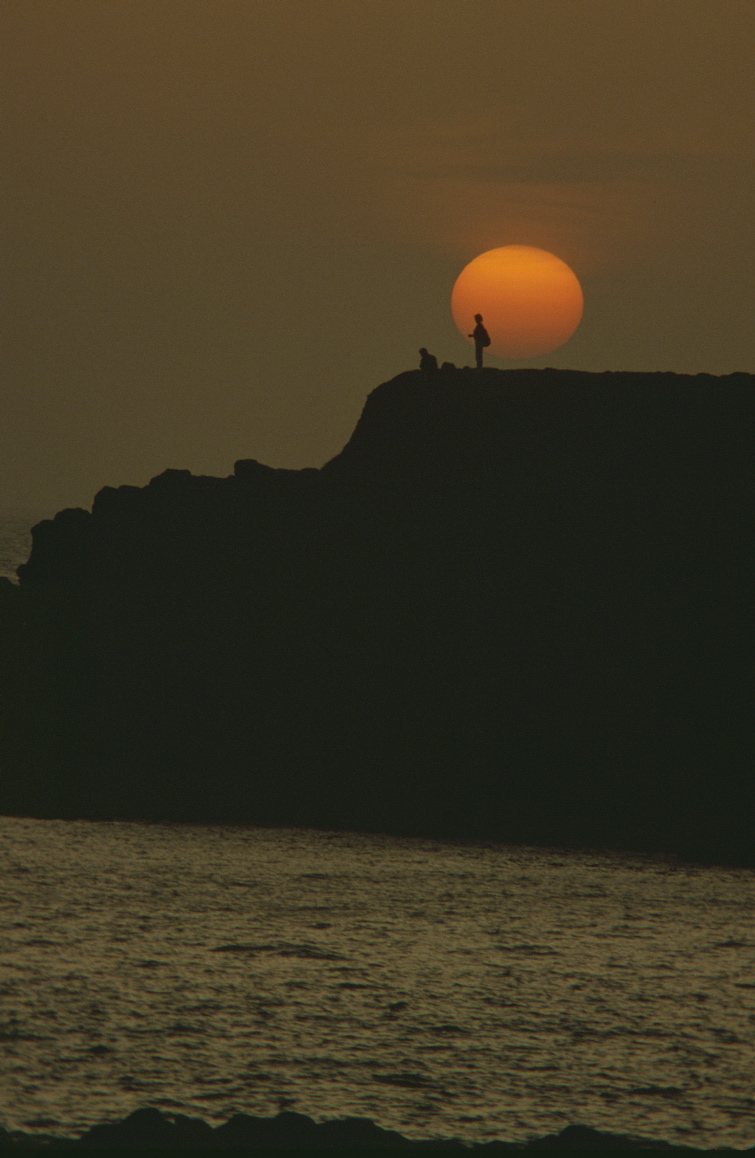 Oceanfront, Dakar, Sénégal
Along the ocean side of Dakar are cliffs that rise above the beaches and fish markets. On top was an exercise area with running path and makeshift equipment used by hundreds of locals as their outdoor gym. On hot evenings we would come to feel and smell the ever-present onshore breeze and find some peace after the sensory overload of a day in Dakar.