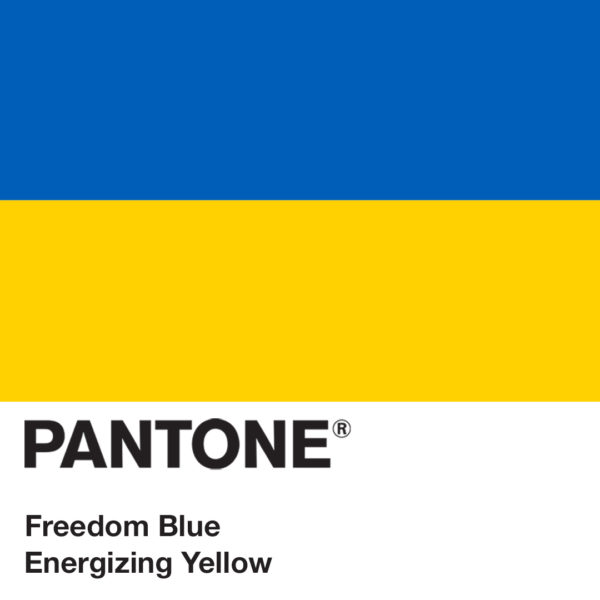 (From Pantone!)
As I write this, Europe's largest nuclear power plant is under attack!
We'll start with the good news before the bad news and then back to the good news:
#Ukraine tells IAEA that fire at site of #Zaporizhzhia Nuclear Power Plant has not affected "essential" equipment, plant personnel taking mitigatory actions.

— IAEA – International Atomic Energy Agency (@iaeaorg) March 4, 2022
⚡️Russian forces are firing at Europe's largest nuclear power plant, the Zaporizhzhia Nuclear Power Station in Enerhodar, a city on the Dnipro River that accounts for about one-quarter of Ukraine's power generation.

The city's Mayor Dmytro Orlov said the plant is now on fire.

— The Kyiv Independent (@KyivIndependent) March 4, 2022
Zaporizhzhia NPP is under fire! The entire Europe is at risk of a repeat of the nuclear catastrophe. Russians must stop fire! pic.twitter.com/P46YxKZZ0W

— Михайло Подоляк (@Podolyak_M) March 4, 2022
Here's the live feed:

Before anyone asks, this is already prohibited by a Geneva Convention. Specifically Protocol 1 of the 1949 Geneva Conventions:
Protocol I to the 1949 Geneva Conventions restricts attack against dams, dikes, and nuclear power stations, if "severe" civilian losses might result from flooding or radioactivity.
Russia is a party to the 1949 Geneva Conventions including Protocol 1. Perhaps someone will write Putin a ticket.
Here's Zelenskyy's response:
Urgent video messages from President Zelensky that fighting at the Zaporizhia nuclear power plant threatens a catastrophe for all of Europe. He pleads for the fighting to stop and reminds people what happened in Chernobyl. He says Russian forces know what they're shooting at. pic.twitter.com/kgIgXkzjrX

— Christopher Miller (@ChristopherJM) March 4, 2022
Maybe one of our Ukrainian or Russian speakers can translate for us in the comments.
Tell me you don't understand war without telling me you don't understand war!
Example 1:
None of the reactors at Zaporizhzhia is likely to explode in the way Chernobyl did.

But Russians must move away from the plant. https://t.co/XvnTKHL85b

— Cheryl Rofer (@CherylRofer) March 4, 2022
I'm sure the Russians will get right on that.
Example 2:
you'd really think that even during active combat there could be an understanding on this. obviously worst for Ukraine. But not like a huge nuclear power disaster would be great for Russia, global wind patterns being what they are. https://t.co/4f067gtLxY

— Josh Marshall (@joshtpm) March 4, 2022
I can't even…
Okay, I can. Smart, knowledgeable, well meaning, professional people of good character are going to tweet their way through a genocide that may or may not include a nuclear component to it.
Yes, I'm out of fucks, why do you ask?
I'm going to be very clear here, the entire non-proliferation regime, system, concept, whatever you want to call it is dead. There is not a single state with nuclear weapons that will ever give them up because they are now watching Ukraine, a state that did give them up for what we claim are non-binding assurances of protection of territorial integrity being brutally reinvaded by the state they gave them up to and which is one of the parties that gave the assurances that are now being claimed as non-binding. There is not a single state that can either get to break out stage quickly or actually acquire nuclear weapons that will now not pursue them as they watch a nuclear weapon state attack a non-nuclear weapon state and the world's sole superpower and its foremost military alliance are completely unable to actually stop the reinvasion and the brutality because the state reinvading and being brutal has nuclear weapons and actually doing anything that would stop the brutality is too risky. Finally, there are a whole lot of autocrats like MBS and wannabes like Bolsanaro who are going to do everything they can to at least get to the quick break out stage, if not actually try to acquire nuclear weapons, so that they can do what Russia is doing right now.
Here's an actually useful thread explaining the dangers of the attack on Zaporizhzhya nuclear power plant.
Short thread on the dangers of the fire at Zaporizhzhya NPP.

As of 8am this morning, according to Ukraine's regulator, three of six reactors were connected to the grid; the other three were offline. However, ALL the units will need cooling if they have any fuel inside. (1/n) https://t.co/So4aJEKbJz

— (((James Acton))) (@james_acton32) March 4, 2022
We're now definitely into the Putin is just going to raze Ukraine to the ground stage because if he can't have it, then no one can.
Unbelievable destruction caused by Russian shelling in the town of Borodyanka, northwest of Kyiv. pic.twitter.com/OSGs82MVh1

— Christopher Miller (@ChristopherJM) March 3, 2022
33 people killed in a missile strike in Chernihiv, just hours ago.
Why is everyone in the West pretending not seeing these horrors?! pic.twitter.com/8xiB29Nstx

— Inna Sovsun (@InnaSovsun) March 3, 2022
video of a missile attack on residential areas of Chernihiv. #WarCrimes pic.twitter.com/ZFw7GVs9oS

— UkraineWorld (@ukraine_world) March 3, 2022
The Russian's hit the cathedral in Energodar!
Fighting in Energodar. 3/https://t.co/hRTSH7KVIo pic.twitter.com/VFjdFQhEwA

— Rob Lee (@RALee85) March 3, 2022
The following one is especially graphic. Russian troops opened up on a civilian vehicle trying to flee the combat zone. So don't watch it if this sort of thing bothers you:
Dad, please don't die!': A harrowing video has emerged from Ukraine that captures a deadly Russian attack on a father and son attempting to evacuate from the town of Ivankiv in the Kyiv region. pic.twitter.com/6WB2ZfCpVS

— Radio Free Europe/Radio Liberty (@RFERL) March 3, 2022
The Russians have been shelling Odesa:
Reportedly video showing Russian air strikes on an artillery depot near Odesa. https://t.co/EccDkTt4fc pic.twitter.com/PK50qMwepE

— Rob Lee (@RALee85) March 3, 2022
Reportedly Russian aviation over Odesa. https://t.co/usQ8oVFhLc pic.twitter.com/XpbCJeewjT

— Rob Lee (@RALee85) March 3, 2022
And they're continuing to hammer Mariupol:
Mariupol. https://t.co/vzKuM8C3C1 pic.twitter.com/n9qhhDIgkX

— Rob Lee (@RALee85) March 3, 2022
The attacks on Mariupol and Odesa are an attempt to create a land bridge from Crimea to Russia and to remove Ukrainian access to the Black Sea. This is what Russia is staging to take them:
Second video of the Russian naval grouping in the Black Sea off the coast of Crimea. 2/https://t.co/3KXaclFHIc pic.twitter.com/CxpxiF9FNI

— Rob Lee (@RALee85) March 3, 2022
Russian amphibious ships, apparently waiting off Crimea

Ref https://t.co/ALNCNkBnAW pic.twitter.com/NfSH3nO12D

— H I Sutton (@CovertShores) March 3, 2022
Kherson fell to the Russians yesterday. The mayor negotiated an agreement to end the fighting to protect his citizenry which also places the city under Russian control. Here's a thread with the details:
1) Implications of the fall of Kherson.
The city of Kherson, with 300,000 people, is the largest to go under Russian control since the war began. The fact that it fell so quickly, with minimal fighting, is troubling and may have dire implications for the UKR govt.

— Bill Roggio (@billroggio) March 2, 2022
And as I teased last night when I referenced the Russian positioning of armored prisoner transport vehicles, we now know what Putin is planning to do with the Ukrainians he arrests:
The agency is also planning violent crowd control and repressive detention of protest organisers in order to break Ukrainian morale

— Kitty Donaldson (@kitty_donaldson) March 3, 2022
Some good news after the jump:
Ukrainian Special Operations Forces took out a Russian VDV (paratrooper element) in Gostomel:
Бій веде зведена група спецпризначенців під керівництвом ГУР МО України та підготовлені ними місцеві групи опору.

?Загалом протягом дня спецпризначенці знищили у Гостомелі 20 бойових машин десанту ворога.

Слава Україні!??
Смерть окупантам!
2/2

— Defence intelligence of Ukraine (@DI_Ukraine) March 3, 2022
Here's the translation of the text of the two tweets:
Special forces of the Main Intelligence Directorate of the Ministry of Defense of Ukraine destroyed 10 more enemy BMDs in Gostomel The battle for control of the city of Gostomel continues. As of 6.30 pm, 10 enemy combat vehicles have already been destroyed in the area of ​​the local glass factory.

The battle is being waged by a combined group of special forces led by the GUR of the Ministry of Defense of Ukraine and local resistance groups prepared by them. ?In total, during the day, special forces destroyed 20 enemy combat vehicles in Gostomel. Glory to Ukraine! ?? Death to the occupiers!
The Ukrainians have attacked that large, spread out, and stalled out column of Russian vehicles:
Ukrainian jets have struck the Russian column north of Kyiv. Can confirm with my own eyes that on day 8 of the war, they're still flying. https://t.co/NKczkJVwk4

— Neil Hauer (@NeilPHauer) March 3, 2022
From Military Times:
kraine armed forces have been striking that long line of Russian troops heading to Kyiv while the Russians have used thermobaric weapons against Ukrainian cities, the head of Ukraine's defense intelligence agency tells Military Times.

"We are striking the enemy's columns," Brig. Gen. Kyrylo Budanov told Military Times in an exclusive interview Wednesday morning. "We burn many columns of the enemy."

The strikes, he said, are being conducted by Ukraine Su-24 and Su-25 fighter jets, artillery and missile barrages.

"My intelligence officers and agents are directing and calling the strikes," he said.

Speaking to reporters Wednesday afternoon on the condition of anonymity, a senior defense official said the Pentagon has indications Ukraine forces are targeting the convoy in an attempt to stymie what officials believe is Russia's ultimate goal: to occupy Kyiv and install a puppet government. The official spoke to reporters on the condition of anonymity.
More at the link.
Video reportedly of a Ukrainian Air Force Su-24 bomber after striking Russian targets. https://t.co/qYBaVASXHU pic.twitter.com/4AeX1HCFbF

— Rob Lee (@RALee85) March 3, 2022
What they're finding are more war crimes. Such as using vehicles designated and marked for medical support to transport lethal weaponry and munitions:
Transcript pic.twitter.com/agsQ4ZMIUv

— Dmitri (@mdmitri91) March 3, 2022
Speaking from Kyiv, where he is about to go and join the fight, Eugene Bulatsev, an engineer with the Ukrainian designer UA-Dynamics, said that the electric drones were "game-changing"

— Larisa Brown (@larisamlbrown) March 3, 2022
Someone's Deity should bless French President Macron because he refuses, regardless of the evidence, to give up on trying to find a diplomatic solution to Russia's reinvasion of Ukraine:
It certainly doesn't seem Putin has any intention to back down in Ukraine https://t.co/avXbggAKhW pic.twitter.com/7egWso1T0F

— max seddon (@maxseddon) March 3, 2022
Julia Ioffe reports that Putin's reinvasion took a lot of people in Russia by surprise. Including people working for Putin.
This is a very trustworthy news source, btw.

— Julia Ioffe (@juliaioffe) March 3, 2022
And in the it could be good news, but it could also be bad news space:
⚡️Russia agrees to provide a humanitarian corridor to evacuate those injured and to deliver food and medicine to civilians shelled by their troops.

Ukraine must be careful with this, the last time Russia allowed a humanitarian corridor, it was in August 2014 in Ilovaisk.

— Oleksiy Sorokin (@mrsorokaa) March 3, 2022
Here's a detailed article by Buzzfeed explaining why it is going to be exceedingly difficult to actually implement the economic measures and seize Putin's, the oligarchs', and the siloviki's ill gotten gains.
But secret documents obtained by BuzzFeed News show how unsuccessful the US has previously been at tracking their wealth, and how great a challenge Biden's task force faces as it commits to enforcing the rules. These documents, known as suspicious activity reports, or SARs, offer abundant evidence that Russian oligarchs hide their ownership of companies, aircraft, homes, and yachts, moving their money into and out of prestigious financial institutions in New York, London, and Paris with few questions asked.

It is difficult to identify the oligarchs' holdings "precisely because of the anonymous companies, or the ways in which investments can be made in advanced economies without any kind of true disclosure, transparency," said Gary Kalman, director of the US office of Transparency International, which tracks global corruption.

In the hunt for Russian billions, the wealth of Putin himself may be the ultimate quarry. The documents show that FinCEN has been trying to track Putin's assets for years. One of the groups inside the agency's intelligence unit is tasked with doing research about how people close to the Russian president are moving funds around the globe. They publish some of their conclusions in a bulletin called Kleptocracy Weekly, which is disseminated to law enforcement agencies.

Experts told BuzzFeed News that pulling back the veil on the true ownership of shell companies, yachts, real estate, and other assets of the Russian financial elite is enormously complicated. Banks, which are meant to be the first line of defense, may be constrained by local secrecy laws. The US government has more options, but to find out who truly owns an anonymous shell company, it often has to go to the source — Russia — for more information.

"Even if law enforcement authorities in the US, the UK want to go seek that information," said Jack Margolin, a program director at the Center for Advanced Defense Studies in Washington, DC, "that is going to slow down the process tremendously because it's possible that they're going to have to either engage with the jurisdiction in question through mutual legal assistance, or they're going to have to basically go to court."
Much more at the link.
Finally, here are two is on interesting thread for you.
The first is once again from Kamil Galeev and deals with the Russian VDV, their paratrooper corps, and why they've been so ineffective in Ukraine:
How is the war in Ukraine going? Today they confirmed the death of Russian General Major Suhovetsky. He's unsurprisingly a paratrooper. So let's discuss the role of paratroopers in Russian military doctrine. That'll shed a light on the course of this war and why Russia lost it? pic.twitter.com/aIWsikgFnO

— Kamil Galeev (@kamilkazani) March 3, 2022
The second is being tweeted out be a professor in British Columbia, but in the first tweet she indicates it is an update from a professor in Ukraine.
Edited to add at 11:25 PM EST:
Gin&Tonic has alerted me, in a comment, to the source in the above now deleted tweet thread being somewhat dodgy, so I've removed it.
Open thread!