This afternoon, the US announced new sanctions in a set of Russian oligarchs who are especially close to the madman, Putin.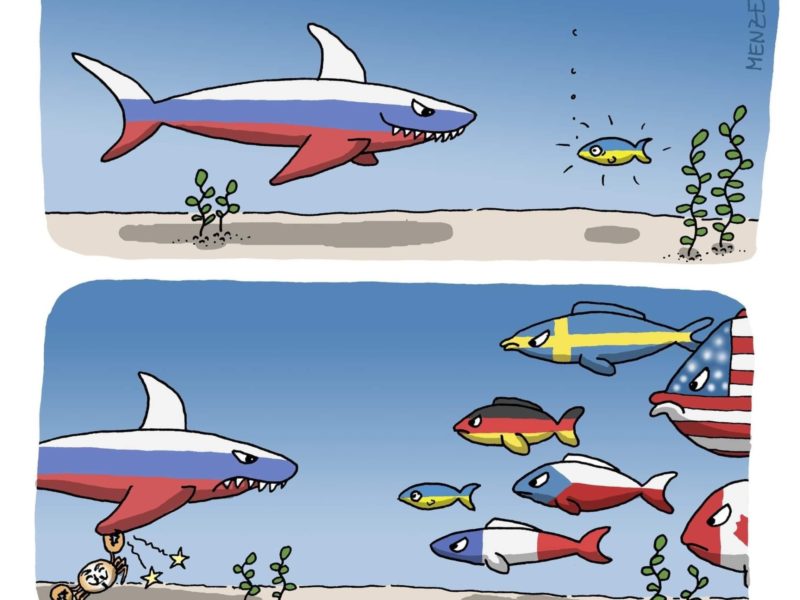 *cartoon courtesy of Subaru Diane
Jen Psaki:
"These are significant steps that will impact the people who are closely around President Putin," White House press secretary Jen Psaki told reporters."We want him to feel the squeeze. We want the people around him to feel the squeeze."
The U.S. on Thursday announced new sanctions against members of the Russian elite, including Russian President Vladimir Putin's spokesman, and said it would block 19 oligarchs and 47 of their relatives and close associates from traveling to the United States.
The sanction targets include Kremlin spokesman Dmitry Peskov, as well as one of Russia's richest men, Alisher Usmanov, according to the White House.
In a news release, the Treasury Department said it and the State Department had intensified pressure on Russia by "sanctioning numerous Russian elites and their family members, identifying certain property of these persons as blocked, and sanctioning Russian intelligence-directed disinformation outlets."

It said the elites sanctioned provided direct and indirect support to the Russian government through their business empires, wealth, and other resources. "The aid of these individuals, their family members, and other key elites allows President Vladimir Putin to continue to wage the ongoing, unprovoked invasion of Ukraine," the release said.
.

Shortly after he arrived in Brussels for a full day of meetings Thursday with NATO, the G-7, and European Union counterparts, among other allies, Secretary of State Antony Blinken weighed in on the new sanctions.

"These actions make it clear there is nowhere to hide for individuals and entities that support Russia's flagrant war against Ukraine," he said in a statement.

The statement also said the Department of State is imposing substantial costs on Russia's defense enterprises by sanctioning 22 defense-related firms. "These far-reaching sanctions target entities that develop and produce fighter aircraft, infantry fighting vehicles, electronic warfare systems, missiles, and unmanned aerial vehicles for Russia's military. These sanctions strike at the core of Putin's war machine," he said.
The Russian elites named in the White House release are:

Nikolai Tokarev (his wife Galina, daughter Mayya, and his two luxury real estate companies)
Boris Rotenberg (his wife Karina, and his sons Roman and Boris)
Arkady Rotenberg (his sons Pavel and Igor and daughter Liliya)
Sergei Chemezov (his wife Yekaterina, his son Stanislav, and stepdaughter Anastasiya)
Shuvalov (his five companies, his wife Olga, his son Evgeny and his company and jet, and his daughter Maria and her company)
Yevgeniy Prigozhin (his three companies, his wife, Polina, his daughter Lyubov, and his son Pavel)
Peskov, President Putin's press secretary
Usmanov (his superyacht and his private jet, one of Russia's largest privately-owned aircraft

The Russian entities being sanctioned are: SDN Strategic Culture Foundation and associated outlets; Odna Rodyna, Rhythm of Eurasia, and Journal Kamerton; SouthFront; SDN InfoRos; New Eastern Outlook; Oriental Review; United World International; and Geopolitical.
Update: I am often cartoon-challenged.  I love this one, but I am wondering if someone can explain the crab and the two stars that are in the lower left on the bottom part of the cartoon.
Update 2: Questions answered!  thank you