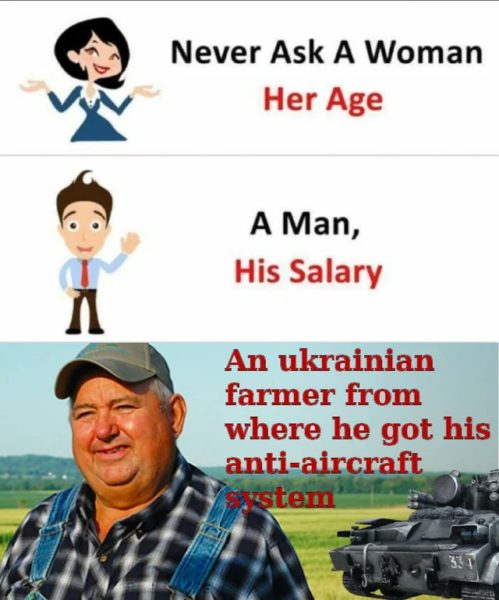 (Found at Ukrainian Memes Force)
I wasn't planning on doing an update tonight, but a couple of items have been brought to my attention and I wanted to highlight them while I'm thinking about them.
First off, the now occupied cities like Melitipol and Kherson, as well as the besieged ones like Mariupol need to be relieved via humanitarian corridors. As I noted in last night's post, Russia agreed to allow them yesterday. However, Russia did the same thing in Syria and either never actually allowed them or, when they did, they actually targeted the humanitarian relief efforts. And, of course, the Russians now control the nuclear power plant they attacked last night and other Russian forces are moving towards a second one.
Kyiv and its defenders are still standing. Sebastian just speculated/mentioned in comments to AL's post that Ukraine's strategy may be to (temporarily) sacrifice the southern port cities while focusing on the defense of Kyiv and central Ukraine. This would make logical sense, so I figured I'd mention it because:
A photo from the journalist Bogdan Butkevich (h/t @CalibreObscura) included a claim that after two days Ukrainian forces have pushed Russian troops substantially back from Kyiv. It's geolocated to the outskirts of Ivankiv, FAR behind the furthest Russian advance. pic.twitter.com/l6yfJ428qX

— Nathan Ruser (@Nrg8000) March 3, 2022
If this has been a continuation of a frontal assault from Makariv yesterday, it would be a MASSIVE advance and the disintegration of much of Russia's notorious 60km convoy. If it is a side assault, it shows how vulnerable the column is to ambush and interdiction/disruption.

— Nathan Ruser (@Nrg8000) March 3, 2022
Source: https://t.co/ncZESs1FLF

— Nathan Ruser (@Nrg8000) March 3, 2022
This would seem to suggest that Sebastian's speculation is more than just logical.
The Russian military is shipping in antiquated equipment to replace what is being destroyed in Ukraine:
So yeah, as I was saying earlier re them breaking out the really old stuff now. https://t.co/p7GxsBzzR6

— Alex Luck (@AlexLuck9) March 4, 2022
Shipping in the old dilapidated equipment fits with an article about Russia's logistics and supply problem published before the reinvasion that Paul Krugman highlighted:
This is fascinating: an article on Russian logistics published well in advance of the Ukraine invasion. Basically the Russians have far too few trucks to support their forces if they move far from railheads 1/ https://t.co/YMWiskSy0W

— Paul Krugman (@paulkrugman) March 1, 2022
So they bet that they could overawe and intimidate the Ukrainians with a force far too small to overcome real resistance. It was a colossal misjudgment, but you can understand why they wanted to believe it 3/

— Paul Krugman (@paulkrugman) March 1, 2022
Which also conforms to an assessment from Bellingcat's Christo Grozev:
⚡️ Bellingcat investigator Christo Grozev says that #Russia has resources left for the war until Sunday, after which they will collapse.

Also next week, Russia is facing sanctions, the scale of which "we have not seen before", and they will also affect Putin

— NEXTA (@nexta_tv) March 4, 2022
Just wanted to clarify the tweet below so it doesn't read as an end-of-war prediction. (Sadly it's not). My resources comment was about existing inventory/supplies in Ukraine. More can and will be supplied, but is a logistical nightmare.
On the sanctions…they are really good. https://t.co/J1Ja6CPQkv

— Christo Grozev (@christogrozev) March 4, 2022
While we won't know for a while if this is, indeed, the next shipment of Bayrakter drones to Ukraine from Turkey, it would seem to be a positive indicator:
An Antonov Airlines Antonov An-124 (reg. ??UR-82072 as #ADB3174) from ??Tekirdag Corlu Airport (known for its Bayraktar TB2 delivery flights) is currently landing at ??Rzeszów-Jasionka Airport in Poland, the likely military hub for ??Ukraine, a Bayraktar TB2 operator. pic.twitter.com/1wk7yYfACU

— Gerjon | חריון (@Gerjon_) March 4, 2022
Speaking of Russian equipment problems, yesterday there was a very informative and also amusing thread regarding the seeming crappy tires the Russians are using on some of their vehicles.
This is a thread that will explain the implied poor Russian Army truck maintenance practices based on this photo of a Pantsir-S1 wheeled gun-missile system's right rear pair of tires below & the operational implications during the Ukrainian mud season.?

— Trent Telenko (@TrentTelenko) March 2, 2022
This led to what seemed to be a positive ID on these tires. That they're Chinese knockoffs.
Bit of a tire expert here. Those aren't Soviet-era heavy truck radials. Chinese military tires, and I believe specifically the Yellow Sea YS20. This is a tire I first encountered in Somalia and Sudan; it's a bad Chinese copy of the excellent Michelin XZL military tire design. ??

— Karl T. Muth ?✈️? (@KarlMuth) March 3, 2022
Yes, all the things in the original thread are valid, but these Chinese tires simply don't have the load ratings needed for equipment like what's shown. They are poorly-constructed and barely-inspected truck radials. The equivalent Michelin product is inspected and x-rayed (!!!).

— Karl T. Muth ?✈️? (@KarlMuth) March 3, 2022
But no one could have predicted or anticipated what would happen next. Enter the furry…
They're not yellow seas (first image), and they're definitely not XZLs (second image), while it's a close resemblance, the actual tires on that particular chassis above are Belshina-95s (third image) Belarusian made, the tread pattern is exactly that of the third image pic.twitter.com/omJARYXWTZ

— Jessa'Leih Vamantii V'oudescu (@ShojannahTuriri) March 3, 2022
Finally, I want to just highlight this thread by a former military rotary wing aviator about how to establish a no fly zone in Ukraine without having to use fighter jets or other air assets. I was having a conversation about stingers with a former boss about the stingers and how they're being used in Ukraine right now  and I have to say that Kay's recommendation is brilliant and I wish I'd thought of it!
When I flew in Iraq and Afghanistan, even the idea of MANPADs being part of our threat, created all sorts of additional protocols. And Stinger, that's a nightmare. As soon as a RU ac is taken out by Stinger, RU aircrews' morale will head south. 3/

— Mikey Kay ??????? (@MikeyKayNYC) March 4, 2022
We shouldn't underestimate the risk of escalation. Consider this scenario: an IL-76 flies into UKR airspace w/ 50+ RU paratroopers on it. You can a) take it out w/ a Stinger fired by UKR forces. Or b) if an NFZ, a NATO pilot has to make the call. I'd take a).

— Mikey Kay ??????? (@MikeyKayNYC) March 4, 2022
I'll have more tomorrow about just how effective Ukraine's Special Forces have been, as well as what I think is actually going on with Putin's attempt to close Russia's information space.
Update at 12:09 PM EST:
This is excellent news!
⚡️Zaporizhia nuclear power plant back under Ukrainian control

— Illia Ponomarenko (@IAPonomarenko) March 5, 2022
Open thread!