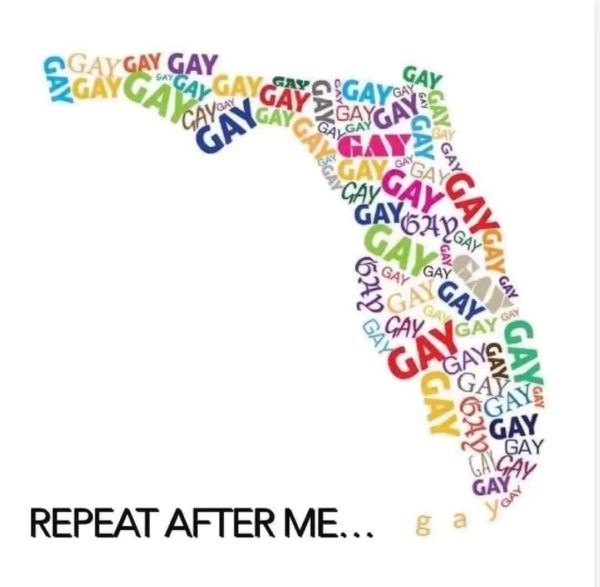 Florida Republicans' infamous "Don't Say Gay" bill passed the wingnut majority house earlier this week and passed in the wingnut majority state senate today. It's headed for DeSantis's desk, and he's indicated he supports it. From the Tampa Bay Times:
"How many parents want their kindergartners to have transgenderism or something injected into classroom instruction? I think those are very young kids. I think the Legislature is basically trying to give parents assurance that they are going to be able to go and that stuff is not going to be there," DeSantis told reporters in Jacksonville last week.

His press secretary, Christina Pushaw, went further and nicknamed the legislation the "anti-grooming" bill. She tweeted that opponents of the bill were "probably a groomer" because they want young kids to be taught about "sex." "Grooming" refers to the process by which pedophiles lure children into trusting them so the predator can take advantage of the child sexually.

Republican senators on Monday tried to distance themselves from Pushaw's comments, saying that the issue of "grooming" is not addressed in the bill. Democrats called on Pushaw to resign.
Pushaw is a vile, homophobic, taxpayer-supported internet troll who should not only resign but volunteer for a NASA mission to explore whether humans can colonize the sun — and take her boss with her. But these are the people who run this state.
Here's a particularly absurd moment from the senate debate:
Republican State Senator Ileana Garcia starts her debate in support for the "don't say gay" bill by saying being gay is "not permanent" and saying this bill, which prohibits LGBTQ topics in schools is a "good topic for happy hour". Offensive and ignorant. pic.twitter.com/eSd4OpbjYv

— Thomas Kennedy (@tomaskenn) March 8, 2022
It's absurd because the woman who made that stupid and offensive argument is an idiot, and it's also ridiculous because she occupies a state senate seat that Republicans stole through election fraud. (Not that they needed that extra stolen seat on this matter; they passed this bill with room to spare, even though two Republicans defected.)
Students from across Florida were gathered outside chanting "We Say Gay!" The TBT article says they could be heard through the walls of the chamber during the debate. I'm very proud of them, and I hope they're heard at the ballot box this November.
Open thread.