We're going to start tonight with these remarks from Congressman Mike Quigley earlier today on CNN. I highly recommend you watch the whole 4:33. It is in response to the attack on the maternity clinic and children's hospital in Mariupol early this morning:
"What is happening in Ukraine right now is hell on earth." Here's @RepMikeQuigley remarks after the atrocities in Mariupol. He argues that Putin has already declared war on NATO. NATO can't draw the line at NATO territory b/c Ukraine is just as precious. pic.twitter.com/DOGio3o3Pg

— ??Paula Chertok??? (@PaulaChertok) March 9, 2022
Quigley gets it! What is it, well take a look at this chart: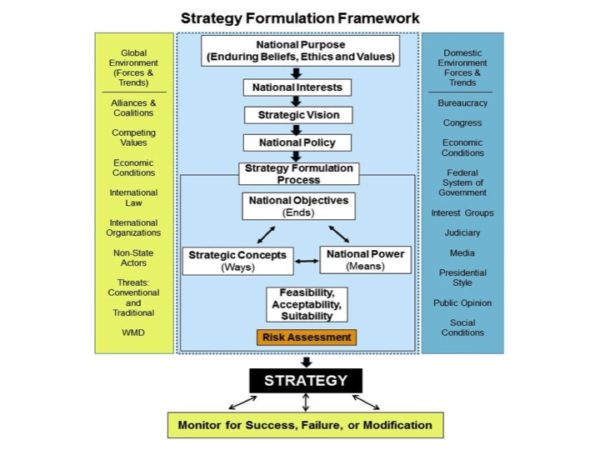 Quigley's remarks are clearly rooted in the first stage of the framework: National Purpose. Specifically, the enduring beliefs, ethics, and values that are supposed to anchor all of our national interests. What Quigley has done in four and a half minutes is clearly and concisely make the argument that right now our policy and strategy for dealing with Putin's reinvasion of Ukraine, the war crimes his forces are committing, the indiscriminate destruction of targets that are purely civilian, often humanitarian in that they're hospitals and medical facilities, s0lely to terrorize Ukrainians, is NOT rooted in our National Purpose!
For those that haven't seen the news of it yet, what I was referring to above is that a maternity clinic and children's hospital in Mariupol was targeted and destroyed by the Russians earlier today.
Shared by Zelensky just now but independently confirmed: video of aftermath of a Russian strike on the maternity hospital in Mariupol. "People, children are under the wreckage. Atrocity! How much longer will the world be an accomplice ignoring terror? Close the sky right now!" pic.twitter.com/pJ7ItjDqBX

— Christopher Miller (@ChristopherJM) March 9, 2022
Seeing the pregnant woman walking out of the destroyed building of the maternity ward in #Mariupol makes my blood run cold.
Hard to imagine how many children have been killed as a result of Russian air strike on the children's hospital today.@ICRC @UN #SafePassageForCivilians pic.twitter.com/WKNwzE3vwW

— Olena Ivantsiv (@OlenaIvantsiv) March 9, 2022
On Russian strike damaging hospital in Mariupol, Maksym Dotsenko, chief of the Ukrainian Red Cross told me it could cause "complete collapse" of children's medicine in the city. He said his teams had tried for 4 days in a row to evacuate civilians from the city to no avail 1.

— Bel Trew (@Beltrew) March 9, 2022
Ukrainian Red Cross chief told me: "We cannot help them in Mariupol – we have tried to organise evacuation convoys every day. Today, it was the fourth day in a row we tried but we were unsuccessful. They are completely cut off. We cannot even send in a single truck of food."

— Bel Trew (@Beltrew) March 9, 2022
This massacre was followed by the US and Poland continuing to play hot potato with Poland's MiGs:
Breaking: Sec Lloyd Austin stressed to his Polish counterpart "that we do not support the transfer of additional fighter aircraft to the Ukrainian air force at this time, and therefore have no desire to see them in our custody either," per @PentagonPresSec.

— Natasha Bertrand (@NatashaBertrand) March 9, 2022
The Kirby's press-conference was extremely weak, confusing and self-conflicting. The question on why one can supply Javelins but not planes was left unanswered. And the bigger question – why was this seen as a viable plan few days ago and not now – is also left without answer.

— volodymyr dubovyk (@VolodymDubovyk) March 9, 2022
We're approaching strategic malpractice with the MiG situation. Secretary Blinken spent all weekend working on a way to get the Poles to yes on transferring their MiGs to Ukraine in exchange for new US fighter jets. The Poles finally get there and now the Secretary of Defense doesn't think it is necessary and the DOD's official position is it is too risky and could be seen as escalatory.
Escalation is coming no matter what we do.
We took note of Russia's false claims about alleged U.S. biological weapons labs and chemical weapons development in Ukraine. We've also seen Chinese officials echo these conspiracy theories.

— Jen Psaki (@PressSec) March 9, 2022
⚡️Russia may set the scene to use chemical weapons.

U.S. and British officials said at a briefing on March 9 that there is "good reason" to be concerned about this especially considering Russia's use of such weapons in Syria.

— The Kyiv Independent (@KyivIndependent) March 9, 2022
This is coming, make no mistake. And Russia will use it to divide the West politically as well as inflict horrific damage on Ukraine.

The Syria playbook is being rolled out – step by step by step.https://t.co/QwL0lq0NEx

— David Patrikarakos (@dpatrikarakos) March 9, 2022
As I wrote last night here and the night before in an on the fly assessment for some retired senior leaders, Russia appears to be setting the information space, with support from the PRC, to stage a biological or chemical weapons attack, which Russia will then blame on Ukraine and possibly the US and NATO.
Over the last 100 hours or so, Russia has seriously reduced engaging Ukrainian military targets.
Most of its attacks, primarily in terms of air strikes, are being clearly delivered against civilian population and infrastructure.
Russians are not even trying to justify anything.

— Illia Ponomarenko ?? (@IAPonomarenko) March 9, 2022
Russia is now primarily targeting civilians and non military infrastructure. We've long since passed escalatory. Weapons are weapons. Putin already declared that providing weapons to Ukraine was an act of war against Russia. Just like he declared that leveling sanctions and strong economic measures was also an act of war against Russia. Based on his own statements, he's already got all the justification he needs if he wants to escalate.
Gary Kasparov's response to this is as correct in its way as Quigley's was to the bombing of the hospital in the latter's remarks on CNN:
Again we must ask why the US is dragging its feet, and NATO's, on giving Ukraine the airpower it needs. It's been two weeks. If they wanted it to happen, it would. Putin knows this, too. Are they still looking for some deal with this mass murderer? https://t.co/x9VvIb4ZDx

— Garry Kasparov (@Kasparov63) March 9, 2022
How can they be worried about "provoking" Putin when he's bombarding civilians? This is war, this is a slaughter, and leaving all escalation to Putin only encourages him to escalate further. Has the lesson since 2014 not sunk in that you cannot meet power with weakness?

I've been reserved in my criticism of the White House because they have taken some long overdue action. But this strange dance over jets smells. They need to stop covering their ass and start covering Ukrainian civilians from the bombs Putin built with Western money.

Why is the greatest military alliance in history letting Putin define what is and is not acceptable action to stop a humanitarian catastrophe? He is mass murdering civilians, so he has veto power over NATO? No. Find a way to fight or you don't want to.

The people who have gotten Putin wrong at every turn, all the way up to his invasion two weeks ago, can shut up about what Putin will think or do now. Their caution & counsel & deals created this slaughter and will make it even worse.
The ambiguity in Russia's nuclear military doctrine and concepts has completely frozen the US's, our NATO allies', our non-NATO allies', and our EU allies' ability to properly assess risk, determine how much risk assumed is worth taking stronger measures to retard the humanitarian crisis that Putin is creating in Ukraine and in Europe as the latter tries to take in Ukrainian refugees.
Putin is going to do what Putin is going to do. Not pushing back on him as strongly as possibly only encourages him. We've long passed the point where the discussion about well, of course if he attacks a NATO member we'll do whatever is necessary in response, but because Ukraine doesn't have a piece of paper that lets them in the club, we just can't take the risk. This has gone from realpolitik to weird to silly. Putin doesn't care about the piece of paper. His real problem, as stated in why he invaded eastern Ukraine back in 2014, was that the Maidan revolution brought a Ukrainian government to power that wanted to join the EU. NATO is an additional excuse to and for him in his long list of grievances, but his real goal is keeping Ukraine out of Europe's, and especially the EU's, orbit.
More after the jump
For those worrying about the power shutoff to Chornobyl, here's what the IAEA has to say about it:
IAEA and #Ukraine nuclear regulator agree that loss of power at #Chornobyl Nuclear Power Plant would not have a critical impact on essential safety functions at the site. https://t.co/iaCd3hBaZG pic.twitter.com/QYuzLmspVW

— IAEA – International Atomic Energy Agency (@iaeaorg) March 9, 2022
Lack of off-site power at

#Chornobyl

Nuclear Power Plant "likely to lead to a further deterioration of operational radiation safety at the site and create additional stress for around 210 technical experts and guards,"

@rafaelmgrossi

said.

#Zaporizhzhya

Nuclear Power Plant now has 2 of 4 power lines + a backup available to the plant. "This is another example of where the safety pillar to secure off-site power supply from the grid for all nuclear sites has been compromised,"

@rafaelmgrossi

said.

IAEA has lost data transmission from its safeguards systems installed to monitor nuclear material at Russian-occupied

#Chornobyl

and

#Zaporizhzhya

Nuclear Power Plants.
This is what the rest of Mariupol looks like:
Watch this,world. Watch pregnant Ukrainian women with their faces covered in blood. Watch facilities for newborn babies destroyed. Watch dead bodies buried in a mass grave because of incessant bombardment of Mariupol. You enabled Putin for years,and it's the result
?E. Maloletka pic.twitter.com/tMghcVmZJz

— Olga Tokariuk (@olgatokariuk) March 9, 2022
⚡️Mariupol is being destroyed by Russia. The city of 400,000 people is encircled and shelled nonstop.

People lack drinking water, food, medicine.

Videos published by the Mariupol City Council give us a glimpse of how dire the situation is. pic.twitter.com/nO6xIDmOZu

— Oleksiy Sorokin (@mrsorokaa) March 9, 2022
Mariupol's Port City shopping mall (Before: 1. After: 2) and residential homes (Before: 3. After: 4) ?: @Maxar pic.twitter.com/pFq5l7u10K

— Christopher Miller (@ChristopherJM) March 9, 2022
And here's a convoy trying to get people out of Sumy:
25 evacuation buses with more than a thousand people left #Sumy reports Deputy Head of the Office of the President of Ukraine Kyrylo Tymoshenko. Six thousand civilian cars also go through the humanitarian corridor with more than 20,000 people. #Russian_Ukrainian_War pic.twitter.com/tsmWDvnjOE

— SUSPILNE NEWS ? (@suspilne_news) March 9, 2022
This statement from Secretary Raimondo is excellent!
Raimondo also noted that the U.S. is "in it to win", and warned that any country, including China, would face repercussions if it did not abide by the export restrictions.

— The Kyiv Independent (@KyivIndependent) March 10, 2022
And this is good news:
Ukrainian forces have driven Russians off Dergachi, a satellite town northwest of Kharkiv.
Bit by bit, Ukraine's military continue combining mobile defense tactics with counter-offensive operations relieving pressure from they key city. pic.twitter.com/9VDK5dwrq3

— Illia Ponomarenko ?? (@IAPonomarenko) March 9, 2022
As I wrote last night, as long as the Ukrainians can hold their lines in the suburbs, bedroom communities, and towns north of Kyiv, they can hold Kyiv. And those lines must hold because Kyiv is what Putin needs to seize. If he can take it he will install his pet quislings who will immediately sign a bunch of official looking, but bogus documents surrendering Ukraine to Putin and capitulating to all of his demands. Live on the air.
I've seen some of you refer to me as pessimistic about the outcome of the war. I'm not sure that's right. I have been pleasantly astounded at the Ukrainian military's, the Territorial Defense Forces', and just every day civilians' ability to be able to hold on the ground. I've been pleasantly amazed at just how bad the Russian ground force has demonstrated itself to be in the invasion. But right now the Russians still have one big advantage. They have the capability, which they are using, to bombard Ukrainian targets from distance, whether using their fighter bombers or long range artillery. I'm reminded of the scene in the Daniel Day Lewis version of The Last of the Mohicans when Hawkeye, Chingachcook, and Uncas finally get Colonel Munro's daughters and Major Heyward into Fort William Henry. Munro gives a very stark assessment of his tactical situation:
The situation is, his guns are bigger than mine. And he has more of them. We keep our heads down while his troops dig thirty yards of trench a day. When those trenches are two hundred yards from the fort and within range, he'll bring in his fifteen inch mortars and lob explosive rounds over our walls, and pound us to dust.
I'm not worried about the courage or the fortitude or abilities of the Ukrainians to fight. How could you be when they do things like this:
This #Russia-dropped bomb would flatten a building — and yet these #Ukraine EODs defuse it with 2 hands and a bottle of water, while shells audibly land nearby.

Mind boggling bravery.pic.twitter.com/KvCZeOxRyz

— Charles Lister (@Charles_Lister) March 9, 2022
What I'm worried about is that Putin has the capability to just continue to bombard Ukraine from the sky, from artillery stationed in Belarus and Russia, and just pound and pound and pound away until everything is dust. Which is what he seems to be doing.
I'm also outraged that we've completely allowed Putin to freeze our decision making and lock us in to doing things with only the lowest possible risks, but only moderate rewards. Putin will raze Ukraine to the ground if he can't take it. He will kill or force into exile every Ukrainian who will not capitulate to his will and those within Russian control will be relocated for reeducation and their own "safety". Either the ideals and values we constantly spout mean something or they don't. The greatest military alliance in history is currently locked into pencil whipping a request for 28 MiG 29s back and forth between DC and Warsaw in a bizarre game of hot potato. The greatest military superpower in history is completely unable to even establish a secure humanitarian corridor to relive Mariupol because it might provoke Putin into doing something unthinkable. I think the past two weeks have made it very clear that the unthinkable was clearly thinkable.
Which is why this news is very good:
NEW – #UK's @BWallaceMP announces that Star Streak anti-aircraft systems will soon be provided to #Ukraine️. pic.twitter.com/lVROG2zhNt

— Charles Lister (@Charles_Lister) March 9, 2022
What's a Star Streak anti-aircraft system you ask?
STARStreak High Velocity Missile was designed to provide close air defence against conventional air threats such as fixed wing fighters and late unmasking helicopter targets.

Thales has addressed the needs of military users around the world and introduced major improvements to provide increased range beyond 7 km, increased coverage and altitude and improved guidance precision against small targets.

The STARStreak configuration is based on the proven principles of high velocity to defeat targets with short unmasking times. The three dart payload maximises levels of lethality and accurate line of sight; laser beam riding guidance enables engagement of the smallest signature targets, which are extremely difficult to defeat and lock onto by traditional fire and forget missiles. The STARStreak missile is capable of being launched from lightweight land, sea and air platforms, from either automatic fire control systems such as the RAPIDRanger or the STARStreak Lightweight Multiple Launcher, Next Generation (LML NG). STARStreak can therefore be deployed quickly into operations and is easy to integrate into a force structure.
Video!!!
More of this type of weapons supply please!
And for the love of someone's, anyone's, or no one's – if you're an atheist – Deity or Deities: deconflict the MiG transfer!
Open thread!