I saw this earlier today and it spoke to me.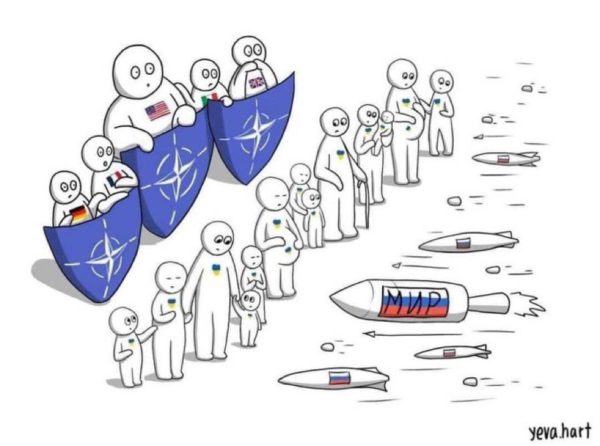 (I found the political cartoon at this link, the artist, Yeva Hart who is Ukrainian, can be found at this link)
I want to start by highlighting three things, then I'll put the read more tag in and get to the more update sort of stuff below the jump.
The first is this long, detailed interview of Stephen Kotkin. Kotkin is one of the most prominent historians of Russia, as well as a specialist in and biographer of Stalin. He was interviewed by David Remnick at The New Yorker. I want to highlight this portion of Kotkin's remarks. Remnick's questions are in bold:

This is the thing about authoritarian regimes: they're terrible at everything. They can't feed their people. They can't provide security for their people. They can't educate their people. But they only have to be good at one thing to survive. If they can deny political alternatives, if they can force all opposition into exile or prison, they can survive, no matter how incompetent or corrupt or terrible they are.

You know, in the Russian case, Navalny was arrested—

This is Alexey Navalny, Putin's most vivid political rival, who was poisoned by the F.S.B. and is now in prison.

Yes. He was imprisoned in the run-up to the invasion of Ukraine. In retrospect, it could well be that this was a preparation for the invasion, the way that Ahmad Shah Massoud, for example, was blown up in Northern Afghanistan [by Al Qaeda] right before the Twin Towers came down.

You have the denial of alternatives, the suppression of any opposition, arrest, exile, and then you can prosper as an élite, not with economic growth but just with theft. And, in Russia, wealth comes right up out of the ground! The problem for authoritarian regimes is not economic growth. The problem is how to pay the patronage for their élites, how to keep the élites loyal, especially the security services and the upper levels of the officer corps. If money just gushes out of the ground in the form of hydrocarbons or diamonds or other minerals, the oppressors can emancipate themselves from the oppressed. The oppressors can say, we don't need you. We don't need your taxes. We don't need you to vote. We don't rely on you for anything, because we have oil and gas, palladium and titanium. They can have zero economic growth and still live very high on the hog.

There's never a social contract in an authoritarian regime, whereby the people say, O.K., we'll take economic growth and a higher standard of living, and we'll give up our freedom to you. There is no contract. The regime doesn't provide the economic growth, and it doesn't say, Oh, you know, we're in violation of our promise. We promised economic growth in exchange for freedom, so we're going to resign now because we didn't fulfill the contract.

What accounts for the "popularity" of an authoritarian regime like Putin's?

They have stories to tell. And, as you know, stories are always more powerful than secret police. Yes, they have secret police and regular police, too, and, yes, they're serious people and they're terrible in what they're doing to those who are protesting the war, putting them in solitary confinement. This is a serious regime, not to be taken lightly. But they have stories. Stories about Russian greatness, about the revival of Russian greatness, about enemies at home and enemies abroad who are trying to hold Russia down. And they might be Jews or George Soros or the I.M.F. and NATO. They might be all sorts of enemies that you just pull right off the shelf, like a book.

We think of censorship as suppression of information, but censorship is also the active promotion of certain kinds of stories that will resonate with the people. The aspiration to be a great power, the aspiration to carry out a special mission in the world, the fear and suspicion that outsiders are trying to get them or bring them down: those are stories that work in Russia. They're not for everybody. You know many Russians who don't buy into that and know better. But the Putin version is powerful, and they promote it every chance they get.
Kotkin's description above is about Putin's regime in Russia. But step back a bit and think about that description in general. Then think about the states in the US that have either a complete GOP trifecta at the state level – control of the governorship and majorities, if not super majorities in both chambers of the state legislature – and states where the GOP has a super majority in the state legislature giving them veto override power over their Democratic governors and thereby effective control of their states despite the Democratic governors. Sounds familiar doesn't it? Especially when this one party control has gone on for so long that they've also managed to capture the state district, appellate, and supreme courts. If the shoe fits…
Much, much more at the link above so do click across as it is well worth your time.
The second item I want to draw your attention to is this Twitter thread. Apparently there have been three more letters from an alleged FSB insider. While the tweet thread author believes he's validated that this is the same guy as the author of the first letter I posted about last week, and that Belingcat's Christo Grozev validated as legit, just keep in mind that this could all be a combination of truth, disinformation, misinformation, and agitprop.
?I'll be adding on to this thread as I receive further details, but we can get started. This info has been cross-verified from multiple sources. #FSBletters #theracecardriver

— Igor Sushko (@igorsushko) March 11, 2022
Here's the link to Sushko's site where he has translations of all the letters released so far.
The third thing I want to highlight, once again, is that the Ukrainians must be able to hold to the north, west, and east of Kyiv!
Russia keeps throwing more military power west and east of Kyiv in a bid to possibly surround and penetrate the city.

The map shows the approximate Russian (red) and Ukrainian (blue) positions and axes of attack in the Battle of Kyiv as of March 12, 2022. pic.twitter.com/sKDpzPo4mm

— The Kyiv Independent (@KyivIndependent) March 12, 2022
There's two different reasons for this. Kyiv is the geostrategic center of gravity in Putin's whole reinvasion and war on Ukraine. As I've written, if he can take it then he will immediately bring in quislings, like Yanukovych, install them in place of the legitimate Ukrainian national, Kyiven oblast, and Kyiven municipal authorities to sign official looking, but bogus documents capitulating to all of Putin's demands. Kyiv is also the conceptual or contextual center of gravity in Putin's informational warfare campaign against Ukraine. Even if he took all of eastern and southern Ukraine and a chunk of northwestern Ukraine, but Kyiv holds, he can't claim victory. And the reason for this is that the alternative history and mythology that he has embraced, that he has promoted, that he wrote that long boring essay on last year places Kyiv at the center of his bullshit narrative about the origins of Russia. As well as for his own mythology that he is somehow a 21st century version of Vladimir the Great, the leader of the Kyiven Rus who founded what would eventually become Ukraine. As long as Kyiv holds, he will be unable to claim the geostrategic and the conceptual center of gravity that is the objective of his war on Ukraine. So whatever the costs, the Ukrainian defenses in the towns, villages, suburbs, and bedroom communities to the north, east, and west of Kyiv must hold!
More after the jump.
As they've been doing the past several days, the Russians have increased their bombardment in the hours before dawn.
As well as in Kyiv, Rivne, Chernihiv, Ternopil, Dnipro, Cherkasy and Sumy Oblasts.

Residents have been asked to go to the nearest shelter immediately.

— The Kyiv Independent (@KyivIndependent) March 13, 2022
In Russian occupied Kherson, the Russian forces are trying to force the local leadership into capitulating similar to what I've described as planned for Kyiv.
Maybe this egregious act makes people in the West understand what kind of "separatist" statelets were installed and upheld by Russia in the Donbas in 2014/15. They are absolutely fake "peoples republics". For too long, Western media inaccurately called them "breakaway republics".

— Mattia Nelles (@mattia_n) March 12, 2022
The Russians also appear to be purposefully targeting facilities that store or supply food.
I saw a food warehouse hit in #Mykolaiv on Monday, and another at #Brovary north of #Kyiv attacked today. No other targets in the area, and both direct hits. Suggests Russians are targeting food supplies. pic.twitter.com/BWcYDeQU1b

— Lindsey Hilsum (@lindseyhilsum) March 12, 2022
Given Ukrainian memories of the Holodomor, these attacks both increase Ukrainian's food insecurity as they try to defend their homes and are also intended to have a psychological operations effect of demoralizing the Ukrainian defenders.
Here are some updates on Mariupol:
??Ukrainian marines defending Mariupol.
I have seen some shit in my life, but I am speechless. pic.twitter.com/kpMD51YFXe

— Illia Ponomarenko ?? (@IAPonomarenko) March 12, 2022
A message from Mariupol: "We are alive, we hold the ground… We desperately need air and missile defence, jets. For 5 days the town is shelled and bombed non-stop. Many civilians are killed. Their bodies lie on the streets, there is no one to bury them"#ProtectUASky https://t.co/AJTjFre1uv

— Olena Halushka (@OlenaHalushka) March 12, 2022
Some more harrowing photos from Mariupol by Evgeniy Maloletka. The situation there is disastrous. More than 10,000 residents, according to mayor, killed by incessant Russian bombing. They are wiping an entire city out and there's no escape. I want to scream seeing this suffering pic.twitter.com/MHmgXJ2zUO

— Olga Tokariuk (@olgatokariuk) March 12, 2022
The International Committee of the Red Cross in Mariupol is pinned down in their offices/facility and are unable to both provide much relief or evacuate.
Our colleagues in #Mariupol are taking shelter in our office.

This is how one described the situation ?

— ICRC (@ICRC) March 12, 2022
"There's no electricity, water and gas supply. Meaning no means for heating. Some people still have food, but I'm not sure for how long it will last. Many report having no food for children."

"People report varying needs in medicine. Especially for diabetes and cancer patients. But there is no way to find it anymore in the city. People are getting sick already because of the cold."

"We keep the shelter, the basement, only for children and their mothers. All other adults and children above twelve they sleep in the office. It's really cold. We still have some fuel for generators – so we have electricity for 3-4 hours a day."

"We brought all the food that we have in our homes. We also visited the destroyed and damaged houses of our colleagues to pick up remaining food there. We will have food for a few days."

"We found a way to collect some water. We still have some storage of potable water. When we run out of the stock, we will boil water from the stream. So we have comparatively good compared to others."

"We have now approximately 65-66 people in our building. Plus, we also give a host to half of the people who are located in the same building. So their small children can sleep in the basement because people are afraid."
Most other international humanitarian organizations have just pulled out of Ukraine completely:
Most international organizations withdrew their staff from Ukraine and do not operate in the war zone. Evacuation and relief are provided by local volunteers. Ukrainian human rights agencies call on international organizations to return and do their jobhttps://t.co/bDyDKHj43E

— Olga Tokariuk (@olgatokariuk) March 12, 2022
As far as I can tell from the reporting, the mayor of Melitopol is still missing/in Russian military custody. The Russian military scarfed up another citizen of Melitopol who was out protesting the Russian kidnapping of her mayor:
#Melitopol. Olga Gaisumova, one of organizers of pro-Ukrainian protest in occupied Melitopol, was kidnapped today straight from the protest. People demanded occupiers to release mayor, kidnapped yesterday. RU troops terrorize people to make them shut up. #RussiaInvidedUkraine pic.twitter.com/Z4d4TTbKWH

— Maria Zolkina (@Mariia_Zolkina) March 12, 2022
If you were wondering how Kharkiv is doing, it is not pretty:
Usually on such a sunny Saturday afternoon streets of Kharkiv will be crowded with youth and families with children. Now I witness deserted streets with a total sense of deja vu with the WWII. You can't provoke Putin, he's already started a total war and will not stop in Ukraine. pic.twitter.com/FAGw7aK69i

— Maria Avdeeva (@maria_avdv) March 12, 2022
Irpin:
Photo 1: A Ukrainian woman called Marina Met and her son Ivan, photographed on a summer night in central Kyiv.

Photo 2: Their graves in Irpin, where they lived and were killed on March 5, according to the date on the makeshift crosses.

Before Russia vs after Russia. pic.twitter.com/Bm4esxKboQ

— Olga Rudenko (@olya_rudenko) March 12, 2022
The description said the graves are in the yard of a private residence, likely because a normal funeral was impossible due to fighting.

In the neighboring town of Bucha, 57 unidentified bodies were buried in a mass grave today.

— Olga Rudenko (@olya_rudenko) March 12, 2022
Bucha:
2/2

Lesya Vakulyuk, a professional journalist, wrote that the bodies were collected on the streets. She says that Russian soldiers keep civilians as hostages now. pic.twitter.com/GZVxGOmhdo

— Kyrylo Loukerenko (@K_Loukerenko) March 12, 2022
Khmelnytsky Oblast:
#Khmelnytsky oblast.
A fallen ?? hero comes home.
People kneel. #StandWithUkraine #PutinIsaWarCriminal #PutinsWar #RussianInvasion #UkrainianHeroes #FreeIvanFedorov pic.twitter.com/XQa5HhNu8l

— olexander scherba?? (@olex_scherba) March 12, 2022
Zaporizhzhia:
— Olga Tokariuk (@olgatokariuk) March 12, 2022
The reporting by The Jerusalem Post, Haaretz, and Axios about Israeli PM Bennett telling President Zelenskyy to surrender and capitulate to Putin that I highlighted last night has been pushed back by one of Zelenskyy's senior staff.
⚡️ Israeli prime minister denies proposing surrender to Zelensky.

Previously Jerusalem Post and Haaretz wrote that Prime Minister Bennett urged Zelensky to accept Russia's conditions.

Mykhailo Podolyak, an aide to Zelensky's chief of staff, has also denied this claim.

— The Kyiv Independent (@KyivIndependent) March 12, 2022
Which then led to this:
⚡️Zelensky proposes meeting Putin in Jerusalem.

President Volodymyr Zelensky said that he asked Israeli Prime Minister Naftali Bennett to act as an intermediary.

— The Kyiv Independent (@KyivIndependent) March 12, 2022
I find it hard to believe that The Jerusalem Post, Haaretz, and Barak Ravid who covers Israel for Axios all got the story wrong, but until someone explains what actually happened in a way that doesn't sound funky, I really don't know what's going on here. Other than Zelenskyy has now proposed direct talks with Putin in Israel. I doubt Putin will agree. Between his extreme fear and paranoia about COVID, the last thing he wants now is to be seen with Zelenskyy.
Russia decided to rattle some more sabers!
NEW: Russia will consider foreign shipments of weapons to Ukraine as "legitimate targets" for the Russian armed forces to attack, state-run RIA Novosti reports, citing Deputy Foreign Minister Sergei Ryabkov.

— Christopher Miller (@ChristopherJM) March 12, 2022
Ryabkov also said Russia's list of people in the West, including the US, who will be hit with personal sanctions is ready and will be made public soon.

— Christopher Miller (@ChristopherJM) March 12, 2022
Here's The Kyiv Independent's defense reporter dunking on Greenwald:
Oh my god, I just love the guy ??
Brilliant parody journalism comedy.

— Illia Ponomarenko ?? (@IAPonomarenko) March 12, 2022
Your daily bayraktar doing what a good bayraktar does.
A Bayraktar TB2 takes out a Russian BM-27 Uragan pic.twitter.com/Qob5xFH6kI

— Illia Ponomarenko ?? (@IAPonomarenko) March 12, 2022
Whose a good bayraktar, you're a good bayraktar!
Your daily reminder of why the economic sanctions and other measures are unlikely to work in the short to the medium term even if they manage to have a long term effect:
What a shame!

While the people of Ukraine are defending the world from evil, Russian and Belarusian trucks are on the way to Moscow and Minsk to maintain the war via Poland and EU.

Activists are blocking roads!

Activists, not governments!

Stop the logistics of war now! pic.twitter.com/mfBL7ZeljV

— Arthur Kharytonov (@ArthurKei_UA) March 12, 2022
Here's an excellent piece in The Kyiv Independent on Ukrainian evacuees:
While Ukrainian forces have, so far, successfully held off the Russian troops from taking Kyiv, the towns around the capital have become some of the most intense battlegrounds of the ongoing war.

Russia seized the outlying suburban towns with vehicles and infantry, setting up checkpoints and, in many cases, cutting off access to utilities, phone and internet access, and food.

The local civilians bore the brunt of the damage. Many remained trapped, in most cases for over a week, either because Russian forces wouldn't let them leave or they were afraid of being cut down by Russian fire if they tried to flee to the safety of Kyiv.

Scenes of Russian troops firing at civilians trying to flee, with bodies piling on the streets of Kyiv's northwest suburbs, have now become a horrific image of what Russia's war brought to Ukraine.

As of March 9, the United Nations Office for Human Rights had recorded 1,424 civilian casualties, 516 killed, including 37 children, and 908 injured after Russia invaded Ukraine on Feb. 24. The organization believes that the actual figures are "considerably higher, especially in government-controlled areas."

The past week has seen numerous attempts to move civilians out of surrounded or occupied areas through "green corridors" all over the country, the towns and villages around Kyiv being no exception.

But, as in many other parts of the country, Russian forces have selectively violated these corridors, either firing on the evacuees with indirect-fire weapons or shooting them point-blank.

For many, the road to safety was taxing, because of the trials along the way and the pain of what they had to leave behind.

The Kyiv Independent has gathered stories from people who fled the various towns and villages towards the safety of Kyiv.
Much, much more at the link above.
Finally, here's another long thread from Kamil Galeev. This time on why the Russian military has been less than effective in much of its invasion of Ukraine. Click on the tweet to go and read the whole thread.
Why Russian army is so weak?

When Russia invaded, experts thought it'd win in 24-72 hours. Two weeks later the war's still going. How come? On paper Russian superiority's overwhelming

Although Russia projects warlike image, its military r weak and don't know how to fight wars? pic.twitter.com/oUhfWHxf9e

— Kamil Galeev (@kamilkazani) March 12, 2022
We'll end with a little humor:
Too traumatized to escape Ukrainian tractors, Russian tank assumes submissive position. pic.twitter.com/bGsiEOupV7

— Darth Putin (@DarthPutinKGB) March 12, 2022
Open thread!