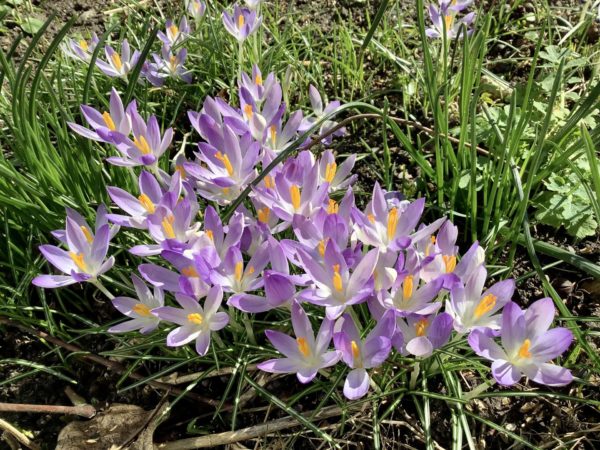 At least in commentor JeffG166's neighborhood!
***********
Not nearly as cheerful, but very informative agriculture-related tweets from a longer thread by a crop scientist:
Quick intro on Ukraine & grain:

Grain exports are not new! Greek city-states set up grain export colonies on Ukraine's Black Sea coast close to 3,000 years ago.

About half of Athens's grain came from Ukraine. If you want to talk "cradles of democracy," well. pic.twitter.com/nRX8WDjEnv

— Dr Sarah Taber (@SarahTaber_bww) March 2, 2022
A lot of Ukraine's Black Sea ports got their start as ancient Greek grain hubs: Sevastopol, Odessa, etc.

Funny enough the best info I could find for this history is case law. Athenian grain traders launched one of the first known antimonopoly case lolhttps://t.co/x327DJdPVo

— Dr Sarah Taber (@SarahTaber_bww) March 2, 2022
Today the areas most reliant on Ukrainian grain are still the eastern Mediterranean & mideast. That's not too different from the situation in ancient Greece. Large cities in arid areas have a hard time growing enough grain to feed everybody, & Ukraine is the closest breadbasket.

Some places are already feeling bread shortages: Egypt, Yemen, and Lebanon. All of them already had food security challenges.

As soon as Ukraine's ports weren't able to ship grain, these places felt it in their food stocks almost immediately…

So far it looks like most of the grain & oilseed disruptions are loss of shipping ports. It's about inability to ship crops out of Ukraine, not inability to grow them.

If Russian leaves quickly & ports are ~intact, Ukraine's grain exports could bounce back quickly…
…
So right now, the wheat crop is already planted and just chillin in the field. Where tanks fear to tread.

Based on what we're seeing in the news (big asterisk), the wheat crop is probably mostly undisturbed by the invasion. So far.

— Dr Sarah Taber (@SarahTaber_bww) March 2, 2022
… After spring planting for corn & sunflowers, the next job is harvesting wheat in mid/late summer. The wheat fields are (probably) ok rn. But again the more Russian tanks still running around Ukraine in midsummer, the less will get harvested. And can't ship it w/out working ports.

I don't love trying to make long-distance forecasts for a crop region I don't know very well, during an invasion that keeps catching *the invaders* by surprise

but yeah tl;dr the sooner Russia GTFOs the better.

As far as potential food shortages, the problem is rarely a real food shortage.

The problem is food prices go high enough that a lot of people can't afford food.

The problem is poverty. Not "there isn't enough food to go around."…

Also, if you're an aficionado of vulture capitalism, search "grain futures" on google or even right here on twitter.

the farmers & grain traders thirst posting about food shortages I MEAN high prices is really something to behold : /
***********
On that cheerful note…
What's going on in your garden (planning / prep / memories), this week?