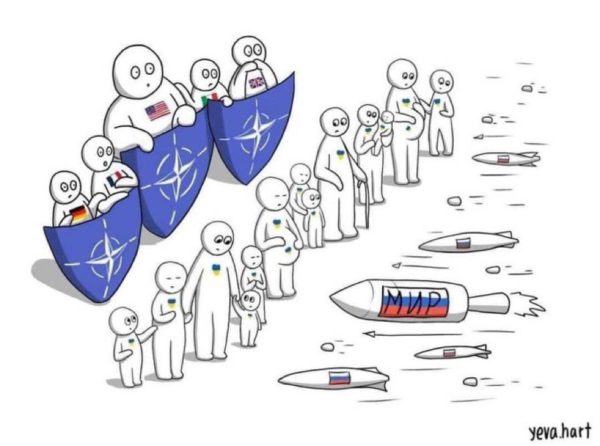 (Political cartoon by Yeva Hart)
I want to start tonight with a slightly different discussion than we've been having. I see a lot of people in the comments and on social media expressing their optimism that the Ukrainians can not only win this, but will win this. And, in some cases they'll win soon as it seems that the wheels are coming off the Russian reinvasion of Ukraine. I don't mean to harsh anyone's mellow, but let's not get ahead of ourselves. I'm cautiously optimistic based on what we've seen over the past two weeks, especially as in central Ukraine they immediately shifted to an irregular and unconventional warfare strategy. However, a lot of the coverage and commentary comes with its own biases. One of the major biases is where in Ukraine the coverage – news reporting and commentary – is focused. A lot of it has been focused on Kyiv and the defense of Kyiv. This makes sense. As I covered in last night's update, Kyiv is both the geographically strategic center of gravity and the informational/conceptual/contextual/psychological center of gravity for Putin. He has to take it. So the longer its defenders are able to hold out, the better off it is for Ukraine and the worse off it is for Putin. Another reason a lot of the coverage is on Kyiv is it is a great story. Both for Ukraine's government as it fights an informational war and for the western media to make us feel better that what our government's are doing is really feasible, acceptable, and suitable.
The story has everything. An amateur accidental president whose government had a 25% favorable rating and was only semi-functional who is now the George Washington of Ukraine and a shining example to the rest of the world of what real leadership is and should be. It has outgunned defenders undertaking an irregular defense. It has an exceedingly long and exceedingly exposed convoy of Russian invaders being picked off a bit at a time. It has video of the defenders towing away Russian equipment.
But, the defense of Kyiv, no matter how important it is, and it is VERY IMPORTANT, is not the war. It is one part of it. In the south and east of Ukraine the Russians are much more effective. Some of this is because they have far less ground to cover which shortens their supply lines and doesn't leave them exposed. Some of this is that since the Ukrainians themselves know that Kyiv must hold, they planned to make their stand in central Ukraine. Sacrificing, for now, key cities and territories in the south and the east. This map from the British Ministry of Defense demonstrates this reality: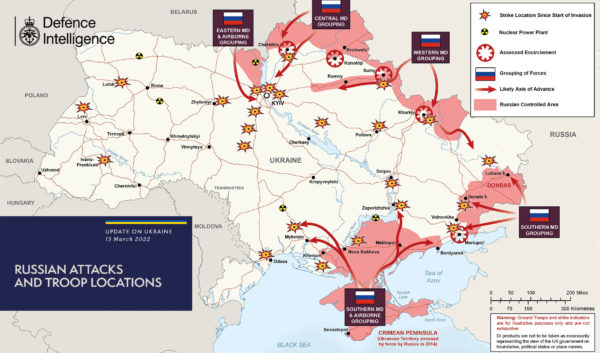 If you look to the north in the center of the map, you see the attempted and currently stalled attempt to get to Kyiv and take it. The Russians have exceeded their abilities to resupply in these areas. And the Ukrainians are picking them apart where they're exposed and holding them off in the towns, suburbs, and bedroom communities to the north, west, and east of Kyiv. But if you look to the south and to the east, you see far more territory taken. This is because the areas being taken are adjacent to what Putin scarfed up in 2014: Crimea, Donetsk, and Luhansk. Mariupol, Melitopol, and Kherson are within these occupied areas in south and east Ukraine. Mykolaiv and Zaporizhzhia are just outside them with Dnipro a little farther out still. In the northeast you can see Kharkiv and Sumy in the same situation. All of these cities and towns have either suffered significant attacks and/or been occupied. In the case of Mariupol we are watching in real time a city of over 400,000 people being starved to death. Putin is making Mariupol an abject lesson for the rest of Ukraine and the world.
This reporting just reinforces my concerns:
⚡️Danilov: Russia plans to land troops in Odesa Oblast, Ukraine is ready.

The Russian forces planned to do this several days ago but the weather persuaded them against it and they went to Russian-occupied Crimea, National Security and Defense Council Chief Oleksiy Danilov said.

— The Kyiv Independent (@KyivIndependent) March 13, 2022
Odesa is just to the east of Moldova and Putin dearly wants it and the territory to its east and south so he can completely cut Ukraine off from the Black Sea.
Over the past several days, Putin has used his long range artillery and his fighter bombers to attack targets in the west of Ukraine: Lviv and Ivano-Frankivsk among others. These strikes are really less about causing lots of damage and more about terrorizing the Ukrainians and sending the US and NATO a message. Specifically, that Putin can reach out and touch the cars and trains bringing the humanitarian aid and the military resupply into Ukraine from Poland.
As I've written, I'm cautiously optimistic. And I am willing to state unequivocally that if Putin somehow manages to take Kyiv or even all of Ukraine, he's not going to be able to hold it. And while he holds it, he is going to have a very, very, very bad time. But at the same time, we have to be realistic about how things are going. They're going well in central Ukraine. By and large western Ukraine is comparatively safe and stable. In significant chunks of southern and eastern Ukraine things are very bad to terrible. Anyone who tells you they know how this ends right now is not someone to take seriously.
Let's get to the update part of the update after the jump.
As I was saying before the jump, here's President Zelenskyy, who has definitely risen to the occasion:
President Volodymyr Zelensky visited the Ukrainian soldiers wounded in battle as they are getting treatment at the military hospital in Kyiv. pic.twitter.com/sEqfvNn8XA

— The Kyiv Independent (@KyivIndependent) March 13, 2022
I spent several years arguing with people at the US Army Combined Arms Center that you can't train leadership qualities like character and integrity. You can identify people with them, you can nurture those people, and you can mentor them, but you can't teach those qualities or train them. They are either there or they aren't. They didn't get it then and too many there and in other places still don't get it now. Zelenskyy is the poster person for my argument. He has risen to the occasion as have so many other Ukrainians.
I hope karma is in play here!
Kadyrov from Chechnya instructed his special forces to kidnap Ukrainian children. Listen to what they report to him at 20 seconds of this video. "And immediately, insolently we approached the orphanage, went inside, but unfortunately the children were not there" pic.twitter.com/YRbD0StsuC

— Oleksandra Matviichuk (@avalaina) March 13, 2022
Adam Delimkhanov, Kadyrov's golden gun-toting sidekick, is also supposedly somewhere near Kyiv.

The reports of supposedly elite Chechen fighters' poor battlefield performance and heavy casualties may have got to the PR-obsessed Kadyrov, who must feel he has something to prove. pic.twitter.com/kMkO9mbwSQ

— max seddon (@maxseddon) March 13, 2022
Because if there is anyone deserving of being blowed up real good it's this asshole!
As I write this we're about two hours from dawn in Ukraine and the air raid sirens have once again been sounded!
⚡️Air raid alerts in at least 19 out of 24 Ukrainian regions.

— The Kyiv Independent (@KyivIndependent) March 14, 2022
As we've seen the last several nights, the Russians start their bombardments within three hours of dawn.
Here's some video of the strike on the training center outside Lviv last night:
⚡️EXCLUSIVE: We met and interviewed US and UK foreign fighters in Yavoriv who gave @BuzzFeedNews the below video of the Russian missile attack on a NATO military training center today that killed 35 people & injured 134 more. Read my story, with @Kiehart: https://t.co/aw4N8FJuO6 pic.twitter.com/Yga0S6gcsH

— Christopher Miller (@ChristopherJM) March 13, 2022
If you were wondering what the Russians are being told is going on in Ukraine this is it:
Tonight Russian state TV's flagship news show tells viewers Russian troops are in Ukraine to stop Ukraine joining Nato, getting a nuclear bomb, attacking Crimea & then southern Russia, ie Ukraine was a threat to Russia. Alternative reality. More of what host Kiselev said ? pic.twitter.com/CcRF0sP8m8

— Steve Rosenberg (@BBCSteveR) March 13, 2022
And this:
Pundits on Russian state TV advocate implementing public hangings in Ukraine once Russia's dominance is established. If you speak Russian, here is one example (watch). Other pundits later agreed, one of them noting that DPR/LPR constitution conveniently permits the death penalty. pic.twitter.com/zCe3PfFhVM

— Julia Davis (@JuliaDavisNews) March 13, 2022
And a healthy serving of Tucker!
#Russia's state TV showcases clips of Tucker Carlson and Tulsi Gabbard, helping to perpetuate the myth of dangerous "bio-weapons" in Ukraine. This conspiracy theory is being spread by Russia's state TV with special zeal.#TuckyoRose pic.twitter.com/csMPrb0ncF

— Julia Davis (@JuliaDavisNews) March 12, 2022
Why, you may ask, is Tucker Carlson all over Russian news and commentary shows? The answer is provided by David Corn at Mother Jones.
On March 3, as Russian military forces bombed Ukrainian cities as part of Vladimir Putin's illegal invasion of his neighbor, the Kremlin sent out talking points to state-friendly media outlets with a request: Use more Tucker Carlson.

"It is essential to use as much as possible fragments of broadcasts of the popular Fox News host Tucker Carlson, who sharply criticizes the actions of the United States [and] NATO, their negative role in unleashing the conflict in Ukraine, [and] the defiantly provocative behavior from the leadership of the Western countries and NATO towards the Russian Federation and towards President Putin, personally," advises the 12-page document written in Russian. It sums up Carlson's position: "Russia is only protecting its interests and security." The memo includes a quote from Carlson: "And how would the US behave if such a situation developed in neighboring Mexico or Canada?"

The document—titled "For Media and Commentators (recommendations for coverage of events as of 03.03)"—was produced, according to its metadata, at a Russian government agency called the Department of Information and Telecommunications Support, which is part of the Russian security apparatus. It was provided to Mother Jones by a contributor to a national Russian media outlet who asked not to be identified. The source said memos like this one have been regularly sent by Putin's administration to media organizations during the war. Independent media outlets in Russia have been forced to shut down since the start of the conflict.

The March 3 document opens with top-line themes the Kremlin wanted Russian media to spread: The Russian invasion is "preventing the possibility of nuclear strikes on its territory"; Ukraine has a history of nationalism (that presumably threatens Russia); the Russian military operation is proceeding as planned; Putin is protecting all Russians; the "losing" Ukrainian army is shelling residential areas of eastern Ukraine controlled by Russia; foreign mercenaries are arriving in Ukraine; Europe "is facing more and more problems" because of its own sanctions; and there will be "danger and possible legal consequences" for those in Russia who protest the war. The document notes that it is "necessary to continue quoting" Putin. It claims that the "hysteria of the West had reached the inexplicable level" of people calling for killing dogs and cats from Russia and asks, "Today they call for the killing of animals from Russia. Tomorrow, will they call for killing people from Russia?"
Much more at the link above. Also, none of the top-line themes the Kremlin wants the Russian media to spread are true. With the possible exception that Ukraine has a history of nationalism, if nationalism means that Ukrainians believe that Ukraine is a distinct nation-state with it's own history, language, and culture. That 's all true, but I don't think it is what the Russian guidance is referring too.
The Chinese state media has decided to emulate Russian state media:
Tucker Carlson is being aired on Chinese Communist Party TV to support conspiracy theories against Ukraine and pro-Russia. pic.twitter.com/kRKt5ihXP3

— Daniel Di Martino ?????? (@DanielDiMartino) March 12, 2022
Tucker Carlson, Fox News's #1 most viewed host is also #1 with the state news media of Russia and the People's Republic of China. Mazel Tov!
As I mentioned in the Friday update, when we transmit contradictory strategic communication, it provides an opening for the Russians:
Every time the U.S. says "We will defend every inch of NATO territory," Russia hears, "Take the rest."

One of many examples: #Russia's state TV host Vladimir Soloviev said today, "As I understand it, Moldova, Georgia—whatever isn't NATO, go right ahead."https://t.co/uXNzifYErw pic.twitter.com/T3PjD0oYdF

— Julia Davis (@JuliaDavisNews) March 13, 2022
The Russians are intensifying their occupation and have scarfed up another mayor:
The governor of Zaporizhska oblast now says Russian forces have kidnapped another Ukrainian mayor – Evhen Maveev of Dniproprudniy.https://t.co/D0i7cTo1BZ

— max seddon (@maxseddon) March 13, 2022
yevheniy matveyev, the same dniprorudne mayor who tried to stop invader tanks with bare hands, is now reportedly also kidnapped by russians https://t.co/4FckSIof3f pic.twitter.com/mj7TTxok0a

— maksym.eristavi ???️‍? (@MaximEristavi) March 13, 2022
In Melitipol they've installed a quisling:
Galina Danilichenko, the local politician acting as mouthpiece for Russian occupation forces in Melitopol, south Ukraine, after the mayor was kidnapped, is putting Russian TV on air.

"There is a strong deficit of accurate information […] Adjust your TV sets and get the truth!" pic.twitter.com/F2tFi8ctJS

— max seddon (@maxseddon) March 13, 2022
Galina Danilichenko, the local politician acting as mouthpiece for Russian occupation forces in Melitopol, south Ukraine, after the mayor was kidnapped, is putting Russian TV on air.

"There is a strong deficit of accurate information […] Adjust your TV sets and get the truth!" pic.twitter.com/F2tFi8ctJS

— max seddon (@maxseddon) March 13, 2022
She seems nice.
Also:
Cause once the Ukrainians get their hands on her, she does not have long to live!
Mykolaiv is still getting pounded!
The video shows the scene of the Russian attack on a school in Mykolayiv Oblast on March 13.

Video: Vitaliy Kim/ Telegram pic.twitter.com/GGfxU12yEH

— The Kyiv Independent (@KyivIndependent) March 13, 2022
If you want to know what bravery looks like, go to the maternity hospital in Mikolayev. Staff are performing C-sections as the city comes under bombardment, in operating theatres kept as dark as possible so they're not targeted.

— Louise Callaghan (@louiseelisabet) March 13, 2022
Alexei, Elena's husband, stood with her stroking her hair until the sirens stopped. Then he went down to meet Maria for the first time. "We'll be together every day" he told her. Dispatch in @thesundaytimes ? by @JM_Beck https://t.co/a9hXfNvakO

— Louise Callaghan (@louiseelisabet) March 13, 2022
Mariupol is still besieged, being starved out, and being hammered:
Мариуполь, наступление русской армии pic.twitter.com/0J5pEFNXlg

— IgorGirkin (@GirkinGirkin) March 13, 2022
The videos and photos coming out of Mariupol — bodies with missing parts, strewn across roads — are sickening. The crime is Russia's, but we're all responsible for it. There must have been a way to stop this happening. https://t.co/mtEPWRFplB

— Oliver Carroll (@olliecarroll) March 13, 2022
⚡️Ukraine evacuates 5,550 civilians on March 13.

Besieged Mariupol seen as the most urgent for evacuation was not among the nine humanitarian corridors today. 3,950 out of the total number were evacuated from towns near Kyiv, Deputy Prime Minister Iryna Vereshchuk said.

— The Kyiv Independent (@KyivIndependent) March 13, 2022
A status update from Ukraine's eastern front:
Meanwhile on the eastern front, a Ukrainian lieutenant colonel I just spoke to says his unit near Avdiivka is "really not good. Under fire everyday. 5 hurt."

Russian army is pounding them with "tanks, planes, mortars, canons… big shells. We haven't such firepower."

— Christopher Miller (@ChristopherJM) March 13, 2022
The Ukrainian lieutenant colonel says they have gotten reinforcements but "not enough." Western aid isn't reaching them at all or fast enough. "We need close sky," he says, referring to the no-fly zone Kyiv wants the West to impose.

— Christopher Miller (@ChristopherJM) March 13, 2022
A Ukrainian train evacuating people from the east of the country to Lviv was damaged overnight by air strike; a conductor was killed, another injured, according to head of the Donetsk regional state administration Pavlo Kyrylenko. State railway company @Ukrzaliznytsia confirmed. pic.twitter.com/t8rxlyoJZg

— Christopher Miller (@ChristopherJM) March 13, 2022
This is at least the second cathedral/church/monastery I've seen targeted by the Russians:
2/4

This video taken soon after bombing, around 22:00 local time. Sviatohirsk Lavra is on the Ukraine-controlled territory. According to the prior, no military presence was around the monastery. pic.twitter.com/jfReM7IKQn

— Kyrylo Loukerenko (@K_Loukerenko) March 13, 2022
4/4

IDPs in the monastery's cellars following the air raid of 12 March.

The bomb shattered windows on three floors of the monastery's hotel, where the IDPs stayed. The head of the Russian Orthodox Church Patriarch Kirill (Gundyayev) supported the Russian assault on Ukraine. pic.twitter.com/qVUz2myCmk

— Kyrylo Loukerenko (@K_Loukerenko) March 13, 2022
There was reporting that the Russians also targeted the Suleiman the Magnificent Mosque in Ukraine, which was serving as a shelter for displaced Ukrainians. However, the waqf, the Islamic endowment that manages the mosque, has indicated that the mosque has not been targeted.
Ukraine's foreign ministry claimed Russian forces shelled a mosque in #Mariupol, sheltering at least 80 civilians, including Turkish citizens.

However, the head of the Sultan Suleiman Mosque Foundation said the bomb was dropped 700 metres away from the site. pic.twitter.com/qwgxnaKuWq

— Middle East Eye (@MiddleEastEye) March 12, 2022
Also in the east of Ukraine, Sveredonetsk is also being hammered!
Residents of #Severodonetsk #Donbas #Ukraine begging for more attention to the murderous shelling of the city (along with neighboring Lysychansk, Rubizhne, Kreminna, Hirske…) by #Russia'n/spearatist forces intent on dragging the city into the "Luhansk Peoples Republic". 1/ pic.twitter.com/peq9c0okGr

— Brian Milakovsky (@bmilakovsky) March 13, 2022
You all know what to do!
⚡️Mykolaiv zoo asks public to buy tickets to save animals from starvation.

The southern city has been under attack for days.

The struggling zoo, which has been shut down, is asking the public to donate by buying tickets online: https://t.co/GRvc54QR36

— The Kyiv Independent (@KyivIndependent) March 13, 2022
Despite being occupied, the citizens of Kherson are not capitulating!
Occupied #Kherson today. Despite kidnappings of the activists. These people are heroes. #StandWithUkraine #PutinHitler #RussianArmy #RussianUkrainianWar #РоссияСмотри #FreeIvanFedorov pic.twitter.com/CijMpgWgUu

— olexander scherba?? (@olex_scherba) March 13, 2022
Russian-occupied Kherson now. There is no the word "fear" in Ukraine – only Freedom. pic.twitter.com/gfzwuJwlSz

— Stanislav Aseyev (@AseyevStanislav) March 13, 2022
Your daily bayraktar:
Another Bayraktar strike, a Russian artillery command post taken out, March 13. https://t.co/ourE302Bm1

— Illia Ponomarenko ?? (@IAPonomarenko) March 13, 2022
Outgoing!
Ukrainian BM-21 Grad MLRS firing on Russian positions. https://t.co/OOear8pJUa pic.twitter.com/f4W9OoyUGv

— Rob Lee (@RALee85) March 13, 2022
The Financial Times has reporting that Russia has asked the PRC for military help in Ukraine. The headline is a lot more incendiary than the actual reporting and I'm going to hold off till after the US-China meetings tomorrow to dive into it because I want to see what happens and what may change from what FT is reporting.
During World War II female Russian fighter pilots did significant damage to the Luftwaffe, as well as to NAZI ground forces. The NAZIs called them the nachthexen. The Ukrainians are creating their own ground force based equivalent:
"Dear Russians,
If you thought you would come into our country and we'd surrender, you're very wrong. I'm a professional soldier, been fighting you for 3 years and intend to do so until victory. So, Russian warship, go fuck yourself. Kyiv's valkyries will kill you." https://t.co/THIiXSR6jw

— Mild admiral yatakalam juriraptor regina (we/us) (@yatakalam) March 7, 2022
Summary/translation: she used to be a translator before the war. She joined the Ukrainian forces. She is saying: "Russian soldiers, we are not scared. Valkyries of Kyiv are going to kill you along with our men, and our children will pass us bullets".

— Elina K (@_E1ina_) March 14, 2022
Valkyries! ⚔️ Descendants of St. Olga of Kyiv ?? https://t.co/ZJGSC3pFQK

— Romko (@RomanTelep) March 7, 2022
And we'll end with this fierce eyed warrior. A Kyiven Valkyrie indeed!
This kind of art in traditional Ukrainian folk style is very archetypical for ?? . And it provides an insight to Ukrainian spirit – both soft/tender and strong/formidable. Our women impersonates ?? (of feminine gender in Ukrainian language and mentality) capable of self-defence. pic.twitter.com/KXipiquQcU

— Hanna Hopko (@HopkoHanna) March 13, 2022
Open thread!