On the Road is a weekday feature spotlighting reader photo submissions.
From the exotic to the familiar, whether you're traveling or in your own backyard, we would love to see the world through your eyes.
Uncle Ebeneezer
One great thing about our hotel in Da Nang is that it had a shuttle bus that went to/from the nearby city of Hoi An, twice a day.  From Wikipedia Hoi An is:
formerly known as Fai-Fo or Faifoo, is a city with a population of approximately 120,000 in Vietnam's Quảng Nam Province and is noted as a UNESCO World Heritage Site since 1999.[1] Along with the Cu Lao Cham archipelago, it is part of the Cu Lao Cham-Hoi An Biosphere Reserve, designated in 2009.[2]

Old Town Hội An, the city's historic district, is recognized as an exceptionally well-preserved example of a Southeast Asian trading port dating from the 15th to the 19th century, its buildings and street plan reflecting a blend of indigenous and foreign influences.[3][4] Prominent in the city's old town, is its covered "Japanese Bridge", dating to the 16th-17th century.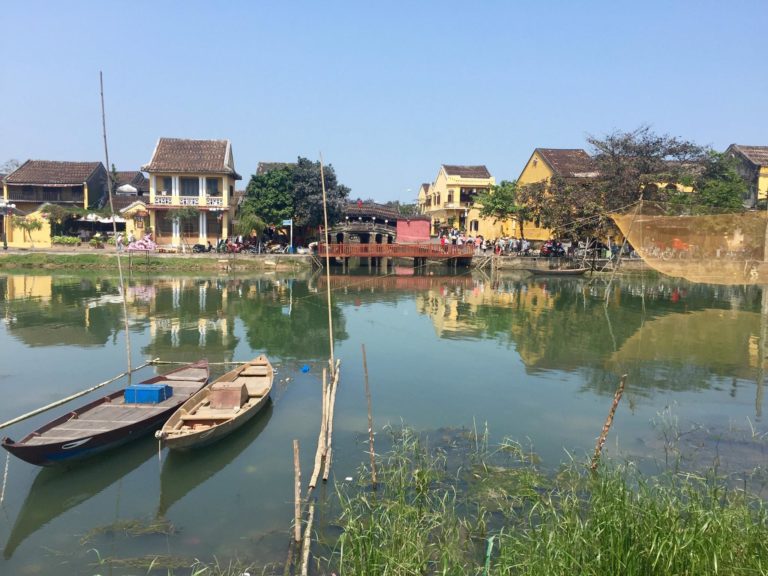 Hoi An, Vietnam
February 20, 2016
Due to it's location along the Thu Bon River, Hoi An has long been one of the central trading ports of the South China Sea, going back to the Champa Empire.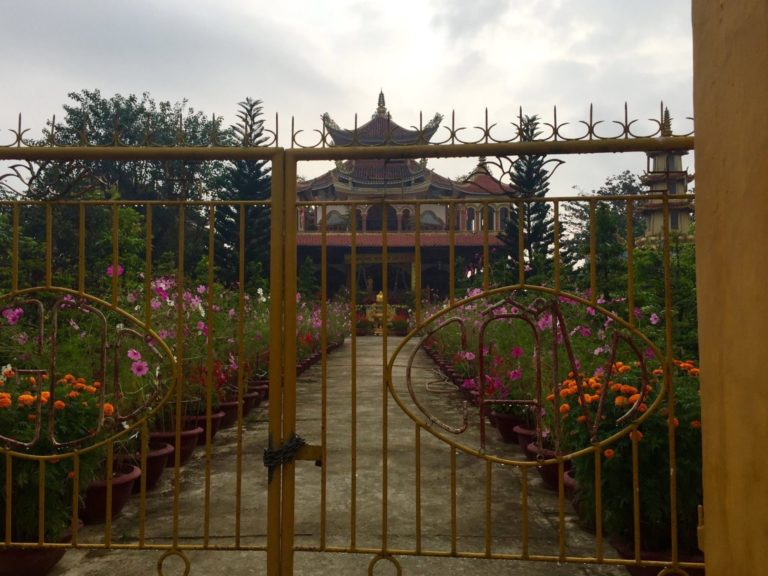 Hoi An, Vietnam
February 20, 2016
Strolling around Hoi An is lovely due to an incredible mix of traditional and French-Colonial architecture.  Everywhere you go there are temples and houses with all kinds of charming details.  Here is a temple that was just off one of the main roads.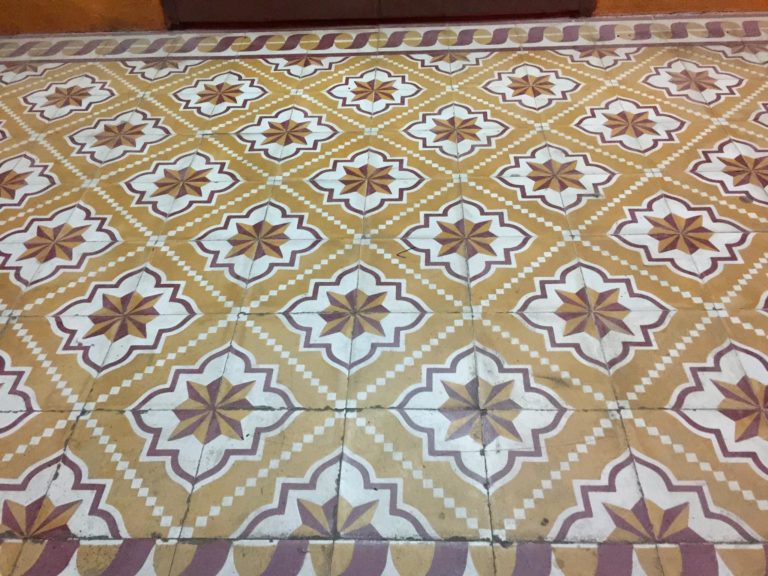 Hoi An, Vietnam
February 20, 2016
Check out the cool tile patterns!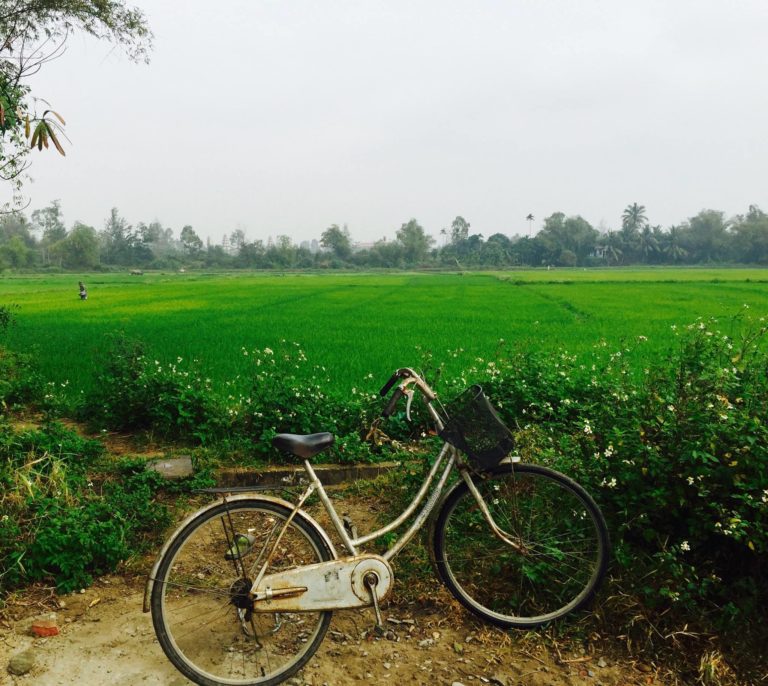 Hoi An, Vietnam
February 20, 2016
During one of our morning walks to go explore, get coffee and some grub, we decided to leave the fairly raucous street of our hotel (we eventually ditched Da Nang and rented a room in Hoi An) and walked down a side street just across the way.  No joke, the sound went from busy street cacophony to complete silence within only one short block.  After passing several cute houses and temples the side-street turned suddenly and we came upon this lush, green rice patty.  There were a couple people working in it and an egret watching over everything.  Truly one of the most amazing scenes I have ever witnessed.  Anyways it was really wild just how different everything looked after only one small block of walking.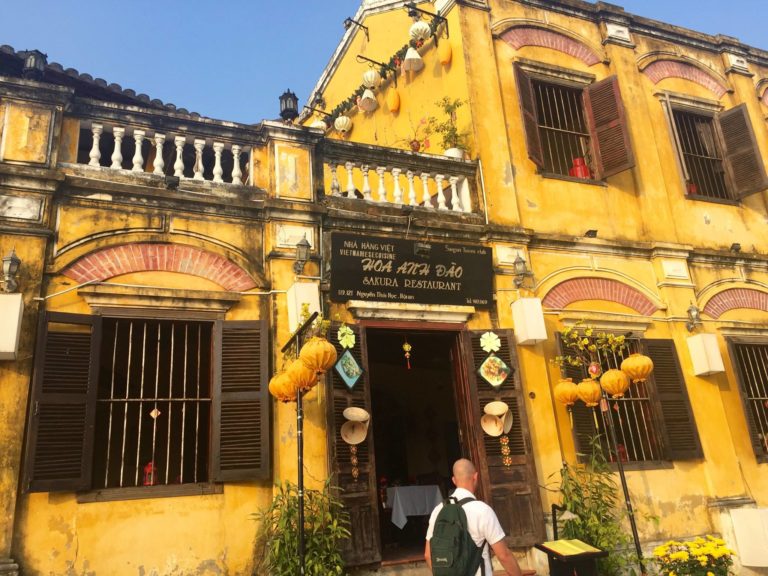 Hoi An, Vietnam
February 20, 2016
It wasn't nearly as hot in Hoi An as it had been in Saigon and Siem Reap, but still who can resist an afternoon Gin & Tonic in a charming location?  Not us!  We ended up getting a table up on that balcony above and it was wonderful people watching.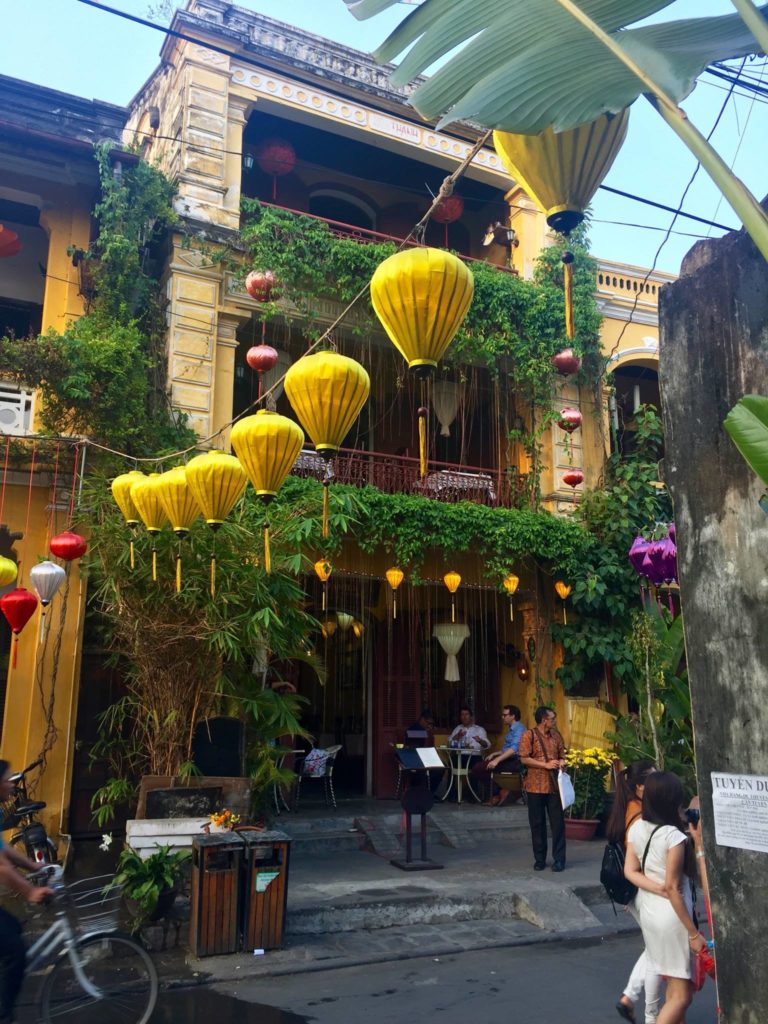 Hoi An, Vietnam
February 20, 2016
Hoi An is a city of lanterns.  Every month there is a Full Moon Lantern Festival:
"Every full moon the old town of Hoi An celebrates the moon deity with limited use of electrical lighting, using silk lanterns to illuminate the houses and streets instead. The historical centre thus transforms into a spectacular fairytale from sunset​ to moonlight. The festival attracts both tourists and locals and features traditional food, poetry and different events happening throughout the night."
So beautiful lanterns are pretty much everywhere.  They are especially nice at night but even so during the day.  At spots like this one, you will see numerous couples taking wedding/engagement photos.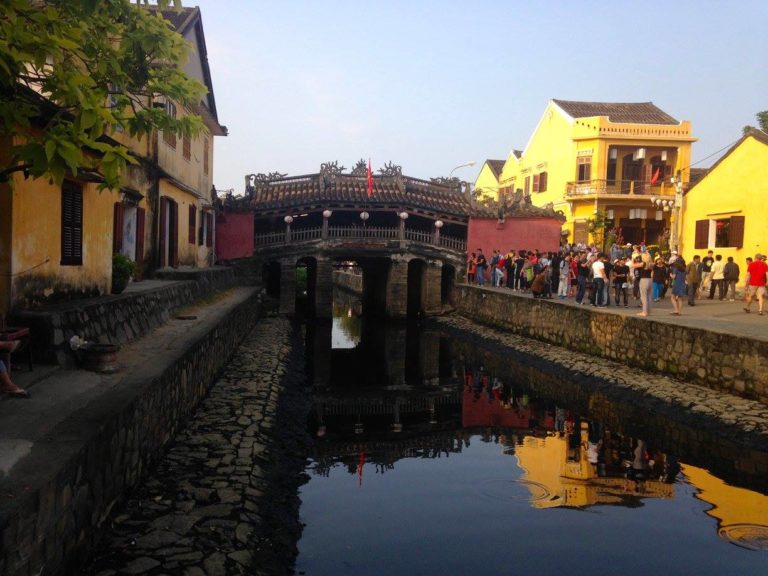 Hoi An, Vietnam
February 20, 2016
One of the most popular attractions in Hoi An is the Japanese Bridge:

"Hội An was a divided town with the Japanese settlement across the "Japanese Bridge" (16th-17th century). The bridge (Chùa cầu) is a unique covered structure built by the Japanese merchants, the only known covered bridge with a Buddhist temple attached to one side. In the 18th century, Hội An was considered by Chinese and Japanese merchants to be the best destination for trading in all of Southeast Asia, even Asia.Sinai, Egypt.[14]"

The city also rose to prominence as a powerful and exclusive trade conduit between Europe, China, India, and Japan, especially for the ceramic industry. Shipwreck discoveries have shown that Vietnamese and Asian ceramics were transported from Hội An to as far as

It's really neat but almost ALWAYS crowded.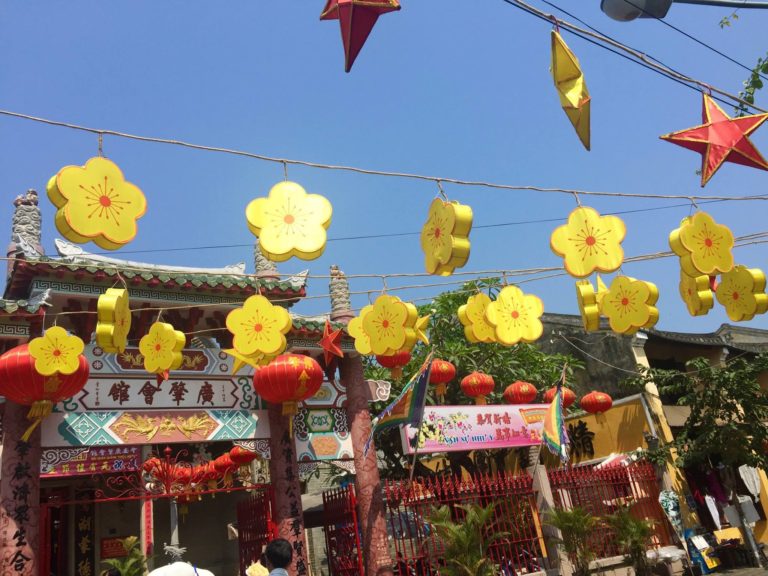 Hoi An, Vietnam
February 20, 2016
Lots of pretty decorations for Tet and monthly Lunar Lantern Festival, all over the city.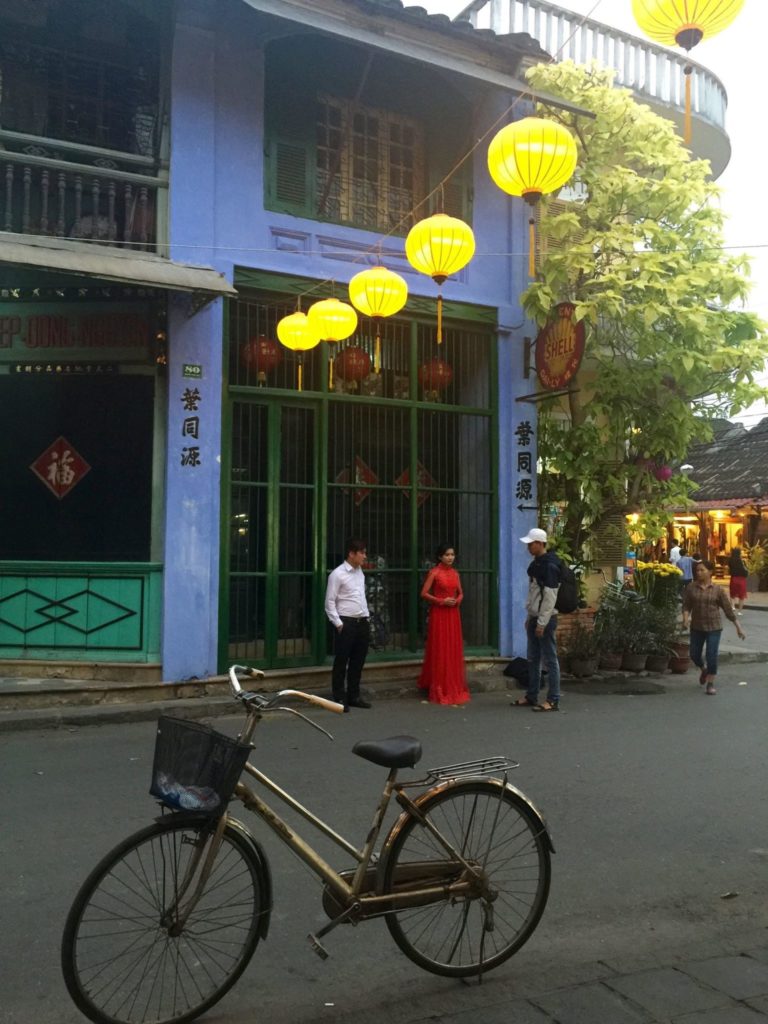 Hoi An, Vietnam
February 20, 2016
Hoi An really is a photographers dream.  Here is an example of a well-dressed couple, with the woman in a traditional Ao Dai posing for pictures as we watched while having a yummy coffee.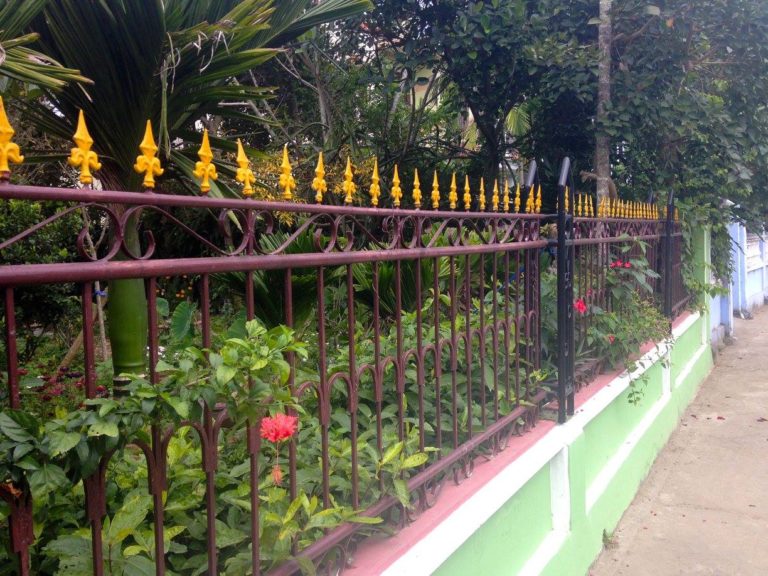 Hoi An, Vietnam
February 20, 2016
I believe this was along that same side street as the rice paddy picture.  We loved the cool ironwork and gold fleurs-de-lis.  After only a few hours of walking around Hoi An we decided to abandon our 5-star hotel on China Beach, so the next morning we checked out, took the shuttle back to Hoi An and found a great/inexpensive motel somewhat off the main drag.  It was one of the best decisions we ever made.  Next post will show Hoi An at night time, when it gets REALLY spectacular.