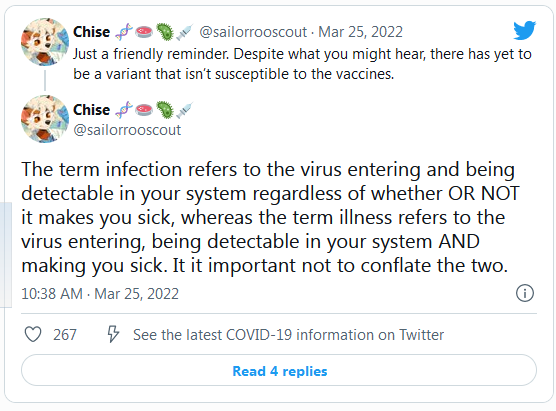 Good call to offer this option of a 2nd booster https://t.co/lsOpyPKIUs by @SharonLNYT

— Eric Topol (@EricTopol) March 26, 2022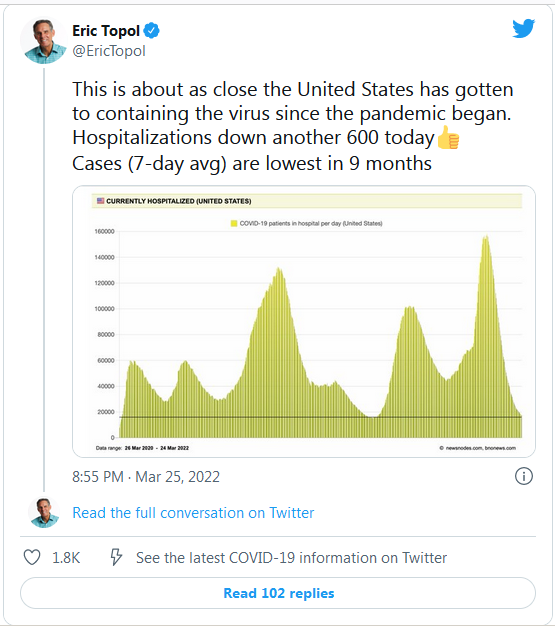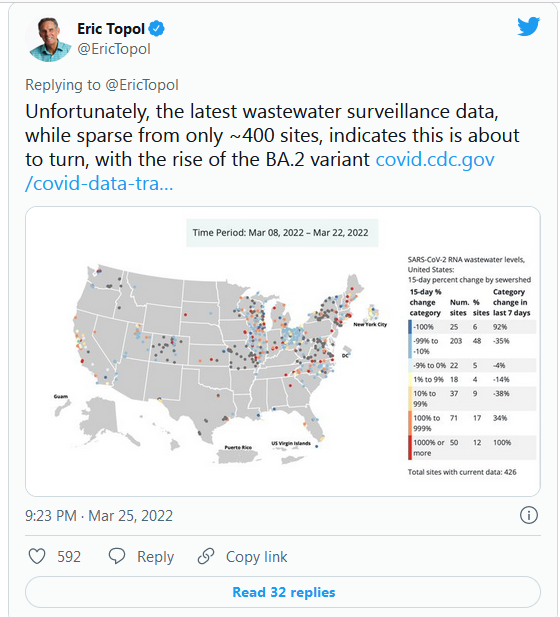 Covid vaccinations—including boosters —have fallen to lowest levels since 2020. Fewer people in the U.S. are getting vaccinated even as another surge may be imminent. #Omicron sibling BA.2 is rekindling waves of infection in many parts of the world https://t.co/J0Kb4drY0Y

— delthia ricks ? (@DelthiaRicks) March 26, 2022
======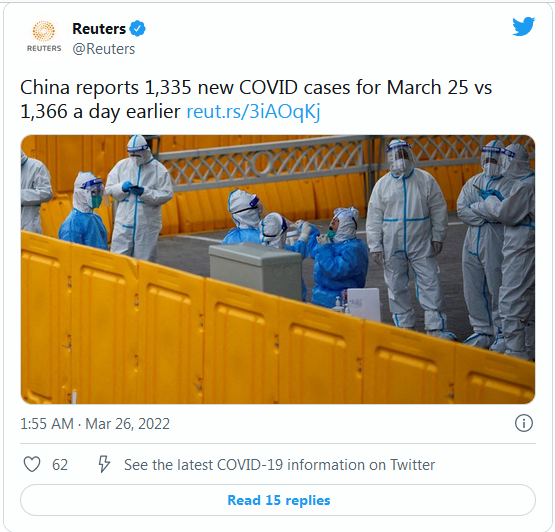 Shanghai's COVID 'slice and grid' model comes under pressure as cases surge https://t.co/PzDlos7KDG pic.twitter.com/vIDXV75tWZ

— Reuters (@Reuters) March 25, 2022
Shanghai's bespoke approach to tackling coronavirus outbreaks is coming under strain as new cases rise in the Chinese metropolis, with authorities reluctant to impose a comprehensive lockdown as other cities have done.

The city of 26 million has become a testing ground for China's ability to control flare-ups of the more contagious but less deadly Omicron variant while keeping the economy steady in an approach it describes as "slicing and gridding", which involves screening neighbourhoods one by one.

Shanghai's handling of the latest COVID-19 wave was an opportunity to showcase its virus-tackling ability without imposing the blanket closures that have brought major Chinese cities such as Xian and Changchun to a standstill…

Shanghai's locally transmitted asymptomatic infections surged to a record 1,582 on March 24, up from 979 a day earlier, but just 29 new symptomatic cases were recorded, up from 4.

"Shanghai feels it cannot do a city-wide lockdown because it is not only tantamount to admitting the failure of the Shanghai model, but also feels like it is disobeying Xi Jinping's directive," said Yanzhong Huang, global health specialist at the Council On Foreign Relations, a U.S. think tank.

Shanghai is caught between the need to stay as close to "zero-COVID" as possible while keeping the country's most important financial hub ticking over.

"You can have all this policy innovation, but it is all subject to the constraints of zero-COVID," Huang said.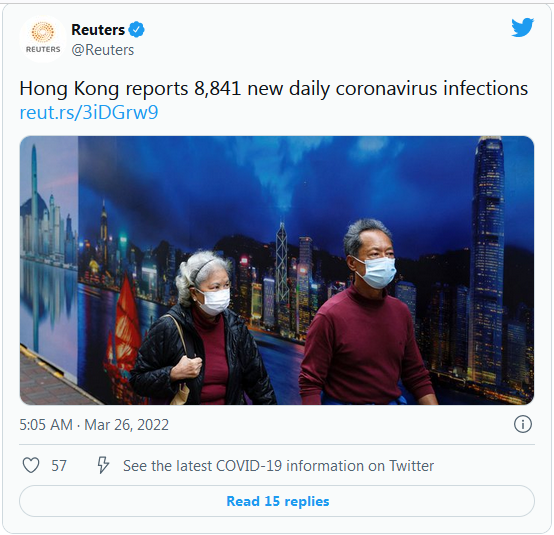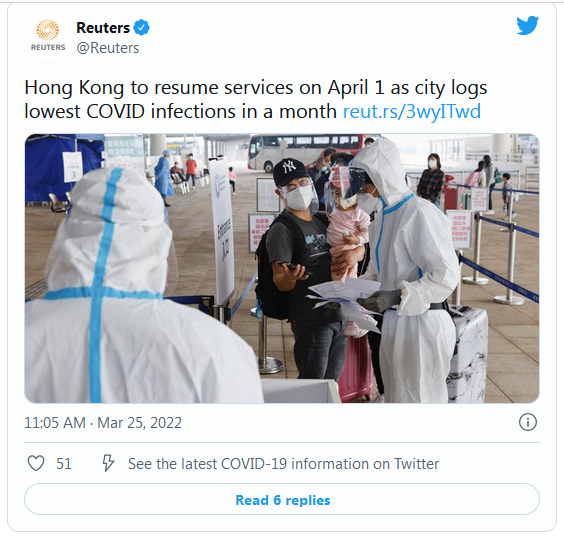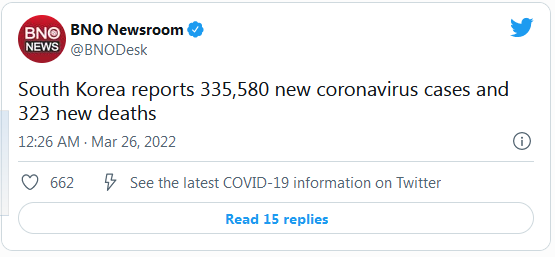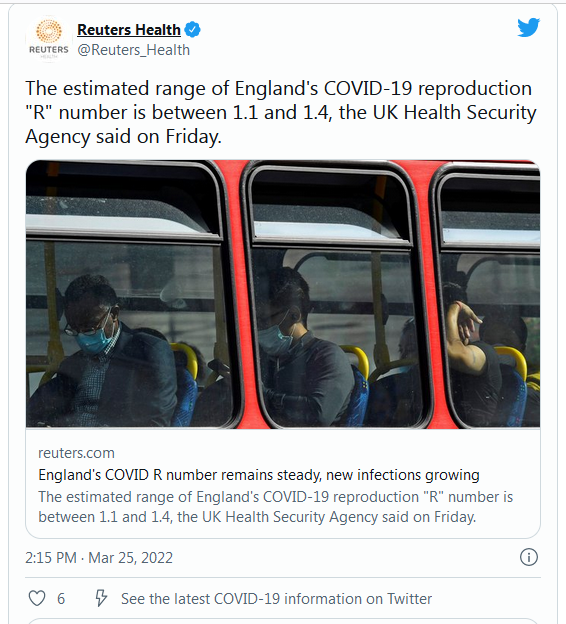 This is nuts. 3.5 million people positive with SARS-CoV-2 in the last week in England. 1 in 16 people. In Scotland this is 1 in 11. We're at the level of the infections at the previous omicron peak in England & have exceeded it in Scotland & Wales. ? pic.twitter.com/YCTmNUghvP

— Dr. Deepti Gurdasani (@dgurdasani1) March 25, 2022
======
#LongCovid symptoms may depend on which variant you caught. New study finds different symptoms in the #alpha wave compared w/ initial coronavirus wave. During alpha shortness of breath & brain fog were common. In prior wave absence of taste/smell dominated https://t.co/DMsU9nzF5M

— delthia ricks ? (@DelthiaRicks) March 25, 2022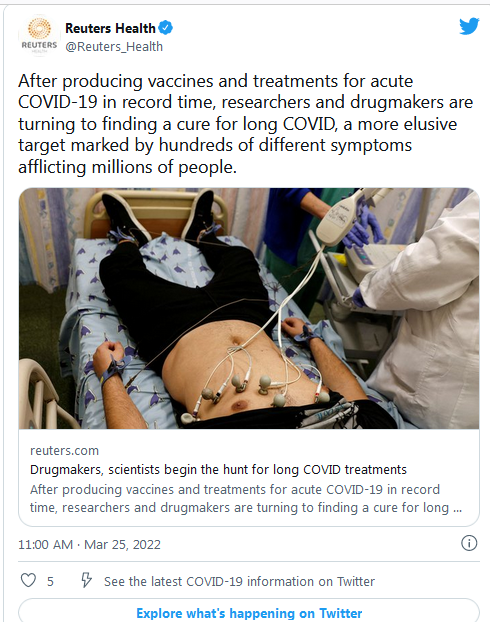 … Researchers, biotech companies and public health experts say major pharmaceutical companies are integral to getting a proven treatment for the disease, which currently afflicts more than 100 million people, according to the World Health Organization.

"When you look at the numbers for heart failure, for diabetes, etc, that is the ballpark we are talking about," said Amitava Banerjee, a leading researcher on a long COVID trial.

Long COVID, with some 200 reported afflictions that include fatigue, chest pain and brain fog, is defined by symptoms that last longer than 3 months. It sidelines people who have had both mild and severe COVID-19, including children. In the United States, it is estimated to have affected 1-in-7 working age adults…

"We are getting to the stage where we are getting traction, and for people suffering, we are getting treatments tested," said David Strain, a University of Exeter Medical School lecturer whose research has informed which treatments will be tested in a major British trial. "Hopefully we will have things we can we offer them to get their lives back to normal in the near future."

Big pharmaceutical companies are looking for disease-specific biomarkers that would allow them to assess the value of tested medicines, experts say.

"What they're struggling with is a case definition for long COVID," said Dr. Amy Proal, an expert in post-viral diseases at the PolyBio Research Foundation in Mercer Island, Washington. She said she has held confidential meetings with two venture capital groups and one major pharmaceutical company…

Possible underlying causes researchers are studying include damage from the original infection, lingering reservoirs of virus in the body, an autoimmune response, in which the immune system attacks its own cells, and a dysregulated immune response causing excess inflammation that damages small blood vessels or nerves. It could be a combination of those or other factors, they say…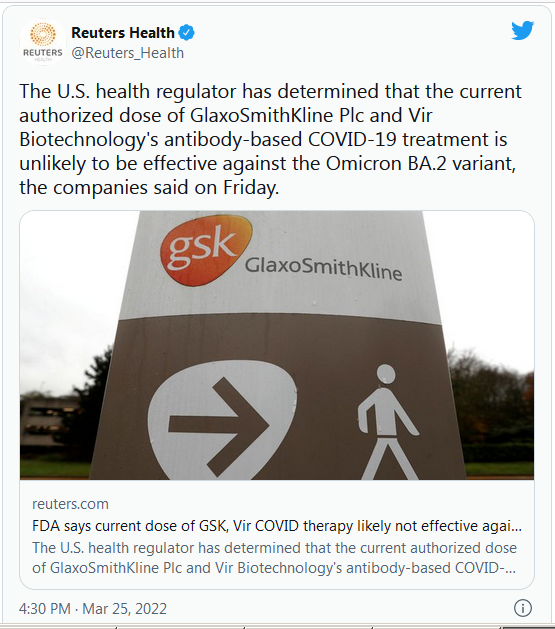 This is so distressing. People should not be taking out their anger over how the pandemic has disrupted normal life on health workers, public health officials or scientists studying the problem. These are the people guiding us through this event. https://t.co/2VdYrIm9eS

— Helen Branswell ?? (@HelenBranswell) March 25, 2022
======
Nearly a year after COVID vaccines became freely available to U.S. adults, one fourth of American adults remain unvaccinated. The cost of vaccine hesitancy includes financial risks for individuals, companies and publicly funded programs https://t.co/saepMi5T07 via @jschney pic.twitter.com/eKwuKNhr04

— Reuters (@Reuters) March 25, 2022
I honestly wonder how many more Americans…left and right…would be alive now if the first wave hit the midwest instead of the northeast.

So many died just to own those stuck up libs in New York. https://t.co/ZGb6Vt0VFe

— zeddy (@Zeddary) March 25, 2022
U.S. Supreme Court backs Navy in fight with anti-vaccine SEALs https://t.co/v7bOHTYX8O pic.twitter.com/zm3ExZ0igT

— Reuters (@Reuters) March 26, 2022

(Thomas, Alito & Gorsuch dissenting)
Seems like a good bet that the Supreme Court will also reverse other wacky decisions mandating the deployment of unvaccinated troops—including the notorious ruling that's literally preventing the Navy from deploying a guided-missile destroyer. https://t.co/uy6cur1O2c

— Mark Joseph Stern (@mjs_DC) March 25, 2022