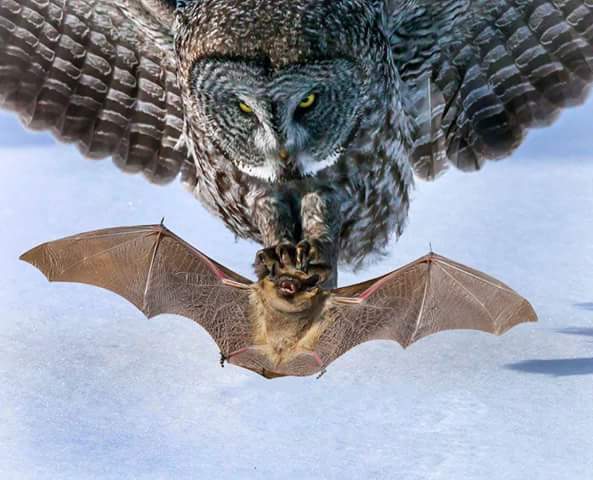 (The Symbol of Ukrainian Military Intelligence: An Owl Hunting a Bat; Image & Explanation Found Here)
Earlier today there was reporting that the Russians were trying to break the Ukrainian defenses in the center of Ukrainian and move east towards Kyiv.
⚡️ Armed Forces: Russia attempts to break through defenses near Kyiv.

According to Ukraine's Armed Forces, Russian troops are attempting to advance on Kyiv from the northwest and east, capturing nearby roads and villages. Russian forces are currently being held back by Ukraine.

— The Kyiv Independent (@KyivIndependent) March 28, 2022
⚡️ Armed Forces: heavy fighting near Izyum continues.

According to Ukraine's Armed Forces, Russia continues to attack villages of Topolske, Kamyanka, and Sukha Kamyanka near the city of Izyum, southeast of Kharkiv.

— The Kyiv Independent (@KyivIndependent) March 28, 2022
Here's the British Ministry of Defense's assessment as of today: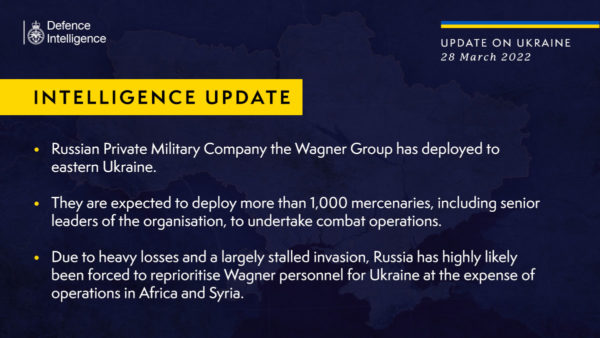 What's important to keep in mind here is the reporting that Russia was pulling in Syrians and Hezbullah who were fighting in Syria to fight in Ukraine. The way Wagner operates is that everywhere Yevgeny Prigozhin sets up business through one of his subsidiary companies in the Middle East or in Africa, he brings his own private security with him. These private security then go about recruiting and training the host country nationals. Basically they create a local cadre. In the case of Syria, they brought in fighters from Mali and Chad, so I'd expect some of those guys will wind up being part of the Syrian fighters sent to Ukraine because they travel on Syrian passports. Wagner trained both governmental and private security forces in Sudan and the Central African Republic (CAR) starting in 2018, so I wouldn't be surprised if we start seeing some of those guys too.
Much more after the jump.
The Financial Times has another one of their scoops, sourced to an anonymous source of course, that Ukraine and Russia are near a breakthrough in their ceasefire negotiations. And then when you read past the first three or four paragraphs it turns into the normal not so much.
Russia is no longer requesting Ukraine be "denazified" and is prepared to let Kyiv join the EU if it remains militarily non-aligned as part of ongoing ceasefire negotiations, according to four people briefed on the discussions. Moscow and Kyiv are discussing a pause in hostilities as part of a possible deal that would involve Ukraine abandoning its drive for Nato membership in exchange for security guarantees and the prospect to join the EU, the people said under the condition of anonymity because the matter is not yet finalised. The draft ceasefire document does not contain any discussion of three of Russia's initial core demands — "denazification", "demilitarisation", and legal protection for the Russian language in Ukraine — the people added.

David Arakhamia, head of Ukrainian president Volodymyr Zelensky's party in parliament and a member of Kyiv's negotiating team, told the FT the parties were close to agreement on the security guarantees and Ukraine's EU bid but urged caution about prospects for a breakthrough. "

All the issues" have been "on the table since the beginning" of negotiations but "lots of points — like in every single item there are unresolved points", Arakhamia said.

Another person briefed on the talks said Ukraine was concerned that Russia was shifting its position almost day by day, both in terms of military pressure and on demands like Kyiv's "demilitarisation."

Russia "can't and won't talk about progress" because "it could only harm the negotiating process", Dmitry Peskov, Putin's spokesman, was quoted by Interfax on Monday. "For now, unfortunately, we cannot speak of any significant achievements and breakthroughs", he added.

As part of the agreement under consideration, Ukraine would also refrain from developing nuclear weapons, or hosting foreign military bases in addition to abandoning its pursuit of Nato membership.

In exchange, Ukraine would get what Arakhamia called "wording close to Nato's Article 5" — whereby the alliances' members must come to each others' aid if one is attacked — for security guarantees from countries including Russia, the US, the UK, Canada, France, Germany, China, Italy, Poland, Israel, and Turkey.
Yeah, Russia is going to guarantee Ukraine's safety via a mutual defense agreement similar to NATO Article 5. Sure it is…
Of course shortly after this we found out that Putin told Roman Abramovich that he would "thrash" Zelenskyy and the Ukrainians when Abramovich tried to deliver a letter from Zelenskyy to Putin. Putin also poisoned Abramovich and two other envoys!
Russian oligarch Roman Abramovich and Ukrainian peace negotiators suffered symptoms of suspected poisoning after a meeting in Kyiv earlier this month, people familiar with the matter said.

Mr. Abramovich, Ukrainian lawmaker Rustem Umerov and another negotiator developed symptoms following the March 3 meeting in Kyiv that included red eyes, constant and painful tearing, and peeling skin on their faces and hands, the people said. Mr. Abramovich has shuttled between Moscow, Belarus and other negotiating venues since Russia invaded Ukraine.

Mr. Abramovich was blinded for a few hours and later had trouble eating, according to a person familiar with the matter.

Some of the people familiar with the matter blamed the suspected attack on hard-liners in Moscow who they said wanted to sabotage talks to end the war. A person close to Mr. Abramovich said it wasn't clear who had targeted the group.

Western experts who looked into the incident said it was hard to determine whether the symptoms were caused by a chemical or biological agent or by some sort of electromagnetic-radiation attack, the people familiar with the matter said.

Mr. Abramovich, who has longstanding links to President Vladimir Putin, became involved in attempts to end the war in Ukraine shortly after Moscow launched the invasion on Feb. 24, people familiar with the matter said.

Mr. Zelensky has asked President Biden not to impose sanctions on Mr. Abramovich, who owns a minority stake in the steel company Evraz PLC and has Portuguese citizenship, because he is involved in the negotiations, according to people familiar with the call. Mr. Abramovich, who also owns the Chelsea soccer club, has been sanctioned by the U.K. and the European Union.

Asked about Mr. Abramovich in an interview with independent Russian media organizations on Sunday, Mr. Zelensky said he wouldn't comment on his discussions with Mr. Biden. He said Mr. Abramovich was initially a member of a subcommittee of the Russian negotiating team, and then tried to help with humanitarian matters, particularly the evacuation of Ukrainian civilians from the besieged city of Mariupol.
Much, much more at the link!
I'm thinking those negotiations are nowhere near close to a break through. And I am in full agreement with this assessment of them:
Russia is not backing down on its demands against Ukraine. This is just a bluff to provide all the Western countries, which have been reluctant to supply weapons to Ukraine, with a convenient excuse to do nothing other than wait and watch. Time to arm Ukraine is running up

— Daniel Szeligowski (@dszeligowski) March 28, 2022
Here is one more piece of evidence that Putin and the Russians aren't serious about negotiations, especially backing of their demands regarding the Russian language and the rights of Russian speakers in Ukraine:
Russian parliament introduces a bill naming "every person who speaks Russian – a compatriot" (a Russian wording for "a Russian citizen living abroad"). This creates a legal basis for a military intervention into almost any country. (thank you @juliaioffe) https://t.co/U0Mun5Dw32

— Sergej Sumlenny (@sumlenny) March 28, 2022
Bellingcat's Christo Grozev headed up the investigation and his recounting of events is below.
Bellingcat can confirm that three members of the delegation attending the peace talks between Ukraine and Russia on the night of 3 to 4 March 2022 experienced symptoms consistent with poisoning with chemical weapons. One of victims was Russian entrepreneur Roman Abramovich. https://t.co/DJaZ4CoL8J

— Bellingcat (@bellingcat) March 28, 2022
Abramovich, along with another Russian entrepreneur, had taken part in the negotiations alongside Ukraine's MP Rustem Umerov. The negotiation round on the afternoon of 3 March took place on Ukrainian territory, and lasted until about 10 pm.

Three members of the negotiating team retreated to an apartment in Kyiv later that night and felt initial symptoms – including eye and skin inflammation and piercing pain in the eyes – later that night. The symptoms did not abate until the morning.

The next day the group of negotiators drove from Kyiv to Lviv on the way to Poland and then Istanbul, to continue informal negotiations with the Russian side. A Bellingcat investigator was asked to help provide an examination by chemical weapons specialists.

Based on remote and on-site examinations, the experts concluded that the symptoms are most likely the result of international poisoning with an undefined chemical weapon.

An alternative less likely hypothesis was use of microwave irradiation. The symptoms gradually subsided in the course of the following week.

The three men experiencing the symptoms consumed only chocolate and water in the hours before the symptoms appeared. A fourth member of the team who also consumed these did not experience symptoms.

According to two consulted CW experts and a doctor, the symptoms were most consistent with variants of porphyrin, organophosphates, or bicyclic substances. A definitive determination was not possible due to the absence of specialized laboratory equipment near the victims.

The experts said the dosage and type of toxin used was likely insufficient to cause life-threatening damage, and most likely was intended to scare the victims as opposed to cause permanent damage. The victims said they were not aware of who might have had an interest in an attack

Bellingcat chose not to report this story earlier due to concern about the safety of the victims. Given the choice of the targeted individuals to speak up, Bellingcat and its investigative partner

@the_ins_ru

intend to publish an investigation into the presumed poisonings.
Another day another "gaffe" or "ad lib" for the press to obsess over!
President Joe Biden appeared to reveal that the U.S. is training Ukrainian forces in Poland — stating for the first time since the war began that American troops are actively teaching Ukrainians to fight and kill Russians.

That's not what Biden said Monday. After delivering remarks about the White House's new budget request, Biden answered a reporter's question about comments he made when meeting the 82nd Airborne in Poland, in which he implied American forces would be going to Ukraine. Biden denied that's what he meant, adding: "We're talking about helping train the Ukrainian troops that are in Poland."

Pressed again, Biden said, "I was referring to being with, and talking with, the Ukrainian troops that are in Poland."

It's possible Biden meant to say "American" when he said "Ukrainian" on the second instance, or he exaggerated the extent to which American soldiers advise the Ukrainian forces on how to use the security assistance the administration has provided.
My take on this is: 1) President Biden may have meant American when he said Ukrainian. 2) If he didn't and actually meant American, which is what he said, I'm not surprised in the least. And 3) I don't think the ad lib over the weekend as a gaffe and I don't think this one is. I think President Biden is playing mind games with Putin, which is good. Which is why this answer at his press conference earlier was excellent!
Reporter: Are you confident that Vladimir Putin sees it that way…
Biden: I don't care what he thinks… pic.twitter.com/oWDkLivqjG

— Acyn (@Acyn) March 28, 2022
The Ukrainians have liberated Irpin!
Mayor of #Irpin Oleksandr Markushin:
"Today Irpin is liberated. Now the sweep is underway. I want to thank the servicemen of the @ArmedForcesUkr, thank the territorial defense, thank the national police and special police units, the main intelligence department."#StopRussia pic.twitter.com/k1fOyvCJQI

— ArmyInform (@armyinformcomua) March 28, 2022
And now we have confirmation that the attempted Russian advance west of Kyiv was thwarted and pushed back:
Following the liberation of Irpin, it looks like Ukrainian forces have made new advancements west of Kyiv pushing Russians off the E40/M-06 Zhytomyr Highway.
Tows of Motyzhyn, Kapytanivka, Lisne, Dmytrivka have been taken back and cleaned up. pic.twitter.com/mpgQhavY73

— Illia Ponomarenko ?? (@IAPonomarenko) March 28, 2022
Last night someone in the comments asked about the total number of Ukrainian civilian casualties. I replied that the last reporting I'd seen indicated about 2,000, but I figured that was low. It was, indeed, low! We have reporting today based on statements from Mariupol's civilian authorities that 5,000 civilians have been killed in Mariupol alone! This includes an estimated 210 children. I would expect that to be an under count. Additionally, only 160,000 residents out of a pre reinvasion 400,000 are left in Mariupol.
Kharkiv:
Today, for the first time, I went to Saltivka, the most devastated district of Kharkiv. The entire residential area is completely empty, the only sounds are the sounds of hail and the grinding of metal. pic.twitter.com/fFoDku1Bn1

— Maria Avdeeva (@maria_avdv) March 28, 2022
Here's an excellent thread by Anders Aslund:
The question is often raised:
Why doesn't the Kremlin know anything about Ukraine?
The short answer is massive imperial Russian contempt, but let me elaborate.
During decades of meetings in Moscow, whenever talking about Ukraine, you receive the reaction "yes, small Russians."

— Anders Åslund (@anders_aslund) March 28, 2022
Malorossiya! The contempt goes further. When discussing literature, the "cultured" Muscovites state about the bad writer: He is a real "pismenik," the Ukrainian word for author. Next, you are informed that the Ukrainian Nikolai Gogol wrote is great works in Russian, etc.

When I worked in Moscow & Kyiv in the early 2000s, I learned that the Russian Embassy in Kyiv had nobody who followed the Ukrainian media, print or TV, because MID did not consider the Ukrainian domestic debate of sufficient interest for reporting.

Conversely, you have perhaps noticed that no single Russian expert on Ukraine appears in the media, because there is none. Why would anybody bother to study Ukraine?! The Ukrainians are just like us Russians! We are so similar so we don't need to study them.

The Russian attitude to Ukrainian history & the nation is full of contempt. Ivan Mazepa is a major villain, while the only good Ukrainian is Bohdan Khmelnitsky. You dare not mention Stepan Bandera. The conclusion is that Ukraine can only exist as a fiefdom of great Russia.

Putin's July 12, 2021, article is a good summary of all these old Russian prejudices about Ukraine, and if you prefer obsolete prejudices and new lies over truth you are likely to get everything wrong, as Putin has shown us so well.

But who has told Putin about Ukraine? His only close Ukrainian agent is Viktor Medvedchuk, who is probably the least popular person in Ukraine, an early oligarch who has never earned an honest hryvnia in his life, that is, an obvious Putin favorite.

As the eminent Russian journalist Mikhail Zygar recently argued in the NYTimes, Putin's closest adviser is Yuri Kovalchuk. I would ad his brother Mikhail Kovalchuk & Gennady Timchenko. They are ethnic Ukrainians from St. Petersburg. They must no the country!

They must know the country. I doubt that Putin has listened to the FSB about information on Ukraine, and the SVR hardly works there. Putin probably disinforms himself listening to Medvedchuk, the Kovalchuks and perhaps Timchenko.
I couldn't find a new bayraktar video, so here's a daily Ukrainian tractor video:
Ministry of Defence of Ukraine Oscars 2022
Best Supporting Actor: Ukrainian Tractor in The Taming of the Shrew#Oscars2022 #UAarmy pic.twitter.com/f3LEZ9VATO

— Defence of Ukraine (@DefenceU) March 28, 2022
Open thread!