We're entering another week where U.S. officials warn they don't have the money to order a fourth vaccine dose if it turns out everyone needs them this fall. https://t.co/oGU32PhMKn

— Dan Diamond (@ddiamond) March 28, 2022
… The CDC said had changed its COVID-19 travel recommendation for India to "Level 1: Low" from "Level 3: High," which urges unvaccinated Americans to avoid travel to those locations.

The CDC also lowered Chad, Guinea and Namibia to "Level 1." The State Department on Monday lowered its travel advisory for India to "Level 2: Exercise Increased Caution," reflecting the lower COVID-19 risk, but also cited the risk of "crime and terrorism."
======
Explainer: Omicron 'stealth' COVID variant BA.2 now dominant globally https://t.co/jkoJU2KBlh pic.twitter.com/Xeu5jjrE5R

— Reuters (@Reuters) March 29, 2022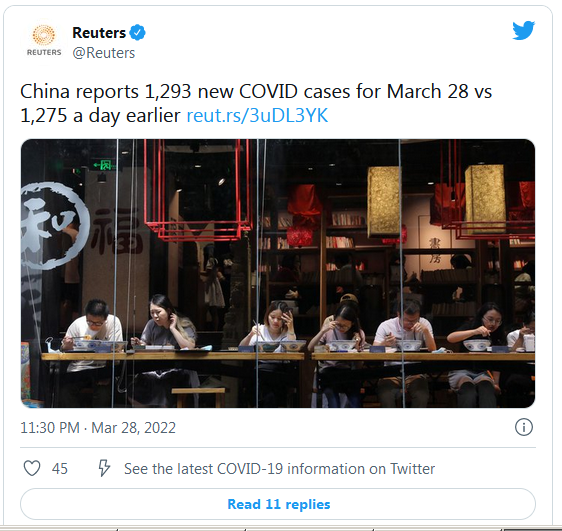 Shanghai, China's most populous city, again tightened the first phase of a two-stage COVID lockdown, asking some residents to stay indoors unless they are getting tested as the number of daily cases rose beyond 4,400 https://t.co/vTc4aEvHwG pic.twitter.com/X6gaZtTbRy

— Reuters (@Reuters) March 29, 2022
After months of imposing limited lockdowns of individual neighbourhoods, Shanghai has decided to lock down parts of China's biggest city in two phases in a bid to curb a spike in Covid-19 infections. pic.twitter.com/ZSY7uWr6P3

— South China Morning Post (@SCMPNews) March 29, 2022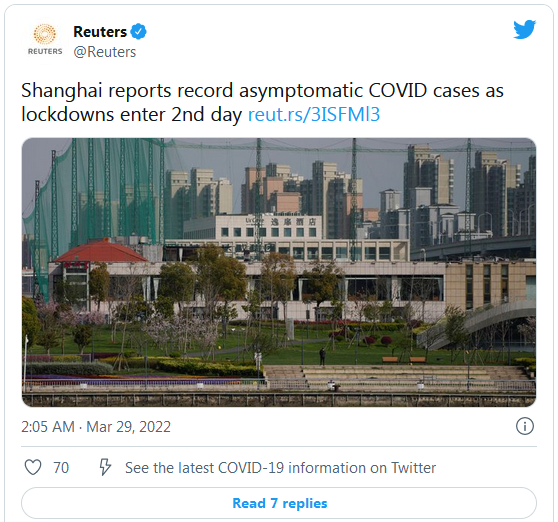 Some scenes from Puxi, Shanghai today as residents prepare for lockdown and stock up on food. Lots of crowds, queues and empty shelves. Police outside supermarkets. Pudong went into lockdown this morning until April 1st, when this part of the city will follow. #shanghai @BBCWorld pic.twitter.com/JC6VgmDjh6

— Edward Lawrence (@EP_Lawrence) March 28, 2022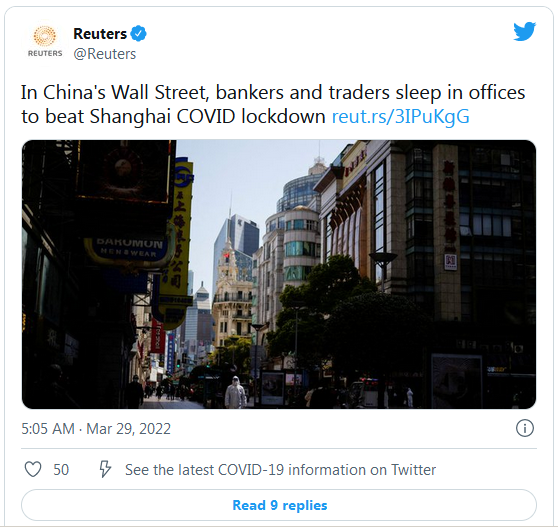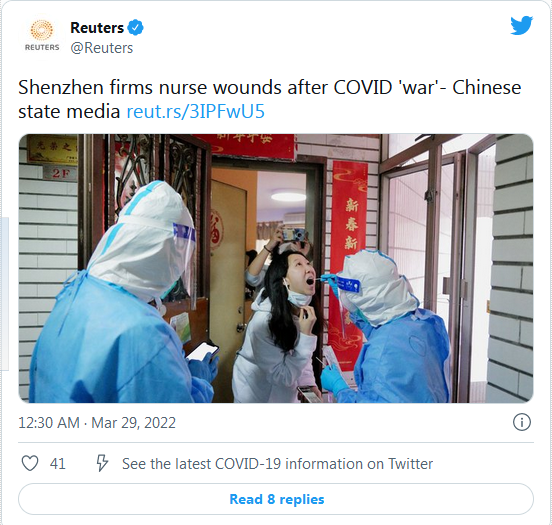 … Shenzhen's recent "war" on COVID-19 has hurt up to 93% of the local small and medium-sized companies surveyed by the state-controlled newspaper, with many suffering production disruptions due to shutdowns, interruptions in supply chains, and delays in order executions.

Shenzhen allowed businesses and factories to restart operations on March 21 after authorities declared the latest outbreak had been brought under control.

The city, which has grappled with multiple outbreaks so far this year, conducted three rounds of mass testing in March after a spike in infections.

The outbreaks were modest by international standards, but Shenzhen authorities were swift to implement measures including business shutdowns under China's so-called "dynamic" zero-COVID policy…

More worrying than the short-term effect of the shutdowns is the long-term contraction in demand caused by the epidemic, the newspaper warned, citing a "profound" impact on Chinese demand from COVID-19.

Companies complained about changes in consumer behaviour from delays in surgical operations to purchases of new mobile phones.

Data on China's factory and services sector for March due out in coming days are expected to reflect the COVID-related pain.

The epicentre of China's COVID containment efforts has since moved to Shanghai, where the megacity of 26 million residents is facing its worst flare-up since China's initial 2020 outbreak…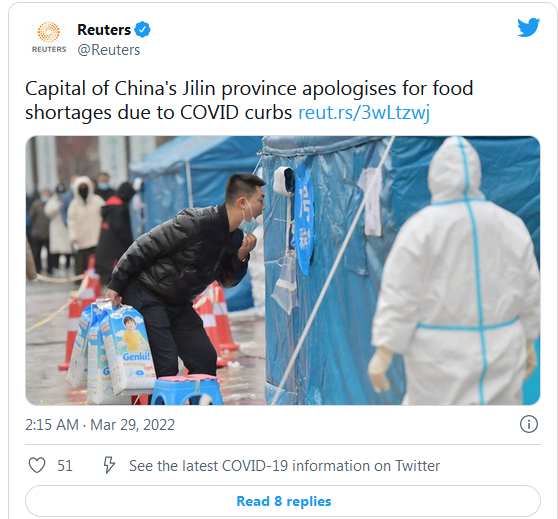 The Chinese city of Changchun, capital of the COVID-hit northeastern province of Jilin, on Tuesday apologised to its 8.5 million residents for food shortages related to shutdowns and disruption caused by COVID containment measures.

Due to COVID-19, two major wholesale food markets in Changchun have shuttered, leading to a shortfall in food supply, said the city's deputy Communist Party secretary, Liu Renyuan, a problem aggravated by a shortage of workers that has delayed deliveries to homes…

To ease the dearth of sorting and delivery personnel, the provincial government of Jilin has organised about 1,000 tonnes of "vegetable bags" to be delivered to Changchun each day, he said.

Authorities will also crack down on price hikes on vegetables, Liu added.

Changchun and the rest of Jilin have been battling with COVID cases increasing by thousands almost every day since mid-March…

In what they have called a "last-ditch battle" against the virus, authorities have put the entire province under lockdown since March 14 and conducted mass testing to isolate infections. read more

Changchun itself has completed more than 10 rounds of citywide testing of its residents.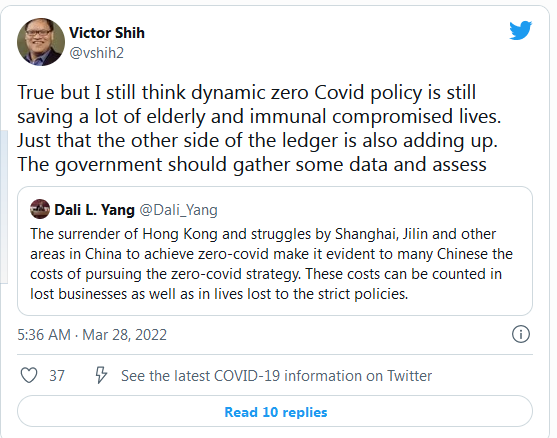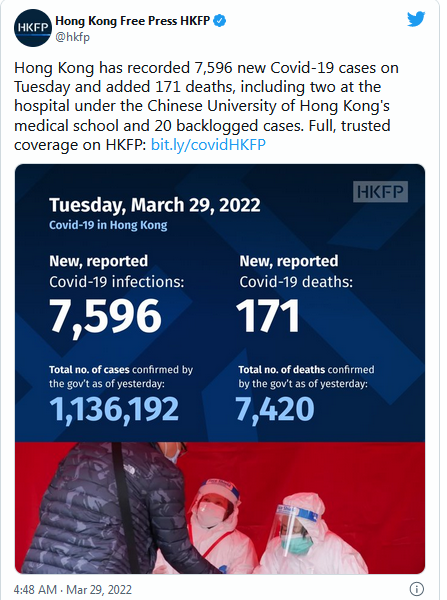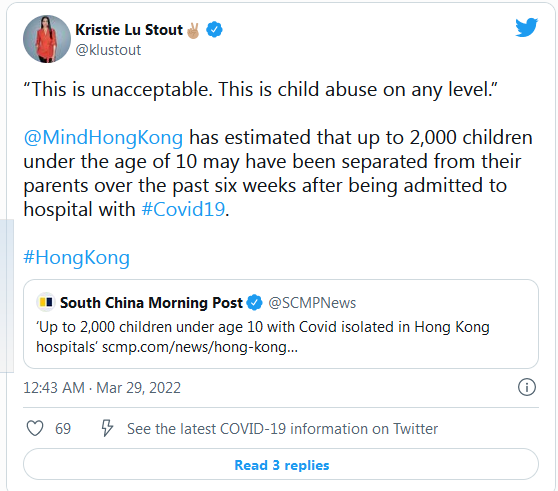 Singapore is easing its Covid-19 restrictions, starting with the March 29, lifting an outdoor mask mandate that had been in place for almost two years. pic.twitter.com/KZ7bzfzi4w

— South China Morning Post (@SCMPNews) March 29, 2022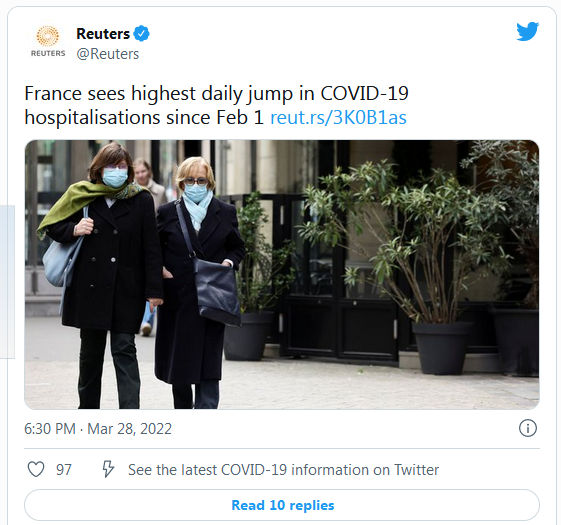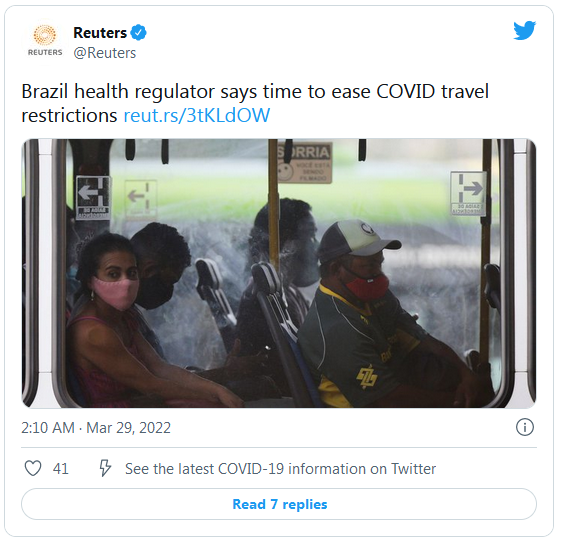 Group of 20 major economies (G20) chair Indonesia has started talks with members on standardising health protocols for travel, its health minister said on Monday, stressing the importance of harmonising rules and technology as global travel resumes. https://t.co/dmYqtWRJlL

— Reuters Health (@Reuters_Health) March 28, 2022
======
From virologists who've studied the evolution of coronaviruses: "We Study virus evolution. Here's where we think the coronavirus is going." https://t.co/HAZdxobGfq

— delthia ricks ? (@DelthiaRicks) March 29, 2022
Can the Covid-causing coronavirus outwit the human innate immune response? New study from the Univ of Colorado suggests the answer is 'yes.' Innate immunity is the body's first-line of defense. It kicks in way before antibodies or T cells https://t.co/5jzd479WEO pic.twitter.com/XNRO8hWMN3

— delthia ricks ? (@DelthiaRicks) March 29, 2022
======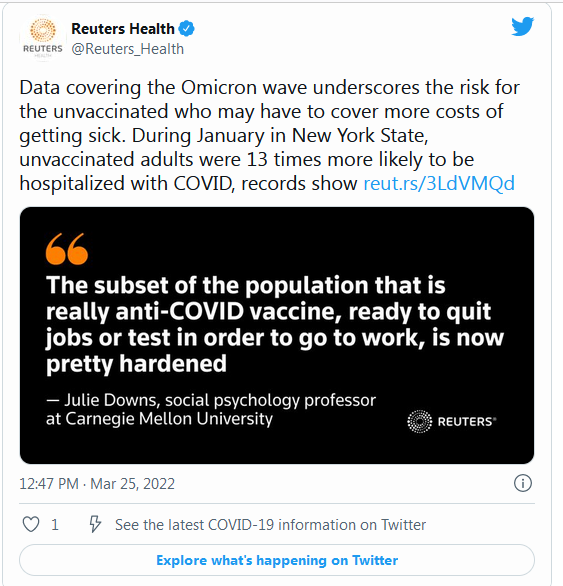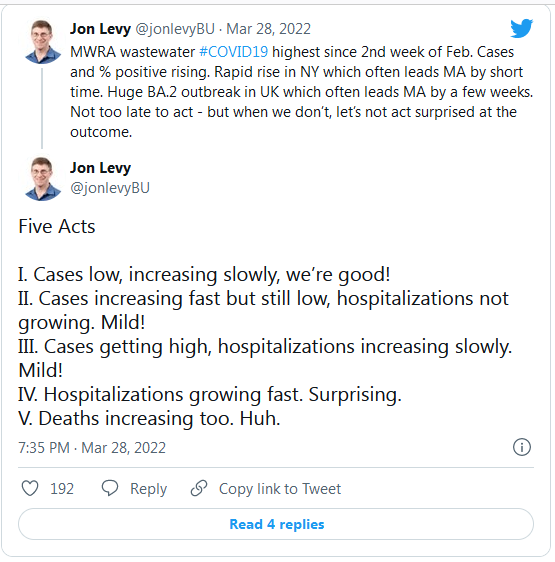 We need a recap of how disingenuous the "we have to vaccinate the whole world first!" position was, seeing as how it was contrived last fall entirely to oppose the US booster and then promptly abandoned by most of the doctors who advocated for it pic.twitter.com/EADUNd006p

— Jake Anbinder (@JakeAnbinder) March 26, 2022