President Joe Biden got his second COVID-19 booster shot as his administration rolled out efforts to help Americans live with the virus, including a new website and a renewed push for vaccinations and funding https://t.co/U33ybcrhZA pic.twitter.com/b55CmMIQRW

— Reuters (@Reuters) March 30, 2022
BIDEN: "We're now in a new moment in this pandemic. It does not mean that Covid-19 is over. It means that Covid-19 no longer controls out lives. That's what it means." pic.twitter.com/6hAHFkc43Z

— Jordan Fabian (@Jordanfabian) March 30, 2022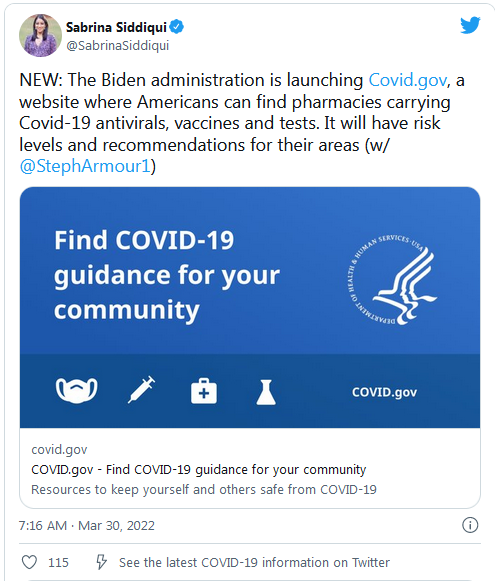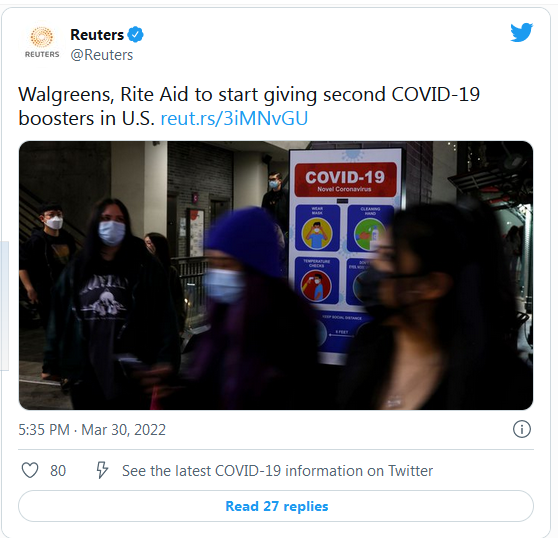 … Rite Aid said eligible customers may walk in to a store immediately or schedule an appointment online from Wednesday.

Walgreens said people can schedule an appointment to receive the second shot starting on Friday, with walk-in appointments available from Wednesday through Friday, depending on store capacity.

Rival CVS Health (CVS.N) is preparing to administer the second boosters, the company said in an emailed statement to Reuters on Wednesday.

Eligible patients can soon schedule an additional dose four months after their initial booster dose, the company said, adding that same-day or walk-in appointments could be possible but are subject to local demand.
By vaccinating, masking up, testing, and treating we can get through a new wave and control Covid instead of allowing Covid to control us. https://t.co/UmLvrc9u2g

— Dr. Tom Frieden (@DrTomFrieden) March 30, 2022
BREAKING: The Biden administration is expected to end the asylum limits at the U.S.-Mexico border by May 23 that were put in place to prevent the spread of COVID-19, sources told @AP. https://t.co/S9vbEmQjAi

— The Associated Press (@AP) March 30, 2022
======
The World Health Organization on Wednesday released an updated plan for COVID-19, laying out three possible scenarios for how the pandemic will evolve this year. https://t.co/X5goNPqGVc

— Reuters Health (@Reuters_Health) March 31, 2022
China reports 1,839 new COVID cases for March 30 vs 1,629 a day earlier https://t.co/wUrHURuBD1 pic.twitter.com/K3X633IDHV

— Reuters (@Reuters) March 31, 2022
Authorities began locking down some Western areas of Shanghai two days ahead of schedule as they battle a surge in new daily COVID-19 cases https://t.co/AUTT0Yimka pic.twitter.com/URuLeTdNuZ

— Reuters (@Reuters) March 30, 2022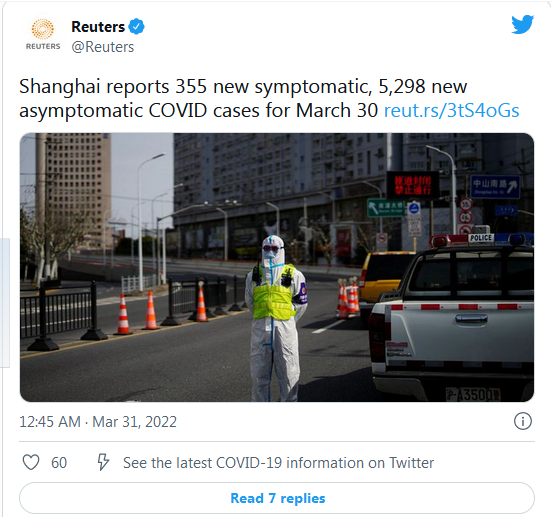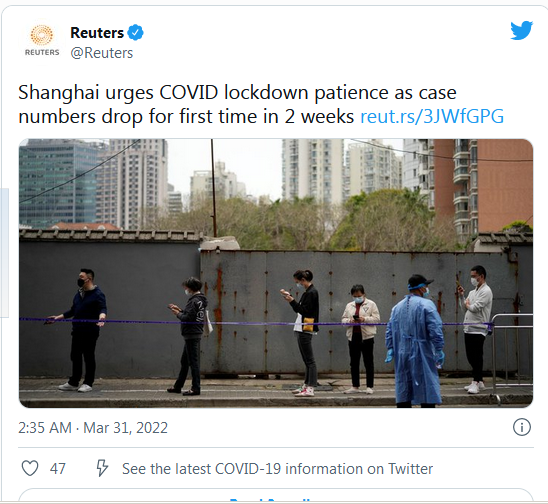 Hong Kong recorded 6,646 new Covid-19 cases on Thursday. The city also added 119 deaths, including 17 backlogged cases.

Full, trusted coverage on HKFP: https://t.co/w8LTgNxKZy pic.twitter.com/dSte9raY74

— Hong Kong Free Press HKFP (@hkfp) March 31, 2022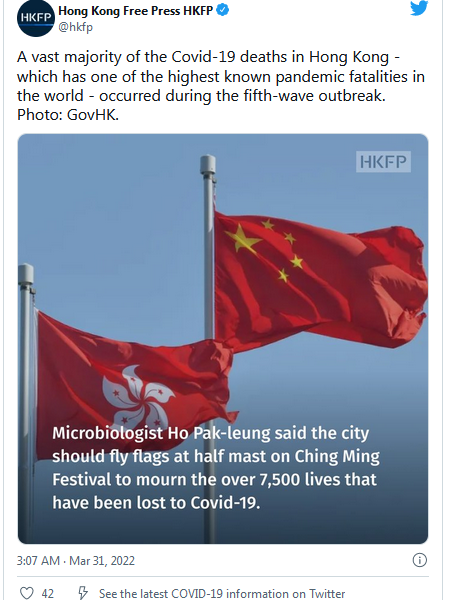 (Tomb-Sweeping Day is next Tuesday, April 5th, this year)
After spending two years being socially distanced, Kim Hoe-jun booked a last-minute flight to Hawaii. Vaccinated and boosted, Kim and his wife are among South Koreans joining in a rush to book overseas trips that were delayed by COVID restrictions https://t.co/Z2cG6kUSzQ pic.twitter.com/ypKWFPl2jK

— Reuters (@Reuters) March 31, 2022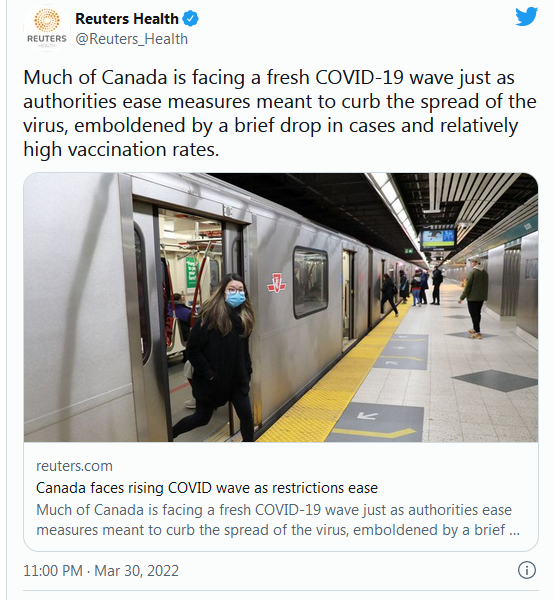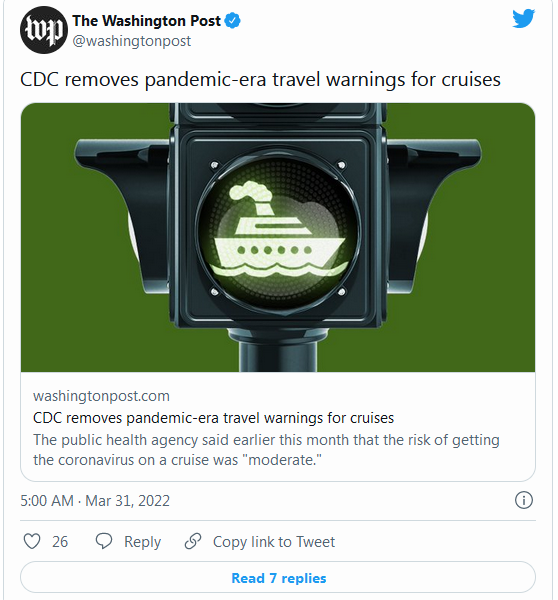 ======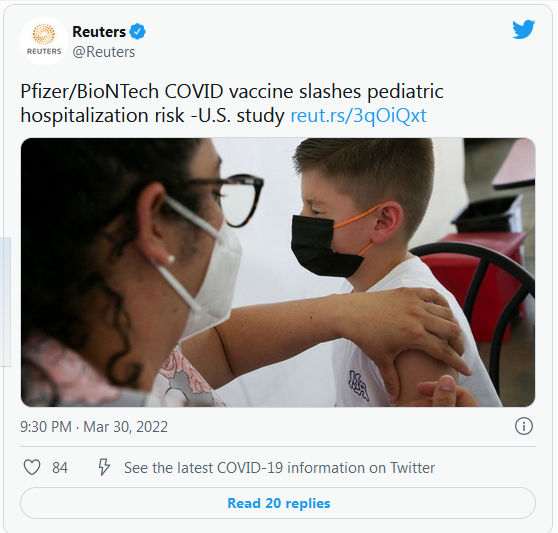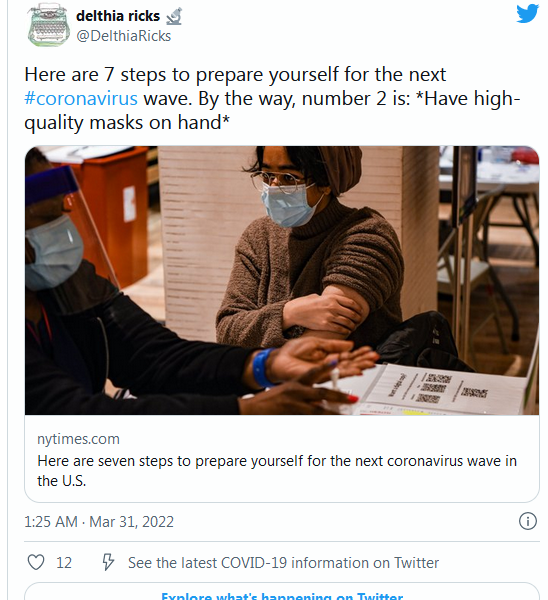 … While the virus is unpredictable, there are clear ways to protect yourself. Here's what you can do to prepare:

– Pay attention to Covid indicators in your community.
– Have high-quality masks on hand.
– Order home coronavirus tests sooner rather than later.
– Get a booster (when you're eligible).
– Get a pulse oximeter.
– Make a plan for antiviral drug treatment.
– Have backup plans for social events and travel.
Still coughing after Covid? New research shows coughing may persist for weeks or months after the infection has gone. Around 2.5% of people are still coughing a year after being infected. Here's why that happens & what to do about it https://t.co/xld8IrFkSI

— delthia ricks ? (@DelthiaRicks) March 30, 2022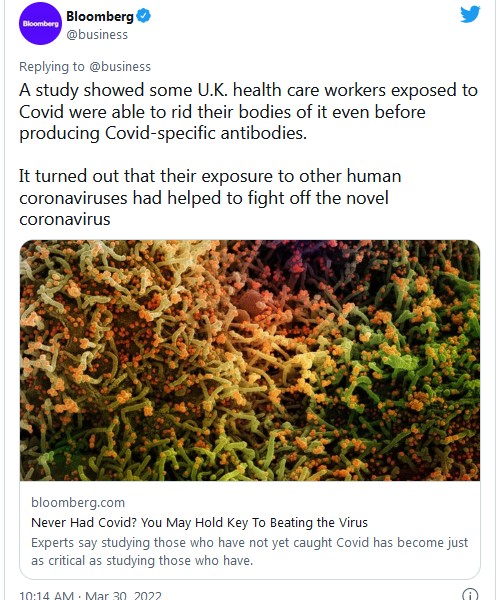 Leaving out the '… exposed to the virus' clause is not optimal:
… It may be hard to believe that at this stage of the pandemic so many people have still never gotten sick. Perhaps people were asymptomatic and never knew they were infected, or, despite exposure to the virus, they just never tested positive. But even half of the population getting Covid is actually an extraordinary number of infections. The 1918 Spanish flu is estimated to have only infected 25% of the U.S. population at the time, despite causing a huge number of deaths.

Early in the pandemic, Swadling set out to find out more about the lucky few who weren't getting sick.

"We were particularly interested in people who are exposed to the virus, but control it very quickly, clearing the virus before it can replicate to detectable levels and before it induces an antibody response," Swadling said. "It may help us better understand what immunity is best at protection from reinfection."

Swadling, along with colleagues in London, published a study in the journal Nature last November evaluating a group of U.K. health care workers during the first wave of the pandemic. They found evidence that some of the health care workers exposed to the virus were able to rid their bodies of it even before producing Covid-specific antibodies.

It turned out that for those people, exposure to other human coronaviruses, such as those that cause cold-like symptoms, had helped their bodies to fight off the novel coronavirus. This is because T-cells, a critical part of the body's immune response, were able to recognize and target genetic elements of prior seasonal coronaviruses that also happened to be present in SARS-CoV-2. That meant their bodies were able to attack the novel virus without the production of new antibodies specific to it.

Notably, the T-cells that those health care workers produced targeted a different part of the virus than the T-cells did in people who have a detectable Covid infection. Swadling said the while the T-cells produced by both vaccines and a detectable Covid-19 infection attack the frequently mutating spike protein of a virus, these health care workers' T-cells instead targeted the virus' internal machinery. Researchers call these T-cells that appear effective against different coronaviruses "cross-reactive."

"We identified new parts of the virus that we can put into a vaccine to try to improve it ," Swadling said. These improvements, he said, could make vaccines better at preventing infection, more effective against new variants and more protective for immunocompromised individuals…
======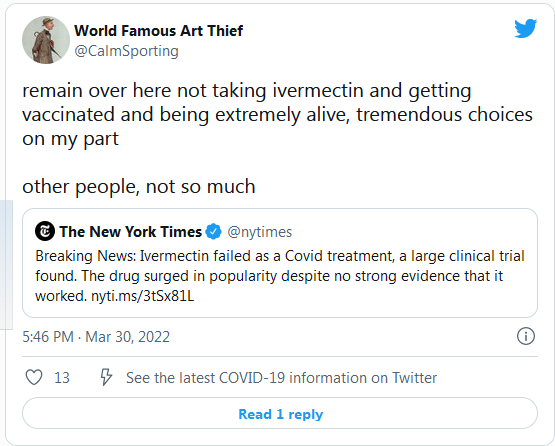 I'm seeing this thread all across pandemic twitter…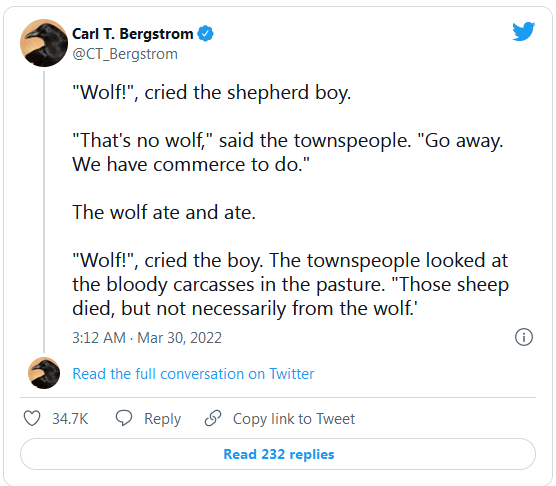 "Wolf", cried the boy, as the creature disemboweled more of the flock.

"There is nothing we could have done," said the townspeople, looking away from their unused wolf-spears and wolf traps.

"Besides, the sheep that died they were the weak ones, the ones about to die anyway."

Eventually the wolf became full, and wandered off for a snooze in its lupine den.

"You cried wolf," the townspeople accused the boy, "but now the wolf is gone and there is no longer a need for us. Why did you cry wolf last week when there is no wolf today?"

"But there was a wolf," the boy said, "and it killed so many. It could come back again. We need to be ready for it."

"You already wasted our time," the villagers replied. "You cried wolf; it did no good. Why should we listen to you now?"

"You—not the wolf—are our true enemy."

"Wolf!", cried the boy, as he dragged the creature from its den. "Help me get rid of it once and for all!"

"Don't tell me what to do," a townsperson said. "It's my right to live with the wolf," said another. "Who made you shepherd anyway?" asked a third.

The wolf smiled.