My area of research interest is the ACA individual health insurance markets.  Part of my research is how to people sort through lots of possible choices to choose, hopefully, a decent enough fit.  The ACA markets have plenty of choices for people to look at with some counties seeing over 200 choices.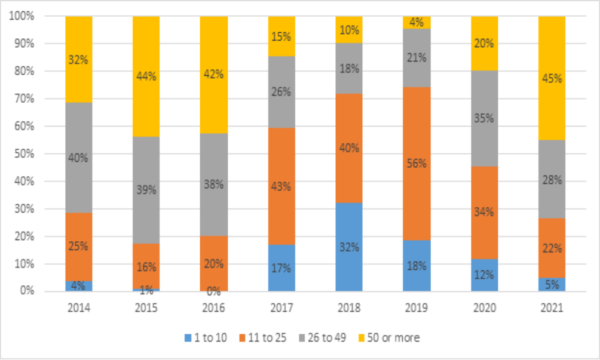 Part of the proliferation of choice is that insurers can and will offer a massive number of variations of cost-sharing for a given metal band. Some plans will be entirely deductible. Other plans will have no deductibles but high co-insurance and co-pays for inpatient stays. More plans will offer no cost-sharing for some low-cost services and very high cost-sharing for rare but very expensive service categories. From a researcher's point of view, this variation is vital to identify effects. From a consumer's point of view it is confusing as anything and everything.
A recent paper at the Journal of Risk and Insurance by Charles Phelps asks a very simple question — what is the optimal insurance design?.
Optimal insurance is derived by minimizing total welfare losses arising from risk-bearing and increased healthcare use arising from insurance-created price reductions….

new insights about optimal deductibles. Of greatest importance (given constant relative risk aversion, a widely-accepted general assumption) optimal deductibles appear to be a fixed proportion of income, not a fixed amount across all incomes….

If forced to choose a single set of parameter values among those in these tables, I would set ?∗=1, |?|=0.2 and ?=2.5 . At this combination of parameters, C* (co-insurance rate —DA emphasis) = 0.08 before applying any income-shift adjustment factors (M*), and would be still smaller for larger values of ?. These values were chosen purely for demonstration purposes.
Okay, to de-geek this, optimal insurance cost-sharing is likely a mostly deductible plan with modest if any co-insurance and little else. The deductible would increase as a function of income and it would be a significant chunk of the family income with significant carve-outs for chronic condition management and preventative care.
This is utterly fascinating!
We sort of kind-of do this with the ACA. Low income buyers have the option to buy Cost-Sharing Reduction subsidy silver plans that have high actuarial value, but there is a wide amount of variance in how these plans are designed. Low to no premium plans with lots of cost-sharing are currently available to higher income buyers who choose Bronze plans. But we don't do this at work; if anything low actuarial value, high deductible plans may be more common for low income workers than high income workers who have the resources to absorb a big shock expense.
I need to chew on this paper some more but it is very interesting to me.