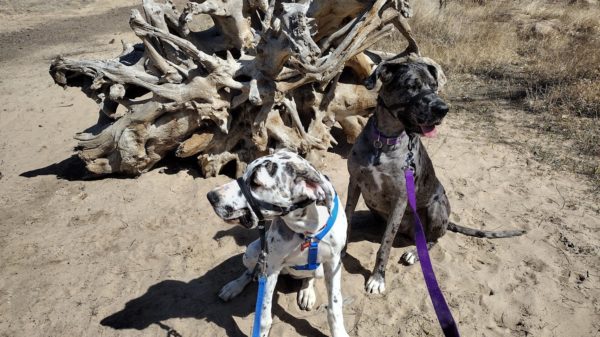 Trixie is on her first road trip. And she's doing great. I was worried the day-long drive would freak her out, but she slept most of it (probably so she could grow some more) and loved the various walks we went on, along the way.
I'm back at the family homestead, helping my dad take care of a few things that needed attention since my mom passed and giving my youngest brother a break as he shoulders most of the things that have come up in the past few months. I now have all the financial items attended to, and am now tackling cleaning out my mom's sewing room and office. Piles marked trash, donate and yard sale are taking place of an organized chaos that was my mom's way.  I'm exhausted.
The drive was interesting, while incredibly boring. No amount of music or audiobooks could make it less tedious. Thank goodness for the walks along the rivers every couple of hours. What I noticed most on my drive? The lack of "Let's Go Brandon" stuck to huge pick-up trucks. No yard signs, no huge t**** flags. Nothing.  That fad faded almost as fast as the orange-one's spray tans.
That was not the case in November when I drove out…they were everywhere and all I could do was shake my head at their adolescent sneering. It was weird. They are weird. I've also seen nary a t**** hat.
Meanwhile, it's fish fry time at the American Legion (great fish BTW), with my dad cooking in the kitchen with his buds (good to see him out and socializing at 84) and obligatory green jello fluff as a sidedish.
Actual conversation about the green fluff:
Brother: "Huh, this tastes funny. Here try it"
Me (scrunching up my nose): "Why?"
Brother: "Just taste it"
Me (sighing mightily): "Fine" I dig my fork in and take the smallest amount possible.
Brother: "It's weird [[[no kidding]]] it should be pistacio."
Me: "Key Lime. It's key lime, ruined with mandarin oranges" [[I hate mandarin oranges in a can]]
So ends my adventures at the American Legion.
I tried to get to a Kindness post on Wednesday, thinking I could fit it in as I got ready to travel. I was wrong. So it'll be back next week.
This is an open thread
Oh wait, I almost forgot. Here's the much-promised video of Trixie and Nick's love affair.