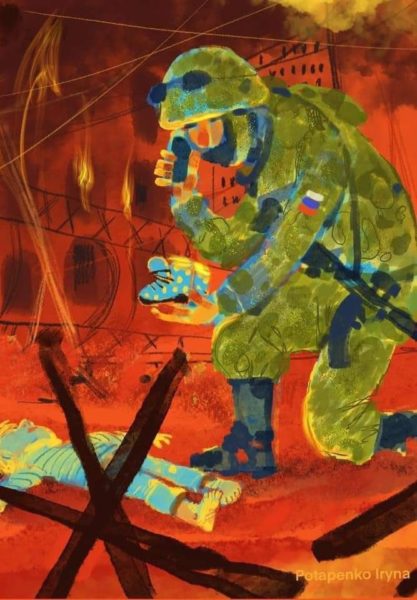 "– Hi honey. What is Dima's shoe size? 18? I've got him cool shoes, blue ones. Yeah, I guess Polish ones. Luv u."
(By Iryna Potapenko & Olha Chorna; image and text found here)
Most of tonight's post will be below the jump as it is video and imagery that has begun to emerge of the price paid to hold Kyiv.
Tonight's post/update will not be pleasant. So if you are uncomfortable with this stuff, which is understandable and no one here will judge, you may want to either skip right to comments or just give this one a complete pass.
I'll get back to the style of update with analysis tomorrow night. But right now, witness must be borne!
Read this story till the end. During WWII some children were making diaries from concentration camps & occupied cities by nazis. History is repeating. This is a diary of Katya, a 16 years old girl from Mariupol, whose mother died in the basement??

— Daria Kaleniuk (@dkaleniuk) April 2, 2022
"You know that feeling when it hurts? I once fell in love with a boy, but he didn't fall in love with me, and I thought it hurt. But it turned out that it hurts to see your mother die in front of you", says 16 y.o. girl from Mariupol, a hell on earth 1/11

My brother keeps coming up to mom, saying, "Mommy, don't sleep, you will freeze". We will never visit her grave. She has remained in the damp and dark basement. We went to the toilet, slept, ate leftovers in the same basement 2/11

Once uncle Kolya caught a pigeon, and we fried it and ate it. And then we all vomited. Mom held on to the last, 3 days before our evacuation, she died. I told my brother that she was asleep and should not be awakened. But he seems to have understood it all. 3/11

…Our neighbor died, and we could not carry her outside, and she began to smell. When it got quiet uncle Kolya carried her out, and himself got killed on a trip wire. Mom cried a lot. After dad died uncle Kolya was the closest person. 4/11

… corpses stink so much. They were everywhere. I covered my brother's eyes with my mother's scarf so that he would not see this. While we were running, I nearly vomited several times. I no longer believe in your God. Had he existed, we wouldn't have suffered so much. 5/11

My mom never, you hear, never did anything wrong. She went to church. Uncle Kolya quit smoking so that mom wouldn`t be nervous that it`s a sin. And your God took her away. The priest said my mom now serving God, but it`d be better if she were to serve him here, raising us.6/11

I hate russia. My own uncle is there. Do you know what he told me on phone today? "Katya? What Katya? Girl, I don't know you. What war, what Katya? And then he wrote from the a burner phone,"Katya, do not write to me. It is dangerous for me and my family. Your mom is gone." 7/11

I hate them! She was his sister!? How is that possible? … you know, I think that I will return to Mariupol. And I will live in the same place. And every time, on the same day, I will go down to the basement of a new house to lay flowers. 8/11

It's also scary when children cry. You can't be heard. These freaks searched for people in basements and killed them. Those who survived said that the russian military were able to rape children and the elderly, and even corpses. If there is a God, why does He allow this? 9/11

I don't want to live anymore. We'll probably be separated now. And I might not see my brother. What for? Why was this putin saving us? We lived well, we even bought a car. Uncle Kolya promised to teach me how to drive. They even burned the car. And the apartment is gone. 10/11
The rest after the jump.
New Srebrenica. The Ukrainian city of Bucha was in the hands of ?? animals for several weeks. *Local civillians were being executed arbitrarily*, some with hands tied behind their backs, their bodies scattered in the streets of the city.#RussianWarCrimes pic.twitter.com/outzejdidO

— Defence of Ukraine (@DefenceU) April 2, 2022
This is not something new. The Soviet Army did this in WW II.
The photos of murdered civilians from Irpin, Bucha etc remind Estonians 1941. The retreating Russian occupiers murdered civilians exactly the same way. Photo from Tartu 1941, 199 prisoners murdered. pic.twitter.com/AI4W6uOJNq

— Eerik N Kross (@EerikNKross) April 2, 2022
The Russian Army under Putin did this in Chechnya.
2/2
Russians practiced this in Chechnya. Also pictures of men with tied hands and killed execution style in small groups. When Soviets were overtaken by Germans in 1941, they have left behind prisons full of man executed in such a way.

— Stanislav Aseyev (@AseyevStanislav) April 2, 2022
The word "zachistka", which literally means to sweep, is the term applied to Russian cleansing operations. (Italics in the original)
The zachistka embodied more than a military practice, however. It was a mind-set. And this was exemplified in the proliferation of the word itself. In the same way that the term ethnic cleansing (etnicko ciscenje') was coined in the former Yugoslavia in the early 1990s, the term zachistka found a distinct voice in the Russian popular vocabulary and in the official addresses and speeches of military and government personnel. By late 1999, the use of zachistka in the press and everyday speech had reached an infectious and alarming level. From September 1999 to 2005, zachistka appeared 787 times in the headlines of Moscow's central newspapers in relation to the second war in Chechnya.4 In the text of the papers, it appeared 10,730 times. From the verb zachistit', zachistka was used in the literal sense to describe the cleaning of pipes, the sanding or smoothing out of metal, the cleaning of paint or corrosion from surfaces,5 or the dusting away of sand and dirt to uncover archeological objects.6 It was also used to describe the sweeping up of objects – autumn leaves, snow, coal, or rubbish – into a corner. The prefix za suggests concerted movement and the stress is on cleaning up or cleaning out as the operative implication.7 Within six months of the beginning of the first Chechen war, however, zachistka was being employed by the Russian armed forces as military slang. It was linked euphemistically to the idea of cleaning out human beings – in this case, suspected Chechen rebel fighters and their alleged civilian supporters. No longer neutral or inoffensive, zachistka became congruent with the practice of gathering or sweeping, in the literal sense, Chechen men and women into fields, factories, or schools to be checked, detained, or executed, usually on the outskirts of a targeted village. In this respect, the idea of harvesting or cleansing the land is reminiscent of the metaphor adopted in Hitler's Germany – that of volkische Flurbereinigung (cleansing of the soil), also adopted from agricultural terminology.8 Versions of the word were linked to the cleansing of space, not the human body as such – the "gentle sweep" (miagkaia zachistka), the "total sweep" (total'naia zachistka),9 the "continuous sweep" (sploshnaia zachistka),10, the "repeat sweep" (povtornaia zachistka),11 the "ethnic sweep" (ethnicheskaia zachistka),12 the 'military sweep' (boevaia zachistka),13 the "fire/artillery sweep" (ognevaia zachistka),14 and the "targeted sweep" (adresnia zachistka).15
The following two tweets have imagery that has been determined to be sensitive.
Some more photo evidence of intentionally executed civilians is coming from Bucha and Motyzhyn which Ukrainian troops entered today.
No official comments were given about the incidents or investigation so far. pic.twitter.com/goHxUN6bYH

— Euromaidan Press (@EuromaidanPress) April 2, 2022
Today Russian occupiers fired at unarmed crowd in Enerhodar with live rounds, causing multiple casualties. This is how Russians intend to suppress dissent on Ukrainian territory. Anyone fantasizing about Ukraine just giving up on some of its lands should see this and reflect pic.twitter.com/aqkf1pAvPW

— Olga Tokariuk (@olgatokariuk) April 2, 2022
The text below reads: "Irpen, Gostomel, Bucha after liberation from the Russian occupiers."
Ірпінь, Гостомель, Буча після звільнення від російських окупантів. ?02.04.2022 pic.twitter.com/CSR4Eu2GcF

— Defence of Ukraine (@DefenceU) April 2, 2022
Dead civilians are seen near a highway 20 km outside of Kyiv. Under the blanket are 4-5 dead naked women whom the ?? barbarians tried to burn right there on the side of the road. Photo by @mpalinchak#russiawarcrimes pic.twitter.com/QJxxznxte2

— Defence of Ukraine (@DefenceU) April 2, 2022
In Belarus, russians are sending the things they looted home by mail. pic.twitter.com/pi5kVWGb8w

— Yana Morozova ?? (@jane_in_vain) April 2, 2022
This was all planned and premeditated!

On Bucha: after my last meeting in Ukraine I was walking to the car when a senior Ukrainian security official, flanked by two General Officers grabbed my arm and said "by the way; the Russians have moved a unit onto the Belarusian axis who will lead the killings." 1/4.

— Jack Watling (@Jack_Watling) April 2, 2022
Anyone saying that Bucha is the result of brutalisation or rogue behaviour is wrong. This was the plan. It was pre-meditated. It is consistent with Russian methods in Chechnya. And if the Russian military had been more successful there would have been many more towns like it. 2/4

This context – in which the Ukrainians knew that there were troops preparing to perpetrate acts like this, with the Kremlin describing Ukrainian identity as an accident of history – also explains why Ukrainian resistence has been so fierce. They see the stakes as existential. 3/4

People calling for a specific response to Bucha are taking an atrocity out of its context. The response should be to ensure that Ukrainians can defeat the invasion through steady and systemic assistance. The volume and speed of kit delivered matters. 4/4
And, again, until this revenue stream is cut off, we're not doing enough!
Russia's economy has staggered through the first full month of the war with Ukraine but it may yet emerge with a sparkling balance sheet if some of its biggest trade partners don't turn off the tap on its exports of energy.

For all the hardships visited on consumers at home and the financial chokehold put on the government from abroad, Bloomberg Economics expects Russia will earn nearly $321 billion from energy exports this year, an increase of more than a third from 2021. It's also on track for a record current-account surplus that the Institute of International Finance says may reach as high as $240 billion.

"The single biggest driver of Russia's current account surplus continues to look solid," IIF economists led by Robin Brooks said in a report. "With current sanctions in place, substantial inflows of hard currency into Russia look set to continue."

The calculus may change completely, however, in case of an embargo on energy sales. And even without it, Russia's oil exports and output are already falling, with the International Energy Agency predicting it may lose nearly a quarter of its crude production this month.

Still, the combination of a steep ruble depreciation and a higher dollar price for oil will generate an extra 8.5 trillion rubles ($103 billion) in budget revenue this year, according to TS Lombard.

"The Finance Ministry will use some of it to cushion the blow but cautiously, not to spark inflation further," said Madina Khrustaleva, an analyst at TS Lombard in London. "It seems that all these sanctions will destroy the non-energy part of the economy. Russia will depend on energy even more."
Much, much more – including multi-color graphs – at the link.
At the same time Western sanctions must be tightened instantly to break Putin's terror regime:
Full blocking financial sanctions!
Sanction all Russian shipping!
Sanction all international insurance for Russia!
End all oil and gas exports!
Sanction Putin's whole family!

— Anders Åslund (@anders_aslund) April 3, 2022
We'll end with this because it is the only remotely positive thing I could find:
Kharkiv's zoo is being evacuated and this footage of tapirs in transit might be the best video I've seen in weeks. pic.twitter.com/PlhyPlGvE5

— Kevin Rothrock (@KevinRothrock) April 2, 2022
Open thread!