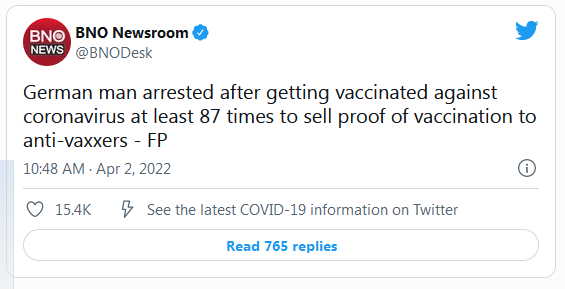 If *this* doesn't convince doubters of the vaccines' safety, well…
A German man is under investigation after authorities discovered he'd received the coronavirus vaccine at least 87 times, the Freie Presse newspaper reported on Friday.

The report comes as Germany battles a wave of COVID-19 infections and struggles to raise its vaccination rates compared to other western European countries.

According to information attained by the Frei Presse paper, the 61-year-old man visited several vaccination centers in the eastern German states of Saxony and Saxony-Anhalt.

The man is believed to have gotten the jab up to three times a day at different jab sites — logging 87 coronavirus vaccinations in the state of Saxony alone.

A staff member at a center in the city of Dresden grew suspicious when he recognized the man, a spokesman for the German Red Cross, Kai Kranich, told the paper.

The next time he entered a vaccination center in the town of Eilenburg, outside of Leipzig, staff called the police and he was detained.

The German Red Cross pressed charges against the man on suspicion of his involvement in selling vaccination passports. Criminal investigations are currently ongoing in the state of Saxony, with authorities in other German states also investigating the man…

In Germany, over 75% of the eligible population are fully vaccinated, while around 58% have received a booster shot. The numbers are especially lagging in eastern German states, where the fully vaccinated rate lies at 64.5% in Saxony.

Germany's vaccination rate is far behind its western European neighbors, with Spain logging 85% fully vaccinated and Portugal reporting a rate of over 91%.
What will the US Omicron BA.2 wave look like?
Follow the log-plot of NY and MA, the bellwether states where it is already >80% of new cases. They are starting at < 1/3rd of case burden cf their BA.1 wave
It's too early to know the magnitude, but likely much less than BA.1 peak /1 pic.twitter.com/qgUkM3zvBg

— Eric Topol (@EricTopol) April 2, 2022
But you won't get any insight from a linear graph /2 pic.twitter.com/s0jN7l6NAE

— Eric Topol (@EricTopol) April 2, 2022
======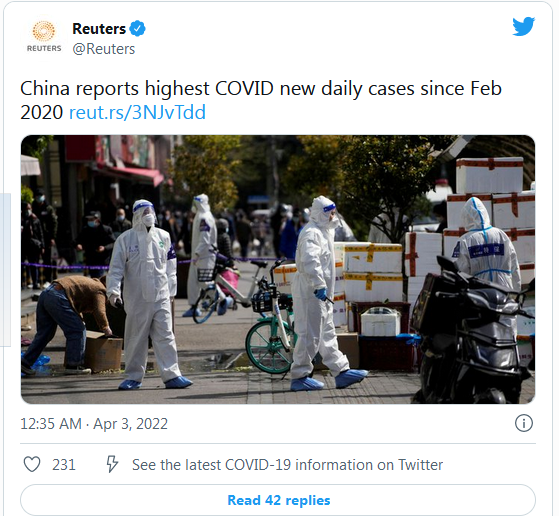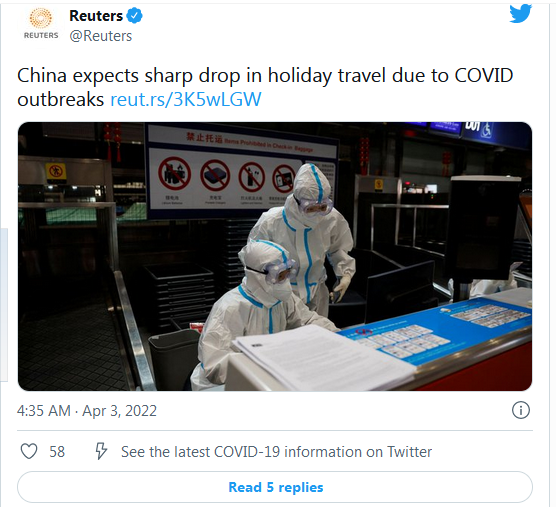 China's transport ministry expects a 20% drop in road traffic and a 55% fall in flights during the three-day Qingming holiday due to a flare-up of COVID-19 cases in the country.

More than 27 Chinese provinces and regions have recently reported coronavirus cases, mostly the highly transmissible Omicron variant, forcing the authorities to impose stringent mobility restrictions or even city-wide lockdowns.

Chinese typically travel back to their home towns to worship their ancestors during the tomb-sweeping festival…

China on Sunday reported a total of 13,287 new daily cases for April 2, the highest level since February 2020.

The country's "dynamic clearance" COVID policy has dampened consumption of transportation fuels in China. The two-stage lockdown in financial hub of Shanghai, starting from March 28, could reduce fuel demand by 200,000 barrels per day.

Authorities across China have also implemented anti-COVID measures at entertainment sites during the Qingming holiday, including limiting the number of tourists and requesting for negative nucleic testing results from inter-provincial travellers.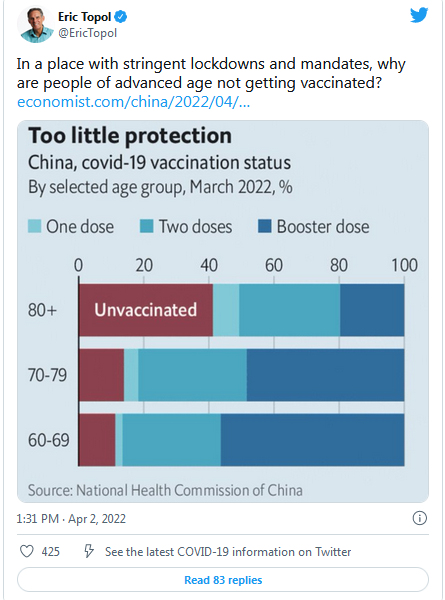 … Unlike other countries, which made jabbing the elderly and other vulnerable people a priority, China focused on its overall vaccination rate. It stands at nearly 88%. But only about half of over-80s have been fully vaccinated (see chart). Less than a fifth have received a booster shot. Some 52m people over the age of 60 have not received two jabs. In official statements, the government sounds alarmed. Its efforts to jab mature folk face big obstacles, though.

Start with the fact that many old people think covid vaccines might be dangerous. When they were rolled out in late 2020, the state only approved shots for healthy people under 60. It cited a lack of clinical-trial data for elderly and vulnerable populations. Many old people assumed that the vaccines could harm them. Some health workers did, too. "The first impression is really critical," says Chen Zhengming, an epidemiologist at the University of Oxford. "Once you have formed your opinion it's really difficult to change, it requires ten times more effort."

Since then, the messaging surrounding covid vaccines has not helped. Jingoistic state media have criticised effective foreign-made jabs, which have not been authorised in China for seemingly political reasons. This has probably increased suspicion of Chinese vaccines, too, says Huang Yanzhong of the Council on Foreign Relations, a think-tank in America. Even though the Chinese kind have now been declared safe for old folk, some health workers still tell elderly patients with certain conditions, such as high blood pressure, not to get jabbed. That makes little sense, says Mr Huang. "Even if you're concerned about side effects, when you weigh that against the risk of getting infected and dying, it's a no-brainer."

But the risk of getting infected with covid and dying is, for now, very low in China—and that makes the government's job tougher. At least until recently, the state's zero-covid policies have been effective. Many cities have never logged a case. Most old people have hardly been exposed to the virus, and have little fear of it as a result…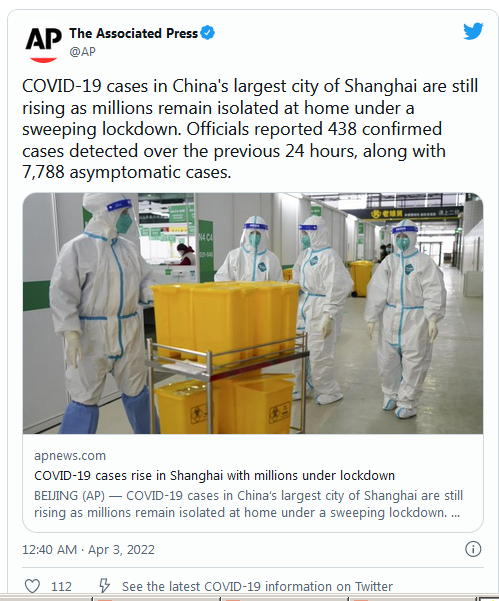 Shanghai asks entire city to self-test for COVID as frustration grows https://t.co/yjYkJ2slkP pic.twitter.com/H2tWeIIhwZ

— Reuters (@Reuters) April 3, 2022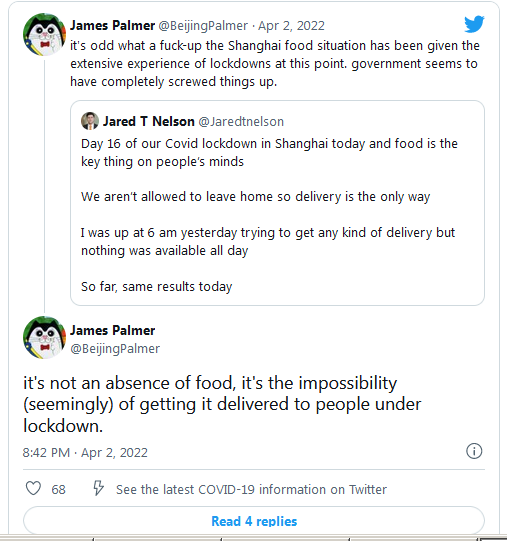 A recent rise in Taiwan's domestic COVID-19 cases will not affect plans to gradually re-open as hardly any of the new infections have caused serious illness, Premier Su Tseng-chang said on Sunday.

Unlike large parts of the rest of the world, Taiwan has kept the pandemic well under control due to strict and early control measures, including an efficient contact and tracing system and largely closing its borders.

In the first quarter of this year Taiwan reported 1,266 domestic cases, and only one death, though the government has been on alert as infections spiked over the past week or so, while remaining at comparatively low numbers, with 183 new cases on Sunday…

Taiwan has maintained mandatory mask wearing, including while people are outside, and almost 80% of the population have had two vaccine shots while more than 50% have had three.

Taiwan is gradually relaxing quarantine rules for all arrivals on the island, In March, the government lowered the amount of time to be spent in isolation from 14 days to 10, and hopes to reduce it further in the months ahead.

However, Taiwan has not re-opened to most foreign visitors, generally limiting those who can come in to citizens and residents.

Taiwan has reported only around 24,000 COVID cases since the pandemic began and 853 deaths.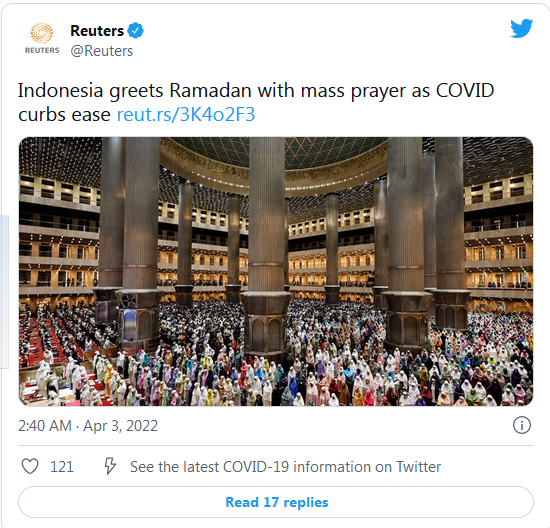 The world's largest Muslim-majority nation of Indonesia welcomed the start of the holy fasting month of Ramadan with a mass prayer at Jakarta's grand mosque on Saturday, with plateauing coronavirus cases allowing for eased restrictions this year.

Thousands gathered after dusk at Istiqlal mosque in the Indonesian capital to join the Tarawih prayer, special prayers performed only during the month of Ramadan, donning masks and using check-in apps to take part in the event.

For the past two years Indonesia has grappled with one of the highest rates of COVID-19 in Asia, but this Ramadan, traditionally a time of community, reflection and prayer, cases have eased enough to allow for mass gatherings…

Amid the worst spikes in the coronavirus pandemic, Indonesian Muslims have been prohibited from praying at the mosque, and joining the annual mudik or exodus tradition, when millions travel to visit their families across the sprawling archipelago.

President Joko Widodo announced last week that mudik would be permitted this year after pandemic-related travel bans have prevented the practise for the past two years.

"The improving COVID situation has brought optimism as the Ramadan holy month is upon us," he told a news conference…
The good news is that the BA.2 wave, with few exceptions, is on the wane in Western Europe@OurWorldInData pic.twitter.com/wf755M5dLe

— Eric Topol (@EricTopol) April 2, 2022
Perfect. On the same day the bulk of free Covid tests in England are withdrawn, we learn infections have reached their highest *ever* level, with nearly 5 million people in the UK infected.

The sheer reckless stupidity of this government is breathtaking. https://t.co/4i8kCJwLiR

— Rachel Clarke (@doctor_oxford) April 1, 2022
======
Data scientists are rolling out new analyses on Covid vaccine shipments & vaccine waste across the United States. The goal is to spur ways to improve vaccination efforts in the future & avoid trashing batches of vaccines https://t.co/XCJguBzx2O pic.twitter.com/POY3SORmh2

— delthia ricks ? (@DelthiaRicks) April 2, 2022
Should we be recycling Covid tests? https://t.co/jeH6AR88IK pic.twitter.com/R8v6YVFV7n

— BBC News (World) (@BBCWorld) April 2, 2022
======
Free Covid tests are ending for uninsured Americans https://t.co/ni1Nd6bAZT via @ABC

— delthia ricks ? (@DelthiaRicks) April 3, 2022
I think it was always obvious why Florida had big COVID death rates despite what appeared to be decent vaccination rates (despite DeSantis's anti-vaxxism), but here's confirmation: https://t.co/GTE1obVQua

— Scott Lemieux (@LemieuxLGM) April 3, 2022
— Charles Gaba ?? (@charles_gaba) April 3, 2022