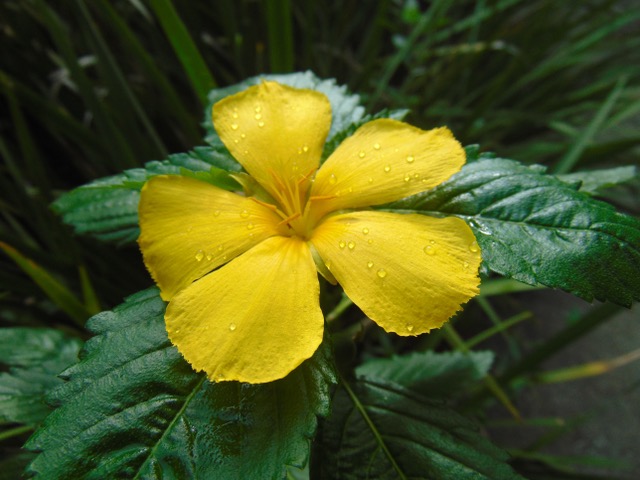 From self-described 'lazy' gardener Cope, in Florida:
As someone with scant interest in or skill at growing plants, I submit these pictures as evidence that anybody can be a Garden Chatter. I have posted before that one of the perks of living sub-tropically is that some things just grow pretty much on their own.

Top pic: Sometimes, plants are just pretty (who knew?). These yellow guys are incredibly prolific. I have posted other pictures of them before and somebody kindly told me what they were but I forgot.

These ferny plants have taken hold in the smallest pocket of organic debris on top of this 700 pound piece of coquina limestone that sits in our front yard. Just a little bit of water and they spring up, all green and planty. A day or two without rain or hose, however, and they shrink into sad, brown dead looking things. Dr. Malcolm did tell us that life finds a way.

This angry plant, whatever it is, loves its location by our front door, right under where water cascades off the roof during thunderstorms. I'll bet my wife could tell me what plant it is.

Some years ago, in what proved a partially successful effort to ignite in me an interest in growing things, my loving wife bought me several Serrano pepper plants. I have been growing peppers for several years now, eagerly awaiting new crops to make hot sauce or hot giardiniera or even pickled peppers. This Serrano and a couple of its siblings are destined to become ingredients in my next batches of refried pinto beans and salsa.
A couple years ago, I added habanero peppers to the mix and have had some pretty good luck with them. They play well with others, happily sharing pots with my Serranos by the front door. Having my pepper plants where I see them all the time is a good hack for being sure I am aware of when they might need some attention. However, I once read that stressed pepper plants are more prolific so sometimes, I'm not always as quick to quench their thirst as might seem prudent.

The latest addition to my collection of spicy, edible plants is again thanks to my wife's initiative. In the depths of quarantine (remember that?), she sent off for some Fresno Chile seeds. Seeds! I'm telling you, I haven't grown anything from a seed since wrapping navy beans in wet paper towel in 9th grade biology. Anyway, some of the seeds became tiny plantlets and then actual plants that we have placed in several containers around the yard. They're kind of cute because the peppers themselves grow up from the stem, not hanging down like the other guys.

This planter box represents the greatest single expenditure of my energy toward the floral world ever. After delivery, I hauled the materials inside, assembled them into the planter box, dragged it outside, leveled it, added many bags of dirt and planted things in it. Then, after a year or so, I removed some of the phase one plants and moved some others from the backyard to this planter by our front walk. I believe the distressed nature of the wood on the front of the box is due to our neighbor's cat but I have never caught him in the act.

Sadly, my last picture was not meant to be or I am too lazy, one or the other. We have a couple of citrus trees that were a riot of intoxicating blossoms just a couple of days ago when I was picking oranges and pink grapefruits. The trees were festooned with flowers and bees and I vowed to return to get close up pictures of plant/insect sex but by the time I actually got around to doing it, all the petals had fallen from the blossoms and the bees had flown home to trade fertilizing stories. Maybe next year…

Anyway, it's Sunday, so feel free to go back to bed and have a bit more of a lie-in before committing to facing the dangerous world out there.
***********
We successfully procured some pansies last Sunday, just in time for the (hopefully) last really cold snap of the season. Yesterday was back to 'seasonable' (mid-50s) weather, so I started planting them out. Along with the Magic Fountains delphiniums, the Hot Lips salvia, and the Georgia Peach Pie dianthus that Burpee decided this week was a good time to send me. (At least they held off shipping the Fragrant Falls begonia, which was the main reason for my order.)
First of the white daffodils are starting to bloom, but the forsythia hasn't yet…
What's going on in your garden(s), this week?
ETA: Thank you, Germy!
— Science Videos (@quotewordstory) March 31, 2022