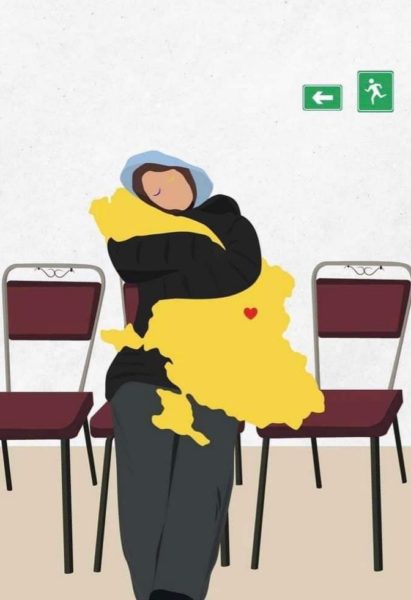 I'm sure everyone is still feeling the imagery and video coming out of Bucha and other areas north and west of Kyiv, so I'm going to try and keep tonight short.
Let's start with President Zelenskyy's address from earlier this evening. It's subtitled.
Powerful, passionate address from Zelensky tonight. Switching from Ukrainian to Russian he addresses mothers of soldiers who committed horrific war crimes in Bucha, Irpin, Hostomel, asking how they raised "butchers," and he tells Moscow to see how it's orders are being fulfilled. pic.twitter.com/7UyYxqiY4V

— Christopher Miller (@ChristopherJM) April 3, 2022
Here's Mayor Klitschko speaking in English:
This is Genocide.#Genocide #FreeUkraine #StandWithUkraine #StopTheWar #Ukraine pic.twitter.com/NfLePlWhIl

— Klitschko (@Klitschko) April 3, 2022
Here's the British Ministry of Defense's latest update: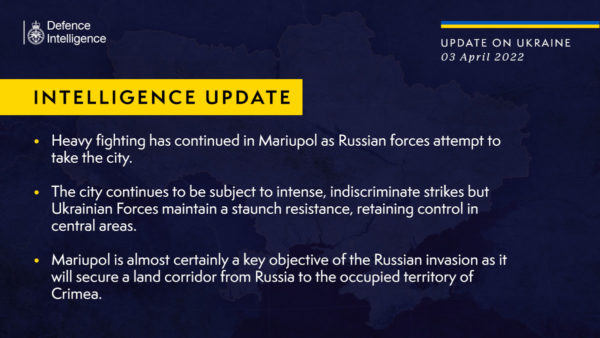 And the latest mapping from them as well:
A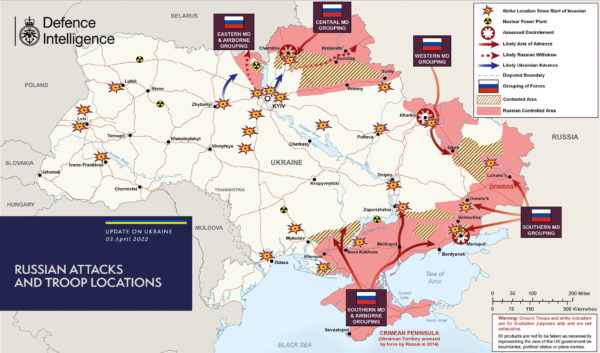 More after the jump.
The Ukrainians have added a domain to their multi-domain warfare!
#Ukraine: Ukrainian forces launched a naval attack to intercept a Russian convoy. Capturing a BTR-MDM Rakushka APC (Used by VDV troops), and two MT-LB (first one looks like a SNAR-10M1) pic.twitter.com/KDqqk0KIYr

— Arslon Xudosi ?? (@Arslon_Xudosi) April 3, 2022
Btw, missed this one: a BTR-D damaged, and a group picture! pic.twitter.com/X1OFJjyFVs

— Arslon Xudosi ?? (@Arslon_Xudosi) April 3, 2022
The Russians are now doing what they always do: try to brazen it out. For the past ten to fifteen years it has not mattered what they said or did, if they just kept saying it and doing it everyone let them continue. They learned they can get away with anything.
Moscow is demanding an emergency session of the UN Security Council tomorrow to discuss "Ukrainian radicals' provocation" in Bucha (the town outside Kyiv where Russian troops slaughtered hundreds of civilians but deny it). https://t.co/j8kNJUAWhS

— Kevin Rothrock (@KevinRothrock) April 3, 2022
Same play book with the bombing of the maternity and children's hospital in Mariupol:
A very good thread, but we are still not sure whether she is in Russian or in Russian-occupied Donbas (she reportedly said she was in 'DNR' on Russian state TV) https://t.co/S2AXkaPB2b

— Olga Tokariuk (@olgatokariuk) April 2, 2022
Here's the rest of van Linge's thread:
She is able to admit there was an explosion om the maternity hospital, but remains very vague on what it could have been, leaving room for the interpretation the Ukrainians bombed it themselves, a lie pro-Kremlin actors have pushed from the very start.

They also have her criticizing the AP photographer for taking these pictures of her that went around the world.

We know this is a well known Kremlin propaganda technique. In 2016 the photo of bloodied little Omar Daqneesh from

#Aleppo

spread across the world. After the Syrian regime reconquered the city state-tv placed him & his father in front of a camera, having them debunk the story.

The more I think about it the more it disgusts me. It's no coincidence Marianna was one of the refugees taken to Russia, they had soldiers at the checkpoints scouting for her. She was a target from the moment her pictures went around the world.

The only thing that is probably more despicable than bombing a clininc full of pregnant women is kidnapping a woman together with her newborn at gunpoint, and making her appear in your hostage video.

And for those wondering if she is telling the truth, she is not. Kremlin propaganda is brutal but very inconsistent. They have her touch on all conspiracy theories surrounding thr hospital at ones, making the entire story totally illogical.

-the hospital was used as a base by Ukrainian soldiers -yet they probably bombed it themselves -but it's okay, the attack wasn't big, therefore the AP pictures are dramatized propaganda.

Small update: other sources are stating Marianna is not in Russia but in separatist-occupied Donetsk, which in principal is just as much a violation. The evacuation deal was for refugees form Mariupol to be allowed to go to Ukrainian-held territory, not to Russia or DNR/LNR.

But if you're wondering if her interview was set-up by someone or at her own initiative, just who look at who is sharing it, edited with subtitles and all

twitter.com/mission_russia

Let me just add to close this thread that is was known the Russian invasion force was planning to kidnap people and have the make forced confessions on camera. It was for this exact reason that the AP crew in Mariupol had to evacuate.

Sorry for all the spelling errors btw, when I'm typing while angry I sometimes hit the wrong letter
Someone quite helpfully added subtitles to this series of person on the street interviews with Russians:
Added subtitles pic.twitter.com/OjRTwk5tkD

— ???????? ???, ??? ???? (@ZeroZhvk) April 2, 2022
Here's the link to Human Rights Watch's current reporting on Russian mass atrocities in Ukraine.
(Warsaw) – Human Rights Watch has documented several cases of Russian military forces committing laws-of-war violations against civilians in occupied areas of the Chernihiv, Kharkiv, and Kyiv regions of Ukraine. These include a case of repeated rape; two cases of summary execution, one of six men, the other of one man; and other cases of unlawful violence and threats against civilians between February 27 and March 14, 2022. Soldiers were also implicated in looting civilian property, including food, clothing, and firewood. Those who carried out these abuses are responsible for war crimes.

"The cases we documented amount to unspeakable, deliberate cruelty and violence against Ukrainian civilians," said Hugh Williamson, Europe and Central Asia director at Human Rights Watch. "Rape, murder, and other violent acts against people in the Russian forces' custody should be investigated as war crimes."

Human Rights Watch interviewed 10 people, including witnesses, victims, and local residents of Russia-occupied territories, in person or by telephone. Some people asked to be identified only by their first names or by pseudonyms for their protection.

On March 4, Russian forces in Bucha, about 30 kilometers northwest of Kyiv, rounded up five men and summarily executed one of them. A witness told Human Rights Watch that soldiers forced the five men to kneel on the side of the road, pulled their T-shirts over their heads, and shot one of the men in the back of the head. "He fell [over]," the witness said, "and the women [present at the scene] screamed."

Russian forces in the village of Staryi Bykiv, in Chernihiv region, rounded up at least six men on February 27, and later executed them, according to the mother of one of the men, who was nearby when her son and another man were apprehended, and who saw the dead bodies of all six.

A 60-year-old man told Human Rights Watch that on March 4, a Russian soldier threatened to summarily execute him and his son in Zabuchchya, a village northwest of Kyiv, after searching their home and finding a hunting rifle and gasoline in the backyard. Another soldier intervened to prevent the other soldier from killing them, the man said. His daughter corroborated his account in a separate interview.

On March 6, Russian soldiers in the village of Vorzel, about 50 kilometers northwest of Kyiv, threw a smoke grenade into a basement, then shot a woman and a 14-year-old child as they emerged from the basement, where they had been sheltering. A man who was with her in the same basement when she died from her wounds two days later, and heard accounts of the incident from others, provided the information to Human Rights Watch. The child died immediately, he said.
Much, much more at the link above.
Here's President Zelenskyy's remarks at the Grammy's:
Here is Ukrainian President Volodymyr Zelenskyy's pre-taped speech at the #Grammys, introducing a performance for Ukraine from John Legend: "Our musicians wear body armor instead of tuxedos. They sing to the wounded in hospitals." https://t.co/rjX2S54hkr pic.twitter.com/43fcZTrjQK

— Variety (@Variety) April 4, 2022
Let's leave it there and finish with your nightly Chef Jose Andres!
Some thoughts from the train this Sunday… It's difficult to convey the experience of going to Irpin & Bucha… You've all seen the photos—unbelievable to think in 21st century those horrors are happening. I promise you we @WCKitchen will not leave the Ukrainian people alone ?? pic.twitter.com/ZpYAxV3mMG

— José Andrés (@chefjoseandres) April 3, 2022
I'll deal with the developments in Hungary and Pakistan tomorrow.
Open thread!