As the average number of known U.S. coronavirus cases has remained low, some states are seeing infections rise. New Jersey, New York, Massachusetts & Connecticut have seen cases jump by more than 40% over the latest 14-day period as of Saturday https://t.co/C0G9AludGM pic.twitter.com/JI9eEicd5f

— delthia ricks ? (@DelthiaRicks) April 3, 2022


======
China sends more than 10,000 health workers from across the country to Shanghai, including 2,000 military medical staff, as it struggles to stamp out a rapidly spreading COVID-19 outbreak in China's largest city. https://t.co/sHKmhcEOee

— The Associated Press (@AP) April 4, 2022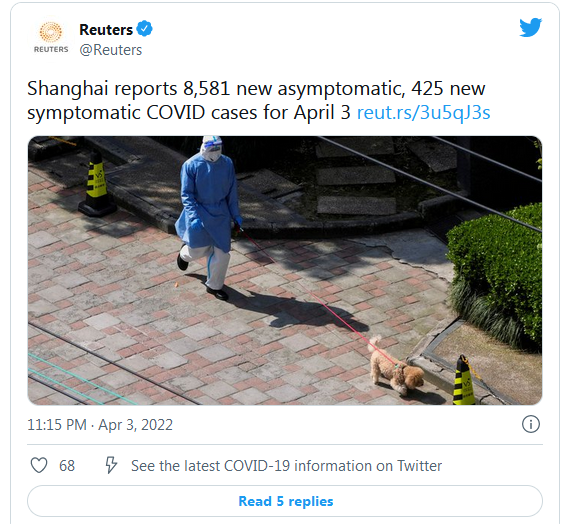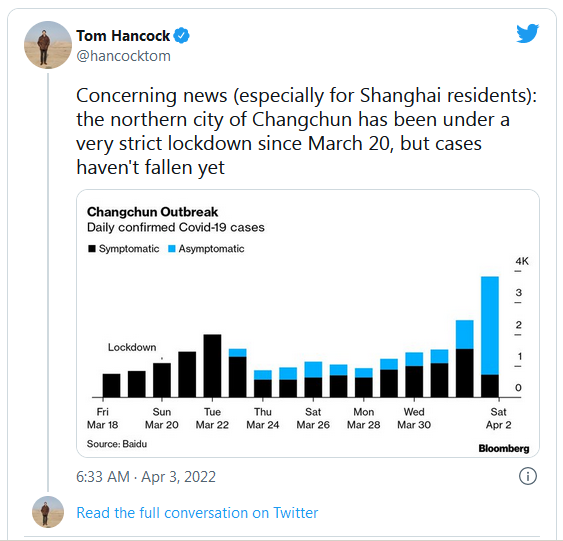 In a model which Shanghai could follow, Jilin City is designating some housing compounds as "infection free" if they have no cases or close contacts of cases for two weeks. Residents allowed to go outside for walks, and can leave the compound for "essential" reasons

— Tom Hancock (@hancocktom) April 3, 2022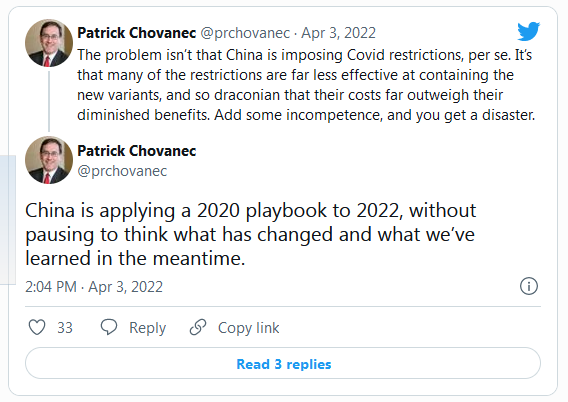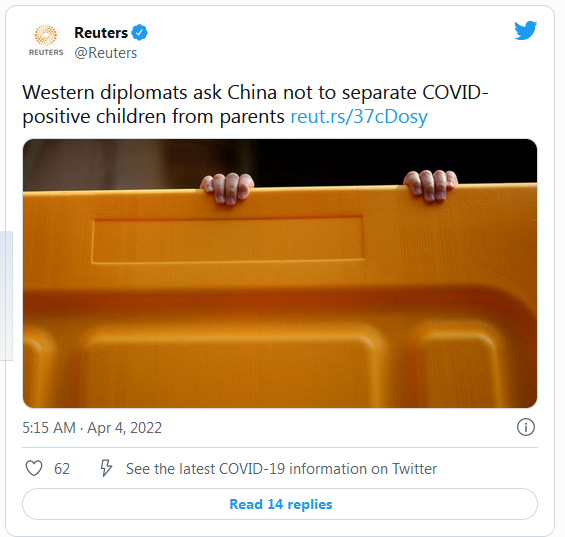 Western diplomats have expressed concern about separating children from their parents as part of COVID curbs – a situation that has arisen in Shanghai as the government tries to stamp out the spread of the virus…

Diplomats from more than 30 countries have written to the Chinese foreign ministry urging authorities not to take such a step.

"We request that under no circumstances should parents and children be separated," said a letter written by the French consulate in Shanghai that was addressed to the foreign affairs office of Shanghai on March 31.

In a separate letter to the Chinese foreign ministry dated the same day, the British embassy in Beijing said it was concerned by "recent instances when local authorities have sought to separate minors who tested positive for COVID-19 from their parents" and requested assurances that this would not happen to diplomatic staff…

Currently, asymptomatic cases are sent to centralised quarantine centres, some of which have been described as unsanitary and overcrowded.

The British embassy said there were concerns over the conditions and lack of privacy in recently deployed mobile hospital facilities, adding that isolating in diplomatic housing was a "preferable solution and consistent with our Vienna Convention privileges," in the letter seen by Reuters and verified by two sources…

A U.S. embassy spokesperson declined to comment on Heller's remarks but said that the way embassy staff were treated in the COVID pandemic was "job one" and that the embassy was engaging on COVID-related policy with the Chinese government.

Other countries, such as Norway, Switzerland and New Zealand, which were mentioned in the letters, did not respond to requests for comment…

On Monday, Shanghai official Wu Qianyu told a news conference that children could be accompanied by their parents if the parents were also infected, but separated if they were not, adding that policies were still being refined…
Shanghai Port operations hit by city's Covid surge https://t.co/bSqZEWN6B9

— South China Morning Post (@SCMPNews) April 3, 2022
Shanghai's coronavirus lockdown and the surge in cases has hit operations at the world's largest container port by disrupting the logistical chain on land, according to industry insiders.

Shanghai Port, a major export gateway for goods produced in the nearby manufacturing hubs of Jiangsu and Zhejiang provinces, has so far stayed in operation 24 hours a day inside a "closed loop" bubble, which requires workers to stay on site all the time…

"Even with the world's largest port open, the closure of many warehouses, the drop in manufacturing and the serious disruption to trucking in, out and within the city are expected to cause a significant drop in the availability of goods and port output," said Judah Levine, head of research at Freightos, an online freight marketplace…

Shanghai's current virus controls mean truck drivers entering or leaving the city have to present a negative nucleic acid test taken within the last 48 hours.

But the soaring number of cases in the city has restricted testing capacity, and many drivers from neighbouring provinces are reluctant to enter Shanghai because of the risk of having to quarantine on their return, according to a report from Caixin…

"Destination ports in the US and Europe could expect some lull in volumes in the coming weeks followed by an increase that would be another challenge to already congested ports," Levine said.
Hong Kong health authorities reported 3,709 new COVID-19 cases on Sunday, down from 4,475 the previous day, and 111 deaths as infections in the global financial hub continue to drop. https://t.co/56Hj9JxS21

— Reuters Health (@Reuters_Health) April 3, 2022
Covid-19: Mass rapid testing could find thousands of cases if results are reported, Hong Kong health experts say https://t.co/sTW2G4vtFP pic.twitter.com/KbRhdzDHzu

— Hong Kong Free Press HKFP (@hkfp) April 4, 2022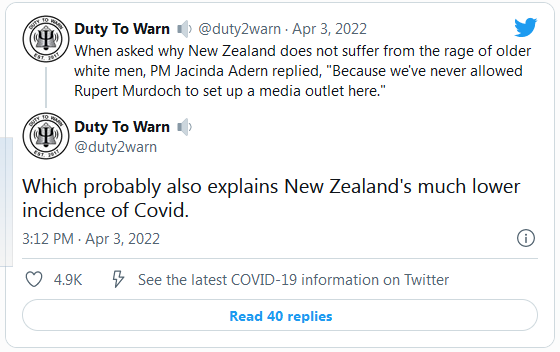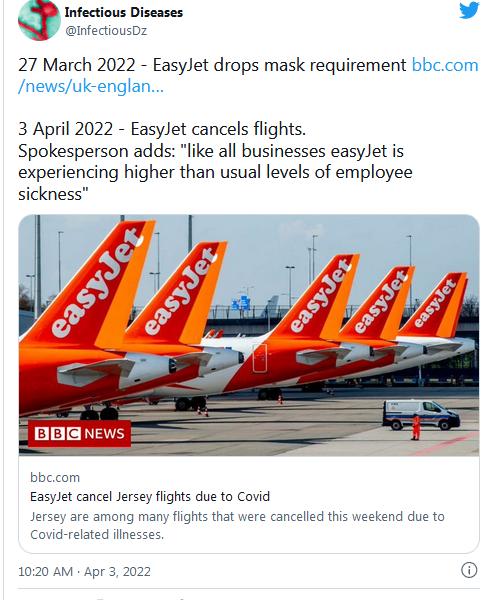 We have heavily relied on the UK for guidance throughout the pandemic. Now what?
"But Britain remained the exemplar in not only sequencing viral genomes, but combining that information with medical records and epidemiology to make sense of the variants."https://t.co/wySCjpOT5E pic.twitter.com/xyrqHijtOR

— Eric Topol (@EricTopol) April 3, 2022
======
Chinese vaccine developer CanSino Biologics Inc (CanSinoBIO) said on Monday its potential COVID-19 vaccine using the messenger RNA (mRNA) technology has been approved by China's medical products regulator to enter clinical trials. https://t.co/oXDmbvgNoU

— Reuters Health (@Reuters_Health) April 4, 2022
#LongCovid is accelerating a revolution in medical research and @dianaberrent is in the vanguard of advocates partnering with researchers to find answers about the disparate conditions that fall under the rubric: long covid https://t.co/9todGbhRD7

— delthia ricks ? (@DelthiaRicks) April 4, 2022
German & Austrian deer thus far have been spared SARSCoV2 infections, unlike U.S. deer. In the U.S., deer are considered SARS2 reservoirs, meaning SARS2 may spill back to humans. Extensive tests in Germany & Austria show deer so far are coronavirus free https://t.co/Sy0odDkYYn

— delthia ricks ?? (@DelthiaRicks) April 2, 2022
======
U.S. nursing home deaths appear to be at a pandemic low. ~67 residents died during the week ending March 27. While that number may change in the coming weeks, it mirrors lows reached in June 2021 before facilities were hit by the #Delta & #Omicron variants https://t.co/wqdMGq8RrT pic.twitter.com/Yoy4CqJlw5

— delthia ricks ? (@DelthiaRicks) April 4, 2022