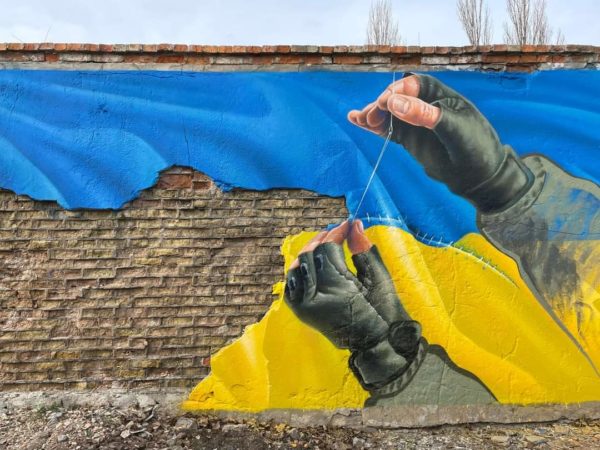 (We Will Stand, We Will Win mural by Sasha Korban, image found here)
It's been a long day, so I'm going to keep tonight's update as short as possible.
Here's President Zelenskyy's address to the UN Security Council from earlier today. There is an English language interpreter translating on the video.
The transcript is after the jump:
From President Zelenskyy's official website:
Dear Mrs. President!

Dear Mr. Secretary General!

Dear members of the Security Council and other participants of the meeting!

Thank you for the opportunity.

I am sure that all the representatives of the UN member states will hear me today.

Yesterday I returned from our city of Bucha, recently liberated from the troops of the Russian Federation.

It is difficult to find a war crime that the occupiers have not committed there.

The Russian military searched for and purposefully killed anyone who served our state.

They executed women outside the houses when approaching and simply calling someone alive.

They killed whole families – adults and children. And they tried to burn their bodies.

I am addressing you on behalf of the people who honor the memory of the deceased everyday. Everyday, in the morning.

The memory of the killed civilians.

Who were shot in the back of the head or in the eye after being tortured. Who were shot just on the streets.

Who were thrown into the well, so that they die there in suffering.

Who were killed in apartments, houses, blown up by grenades. Who were crushed by tanks in civilian cars in the middle of the road. For fun.

Whose limbs were cut off, whose throat was cut. Who were raped and killed in front of their own children.

Their tongues were torn out only because they did not hear from them what they wanted to hear.

How is this different from what the ISIS terrorists were doing in the occupied territory?

Except that it is done by a permanent member of the United Nations Security Council.

It destroys the internal unity of states.

Destroys state borders.

Denies the right of more than a dozen peoples on two continents to self-determination and independent state life. Pursues a consistent policy of destroying ethnic and religious diversity.

Inflames wars and deliberately wages them in such a way as to kill as many ordinary civilians as possible. To destroy as many ordinary peaceful cities as possible. To leave in the country where it sends its troops only ruins and mass graves. You've seen it all.

Promotes hatred at the state level and seeks to export it to other countries through its system of propaganda and political corruption.

Provokes a global food crisis that could lead to famine in Africa and Asia, and will certainly end in large-scale political chaos in countries where food price stability is a key factor of domestic security.

So where is the security that the Security Council must guarantee? There is no security. Although there is a Security Council, as if nothing happened.

So where is the peace that the United Nations was created to guarantee?

It is obvious that the key institution of the world, which must ensure the coercion of any aggressors to peace, simply cannot work effectively.

Now the world has seen what the Russian military did in Bucha while keeping our city under occupation. But the world has yet to see what they have done in other occupied cities, in other occupied areas of our country.

Geography may be different, but cruelty is the same. Crimes are the same.

And responsibility must be inevitable.

Ladies and Gentlemen!

I would like to remind you of the first article of the first chapter of the UN Charter. What is the purpose of our organization? To maintain peace. And to force to peace. Now the UN Charter is being violated literally from the first article. And if so, what is the point of all other articles?

Today, it is as a result of Russia's actions on the territory of my state, on the territory of Ukraine, that the most heinous war crimes of all time since the end of World War II are being committed.

Russian troops are deliberately destroying Ukrainian cities to ashes with artillery and air strikes.

They are deliberately blocking cities, creating mass starvation in them. They are deliberately shooting at columns of civilians on the roads who are trying to escape from the territory of hostilities.

They are even deliberately blowing up shelters where civilians are hiding from air strikes. They are deliberately creating conditions in the temporarily occupied territories so that as many civilians as possible are killed there.

The massacre in our city of Bucha is just one, unfortunately, of many examples of what the occupiers have been doing on our land for 41 days.

And there are many other such places that the world has yet to find out the full truth of: Mariupol, Kharkiv, Chernihiv, Okhtyrka, Borodyanka and dozens of other Ukrainian communities, each of which is like Bucha.

I know, and you know very well, what the representatives of Russia will say in response to the accusations of these crimes. They have said this many times. The most illustrative was after the downing of a Malaysian Boeing over Donbas by Russian forces with Russian weapons. Or during the war in Syria.

They will blame everyone, just to justify themselves. They will say that there are different versions, and which of them is true is allegedly impossible to establish yet. They will even say that the bodies of those killed were allegedly "planted", and all the videos are staged.

But. Now is the year 2022. There is conclusive evidence. There are satellite images. It is possible to conduct a full, transparent investigation.

That is what we are interested in.

Maximum access of journalists. Maximum cooperation with international institutions. Involvement of the International Criminal Court. Full truth, full responsibility.

I am sure that every state in the UN system should be interested in this. For what? In order to punish once and for all those who consider themselves privileged, consider themselves unpunished. Hence, to show all other potential war criminals in the world that they will inevitably be punished as well. If the biggest is punished, everyone will be punished.

Why did Russia come to Ukraine, tell me?

I will answer. Russia's leadership feels like colonizers – as in ancient times. They need our wealth and our people. Russia has already deported tens of thousands of our citizens to its territory. Then there will be hundreds. It abducted more than two thousand children. Simply abducted thousands of children. And continues to do so. Russia wants to turn Ukrainians into silent slaves.

The Russian militaries are openly looting the cities and villages they have captured. This is looting of the highest scale. They steal everything from food to gold earrings they just rip out with blood.

We are dealing with a state that turns the right of veto in the UN Security Council into a right to kill.

Which undermines the whole architecture of global security.

Which allows evil to go unpunished and spread the world. Destroying everything that can work for peace and security.

If this continues, the finale will be that each state will rely only on the power of arms to ensure its security, not on international law, not on international institutions.

Then, the UN can simply be dissolved.

Ladies and Gentlemen!

Are you ready for the dissolving of the UN? Do you think that the time of international law has passed?

If your answer is no, you need to act now, act immediately.

The power of the UN Charter must be restored immediately.

The UN system must be reformed immediately so that the right of veto is not a right to kill. So that there is a fair representation of all regions of the world in the Security Council.

The aggressor must be forced to peace immediately. Determination is needed. The chain of mass killings from Syria to Somalia, from Afghanistan to Yemen and Libya should have been stopped a long time ago to be honest.

If tyranny had ever received such a response to the war it had unleashed that it would have ceased to exist and a fair peace would have been guaranteed after it, the world would have changed for sure.

And then, perhaps, we would not have a war, a war in my country. Against our nation, the Ukrainian nation. Against people.

But the world watched and did not want to see the occupation of Crimea, or even before – the war against Georgia, or even earlier – the alienation from Moldova of the entire Transnistrian region. It also didn't want to see how Russia was preparing the ground for other conflicts and wars near its borders.

How to stop it?

Immediately bring the Russian military and those who gave them orders to justice for war crimes in Ukraine.

Everyone who gave criminal orders and fulfilled them by killing people will face a tribunal similar to the Nuremberg trials.

I want to remind Russian diplomats that a man like von Ribbentrop has not avoided punishment after World War II.

And I also want to remind the architects of Russia's criminal policy that punishment has reached Adolf Eichmann as well.

None of the culprits will escape. No one.

But the main thing is that today is the time to transform the system, the core of which is the United Nations. To do this, we propose to convene a global conference. And we ask to do it already in peaceful Kyiv – in order to decide.

How we will reform the world security system.

How we will really guarantee the inviolability of universally recognized borders and the integrity of states.

How we will ensure the rule of international law.

It is now clear that the goals set in San Francisco in 1945 during the creation of a global international security organization have not been achieved. And it is impossible to achieve them without reforms.

Therefore, we must do everything in our power to pass on to the next generations an effective UN with the ability to respond preventively to security challenges and thus guarantee peace.

Prevent aggression and force aggressors to peace. Have the determination and ability to punish if the principles of peace are violated.

There can be no more exceptions, privileges. Everyone must be equal. All participants in international relations. Regardless of economic strength, geographical area and individual ambitions.

The power of peace must become dominant. The power of justice and the power of security. As humanity has always dreamed of.

Ukraine is ready to provide a platform for one of the main offices of the updated security system.

Just as the Geneva office specializes in human rights, just as the Nairobi office specializes in the field of environmental protection, the Kyiv U-24 Office can specialize in preventive measures to maintain peace.

I want to remind you of our peaceful mission in Afghanistan. When, at our own expense, we Ukrainians evacuated more than a thousand people from this country. And it was the hottest phase. But people needed help – and Ukraine came. Just like other states.

We evacuated people of different nationalities, different faiths. Afghans, citizens of European countries, USA, Canada. We did not distinguish who needs help, whether these are our people or not. We saved everyone.

If every time there was a need everyone in the world was confident that help would come, the world would be definitely safer.

Therefore, Ukraine has the necessary moral right to propose a reform of the world security system.

We have proven that we help others not only in good times, but also in dark times.

And now we need decisions from the Security Council. For peace in Ukraine. If you do not know how to adopt this decision, you can do two things.

Remove Russia as an aggressor and a source of war from blocking decisions about its own aggression, its own war. And then do everything that can establish peace.

Or show how you can reformat and really work for peace.

Or if your current format is unalterable and there is simply no way out, then the only option would be to dissolve yourself altogether.

I am convinced that you can do without the third option.

Ukraine needs peace. We need peace. Europe needs peace. The world needs peace.

And finally, I'm asking you to watch the video. A short one.

A video of what has come to replace your power because someone alone can abuse his rights.

This is what impunity leads to.

If possible – watch this video. Because there is no opportunity for everyone to come to us and see it. So watch it.

Thank you.
Here's the Ukrainian Ministry of Defense's operational update for today:
The operational update regarding the russian invasion on 18.00 on April 5, 2022

2022-04-05 19:00:00 | ID: 67169

The forty-first day of the heroic resistance of the Ukrainian people to a russian military invasion continues.

Measures to regroup the troops of the russian federation continue. The enemy did not abandon the purpose of the operation to establish full control over the territory of Donetsk and Luhansk regions. Russian enemy is trying to improve the position of units in the Tavriya and Pivdennobuzhsky operational districts.

Russian troops, defiantly ignoring the rules of international humanitarian law, continue to use aircraft and artillery to strike at civilian infrastructure and industry. Thus, as a result of the shelling of the city of Rubizhne, Luhansk oblast, the occupiers damaged a tank with nitric acid.

In the western military district of the russian federation, in order to recruit units that have suffered losses on the territory of Ukraine, covert mobilization measures are being carried out. In addition, the command of the armed forces of the russian federation is trying to make up for the loss of personnel by involving representatives of military schools. The Chita Suvorov Military School of the Ministry of Internal Affairs of Russia conducted a written survey of teaching staff on their readiness to take part in a "special operation" outside the russian federation. Many teachers have given up on possible involvement in the "performance of tasks" and are ready to be discharged from military service.

The export of military equipment of the armed forces of the russian federation from the territory of the republic of belarus by rail and military transport planes continues in the Siversky direction. At the same time, the movement of certain units of the armed forces of the republic of belarus in the direction of the state border of Ukraine was revealed. The rotation of units involved in strengthening the protection of the state border of belarus is not ruled out.

In the Slobozhansky direction the blockade by the russian enemy of the separate area of ​​the Kharkiv region proceeds. In the settlements of Velykyi Burluk, Prykolotne and Fedorivka, the russain occupiers are searching for pro-Ukrainian residents and illegally detaining them.

In the city of Izyum, the russian occupiers are fabricating evidence on the alleged crimes of the Armed Forces of Ukraine. To this end, they are shelling the settlement and creating a kind of "documentation".

In the Donetsk direction, the enemy, with the support of aircraft and artillery, continues to storm the city of Mariupol.

In the temporarily occupied territory of the Zaporizhzhya oblast, in the city of Berdyansk, local residents are being detained.

In Tokmak, medical staff at local health facilities are being forced to sign so-called "contracts" with the russian Ministry of Health.

Ukraine's Defence Forces continue to carry out tasks to liberate the occupied territory from russian occupation forces.

Let's win together! Glory to Ukraine!
There was no DOD background briefing today. Yesterday's can be found at this link. The UK MOD's assessment for today focused on satellite imagery showing the war crimes in Bucha.
Here's an interesting assessment by an Estonian analyst who is a source for journalist Michael Weiss.
?Latest battlefield assessment from "Karl," the Estonian analyst @holger_r and I routinely consult.

1. "The first half of the week will be waiting until both sides reach the eastern front. It should take Russia more time. Ukraine has already started relocating its units."

— Michael Weiss ????? (@michaeldweiss) April 4, 2022
2. "Ukraine's National Guard and Territorial Defense units are mostly doing the cleaning up in the north. Regular units are moving east. Russia has tried to hinder that movement, for example by targeting railway stations. But these hits can be avoided by Ukraine."

3. "Besides the Belgorod fuel and arms depots the railway also allegedly got hit by Ukraine (unconfirmed), meaning Russia now has to move eastwards through a longer route in the north."

4. "The equipment Russia managed to get out of the Kyiv area is to large extent not usable anymore. It's 260km from Kyiv to Gomel. That equipment won't be able to manage such a long journey."

5. "Equipment that was withdrawn from Chernihiv, Sumy and Kharkiv areas might be in a little better shape as it's a much shorter distance from those areas across the border."

6. "Still needs repair work which will take days at minimum. Russia doesn't have a proper replacements. They have a reserve of equipment that hasn't been touched for 20-30 yrs. But it'll fall apart because it hasn't been maintained at all. Some has been stolen."

7. "So what will happen on the eastern front? Some Ukraine & Russia analysts say Russia might not prepare a massive offense but will try to bolster current borderlines. The logic: if they'd fail with a massive offense, that'd be it and they'd suffer a total defeat…"

7. cont'd: "Ukraine would have a chance to liberate areas occupied since 2014."

8. "If they dig in where they are now, they can say that they gained something. I don't believe such a scenario though. VVP has the вперёд (forwards!) mindset. I just don't see where they'll take the units and equipment from."

9. "Regarding Ukraine's strength: If they manage to get their ranks in order, they can defend well. To go on the offensive, I'm not so sure. For that they lack needed equipment such as armored vehicles, medium and long-range missiles, etc."

10. "Ukraine has armor but it's considerably less than Russia's. What the Western allies have promised to send helps to make the deficit shorter but not equal. Also, I can't see so much additional equipment that could still be promised that would change that balance."

11. "So, in order for Ukraine to liberate all territories, Russian troops need to suffer complete demoralization."

12. "The frontline in the east could become very long. It's possible that Russia doesn't plan an all-out attack there but will start from the sides: from Mariupol and moving up from there; from Izium and Kramatorsk moving downwards and get Ukrainian units in a sack."

13. "Russia made progress around Izium last week but after that has been stalled for the last 4-5 days by the Donets river. Strongest battles are currently ongoing there."

14. "No reason to really worry about a new wave of offense coming from the north for now. Clearly the units are moving eastwards inside Belarus. There can be missile strikes on the targets in Kyiv but these will be solitary attempts."

15. "Putin might dream of reaching Kyiv when (if) Russia breaks through from the east, but that's unrealistic. Distances are huge. Their equipment won't last."

16. "Ukraine air defense in Kyiv was set up so strong that nothing hit the city center for the last weeks. This allowed the country's leadership to operate. Now Ukraine is partially taking air defense also farther east…"

16′ cont'd: "They need to defend Kramatorsk where the Ukrainian military HQ for the eastern operations is. They also need to bolster Dnipro." // END
Bucha:
I'm going to go ahead and post all the tweets in this thread as their is imagery in each that provides context.
Three graves sit just opposite his apartment block. Each marked with a wooden plank and a religious icon attached. He wanted to give them whatever dignity he could. 'But it's too shallow,' he says, almost apologetically. 'I just wanted to protect them from the dogs.' pic.twitter.com/Z3gl4JVVh0

— James Longman (@JamesAALongman) April 5, 2022
Russians asked for documentation when they got there. Anything in your papers that made them think you were a threat, and you were dead. He said they made the men strip off, looking for tattoos. Perhaps military tattoos. pic.twitter.com/6Gd5bVmr2d

— James Longman (@JamesAALongman) April 5, 2022
We went to the mass grave satellite images have seen near the church. We saw bags of bodies dumped on top of other victims who were either wrapped in sheets or nothing at all. pic.twitter.com/GiL8oyOrdR

— James Longman (@JamesAALongman) April 5, 2022
But a final bit of hope. Aid trucks made it to Bucha today. And residents came out to sing after they made their deliveries. Ludmilla, in blue, is a particular ray of light. Joy. pic.twitter.com/c3FUkCu7p5

— James Longman (@JamesAALongman) April 5, 2022
Bucha and Irpin:
Chief Rabbi Azman visits Irpin and Bucha.

"Traces of mass war crimes of the Russian army were discovered with our own eyes," he wrote on Telegram. "My heart breaks at what I see." pic.twitter.com/Z1mzKzJ5cU

— Sam Sokol (@SamuelSokol) April 5, 2022
Mariupol:
Imagine giving birth in sieged Mariupol, under constant bombardment. Imagine singing to your newborn like this in a bomb shelter. Imagine escaping the blockaded city with him in your arms, risking your life at every single step. Ukrainians don't have to imagine. This is our life. pic.twitter.com/NqOsROwL2b

— Anastasiia Lapatina (@lapatina_) April 5, 2022
Vyshorod:
This little boy, who everyone was looking for after the shelling, was found dead. His mom informed everyone on her Instagram. pic.twitter.com/EnOh5R8wSw

— Melaniya Podolyak (@MelaniePodolyak) April 5, 2022
Trotsyanets:
When I visited the #Oreo factory in #Trostyanets a few years back, it was operating 24 hours a day, 7 days a week, exporting Oreo cookies to 47 countries
Then the Russians came
This is what's left @MDLZ pic.twitter.com/crKwWlpIEM

— Andy Hunder (@AndyHunder) April 5, 2022
A statement from Alexey Navalny regarding the Russian misinformation and agitprop being used to try to cover up the Russian war crimes in Bucha:
1/14 How an ordinary Russian TV viewer (one of whom I currently am) sees it.

I learned about the monstrous events in Bucha yesterday morning from the news that Russia was convening the UN Security Council in connection with the massacre by Ukrainian Nazis in Bucha.

— Alexey Navalny (@navalny) April 5, 2022
2/14 In the evening, the Channel One anchor explained everything. And I wouldn't have believed it if I hadn't seen it with my own eyes and heard it with my own ears:

3/14 "NATO has been preparing he provocation in Bucha for a long time and at the highest level. It is also confirmed by the fact that President Biden called Putin a "butcher" not long ago".

4/14 "Listen how consonant the English word "butcher" and the name of the city "Bucha" are. This is how the Western audience was subconsciously prepared for this provocation."

5/14 I'm telling you, the monstrosity of lies on federal channels is unimaginable. And, unfortunately, so is its persuasiveness for those who have no access to alternative information.

6/14 My point is that Putin's propaganda has long ceased to be a tool. They are actual warmongers and have become a party in their own right.

7/14 The endlessly squealing anchors and their "experts" are revving up their fury and have long since surpassed the military in their aggressiveness.

8/14 They demand a war to the bitter end, storming Kyiv, bombing Lviv. Even the prospect of a nuclear war does not scare them. They mop up the floor with their fellow Putinists on live television if they as much as hint at the fact that peace talks are a good thing.

9/14 It's such a disgusting uroboros. Politics is a propaganda snake biting its own tail. Propagandists create the kind of public opinion that no longer simply allows Putin to commit war crimes, but demands them of him.

10/14 Warmongers should be treated as war criminals. From the editors-in-chief to the talk show hosts to the news editors, all of this Thousand Hills Radio should be sanctioned now and tried someday.

11/14 I would also like to remind you that the National Media Group, which owns the lion's share of this lie machine, no doubt belongs to Putin personally, which is why it is even formally headed by Putin's mistress Alina Kabaeva (see our investigation "Palace for Putin").

12/14 Most drastic measures should be taken to make the work of these Goebbels heirs more difficult. From a complete ban on the supply and service of equipment, to searching for their assets in the West (which undoubtedly exist) and putting them on visa blacklists.

13/14 The monstrous atrocities in Bucha, Irpin and other Ukraininan cities were committed not only by those who tied the hands of peaceful people behind their backs, not only by those who shot them in the back of the head.

14/14 But also by those who stood by and whispered: "Come on, shoot, give us some nice material for our late-night TV show".
And we'll end with this good boy!
Remember the dog in #Bucha who lost his owner? Good news: he found him! This dog sounds human! #dogsofukraine #StandWithUkraine #ArmUkraineNow pic.twitter.com/wjpRuBxKZD

— olexander scherba?? (@olex_scherba) April 5, 2022
Open thread!