Biden launches U.S. plan to help Americans struggling with long COVID https://t.co/YIKQtt4oXc pic.twitter.com/TOUCJaLYRh

— Reuters (@Reuters) April 5, 2022
President Joe Biden on Tuesday tasked the U.S. health department with developing a national action plan to tackle the looming health crisis of long COVID, a complex, multi-symptom condition that leaves many of its sufferers unable to work.

Long COVID, which arises months after a COVID-19 infection, affects nearly 7% of all U.S. adults and 2.3% of the overall population and has cost an estimated $386 billion in lost wages, savings and medical bills, according to an analysis by the Solve Long Covid Initiative, a non-profit research and advocacy group…

The plan will expand research, care and disability services for people suffering from the condition, the White House said. Becerra will release the jointly developed National Research Action Plan within 120 days, Biden said in a presidential memorandum.

It addresses some concerns raised by patient advocacy groups, which have criticized the slow speed of the National Institutes of Health's $1.15 billion RECOVER research program, and aims to accelerate the enrollment of 40,000 people with and without long COVID.

Under the new plan, the Department of Health and Human Services (HHS) will invest $20 million next year to investigate how healthcare systems can best help those with long COVID, mentor primary care practices, and develop multi-specialty clinics across the country…

The plan also aims to translate its findings into actionable disability policies with the Social Security Administration, and work with the Department of Labor on helping affected workers who are deciding if they are able to return to their jobs.
eh, it's just widespread disability and deathhttps://t.co/eUjgQTwbLs

— Karl Bode (@KarlBode) April 5, 2022

Read the whole thing — it's not very long!
The U.S. literally stopped tracking the pandemic (or maintaining even baseline safety precautions) because it was to politically, economically, and personally inconvenient to give a fuck pic.twitter.com/wHg1QXKV4b

— Karl Bode (@KarlBode) April 5, 2022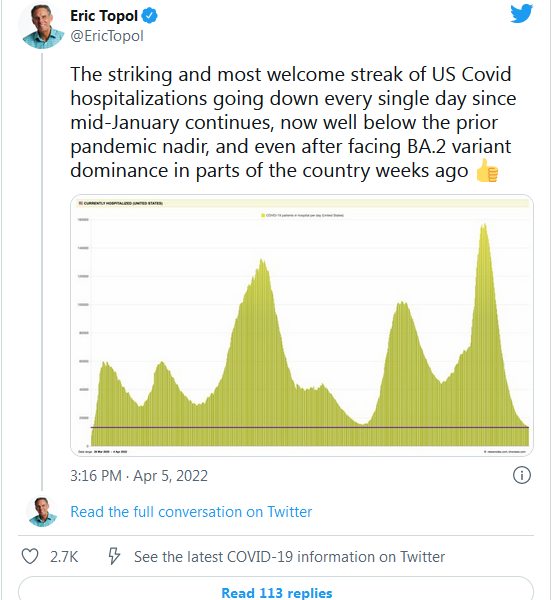 The CDC's director, Rochelle Walensky says she "really would encourage" 2nd boosters for older people & those w/ chronic conditions. Her suggestions are her clearest to date on who should get a 4th shot: People over 50 w/ chronic disorders & anyone 65 & up https://t.co/GHOF6YR5Gr

— delthia ricks ? (@DelthiaRicks) April 6, 2022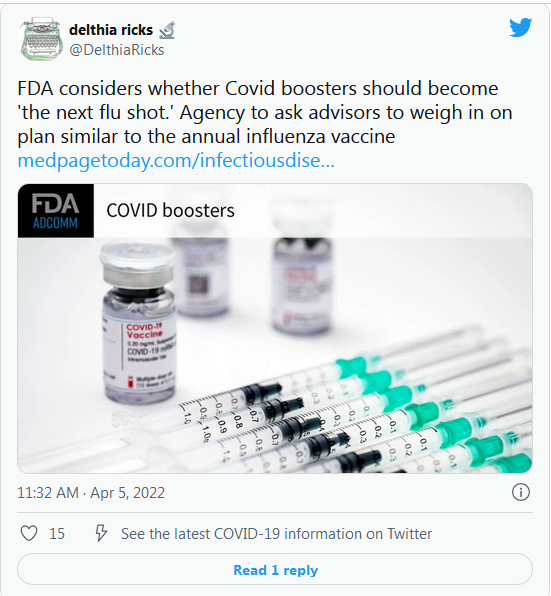 ======
Countries around the world should provide $15 billion in grants this year and $10 billion a year thereafter to manage the long-term risks of COVID-19, the International Monetary Fund said in a new staff paper released on Tuesday. https://t.co/nKPhCc1e1A

— Reuters Health (@Reuters_Health) April 5, 2022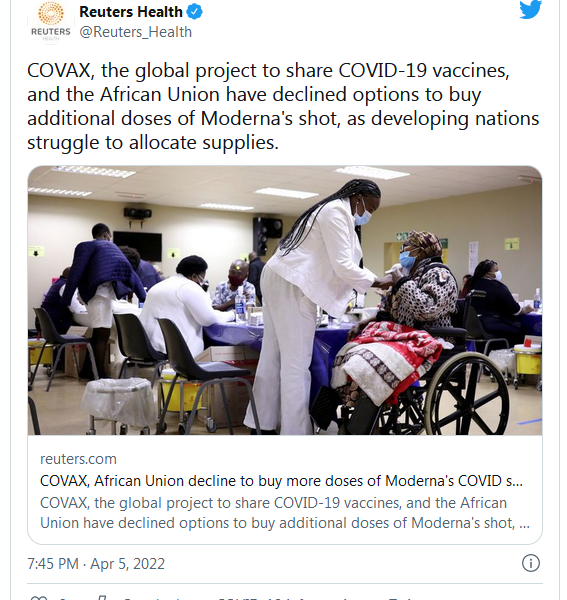 … The global alliance did not exercise the option for 166 million doses of the shot for the third quarter of 2022, as well for 166 million doses in the fourth quarter, which expired on April 1, a Moderna spokesperson said.

COVAX, which is backed by Gavi, the World Health Organization and the Coalition for Epidemic Preparedness Innovations, is struggling to place more than 300 million doses, Reuters reported in February.

Moderna and Gavi have agreements for up to 650 million doses of the company's vaccine to be made available to COVAX participants through 2021 and 2022…

COVAX has picked up pace of supplies after struggling to acquire shots last year, delivering about 1.40 billion doses to 144 countries as of April 1.

As supply and donations ramped up, some poorer nations are, however, facing hurdles such as gaps in cold-chain shortage, vaccine hesitancy and a lack of funds to support distribution networks.

"We are in conversations with manufacturers … to align with magnitude and timing of country needs," the Gavi spokesperson said.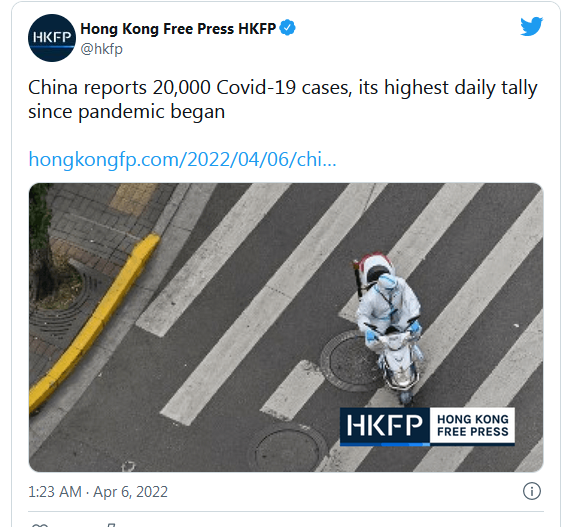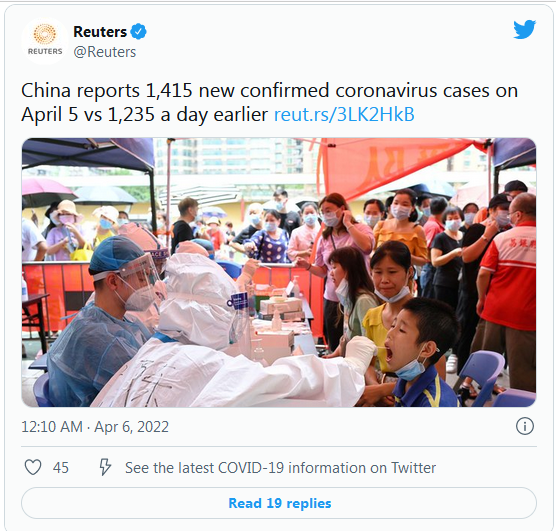 The colour-coded Covid app that's become part of life in China https://t.co/WAGfZglAuJ

— South China Morning Post (@SCMPNews) April 5, 2022
As the pandemic enters its third year, China is trying to put more emphasis on targeted responses to cases in its pursuit of zero-Covid, as it seeks to limit the economic and social costs of mass testing and sweeping lockdowns.

To do this, accurate contact tracing and risk prediction is needed. And that relies on people voluntarily reporting their whereabouts, as well as on big data – mainly from the "health code" mobile app that is used across mainland China.

Some have raised privacy concerns over the system – which is now required for entry nearly everywhere in China – and questioned whether there is a sufficient legal framework for it…

Now, provinces, regions and municipalities all have their own versions that can be downloaded via popular platforms WeChat and Alipay. (Alipay is run by Ant Group, an affiliate of Alibaba Group Holding, which also owns the South China Morning Post.)

They require real-name registration and generate a colour code – green, yellow or red – that indicates the person's Covid-19 risk level.

When your code is green, it means you have not been exposed to any potential cases or been to any risky areas, and you can travel, dine and work as usual. Yellow and red codes result in restrictions such as not being allowed into restaurants, coffee shops, public transport or hotels, and not being able to leave the city…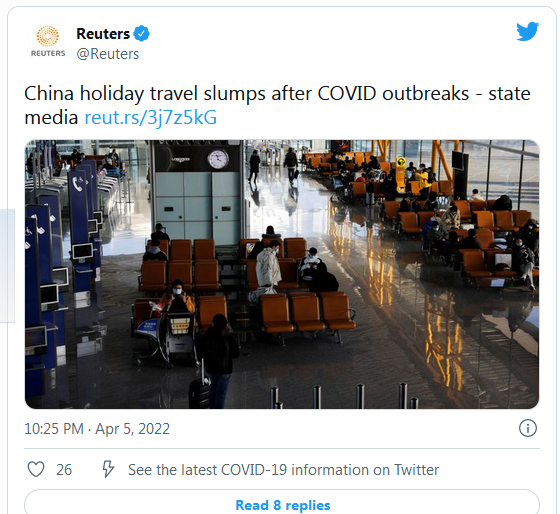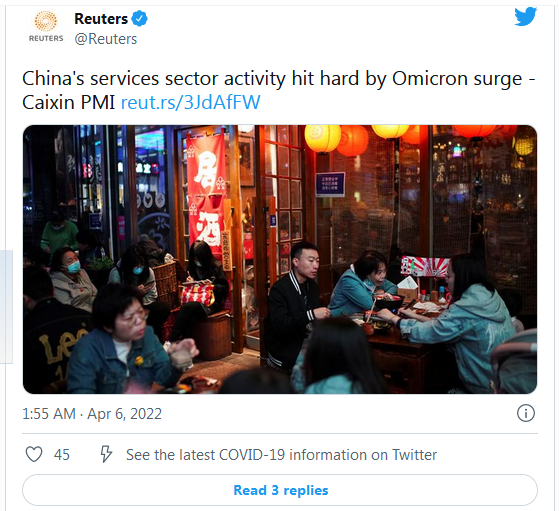 The elderly woman slouched in a chair in Shanghai's cool spring weather as her three companions squabbled with police and others clad in white biohazard suits, the only people visible on a street emptied by the COVID-19 lockdown. https://t.co/6oPmwOJn7q

— Reuters Health (@Reuters_Health) April 6, 2022
… "She has had a fever for a few days now!" exclaimed one, gesturing to the woman. The people in the hazmat suits stood at least three metres away.

About an hour later, one of her male companions fed the woman the contents of a medicine sachet provided by the suited workers. A close-up photo showed it was Lianhua Qingwen, a traditional Chinese remedy that China recommends for treating COVID-19. Reuters was not able to obtain the name of the woman or her companions, or verify details, given lockdown curbs.

A man surnamed Zhang, who works at the property management office of the building that housed the local neighbourhood committee – from which the woman was trying to seek help – said she had self-tested positive but had not gotten her official test results back. As a result, it was unclear what care she could get.

The episode on Tuesday, which Reuters witnessed and which lasted more than two hours, is a snapshot of life in China's most populous but now largely silent city, which has put draconian lockdown curbs on its residents in a bid to stamp out its monthlong COVID outbreak…

China does not allow home quarantine, but some Shanghai residents have said that authorities have taken days to transport COVID-positive people, stoking anxiety and confusion. Poor access to essential medical treatment and difficulties in ordering food have also been common gripes.

Most have turned to Chinese social media platforms to voice their complaints, as the majority are not allowed to even leave their homes.

On the street in Shanghai, the woman and her companions eventually gave up trying to seek help there. One of her male companions got a scooter and after helping her on, drove away with her riding pillion.
Shanghai will ask all 26 million residents to take another round of COVID-19 tests, a city official said on Wednesday, adding that lockdown curbs would continue until the exercise is complete. https://t.co/moxAx5l73n

— Reuters Health (@Reuters_Health) April 6, 2022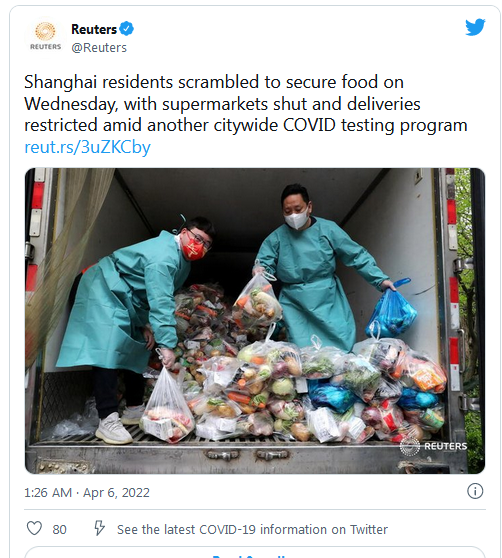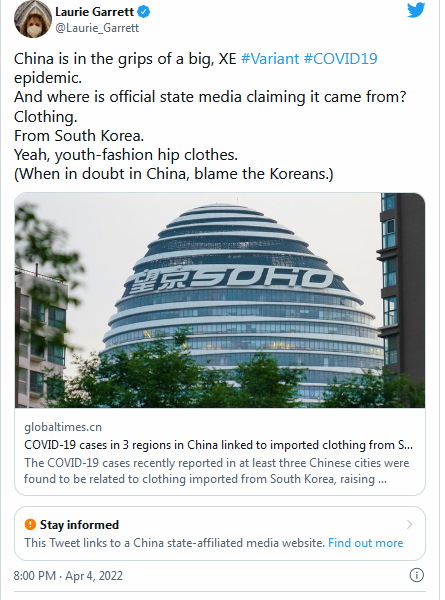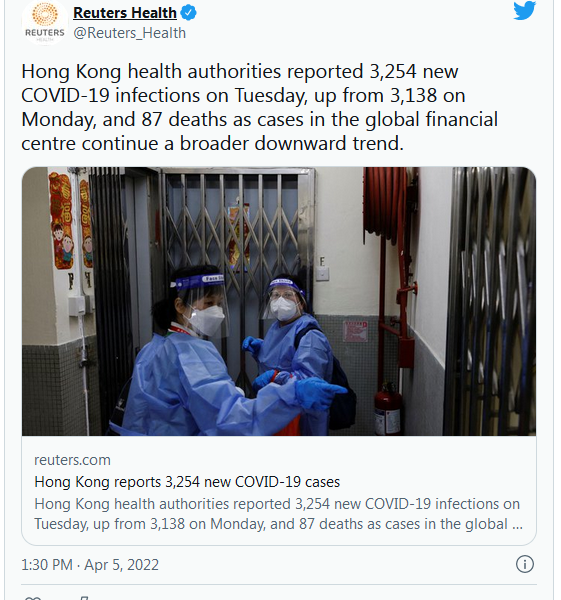 Traditional wooden coffins are running short in Hong Kong as authorities scramble to add mortuary space in the global financial hub's battle on COVID, which is swamping funeral parlors https://t.co/f0rNiufo6Z pic.twitter.com/Ts7481mGKX

— Reuters (@Reuters) April 6, 2022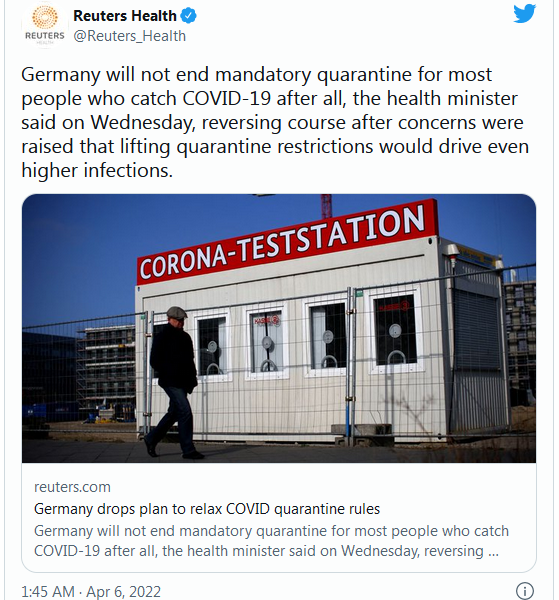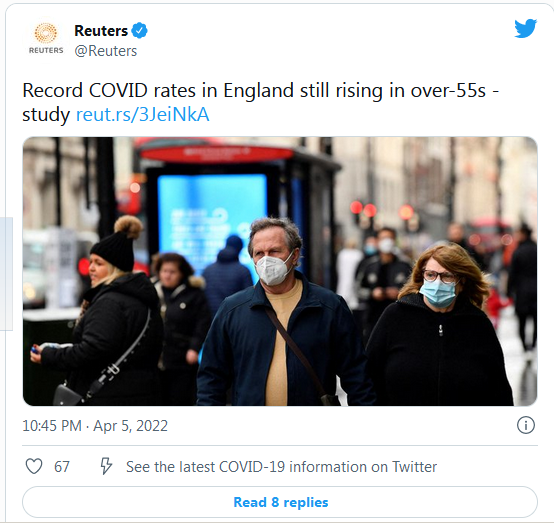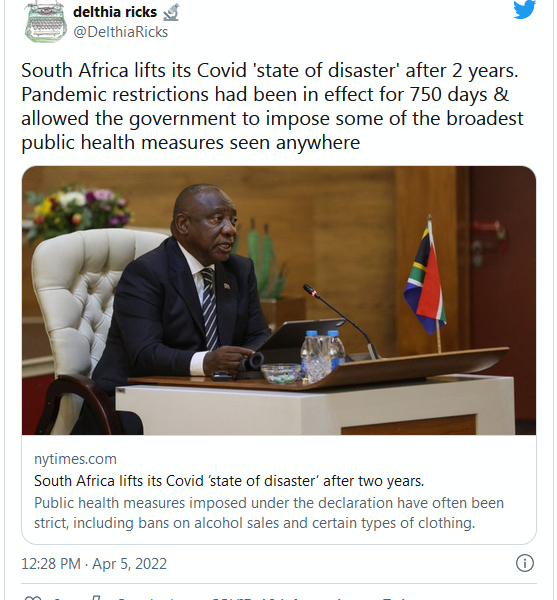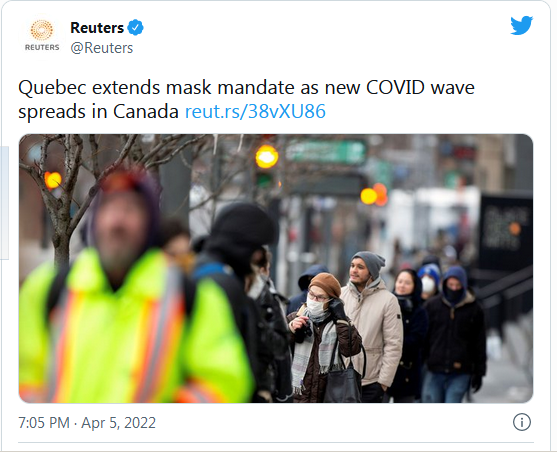 ======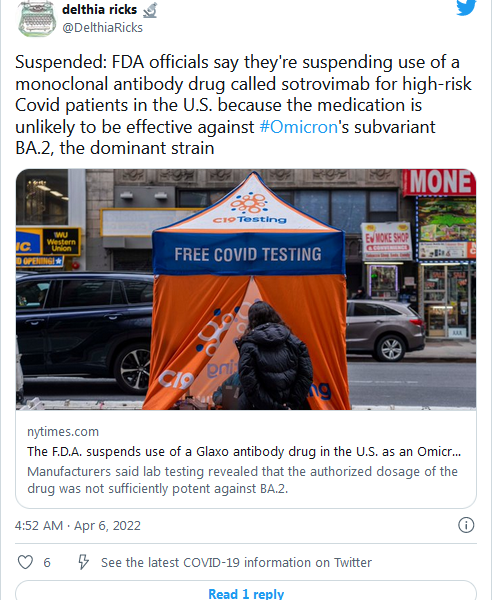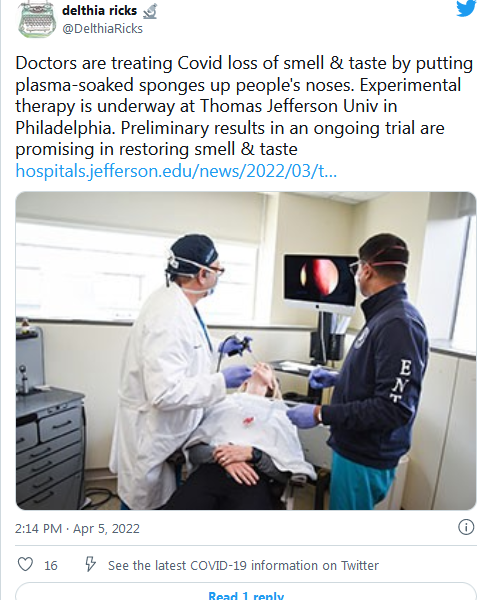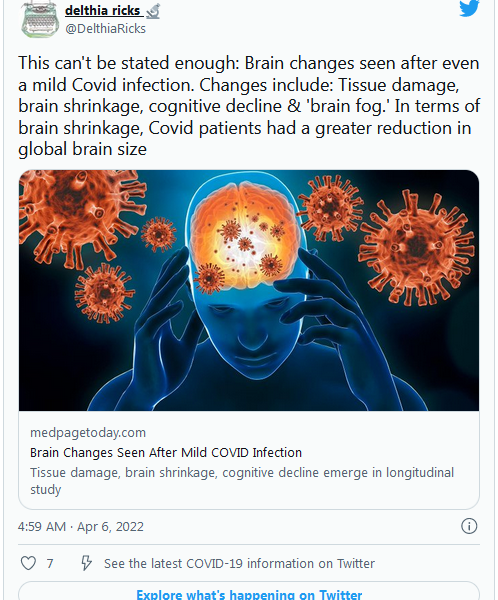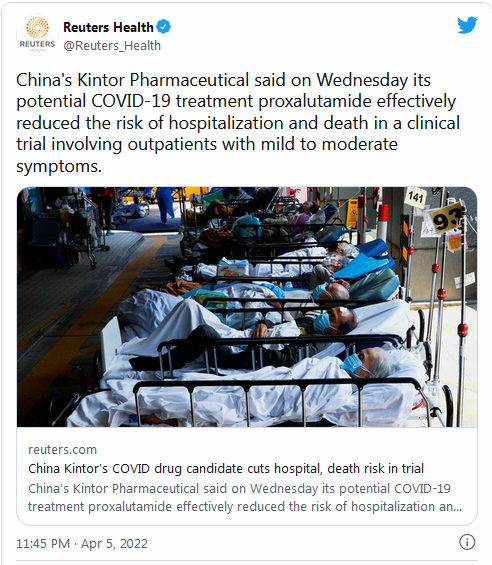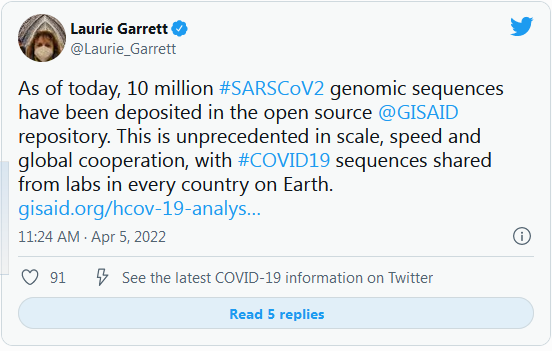 ======