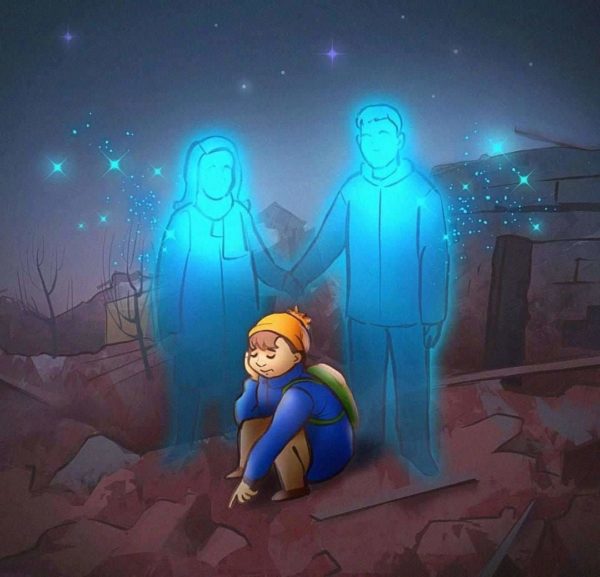 (Image by Olga Wilson; found here)
Let's start with Ukrainian Defense Minister Oleksii Reznikov's address to partnering states from earlier today:
While it is subtitled, here's the transcript:
Address by the Minister of Defence of Ukraine Oleksii Reznikov to the partnering states

It has been 42 days since Russia's large-scale attack on Ukraine.

Today I want to address all the friends and partners of our people.

And talk about what's happening.

Contrary to many predictions, Russia has failed to break through our defences in three or 30 days. On the contrary.

Our soldiers inflicted enormous losses on the enemy and thwarted his plans. In manpower alone Russia has already lost 19,000 soldiers. As well as 150 aircraft, 135 helicopters, 700 tanks and almost 1,900 armoured vehicles.

The Russian occupiers were driven out of our capital, Kyiv. The liberation from Russian soldiers of Zhytomyr, Kyiv, Chernihiv and Sumy regions is coming to an end.

But the situation remains extremely difficult. Especially in the south and east of our country. Russia is concentrating forces for a powerful attack.

Ukraine won the first round of the war, when intense contact battles were fought with the use of landing operations, infantry and armoured vehicles. Because our army is well trained and extremely motivated. One of our fighters is fighting 10 Russians.

We managed to stop Russia largely thanks to the weapons we received from our partners. I want to thank you for that.

However, Russia drew conclusions and changed tactics. It transforms the conflict into a protracted phase and another format.

The number of contact battles is decreasing. The enemy strikes missiles, uses aircraft, uses MLRS systems and long-range artillery. Destroys our peaceful cities. The shelling is carried out from the territory of Russia, Belarus, as well as the Black and Azov Seas.

Under such conditions, the war enters a phase of competition for resources. Which in Russia are almost endless, compared to Ukraine. To win such a war, we need different help than what we have been receiving before.

We want to liberate the enemy-occupied territories as soon as possible. After all, the whole world saw the atrocities committed by the Russian army in Bucha and other suburbs of Kyiv. We need to save our people from genocide.

To do this, we need other weapons.

First, we need air defence systems and combat aircraft to protect our citizens and our army from missiles and air strikes.

Secondly, we need long-range weapons. These are Long-Range Artillery Missile complexes, MLRS and heavy artillery. This will keep the enemy at a distance without letting him into our cities.

Third, we need tanks and armoured vehicles to break through the occupiers' defences and liberate the occupied territories.

Fourth, we need anti-ship missiles. To destroy the enemy fleet and unblock ports on the Black Sea. After all, without ports we will not be able to trade, including food. Which will cause a global food crisis.

Fifth, we need reconnaissance and strike drones.

Moreover, there is a very important nuance.

Previously, we focused on obtaining Soviet-style weapons. This is a logical decision, because these weapons can go into battle right away, we know how to use it. It will quickly strengthen our defence in the critical period.

But the Soviet weapons we need are scarce. They are often in poor condition, because they were made 30-40 years ago. There is not enough ammunition. Under such conditions, the Soviet weapons we have received will strengthen Ukraine only for a short time.

That is why Ukraine needs to get the weapons used by NATO countries as soon as possible. This is the best solution for many reasons.

First, it will be a powerful signal to Russia that it will not succeed in depleting the Ukrainian army. On the contrary, the cost of war for Moscow will increase dramatically. The Ukrainian army will be able to put up effective resistance. This will be the best incentive to de-escalate and seek peace.

Secondly, it will further increase the interoperability of Ukrainian army with the armies of European countries. This will strengthen NATO's eastern flank. I am sure that no one has any doubts that Ukraine can be a donor of European security. We proved it. Investing in our army is the best defence investment imaginable.

Third, there is sufficient quantity of NATO-made equipment and it is equipped with ammunition. For example, 155 mm calibre artillery is used in different countries. There will be no shortage of shells, as compared with the Soviet systems. This will not be a short-term, but a systemic solution.

Fourth, many countries will be able to transfer these weapons in different ways. Some are already removing the combat duty systems we need, replacing them with more modern ones. Others just need the permission of the country of origin.

The Ukrainian military is quickly acquiring new weapons. They have already shown that they are able to use Western complexes extremely effectively in combat conditions. Proof of this are the losses of the enemy, which I mentioned at the beginning.

We urge you to provide us with heavy weapons as soon as possible.

Russia's leaders are war criminals. This is recognized by all. When they suffer a military defeat, they will immediately lose power.

We are not afraid of Russia and are able to defeat it. We want to destroy the murderers, rapists and looters who have brought us unbridled pain.

This is a chance for the world to get rid of a cruel tyranny.

Procrastination with the provision of weapons leads to the death of our children, to the depletion of our country. It is also depleting Europe.

We need to act. If we do not stop Putin, he will come to you.

Слава Україні!
Much more after the jump!
I've spent a good chunk of today's prep for this post looking at informed analysis of what Russia is planning to do in the east and south of Ukraine. As we've been discussing, the logical thing would be to try to encircle and reduce the Joint Force Operation (JFO) that is exposed on three sides between Luhansk and Izium. However, that does not seem to be what the Russians are doing. They seem to be trying to and/or preparing to attack everywhere at once. Take a look at the most recent map from the British Ministry of Defence: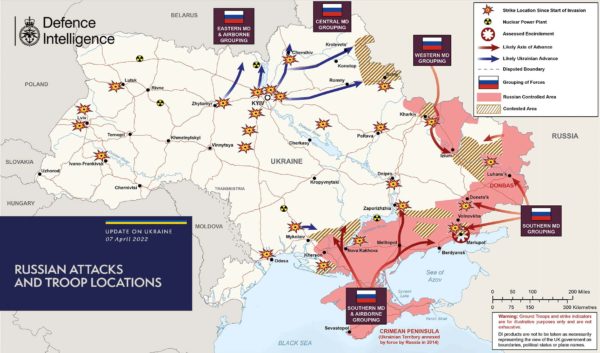 If you count the tips of the red arrows you can see that Russia is trying to either reinforce or attack seven different targets. That's a lot. It is a lot of targets and it is a lot of area to cross and cover. This thread provides a good analysis.
First the size. To put the area of operations in context the distance from Kharkiv to Mariupol is 420 kms; around 260 miles. In U.K. terms it's almost the length of England (London to Sunderland) in US terms it's like going NYC to WDC and then back to Baltimore. pic.twitter.com/OnlyIP7dpS

— Phillips P. OBrien (@PhillipsPOBrien) April 7, 2022
The Russians are not only going to have to move up and down long lines of advance if they were going to take these areas, they are going to have to hold them. Right now they have nowhere near enough troops in theatre to do that.

On the north end of this area of operations the Russians have deployed 30 BTGs of approx 800-1000 soldiers. They have been in combat for almost six weeks and for all the talk about the importance of seizing Izium, they have advanced about 10 miles in 3 weeks. See map 16 March

So they have at most 24000 tired soldiers to control a large area from Kharkiv to Izium, which is also supposed to drive through determined Ukrainian resistance and create a Donbas pocket while protecting its long supply lines? Good luck.

Situation in the South is even tricker. Russians have two many different areas of operations. They have BTGs fighting from Mariupol to Kherson, which is almost exactly the same distance as Mariupol to Kharkiv. They have far fewer troops here they could spare to move on Dnipro

UAWAR data; an excellent resource, has only 6 Russian BTGs below Zaporizhzia. That is not enough to take that city: let alone maintain any major offensive. 5000 or so troops is way to small.

Russian troops around Kherson are already getting pushed back and the ones fighting in Mariupol will be in no shape to head into another major attack if/when that city falls.

It's been why I've been banging on about seeing what reinforcements the Russians bring. They do not have anything like enough forces to undertake the kinds of operations people seem to be talking about. They will need massive reinforcement of well supplied troops.

If they are counting on the withdrawn Kyiv forces mainly, best guess is that it's many weeks til they are rested. resupplied and transported to theatre for operations.

And all the while the Ukrainians will be reinforcing and resupplying as well. So the idea of the Russians wrapping up operations in the Donbas and seizing Dnipro by May 9 seems almost entirely implausible. Far more likely we have nasty attritional warfare along the present lines.

If I was a gambling man, which I'm not, I would wager it's more likely we see a major Russian military collapse somewhere in the south and east (Kherson?) by May 9 through being overstretched and attritted than a Russian Army having seized Dnipro and surrounded the entire Donbas.

Btw, things don't seem to be going well at all for Russian forces around Kherson.

Nothing says "winning" like moving your close-air-support back 85km because it kept getting attacked and destroyed.
LTG (ret) Hertling also had an interesting thread dealing with the same issue. With lots and lots of maps!
As most know, RU/RU-backed separatist & UKR forces have been fighting in parts of Donetsk & Luhansk Oblast since 2014.

Ukraine regards both Donetsk & Luhansk People's Republic (DPR & LPR) as terrorist organizations (do NOT call them "breakaway republics"). 2/ pic.twitter.com/DS3vL3iD3n

— Mark Hertling (@MarkHertling) April 6, 2022
The fighting is like many "frozen conflicts" RU has stoked in various European countries (Georgia, Moldova, Azerbaijan-Armenia) with their illegal actions. Much of the line resembles WWI trenches. With intense sniping and shelling since 2014. Thousands killed 3/

By reinforcing these lines, and the 2 shoulders in the N & S, RU hopes to conduct frontal attacks in the Donbas while attempting to surround URK's forces from N & S. They'll have trouble executing this plan. But how will the frontal attacks look? 4/

Well, there's already reports of RU attacks last night from within Donetsk. Reports say RU attempted a "breakthrough" (we'll come back to that word) near Razdolnoye, with a purpose of reaching the Donetsk-Zaporizhia hiway near Bogatyr. (more to that in a minute, too). 5/

I'd say this action REALLY was is a Reconnaissance‐in‐force (RIF). A RIF is designed to find the enemy's strength, weakness, dispositions & test their reactions, according to our doctrine (ADRP 3‐90). See example… 6/

If the RU RIF finds a weak spot, they push through (as shown). If they find strength in UKRs line, they should pull back. Last night, the RU found UKR strength, but kept going instead of pulling back. UKR reports they engaged & destroyed this small RU tactical attack. 7/

Had the RU RIF found a hole, it would have provided RU with intelligence about what they're facing in the UA. They would've then planned to push other forces through the hole, while holding in other places along the front. In doctrine, this is called a "Breakthrough." 8/

When RU finds a weak spot, their doctrine in to use LOTS of artillery to make the weak spot bigger and then send lots of fast moving forces (that is, tanks) through. Holding the "shoulders" with other forces. The Germans did this in WWII as part of their blitzkrieg doctrine. 9/

My belief, because of what I've seen, is RU hasn't trained or practiced these kinds of maneuvers. Based on what we've seen, the RU "maneuver" capability, skill of their force, C2 & log support are all extremely weak. And, they haven't tried this in the Donbas in 8 years. 10/

A bunch of RU generals have been writing about this technique over the last few years. Here's an interesting piece:

internationalmagz.com/articles/milit

Problem: writing about and doing are two different things. 11/

Also, I'm convinced RU will NOT be able to get the same forces they used in the Kyiv and Kharkiv offensives back into the fight anytime soon, no matter what others say. Those forces are depleted. Mauled. Some may fight, but they likely won't be effective. 12/

BTW, before we leave breakthrough, Brusilov & his followers say RU must use massive artillery on enemy positions OR use *battlefield tactical nuclear weapons* to create a breakthrough when gaps are found by the RIF. Again, theoretical…but that scares the crap out of me. 13/

So, how does UKR counter these offensive actions? 1. be strong everywhere (tough to do) 2. have a good reserve (possible, but also tough) 3. be able to move quickly to counter any attacks. "Interior lines" I discussed in another thread helps w/ 2 & 3, because of distance 14/

But, UKR must also find ways to be more mobile for this new phase. First, they'll need very good intelligence about where RU forces are moving. Then, tanks they've "acquired" from RU and those provided by NATO nations will help. 15/

UA will continue to rely on technological advanced weapons to close any gaps on the front line, and focus on defeating RU's artillery. They will use territorials and UA to thwart RU advances from the N & S "shoulders" of the Donbas, to ensure no encirclement. 16/

UKR must defend their own supply line, interfere with RU C2, logistics, and movement… …while also conducting other unconventional operations behind RU front lines.

This

is about the "front line" tactical fights in the Donbas. UKR must still deal with civilian assistance, cataloguing war crimes, fighting RU assaults in Crimea, Mykolaiv, Kharkiv, etc everywhere else. Donbas will be a battle of attrition. UKR is prepared for it.17/17
Here's the Ukrainian Foreign Minister's view of what is coming in the Donbas:
⚡️Foreign minister: Battle of Donbas will be similar to World War II.

"This will not be a local operation based on what we see from Russia's preparations," Dmytro Kuleba said, adding that he expects large-scale operations involving thousands of tanks, armored vehicles, aircraft.

— The Kyiv Independent (@KyivIndependent) April 7, 2022
And here's some of what's already happening:
A Russian air strike near Barvinkove has hit the only Ukraine-controlled railway exit from Slovyansk, Kramatorsk, Lyman, stalling evacuations from Donbas, says Ukrzaliznytsia board chair Oleksandr Kamyshin. He called the rail line the "road of life" for 10s of 1000s of civilians.

— Christopher Miller (@ChristopherJM) April 7, 2022
Heavy shelling in #Luhansk region prevents massive evacuation. Only 250 people got evacuated from Syevyerodonetsk, and just 15 from Rubizhne. But in few days even these evacuation capacities could be unavailable anymore. #Ukraine #StopRussianAgression

— Maria Zolkina (@Mariia_Zolkina) April 7, 2022
not a single hospital stands after russian airstrikes in luhansk region. this one is recently-renovated in rubizhne. this is russian revenge for ukraine rebuilding donbas better after 2014 invasionhttps://t.co/0dY6hPGFGp pic.twitter.com/eErlvq7aXh

— maksym.eristavi ???️‍? (@MaximEristavi) April 7, 2022
None of this means that Kyiv has been removed as a high value target:
Ukrainian general says Russia may attack Kyiv a second time. Says 1/3 of Kyiv axis forces were destroyed. Russia has kept 1/3 in Belarus, moved 1/3 to the east. We're expecting new wave of attacks in south and east in next few days. https://t.co/sIVRRCUNFY

— Oliver Carroll (@olliecarroll) April 7, 2022
"Kill them all!" – Russian occupiers get orders to kill civilians. New intercepts. pic.twitter.com/daGE4Hae9u

— Liubov Tsybulska (@TsybulskaLiubov) April 7, 2022
Chernihiv:
German journalists have counted over 400 new graves in Chernihiv – a picturesque ancient city in the north of Ukraine, on borders to Belarus and Russia. The journalists stress: these are the graves of identified persons only. Elder people and children are among dead ones. https://t.co/4vF6mYuf2s

— Sergej Sumlenny (@sumlenny) April 7, 2022
Chornobyl:
Feb 24-Mar 31: Russian military had dug trenches in ground polluted by radiation near Chornobyl. @ukr_witness visited their abandoned fortifications and found that in some places, radiation levels were too high for the dosimeter pic.twitter.com/3KEMF6qubT

— Euromaidan Press (@EuromaidanPress) April 7, 2022
Spain:
A Russian Federation ship that needed to refuel in Spain was told "Russian ship, fuck you and fuck #Putin" ??
pic.twitter.com/aUpjac331X

— Soros (@reconnxx) April 7, 2022
Here's today's British Ministry of Defence's assessment: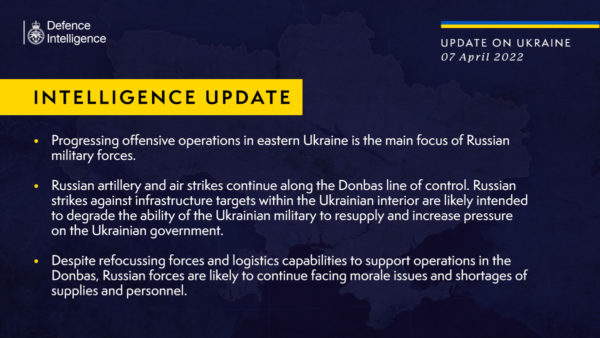 And here's the most recent assessment/update from the Ukrainian Ministry of Defense. It's from yesterday:
The operational update regarding the russian invasion on 18.00 on April 6, 2022

2022-04-06 19:00:00 | ID: 67183

The forty-second day of the heroic resistance of the Ukrainian people to a russian military invasion continues.

A russian enemy continues to prepare for an offensive operation in eastern Ukraine in order to establish full control over the territory of Donetsk and Luhansk oblasts. A russian occupiers are regrouping troops and conducting reconnaissance, trying to improve the tactical position of separate units in the South Buh area and gain a foothold on the administrative borders of the Kherson region.

The main focus of a russian enemy's efforts is to conduct offensive operations in order to break through the defences of the Joint Forces in the Donetsk direction. It is also trying to take full control of the city of Mariupol.

The regrouping of russian troops and the restoration of combat capability of the Central Military District units deployed to the Bryansk and Kursk oblasts are nearing completion.

Training and relocation of units of the occupying forces of the armed forces of the russian federation to the territory of Ukraine is underway. The enemy planned to move units of the 38th Separate Motorized Rifle Brigade of the 35th All-Military Army of the Eastern Military District from the territory of the republic of belarus to the Belgorod Region. The movement of some units of the Central Military District to this region is also recorded.

In the Volyn and Polissya directions, no significant changes were found in the position and condition of the enemy troops. Units of the Eastern Military District withdrawn to the territory of the Gomel region are completing the regrouping.

The movement of russian enemy units to railway stations for loading and subsequent redeployment is noted.

The enemy continues to block Kharkiv in the Slobozhansky direction. Mostly at night, the russian occupiers shell the city using multiple rocket launchers, artillery and mortars. In the area of ​​the city of Izyum, the enemy did not take active action. By forces of separate divisions of the 20th all-military and 1st tank armies of the Western military district it carries out regrouping.

To increase the efficiency of the transfer of military cargo, the enemy began to use the railway. The arrival of railway echelons with weapons and military equipment from the Valuyki station (russian federation) to the Kupyansk railway station (Ukraine) has been recorded.

In the Donetsk and Luhansk directions, the enemy's main efforts are focused on hostilities in the areas of the settlements of Popasna and Rubizhne and the establishment of control over the city of Mariupol. A russain enemy is trying to improve the tactical position.

Russian enemy continues to fire in most areas.

The enemy carried out artillery shelling in the areas of Kreminna, Pisky, Ocheretino, Rozivka, Novobahmutivka, Novosilka Druha, Marinka and Krasnohorivka.

In the areas of Popasna, Stepny, Novotoshkivske, Rubizhne, Severodonetsk and Solodky, the enemy carried out assault operations, but was unsuccessful.

The storming of the city of Mariupol continues, while the enemy is actively using aircraft.

In the South Bug direction, the enemy continues to shell the settlements of Shcherbaki, Komyshuvakha, Novodanylivka, Mala Tokmachka, Huliaipilske, Lukyanivske, Preobrazhenka and Huliai Pole.

As a result of offensive actions of units of the Armed Forces of Ukraine, the enemy lost control over the settlement of Osokorivka.

The Defence Forces of Ukraine continue to hold certain borders, destroy the enemy and liberate Ukrainian lands from the invader.

Let's win together! Glory to Ukraine!
Before we finish, I promised Martin an answer to his question about the rise of fascism from Tuesday night's update post. Here's his question:
We are seeing a domestic rise in fascist ideology against the backdrop of the Russia/Ukraine conflict. We had the very same thing happen leading into WWII. My take had always been that the domestic rise was feeling emboldened by a greater willingness to project fascist ideologies globally. That take could be completely wrong.

But I also felt that the observed need to fight those fascist forces domestically may have contributed to the US leadership at the time wanting to fight them abroad. Since this is a growing problem not just in the US, but also UK, France, Germany, Hungary (obviously), do you think that will push NATO countries further into Ukraine?

Today I got this really strong feeling that all of these different things are pulling us unavoidably into a larger conflict.
The rise, or attempt to create, a domestic American fascism prior to WW II was a project of the elites. Specifically the ultra-wealthy financiers, bankers, industrialists, and business owners who had managed to retain most of their wealth despite the Great Depression. They were enamored of what Mussolini was doing with national-syndacalism in Italy, as well as attempts to create a viable fascist movement in France and other parts of Europe. These elites and notables sent a trusted agent to tour Europe and meet with the continent's fascist theorists and leaders and then bring back what he'd learned and report back to them. As a result of what he told them they decided that FDR's presidency, which had just gotten started, needed to end immediately. The intention was to (what we'd now call) astro-turf a popular uprising with a sympathetic group as its vanguard to force FDR to take on an unelected co-president. This unelected co-president, who would never be publicly acknowledged, would secretly run the US while FDR functioned as the president in public; as a figure head and as ceremonial head of state, but not the head of government/chief executive and commander in chief.
The sympathetic group they decided upon was the remnants of the Bonus Army of World War I veterans. And they approached MajGen (ret) Smedley Darlington Butler, who was beloved by the veterans in the Bonus Army, to lead the revolt. Unfortunately for them, and fortunately for the US, Butler led the coup plotters along just long enough to gather the full details of the plot and then he ran right to the White House, Congress, and the press to expose it. Unfortunately for America, and to Butler's frustration, it was largely covered up. I wrote about the Business Plot to overthrow FDR back in October 2021. The post includes a video of what was originally a news reel of Butler describing the plot.
Among the coup plotters were two men whose names you may recognize: George Herbert Walker and Prescott Bush. Walker was the maternal grandfather and namesake of President George H.W. Bush and great-grandfather and semi-namesake of President George W. Bush. Prescott Bush, who would go on from his coup plotting to be a senator from Connecticut, was the father of President George H.W. Bush and the grandfather of President George W. Bush.
But the history/story doesn't just end there. The US, still reeling from the Great Depression, had succumbed to the isolationism and nativism of the 19th century reinvigorated by the economic disruptions of the late 1920s and the 1930s. As such, America's door's were shut. Even to those fleeing from the rise of NAZIism. I wrote about the late 19th and early 20th century American isolationism and nativism way back in September 2016, including how Senator Robert Taft (R-OH) in 1939 made it very clear to the national president of the Jewish War Veterans of America that neither he, nor the Senate Republican Caucus, would do anything to assist in resettling 20,000 Jewish children from Europe to the US in order to save them from the NAZIs. Some things never change.
A lot of what would eventually be called fascism or NAZIism already existed before those labels were created for them. And those ideological impulses and political, social, economic, and religious positions were all present in the US well before Mussolini and his national-syndacalism or Hitler and NAZIism came on the scene. We just didn't have the terms to label them that we do now. I think one can make a very good argument that the ideological movements in the US that we currently call neo-NAZI or fascist or national-conservative for the largely incoherent bricolage that Bannon is serving up as America First/MAGA or white Christian nationalism long predate the early 20th century. We see the earliest manifestations of these movements in the antebellum south as it grew ever more apart from the north. We see it in the Confederacy. And since the Union won the Civil War on the battlefield, but lost the post war peace, it is not surprising that it is still with us. For a very long time it rode the Democratic Party at the national level, especially the southern Democratic Party, like a parasite. Even as it was also riding select Republicans like Senator Taft. And riding whichever party was in control in each particular state. When it became clear that the Democratic Party was no longer a suitable host, it detached itself and fully latched on to the Republican Party. It took over forty years to fully consolidate its control of the GOP from local to national level, but this anti-liberal, anti-democratic, and anti-liberty movement is nothing if not patient and persistent.
Putin's genius, or those of the people he put in place in his intelligence agencies, was in recognizing that these political, social, economic, and religious beliefs had long existed in the US and that if he provided the movements that espoused them with support, he could empower those movements to weaken the US from within. This is why you see the influence operations run on the National Prayer Breakfast, on white evangelicals and traditionalist Catholics through the Global Christian Forum, on ultra-orthodox Jews through co-opting the Chabad movement. It's the reason for the influence operation with the National Rifle Association. All of these influence operations, and several I haven't mentioned, all targeted organizations that cater almost exclusively to Americans who identify as politically, socially, and/or religiously conservative and vote Republican. At the same time, Putin was both overtly in Europe and covertly in the US and Europe funding and amplifying the most extreme hard right elements in the US and the EU member states. The groups and individuals that don't get upset if they're called NAZIs, neo-NAZIs, white supremacists, racists, and/or fascists.
To tie this all up so we can all get on with our lives, there is a definite through line. There was in the 1930s and 1940s because the American business elites and notables that embraced fascism and tried to astro-turf it in the US were influenced by the European fascists. Even as they were already there in terms of ideology, they just lacked a name. For the past decade or so there has also been a definite through line between what Putin has done in Russia to his own state, society, and citizenry and what he's encouraged through a variety of covert means in the US and many of the EU states. Putin and his key agents found ways into the worst elements in American political, social, religious, and economic conservatism. They then exploited those opportunities to further radicalize these people and the organizations they are members of. And when it was all finally exposed the people and organizations that have been and are still being exploited looked around and instead of becoming angry for being played for fools decided they liked the influence operation that had been undertaken on them. They both embraced it and denied it was happening at the same time. Unlike the disastrous reinvasion of Ukraine, and here's hoping it remains disastrous for Putin and Russia, the influence operations he's been running on Americans, the British, and a variety of European and Israeli political parties, social, and religious movements cost pennies on the dollar. And they have been and continue to be effective beyond anyone's wildest dreams.
And we'll finish with this tonight:
thank you for not being comfortably numb

?: https://t.co/N6LSZpve6S pic.twitter.com/LY7kTN1hOT

— Ukraine / Україна (@Ukraine) April 7, 2022
Open thread!